...Christmas Shoppers...
Brian Timmons
Dear friends,
When I started Residencias Los Jardines, I started writing a weekly news letter -determined to tell all the good, bad, and the ugly. I knew some readers would be interested in the construction process. I expected others might be interested in the lifestyle of two people who had decided to live outside the box. For others, the adventures of Lita, the parrot and the cat took on an entertainment saga all its own.
Residencias Los Jardines is finished. We periodically have resales and rental availability. Some readers may be interested in this information.
Brian Timmons
DEVELOPER / PROPERTY MANAGER
Residencias Los Jardines / https://www.residenciaslosjardines.com info@residenciaslosjardines.com
ResidenciasPropertyManagement@gmail.com
Featured house this week
Paradisus Condos / Rorhmoser
FOR SALE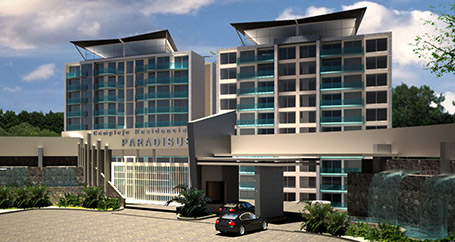 Paradisus will consist of 4 towers in Rorhmoser, a suburb to the west of central San Jose. Not far from the US Embassy and shopping malls, Rorhmoser is a residential area that was developed in the 60's and 70's and is currently seeing significant re-development with high end condos. It is the area where the new stadium and a number of luxury high rise condos have recently been built with more on the drawing boards. Phase one of this development is nearing completion; it consists of two towers and the amenities -pool, exercise room, etc. Tower one is expected to be completed in January and Tower 2 should follow in February / March. The location of this development is superb... it's off the main traffic paths and sits on a ravine overlooking a river. To the east is San Jose / Heredia; to the west is Pavas / Escazu. With floor to ceiling windows and a wrap around balcony, these units offer fantastic light and views.
Each of the units consists of two bedrooms / two bathrooms, and a large living/dining/kitchen area. The floor plan of each of these units has eliminated the optional "den / office" divider. The result is a larger area offering more flexible furniture arrangements while still maintaining the option of including an office area. At 105m2 plus two parking spots each and storage locker, they offer a great opportunity for someone seeking views, security, central location, and first class, all round living...
Residencias Los Jardines
Property Management, Rentals, Re-Sales
Market Activity
Sales: one viewing; I am expecting an offer on the property.
Rentals: 1 viewing.
FOR SALE
Unit #114: $235,000 / See Unit
FOR RENT
Nothing Available until January 1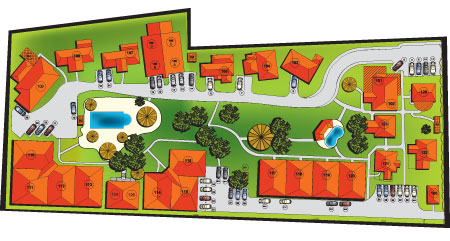 HOUSE FOR SALE
UNIT #114
FOR SALE $235,000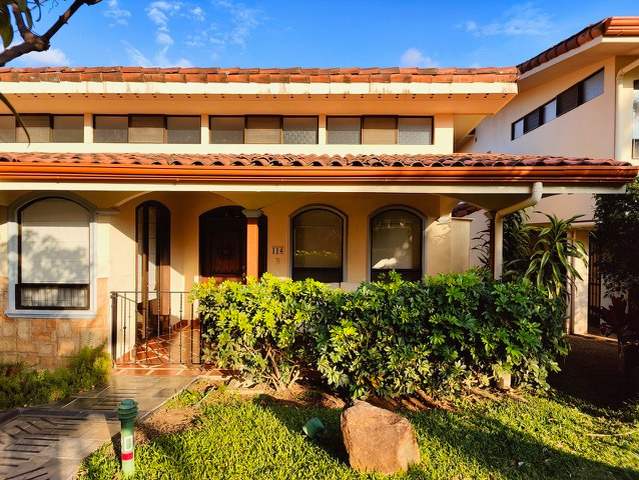 See a complete description of this unit
Total Area (Sq Ft): 1290
Total area (Sq M): 120
Bedrooms: 2
Bathrooms: 2
Floor(s): Single Floor
Type: Attached
Furnished: Yes
This 1,290 sf. (plus covered parking for one car and two lockers 67 sf.) single story, semi detached house, with garden terrace, two bedrooms is a beautiful executive style home. This home consists of two large bedrooms one with six piece en-suite bathroom with additional access to separate full shower. Each bedroom has large closets with extensive built-ins for personal organization. The vaulted living room and bathroom ceilings provide a feeling of grandeur while allowing the warmer air to rise and exit through the ceiling ventilating system. There are four TVs (one in each bedroom, one in the living room and one in breakfast / dinning room.) This is a beautiful well appointed home.
Our Lives
WEATHER: November is a transitional month re. weather... out with the rainy season and in with the dry season. Sometimes it's quite rainy, sometimes not. In 30 days, we'll know how to describe this November. In the meantime, the reduction in frequency and the duration of the seasonal rains are beginning to diminish.
All in a Week's Living in CR:
Halloween: Five years ago, one never saw this N. Am. day celebrated as N. Am. celebrates it. This year, stores had masks and paraphernalia, candies, and a number of houses were decorated with theme products. Trick-or-treating is beginning. Many of the locals, however, still treat it as a "pagan" ritual and refuse to participate -in fact, some are quite horrified by it. Escazu is historically thought to be the home of witches. They prefer the Christian religious element better which follows afterwards. CR does not have the "Thanksgiving" day celebration so it's full speed ahead for Christmas shopping. Reports circulated that many Ticos are borrowing to their limit -this might explain when the roads and stores are clogged. December is the month in which employees-both government and private sector- receive their "aguinaldo" or 13th. month salary...
We attended a costume party in Escazu. Mixed in amongst the old fogies were a few teenagers. I was amazed to see they spent most of their time fiddling with their smart phones. They were there in body but not in mind.
Snowbirds: the annual migration has started. Our first arrived this past week.
News Items of the Week
Comments:
1. Solution to arsenic water: the rusty nail and clay filtration systems will have to suffice for December... That is BS since nothing has ever gotten done in from December 1 to Jan. 15 due to Christmas. And even if a decision is made on the 12, how long before it's implemented... and there will likely be an appeal of the award... whoever gets the contract...
2. Standardized Public School Tests: I believe it is mandatory for students to complete grade 6... it doesn't happen for many. And at grade five, standardized tests determine the educational future of all... after Grade 6, they can enter colegio or university... or nothing... and general knowledge and problem solving ability are not the focus... rather, it's specific details.
3. Helicopter gunships: who knows what's going on... least of all, CR... CR recently got caught flat footed re. a jungle rogue heliport along the Nicaraguan-CR boarder so are not hyper sensitive.
4. More spying Revelations: whoever is surprised has really been misreading US history and have remained naive...
5. The game of Catch and Release Continues: The prisons are full... which is strange since it is really difficult to get sent inside. Now they are releasing some of the bad guys -seemingly without distinguish between those violent or who represent a continuing threat to society- because of over crowding... another failure to invest in infrastructure. A proposed solution is "stalled"... wow! surprise, surprise! Again, it must be really frustrating being a cop.
6. Deep Water Container Port - Limon: The contract has been awarded but the looser -mainly the current dock worker's union- is still trying to obstruct this -80% of imports/exports go through Limon and the current port is known to be the most expensive, antiquated, least efficient, and most troublesome in the Caribbean. The Dutch company will invest $1 bil. to build a contemporary port... it is the first multinational company to invest in Limon in 100 years... think about that... at least 300 directly related jobs will be created and I'm sure a number of spin-offs as well. It is to be the keystone to future assembly jobs; CR is hosting a Chinese investors conference to encourage secondary industry.
1. Solution to arsenic water problem will have to wait until December

October 28th, 2013 (InsideCostaRica.com) Some 14 water systems across the country that are contaminated with arsenic in concentrations exceeding those allowed for human consumption will have to wait until December for a permanent fix.

Four companies submitted bids on Friday to provide for the cleanup of the water systems. The winner will not be selected until December 12th.

According to Carlos Vargas, Director of Research and Development at the Costa Rican Institute for Water and Sewers (AyA), all four the companies intend to address the problem using an absorption system, where inert particles are added to the water in order to trap arsenic and prevent it from reaching customers' taps.

The most affected water systems are those in Cañas, Bagaces, and several communities in San Carlos in the northern area of the country.

As a palliative measure, authorities have distributed so-called "Kanchan" style water filters, used in countries like India, to area residents. The makeshift filters consist of a barrel the size of a wastebasket filled with rusty nails, clay and other material through which water is poured and exits through a spigot at the bottom of the barrel.
2. Public school students begin today their life-changing tests
By the A.M. Costa Rica staff

As fifth year students face their first final exam today or tonight in Spanish grammar and literature, their futures hang in the balance. Those who fail to pass the series of exams will not get their diploma, and they will be in an academic and social limbo afterwards.

For the estimated 70 percent who pass, the sixth day of testing will determine their higher education fate. Top performers will go to the public universities.

The testing continues Wednesday with math and Thursday with social studies. Friday is when science knowledge is tested. The subjects are a mix of biology, chemistry and physics.

The tests continue Monday with a foreign language and Nov. 5 with civics.

These are not easy tests, and unlike some of the standardized tests in the United States, general knowledge and problem-solving ability must take a back seat to specific details. There is a steady business in preparing students for the tests. There even are online sources with 15,000 questions that the students could review.

There is a lot of competition among schools for the best average grade, and the winners usually are the specialized schools that train students for the top higher education institutions, like Tecnológico de Costa Rica in Cartago.

Private school students do not get a pass. They have their own series of examinations, sometimes provided by the French or German governments, depending on the national orientation of the school. These, too, are vital to success.

Many educators oppose such standardized testing because of the pressure it puts on students and because such exams may not reflect accurately a student's ability.

The Ministerio de Educación Pública exams are under tight security because cheating and the sale of exams is epidemic in the nation's schools. The ministry wants to make sure that at least for these tests, there is no advanced look.
3. Costa Rica indigenous group says U.S. helicopter gunships were in its territory

October 31st, 2013 (InsideCostaRica.com) The Integrated Development Association of the Talamanca Bribri Indigenous Territory of Limon (ADITIBRI) has reported that U.S. helicopter "gunships" were in the community of Alto Coén, part of the group's territory. This would be the second alleged incursion to the territory by foreign military or paramilitary groups this year.

The community said that the latest incursion took place in the morning hours of Tuesday, October 29th, when three military helicopters arrived in the community, sparking fear amongst residents.

Residents said they are especially concerned because another group of soldiers or paramilitaries who arrived in a similar helicopter on June 30th threatened to harm the residents after authorities seized their identity documents from an unattended camp.

During the most recent incursion, residents said the personnel and helicopters remained in place for several hours.

Residents notified authorities, which yesterday sent a group of 20 police to the area to collect information from residents.

Residents believe that the helicopters and personnel operate under the United States Southern Command, after the mayor of Talamanca, Melvin Cordero requested permission from President Laura Chinchilla in August to permit incursions by the United States Southern Command within the Bribri Indigenous Territory, which the mayor described as a "humanitarian air bridge" in his letter to Chinchilla.

The U.S. Southern Command is the U.S. military force in charge of security operations, surveillance, and counter-narcotics operations in more than 31 countries in the region. Its aim is to ensure U.S. interests in Latin America.

According to Cordero, the request was intended as a means by which to provide essential services to the communities of Alto Telire, but communities have expressed their opposition to military troops entering their territory.

In an interview with Radio Ceiba earlier this year, native Bribri, Leonardo Buitrago said that such an action would threaten the public and would facilitate the entry of military troops into indigenous territory without consulting the communities involved.

Buitrago said he fears the measure because the U.S. Southern Command has helped dispossess indigenous people of their lands in other countries. Buitrago also questioned Cordero's motives, saying that extreme poverty doesn't exist in the community, which Cordero says is the primary motive for the request.

While it is not clear if the most recent incidents are related, from late June to early July, a group of supposed "missionaries" arrived in an unmarked black helicopter and delivered Bibles to the homes of indigenous residents. However, the group raised suspicions which were brought to the attention of community leaders, when indigenous residents described the group arriving via helicopter, dressed in military fatigues, with weapons, firearms, and a variety of instruments to perform topographic measurements.

"They described the arrival of a suspicious helicopter, the group brought GPS equipment, altimeters, moisture meters, weapons and firearms, metal detectors and radar, plus they had training to survive in adverse mountainous conditions, and this raised peoples' suspicions that these people were not evangelists," said Henry Picado, press officer for Coecoceiba, a Non Governmental Organization (NGO) which defends the rights of indigenous communities.

The indigenous communities notified the Prosecutor's Office in Bribri, who sent members of the Fuerza Publica to investigate.

Two officers located the group's camp, though the men were not present. The officers, under order from the Attorney General, proceeded to confiscate passports and some weapons found at the camp.

From the passports, the group was identified as Alejandro Cetrulo, Rodolfo Ortíz, Roque Revilla Candiotti, Isaias Romero Acuña, Travis Reid, Brian Bucek, Nual Richardson and Josh Hyatt. The group consisted of a Peruvian, two Costa Ricans and five Canadians.

After the visit by Fuerza Publica officers, indigenous residents said they were violently threatened by the men, who came to their community demanding the return of the items taken by police. One of the men allegedly drew a large caliber firearm and yelled, "If the police return we will shoot them."

At the time, residents said they feared that the group were paramilitaries, possibly drug-related or mineral prospectors paid by Canadian mining companies.
4. US taps links to Google, Yahoo data centers: report October 31st, 2013 (AFP)

The US National Security Agency has tapped into key communications links from Yahoo and Google data centers around the world, the Washington Post reported Wednesday.

The Post, citing documents obtained from former NSA contractor Edward Snowden and interviews with officials, said the program can collect data at will from hundreds of millions of user accounts, including from Americans.

The report said the program dubbed MUSCULAR, operated jointly with NSA's British counterpart GCHQ, indicated that the agencies can intercept data flows from the fiber-optic cables used by the US Internet giants.

The Post report suggests this is a secret program that is unlike PRISM, which relies on court orders to obtain data from technology firms.

According to a top secret document cited by the newspaper dated January 9, 2013, some 181 million records were collected in the prior 30 days, ranging from metadata on emails to content such as text, audio and video.

The document shown by the Post indicates that the NSA intercept takes place outside the United States, and that an unnamed telecommunications provider allowed the secret access.

A graphic in the document suggested that the interception at Google came at a point between the public Internet and Google "cloud" servers. The hand-drawn graphic depicted an image of the two Google servers and a smiley face with a note saying, "SSL added and removed here." SSL refers to secure sockets layer, a cryptographic protocol.

Acting outside US territory would give the NSA more latitude than within the United States, where it would require court orders, the Post noted.

NSA chief General Keith Alexander, asked about the allegations during a Washington conference, said he was unaware of the report but argued that the allegations appeared to be inaccurate.

"That (activity) to my knowledge, this never happened," he said at the conference sponsored by Bloomberg Television. "In fact there was this allegation in June that the NSA was tapping into the servers of Yahoo or Google, that is factually incorrect."

He added that NSA gains access to data "by court order" and that it would not be "breaking into any databases." Google chief legal officer David Drummond said the Internet giant was not involved in any such activity.

"We have long been concerned about the possibility of this kind of snooping, which is why we have continued to extend encryption across more and more Google services and links, especially the links in the slide," Drummond said in a statement.

"We do not provide any government, including the US government, with access to our systems. We are outraged at the lengths to which the government seems to have gone to intercept data from our private fiber networks, and it underscores the need for urgent reform."

Yahoo said in a statement to AFP that "we have strict controls in place to protect the security of our data centers, and we have not given access to our data centers to the NSA or to any other government agency." The report comes amid a storm of protest about NSA surveillance both at home and overseas of phone and Internet communications.

On Tuesday, US officials said reports that American spy agencies snooped on millions of Europeans were false. Alexander told lawmakers that in many cases European spy agencies had turned over phone call records and shared them with US intelligence.
5. Thanks to judge's ruling, the streets are now meaner
By the A.M. Costa Rica staff

There is a scene in the movie "Ghostbusters" where the evil energy peaks to the extent that spooks are swirling around New York like so many wind-driven newspaper pages.

That may be the situation soon in Costa Rica except the ghosts will be very solid robbers and other crooks.

The Ministerio de Justicia y Paz is under court order to reduce the prison population, which now is more than 13,000, about 4,000 higher than what is considered capacity.

Naturally many of these convicted criminals will return to their old ways upon release.

An example is a man with the last name of Calderón, who is the main suspect in a robbery that took place about 9 p.m. Sunday in Parque Central in San José.

According to the Judicial Investigating Organization until Oct. 23, Calderón resided at the Centro Penitenciario La Reforma in Alajuela. He had been jailed for six months on an attempted robbery conviction and three years and four months after a conviction for aggravated robbery.

However, he was given the benefit of conditional execution of the sentences as long as he agreed to sleep one night a week at a halfway house in Guadalupe, said the agency. That is where agents detained him late Wednesday afternoon.

Agents allege that he applied a neck hold on a victim identified by the last name of James so as to allow the assailant to take a billfold and a cell telephone.

Someone else saw the robbery and gave chase unsuccessfully. In his haste to get away, the robber dropped what turned out to be a cédula, an identification card belonging to Calderón.

The suspect exemplified the situation as officials try to reduce the number of those detained.

The Sala IV rejected as unconstitutional 12 years ago a proposal from a U.S. firm to build a high-security prison as a concession. Now officials are hurrying to find funding to build more facilities.

In the meantime, they are releasing hundreds of convicted felons onto the streets.

Costa Rica's low rate of solving crimes is well-known, and usually a crook has to make a dumb mistake like Calderón to end up in jail.

Only last September, the minister of Justicia, Ana Garita, asked judges to provide other pre-trial mechanisms instead of pre-trial detention. Lawmakers still were considering a measure that would allow the use of electronic bracelets that would be monitored remotely. But that project has been stalled temporarily.

Costa Rican prosecutors almost always seek pre-trial detention for foreign suspects for fear they will leave the county. Some say this device is over used, particularly when someone who has spent 13 months in prison is eventually acquitted.

The same day that Calderón was released, prison officials moved more than 90 inmates from the San Sebastián facility to reduce overcrowding there.

Far worse than the Calderón case is one in Puntarenas where a recently released convict is a murder suspect. The suspect was placed on the street from the El Roble prison three days before the Saturday stickup and murder of a shopkeeper. He was one of 370 prisoners ordered released by a judge and placed in what is known as a régimen de confianza, which might include sleeping nights in confinement. He had been charged with aggravated robbery but served about 15 months of a three-year, four-month sentence.
6. Key meeting on APM terminals set for Nov. 9
By Kimberly A. Beck and the A.M. Costa Rica staff

The country's environmental agency plans a hearing in Limón Nov. 9 to announce its finding on the anticipated impact of a proposed $1 billion shipping container handling facility.

The agency is the Secretaría Técnica Nacional Ambiental, part of the environmental ministry. The report is vital to the future of the project and for its concession holder APM Terminals.

APM has contracted to build the facility and to run it for 30 years. The session Nov. 9 will be in the Eddy Bermudez gymnasium in Limón.

As part of the concession contract APM terminals, the 30 year operator of the new facility must provide bus services to and from the meeting for communities of lower-income residents and those who have limited transportation options. APM will also be responsible for the security and other logistics for the event. This hearing is required as part of Secretaría Técnica Nacional Ambiental's permission process.

The terminal is controversial because it is opposed by those who now work in managing the Limón docks. Environmentalists also have filed complaints and said that the project will damage mangroves.

A few days ago the Ministerio de Obras Públicas y Transportes approved the plans and design of the new facility and gave the project a green light. Next week after the hearing APM had planned a press workshop in San Jose but it will now be given by the Secretaría Técnica.

Some 80 percent of Costa Rica's imports and exports currently flow through the two existing ports in Limón. The container project is the keystone of the government's plan to increase development in the Caribbean province.

Nov. 26 and 27 Costa Rica welcomes once again China and their deep pocketbooks. The Seventh China Business Summit will be held at the Hotel Real Continental in San José. "The Chinese representatives have allocated two days to spend in the province of Limón" says Rogelio Douglas, general manager for APM Terminals in Moín.

Douglas, a Limón native, left Costa Rica when he was 15 for a U.S. education. He at times seems more like a cheerleader for Limón than the communications go-to guy for a multinational corporation. "The basic conversations we are having with manufacturers and possible new investors is for them to do their final assembly of products here on the eastern coast of Costa Rica and redistribute from here to North America, South America and even Europe." "We cannot fail. Failure is not an option. We must attract investors," he said.

In early 2017 the terminal should be starting operations but the hiring process will start in 2015.

"We will need to hire the first 100 employees in 2015 to send them to one of our other international terminals to gain field experience," Douglas said. "These fully paid people will be our managers and team leaders. Upon returning in 2016 we will hire an additional 300 people, and they will form teams. We will be hiring these people from here in Limón".

APM is the first multi-national corporation to open in Limón in 100 years. In two to three years APM will close the San José office and the headquarters will be located on the terminal.

APM will eventually have 1,000 persons on payroll. This is the plan:

The existing ocean depth is 11 meters (36 feet), and it will need to be 18 meters (59 feet) for the modern container ships. APM will dredge 10 million cubic meters of silt and place it three miles away farther into the ocean.

The entire terminal will be built using rocks and material 500 meters off of the coastline. The only soil that the structure will touch will be at the end of the four-lane access road. The facility will be five meters (about 16.5 feet) above the surface of the water.

The plan does not involve removing or refurbishing the existing container terminal. It will be the same as it is today.

The new facility will be a modern one with cranes for loading and unloading. The existing terminal does not have cranes to move containers on and off the ships. The first-generation banana ships do have their own cranes but second, third- and fourth-generation ships do not. This limits the amount and types of transport that can filter through the port. The Limón terminal to the east has two cranes, but one has been non-functioning for two years.
Brian, Lita, the Late Hugo IV, irreverent Vicka, the pigeon toed parrot, Chico II and Chica II