Brian Timmons
Dear friends,
When I started Residencias Los Jardines, I started writing a weekly news letter -determined to tell all the good, bad, and the ugly. I knew some readers would be interested in the construction process. I expected others might be interested in the lifestyle of two people who had decided to live outside the box. For others, the adventures of Lita, the parrot and the cat took on an entertainment saga all its own.
Residencias Los Jardines is finished. We periodically have resales and rental availability. Some readers may be interested in this information.
Brian Timmons
DEVELOPER / PROPERTY MANAGER
Residencias Los Jardines / https://www.residenciaslosjardines.com info@residenciaslosjardines.com
ResidenciasPropertyManagement@gmail.com
Featured house this week
Paradisus Condos / Rorhmoser
FOR SALE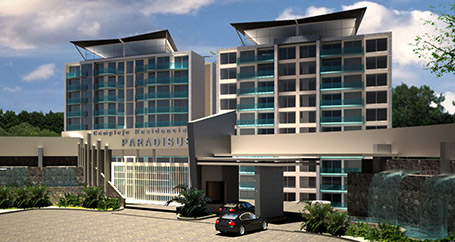 Paradisus will consist of 4 towers in Rorhmoser, a suburb to the west of central San Jose. Not far from the US Embassy and shopping malls, Rorhmoser is a residential area that was developed in the 60's and 70's and is currently seeing significant re-development with high end condos. It is the area where the new stadium and a number of luxury high rise condos have recently been built with more on the drawing boards. Phase one of this development is nearing completion; it consists of two towers and the amenities -pool, exercise room, etc. Tower one is expected to be completed in January and Tower 2 should follow in February / March. The location of this development is superb... it's off the main traffic paths and sits on a ravine overlooking a river. To the east is San Jose / Heredia; to the west is Pavas / Escazu. With floor to ceiling windows and a wrap around balcony, these units offer fantastic light and views.
Each of the units consists of two bedrooms / two bathrooms, and a large living/dining/kitchen area. The floor plan of each of these units has eliminated the optional "den / office" divider. The result is a larger area offering more flexible furniture arrangements while still maintaining the option of including an office area. At 105m2 plus two parking spots each and storage locker, they offer a great opportunity for someone seeking views, security, central location, and first class, all round living...
Residencias Los Jardines
Property Management, Rentals, Re-Sales
Market Activity
Sales: no calls.
Rentals: 3 calls / no product.
FOR SALE
Unit #114: $235,000 / See Unit
FOR RENT
Nothing Available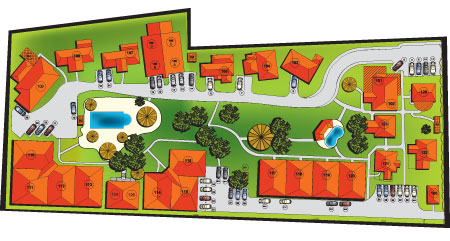 HOUSE FOR SALE
UNIT #114
FOR SALE $235,000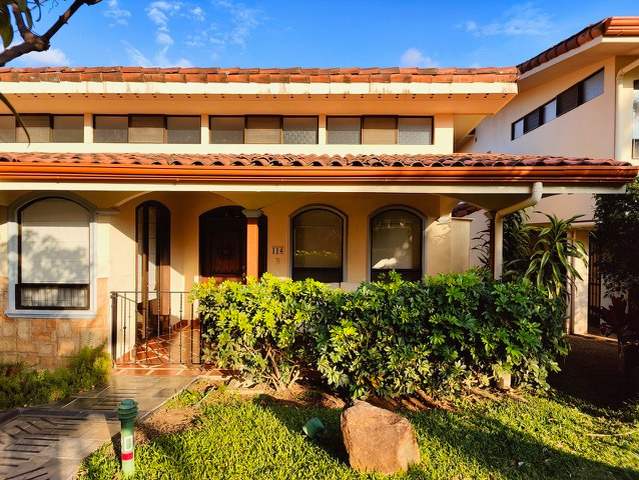 See a complete description of this unit
Total Area (Sq Ft): 1290
Total area (Sq M): 120
Bedrooms: 2
Bathrooms: 2
Floor(s): Single Floor
Type: Attached
Furnished: Yes
This 1,290 sf. (plus covered parking for one car and two lockers 67 sf.) single story, semi detached house, with garden terrace, two bedrooms is a beautiful executive style home. This home consists of two large bedrooms one with six piece en-suite bathroom with additional access to separate full shower. Each bedroom has large closets with extensive built-ins for personal organization. The vaulted living room and bathroom ceilings provide a feeling of grandeur while allowing the warmer air to rise and exit through the ceiling ventilating system. There are four TVs (one in each bedroom, one in the living room and one in breakfast / dinning room.) This is a beautiful well appointed home.
Our Lives
WEATHER: September weather continues to be normal... beautiful sunny mornings, with clouding around mid day, followed by a shower and then clearing. So far, we have not, in this area, had torrential rain storms...
All in a Week's Living in CR:
Almost Burned: We had been having troubles with hot water in a house. The problem had been variously diagnosed (wrongly as it turned out). We took a look at the boiler itself... very little water was going through the unit so of course there wasn't much at the tap. We looked at every aspect which we knew... drew a blank and called in the repair people. They took the unit to their shop for analysis. The phone call came in and the total was C112,000 ($225). I said it was ridiculous; I had just bought a new one for C147,000. The repair price suddenly dropped to C50,000... just as in N. Am. some tradesmen try to take advantage... you have to have a basis to form a reasonable judgment... in this case I had that knowledge... I wonder how many times I've been burned before??? This tradesman gets a reasonable amount of business from me and stood to get more... nevertheless he tried to burn me...
NBC TV Channel: NBC pulled their signal from CR. Why? I don't know but it gives us one less channel and choice of English programs. This was an NBC decision and applies to all service providers in CR.
News Items of the Week
Comments:
Note: I was focused on a personal project so didn't monitor the news much...
1. Sewer Project: AyA can't even spend free money on time... me thinks it a combination of "it's Limon" and it's sewer... both aspects are "low priority" What an organization!!
2. Fire Trucks: I'm not an expert but these trucks can pump for 50 sec. before the run out of water... wow!
Major sewer project far behind, budget watchdog says
By the A.M. Costa Rica staff

The nation's state-run water company is so far behind in a sewer project in Limón that the country might lose the loan that was provided for construction.

That was the opinion of the Contraloría de la República, the budget watchdog, in a report issued Thursday.

The $20.5 million project had been tied up in contractual problems and delays in obtaining rights to land to install a pumphouse, said the report.

The Instituto Nacional de Acueductos y Alcantarillados has spent just 2.2 percent of the money provided by the World Bank's International Bank for Reconstruction and Development, said the report. And that was to purchase a vehicle.

The sewer project is for Limoncito and Pueblo Nuevo. The project is part of the major reconstruction of the province of Limón, called Proyecto Limón Ciudad Puerto.

The project was supposed to improve dramatically the infrastructure in the area.

The report said that the project might run into deadlines imposed by the bank and face the possible loss of the money.
10 new trucks delivered for towns and forests
By the A.M. Costa Rica staff

The Cuerpo de Bomberos purchased 10 new pumper trucks. Five are for fighting forest fires, and five are for structural blazes.

The Freightliner brand trucks can pump 1,250 gallons a minute and carry 1,000 gallons of water and 400 liters of foam, said the agency.

Getting the trucks will be Tres Ríos, Santo Domingo, Belén, Santa Ana and San José. Forest units will be placed in Turrialba, Santa Cruz, Parrita, Atenas and San Pedro Poás.

The money for the purchase came from taxes on electricity and insurance.
Brian, Lita, the Late Hugo IV, irreverent Vicka, the pigeon toed parrot, Chico II and Chica II