Brian Timmons
Dear friends,
When I started Residencias Los Jardines, I started writing a weekly news letter -determined to tell all the good, bad, and the ugly. I knew some readers would be interested in the construction process. I expected others might be interested in the lifestyle of two people who had decided to live outside the box. For others, the adventures of Lita, the parrot and the cat took on an entertainment saga all its own.
Residencias Los Jardines is finished. We periodically have resales and rental availability. Some readers may be interested in this information.
Brian Timmons
DEVELOPER / PROPERTY MANAGER
Residencias Los Jardines / https://www.residenciaslosjardines.com info@residenciaslosjardines.com
ResidenciasPropertyManagement@gmail.com
Featured house this week
Paradisus Condos / Rorhmoser
FOR SALE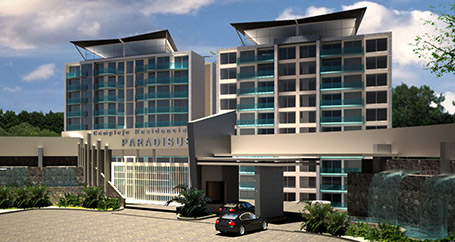 All units have the same design -105m2, parking for two cars, (30m2), bodega (2m2)- two bedrooms, two bathrooms, two terraces, office space, granite and marble surfaces with porcelain floors, modern cabinetry. Available in January. Offered for sale by owner with owner financing at competitive rates and terms.
Residencias Los Jardines
Property Management, Rentals, Re-Sales
Market Activity
Sales: no calls.
Rentals: 3 calls / no product.
FOR SALE
Unit #114: $235,000 / See Unit
FOR RENT
Nothing Available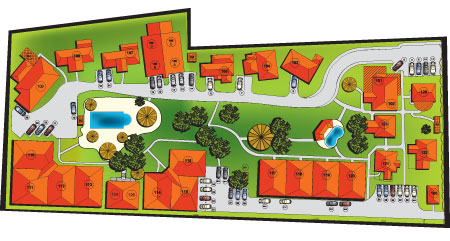 HOUSE FOR SALE
UNIT #114
FOR SALE $235,000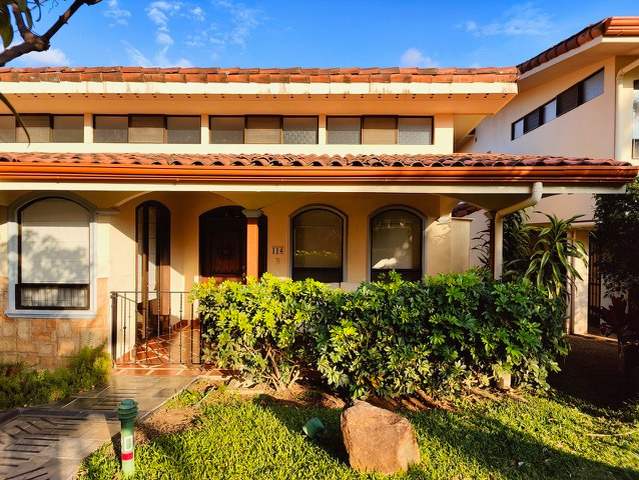 See a complete description of this unit
Total Area (Sq Ft): 1290
Total area (Sq M): 120
Bedrooms: 2
Bathrooms: 2
Floor(s): Single Floor
Type: Attached
Furnished: Yes
This 1,290 sf. (plus covered parking for one car and two lockers 67 sf.) single story, semi detached house, with garden terrace, two bedrooms is a beautiful executive style home. This home consists of two large bedrooms one with six piece en-suite bathroom with additional access to separate full shower. Each bedroom has large closets with extensive built-ins for personal organization. The vaulted living room and bathroom ceilings provide a feeling of grandeur while allowing the warmer air to rise and exit through the ceiling ventilating system. There are four TVs (one in each bedroom, one in the living room and one in breakfast / dinning room.) This is a beautiful well appointed home.
Our Lives
WEATHER: September weather continues to be normal... beautiful sunny mornings, with clouding around mid day, followed for shower and then clearing. So far, we have not, in this area, had torrential rain storms... but see what's happening to the infrastructure... see below...
All in a Week's Living in CR:
NEW FEATURE: beginning this week, I'll begin marketing selected products outside Los Jardines. Paradisus will consist of 4 towers in Rorhmoser, a sububurb to the west of central San Jose. Not far from the US Embassy and shopping malls, It is a residential area that was developed in the 60's and 70's and is currently seeing significant re-development with high end condos. It is the area where the new stadium and a number of luxury high rise condos have recently been built with more on the drawing boards. Phase one of this development is nearing completion; it consists of two towers and the amenities -pool, exercise room, etc. Tower one is expected to be completed in January and Tower 2 should follow in February / March. The location of this development is superb... it's off the main traffic paths and sits on a ravine overlooking a river. To the east is San Jose / Heredia; to the west is Pavas / Escazu. With floor to ceiling windows and a wrap around balcony, these units offer fantastic light and views. Each of the units consists of two bedrooms / two bathrooms, and a large living/dining/kitchen area. The floor plan of each unit has eliminated the optional "den / office" divider. The result is a larger area offering more flexible furniture arrangements while still maintaining the option of including an office area. At 105m2 plus two parking spots each and storage locker, they offer a great opportunity for someone seeking views, security, central location, and first class, all round living...
Read more about Paradisus Condos
News Items of the Week
Comments:
1 / 8. Expats and CR taxes: I've seen the effects of this initiative over the past several years especially as it relates to banking and the movement of money. If owners want funds I'm holding transferred to them, I have to withhold 15% and pay it to the governmentn... this represents the tax on rental income. In addition, banks are now requiring more frequent personal information updating requirements. This is largely driven the the US government, FACTA law.
2. Incredible arsenic filters: Wow... and they are temporary -which means 20 or so years... now people will die of rust insead of aresnic.
3. Dredging a new channel: Nicaragua started the job; the river and Nature will finish it -CR can't really get there to watch it happen.
4 / 5 / 6. Road closures: And it hasn't even been a particularly heavy rainy season. It just goes to show who fragile the infrastructurer is...
7. Perception: This article is not new news... but the assessment of corruption has moved up the priority list seems new...
1. Even expats have to understand tax laws here as well
By Garland M. Baker, Special to A.M. Costa Rica

Today is the end of fiscal year 2012-2013. This is important for Costa Ricans and expats alike doing business in this country. It is also noteworthy for individuals and retired persons who are not in the Costa Rica tax system. There are more tax collectors beating the streets, making phone calls and performing audits like no time in Costa Rican history. Fines have increased dramatically too, making it very expensive not to follow the rules.

Businesses must complete their accounting for the fiscal year that started on Oct. 1, 2012, to prepare their income tax returns, form D-101, due on Dec. 16. Usually, the tax filing date is Dec. 15, but this year that day falls on a Sunday. They must also begin accumulating the totals to file their D-151 reports, which will be due Dec. 2. This form is normally due Nov. 30, but this year that date falls on a Saturday. The D-151 is an informational form used to report sales and purchases to the tax department. It is used to cross check information and the key in finding tax cheats.

The days of the tax department's Web site not being helpful and of disorganized tax collections are over. Fiscal transparency, collaboration between government agencies, lotteries and better computer systems have improved Costa Rica's tax collection system many-fold.

Kevin Chavarria of KCPATAX, a bilingual certified public accountant, said in an interview he is impressed by the progress of the Dirección General de Tributación in its tax collection practices. This entity is a department of the Ministerio de Hacienda and is usually referred to by most as Tributación Directa. Sergio Rojas, a private accountant working in Cartago, confirmed the assertions.

Many countries, including the United States, have been assisting Costa Rica in improving its tax structure. Agreements between countries have also been negotiated to share tax information.

Chavarria and Rojas outlined the ways tax dodgers are caught. They said that not filing the required tax forms is a sure way to send up red flags because of the check and balance system designed into informational forms like the D-151. The tax department analyses gross and net profit margins and changes in owners' equity that do not match with taxes paid against profits to find companies that are not paying their taxes fairly, they said. Random audits are also always a possibility as well, they added.

The Costa Rican tax department is somewhat lenient for those who fess up and want to go straight. Voluntary disclosure of tax sins have reduced fines up to 80 percent. Fines are based on a Costa Rican base salary because these amounts change periodically due to inflation. Today, a base salary is equal to 379,400 colons or $767 U.S.. Not signing up with the tax department is a fine of three base salaries or $2,301. Not filing a D-151 is two base salaries or $1,534. A full list of the sanctions, reductions and base salaries due to voluntary disclosures can be found on the Dirección General de Tributación's Web site.

Why is this important to people like retired expats not in the tax system? Because they can be audited and fined too. Here is an example. Mr. and Mrs. Retired Expat contract the remodeling of their house. The suppliers of materials and contractor services for the remodeling put Mr. and Mrs. Expat on their D-151 declaration forms. However, the retired couple do not file the forms because they are not in the Costa Rican tax system.

The tax department calls them on the telephone and asks why they are spending money because they were reported. Mr. and Mrs. Retired Expat have to prove where their money came from outside the country and that it was not taxable or they will be severely fined.

Both accountants interviewed have had to go to bat for expats to justify to the tax department expenses for things like, remodeling, large electric and phone bills, and professional services payment to attorneys and accountants.

In some cases, rents were being received and not reported to the local tax authorities which is tax evasion. They were caught because of the information form D-151. Some expats forget that making money in Costa Rica on any activity like work, rents, leases, lending money or any profitable activity is taxable.

What to do to sleep at night so the men in black are not knocking at the door? Find a licensed public or private accountant who speaks English when one does not speak Spanish, who has extensive experience working with foreigners and who knows their unique tax requirements.

The statues of limitations for tax sins is five years. If fraud is proven, it is longer, and convictions include jail time. In the past, it was somewhat easy to get away with shoddy reporting, non-filing and hiding income earned in Costa Rica. It is not anymore, and it is going to get worse. Every year over the past several years, the government has passed decree after decree to tighten up its tax structure. It must do so, because the countries of the world want to see Costa Rica doing its best to get tax revenue before they lend Costa Rica more money.

There are more forms to file than the D-101 and the D-151, including but not limited to sales tax and withholding forms. The list is long, but these two are the key forms used to catch the majority of tax dodgers.

Unexperienced accountants are a dime a dozen in this country like inexperienced attorneys. Expats need to find one who knows what he or she is doing. They should get references, call them, and find one who has a good reputation in the local community. They need to read up and stay up-to-date on the country's new tax rules. That makes for a more peaceful life.

Garland M. Baker is a 42-year resident and naturalized citizen of Costa Rica who provides multidisciplinary professional services to the international community. Reach him at info@crexpertise.com. Baker has undertaken the research leading to these series of articles in conjunction with A.M. Costa Rica. Find the collection at https://crexpertise.info, a complimentary reprint is available at the end of each article. Copyright 2004-2013, use without permission prohibited.
2. Ministry of Health provides barrels filled with rusty nails as water filters in arsenic-contaminated Bagaces

September 30th, 2013 (InsideCostaRica.com) The Ministry of Health is placing barrels filled with rusty nails as water filters in homes in Bagaces, one of the communities that has been hardest-hit by arsenic contamination in its water supply.

The barrels – the size of a large garbage can, are filled with rusty nails, sand, clay, and stone.

The measure comes after the Constitutional Court ruled in June that steps had to be taken to address the problems of arsenic contamination in the water supplies of several communities in Guanacaste and San Carlos.

The makeshift filters, used in countries like Uganda and Nicaragua, have been given to about 500 homes, schools and businesses. 500 more will be distributed in Cañas.

The Costa Rican Institute of Aqueducts and Sewers (AyA) says the measure is only temporary.

The filter consists of a container about the size of a large wastebasket that is filled with five kilograms of rusty nails, in addition to sand, clay, and stone, which is then filled with water. The water then exits the system via a tube of PVC connected to a spigot, allowing the user to fill up buckets of filtered water.

However, not everyone is happy with the solution.

Many residents don't believe the units function in removing arsenic. Others complain that the rusty nails add a bad taste to the water. Some residents have refused to have them put in their homes, while others have returned them, though authorities claim the makeshift filters remove up to 95% of arsenic.
3. Ticos count on court, but Nicaragua bets on river
By the A.M. Costa Rica staff

Costa Rica has a date next Oct. 14 with the International Court of Justice seeking a cease and desist order against Nicaragua. But the result of the Nicaraguan dredging might be provided by nature, something the court cannot command.

The central government said Tuesday that a quick hearing by the court based in the Hague was a good sign. Costa Rica complained when officials realized last month that two canals had been dug and dredged from a bend in the Río San Juan to the Caribbean.

The foreign ministry said Tuesday that Costa Rica seeks to order Nicaragua to clear out of the disputed area and abstain from using any equipment there and authorize Costa Rica to take steps to avoid irreparable damage.

According to those who live in the area, the stage already is set for the Río San Juan to blast a wide mouth into the Caribbean Sea.

The twin channels are only to guide the force of the river, which is being augmented by the rainy season. Residents in the area have a lot of experience with the way rivers can create their one course.

The parallel canals were constructed so that the river would remove the soil between them as it surged to the sea.

October and November are usually the months with the most rain both in Costa Rica and in Nicaragua.

Costa Rica also said that it was seeking a visit from the Secretariat of the Ramsar Convention on wetlands.

Nicaragua will be entering the International court session at a disadvantage, having violated many of the provisions ordered temporarily by the court. The world judicial body has not ruled officially on Costa Rica's claim that Nicaragua has invaded its territory. But the court ordered both countries to stay off the disputed land.

Obviously Nicaragua has not done this.

Eventually the court can order monetary damages against Nicaragua or mandate other measures. Any redging final judgement can be blocked by any permanent member of the U.N. Security Council.

The consequences of Nicaragua's actions will now be known until the rainy season ends. The Río Colorado is really a second mouth of the river well within Costa Rica. Some along that waterway think that a new mouth to the Río San Juan will have harmful effects on their river.

A new river mouth would cut off a piece of Costa Rica because the treaty setting the border of the two countries says the dividing line is the south bank of the river. Of course the International Court can modify this treaty if it appears that Nicaragua has acted illegally. But no court can change the course of the river.

The initial Nicaragua invasion was two years ago. The speculation at the time was that Nicaragua wanted to create a new river mouth to bypass the winding current mouth to the Caribbean that is heavily silted. Then the country could offer land to international developers to build hotels and marinas that would have quick access to the Caribbean.

As one reader pointed out, by making the mouth of the river lower in latitude, Nicaragua also gains extensive maritime holdings that might be rich in petroleum.
4. Route 32 completely closed after bridge collapse

October 3rd, 2013 (InsideCostaRica.com) Transit authorities announced yesterday the total closure of Route 32 at the Parismina River, after the bridge that crosses the river collapsed.

The only route to the province of Limon is now Turrialba.
5. Landslides close route 142 near Nuevo Arenal

October 3rd, 2013 (InsideCostaRica.com) Two landslides on route 142, kilometer 58 near Nuevo Arenal forced the closure of the important tourist route yesterday.

Workers are expected to have the road cleared today.

In July, a massive sinkhole – about 100 feet in diameter and 30 feet deep – swallowed a section of the same roadway nearby.
6. Repair of the "Platina" bridge to begin within 15 days

October 3rd, 2013 (InsideCostaRica.com) Work on what authorities are hoping will be the "final" repair to the bridge over the Virilla River on the General Cañas highway will begin within 15 days, according to Pedro Castro, Minister of Public Works and Transport.

The bridge has come to be known as the "Platina" bridge because of the metal grating that was used as part of temporary repairs.

The repair work will come at a cost of ¢4.5 billion (about $9 million USD). Castro said the work is only waiting on soil studies, which are expected to happen this week.
7. 95% believe Laura Chinchilla's administration is "corrupt"

October 3rd, 2013 (InsideCostaRica.com) A new poll by CID/Gallup for the Spanish-language online newspaper, CRHoy.com, reveals that Costa Ricans believe corruption is the biggest problem facing the country.

The survey polled 1,200 people between September 6th and 16th from all areas of the country.

The poll reveals that corruption is of higher concern than the cost of living.

95% of respondents said they believe that those who are part of the administration of President Chinchilla are "corrupt." Respondents point to issues such as a controversial highway concession between San José and San Ramon to support their view.

Communications Minister, Carlos Roverssi defended the Chinchilla administration, saying allegations of corruption are simply a perception.

"There is not a single case of a senior official of the government of President Chinchilla being accused of corruption. Not one, no one. It's a perception," Roverssi said.

The poll also revealed that just 14% of respondents approve of Chinchilla's job performance.
8. Banks will more closely monitor financial transactions

October 2nd, 2013 (InsideCostaRica.com) The Superintendent of Financial Institutions (SUGEF) is strengthening its monitoring of bank transactions equal to or greater than $10,000 USD as part of a plan to increase its measures against money laundering and terrorist financing.

The new regulation requires financial institutions to gather more detailed information on customers performing such transactions, regardless if the customer is an individual or business, Costa Rican or foreign.

While SUGEF's press statement was vague, the legislation requires banks to gather information on all shareholders of a corporation who possess at least 10% of shares, and to ensure that foreigners provide Costa Rican – issued identification (cedulas).

"The legislation provides that supervised institutions should conduct risk management against money laundering and terrorist financing that allows them to know the customer and identify their risks," said SUGEF chief, Javier Cascante.

During 2012, financial institutions in the country reported 1.7 million transactions equal to or greater than $10,000, half of which were in cash.
Brian, Lita, the Late Hugo IV, irreverent Vicka, the pigeon toed parrot, Chico II and Chica II