Dear friends,
When I started Residencias Los Jardines, I started writing a weekly news letter -determined to tell all the good, bad, and the ugly. I knew some readers would be interested in the construction process. I expected others might be interested in the lifestyle of two people who had decided to live outside the box. For others, the adventures of Lita, the parrot and the cat took on an entertainment saga all its own.
Residencias Los Jardines is finished. We periodically have resales and rental availability. Some readers may be interested in this information.
Brian Timmons
DEVELOPER / PROPERTY MANAGER
Residencias Los Jardines / https://www.residenciaslosjardines.com info@residenciaslosjardines.com
ResidenciasPropertyManagement@gmail.com
Featured house this week
UNIT #124:
FOR RENT: $900 mo.
Available Immediately
Total Area (Sq Ft): 662
Total area (Sq M): 61
Bedrooms: 1
Bathrooms: 1
Floor(s): 2nd floor
Type: Semi-Detached
Furnished: Yes
This 662 sf, + covered parking for one car, is a one bedroom home on the 2nd floor overlooking the large pool. It is ideal for a single person or couple.
Residencias Los Jardines
Property Management, Rentals, Re-Sales
Market Activity
Sales: 1 viewing.
Rentals: 2 viewings.
FOR SALE
Unit #114: $235,000 / See Unit
FOR RENT
Unit #121: $1,600 mo. / Available Immediately -Short term / See Unit
Unit #124: $900 mo. / Available Immediately / See Unit
Unit #126: $675 mo. / Available September 23 / See Unit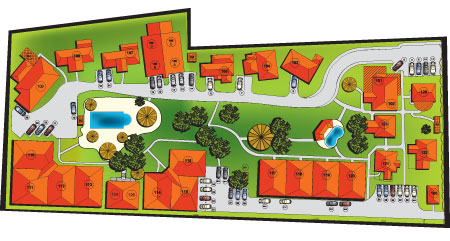 HOUSE FOR SALE
UNIT #114
FOR SALE $235,000
Total Area (Sq Ft): 1290
Total area (Sq M): 120
Bedrooms: 2
Bathrooms: 2
Floor(s): Single Floor
Type: Attached
Furnished: Yes
This 1,290 sf. (plus covered parking for one car and two lockers 67 sf.) single story, semi detached house, with garden terrace, two bedrooms is a beautiful executive style home. This home consists of two large bedrooms one with six piece en-suite bathroom with additional access to separate full shower. Each bedroom has large closets with extensive built-ins for personal organization. The vaulted living room and bathroom ceilings provide a feeling of grandeur while allowing the warmer air to rise and exit through the ceiling ventilating system. There are four TVs (one in each bedroom, one in the living room and one in breakfast / dinning room.) This is a beautiful well appointed home.
HOUSES FOR RENT
UNIT #121
FOR RENT $1,600 mo.
Available Immediately -Short term
Total Area (Sq Ft): 1423
Total area (Sq M): 131
Bedrooms: 2
Bathrooms: 2.5
Floor(s): 2 Story
Type: Detached
Furnished: Yes
This two story, detached 1,423 sf home + parking for one car has two bedrooms, 2 ½ bathrooms and a 2nd. floor covered terrace. The open railed wrought iron cement stair case leads to the 2nd. level where the master bedroom with en-suite master bathroom as well as 2nd. bedroom and en-suite bathroom are located. Also accessed from the 2nd. floor hallway is the covered terrace. This is a very nicely furnished home with a good floor plan for those wanting two floors.
UNIT #124
FOR RENT $900 mo.
Available Immediately
Total Area (Sq Ft): 662
Total area (Sq M): 61
Bedrooms: 1
Bathrooms: 1
Floor(s): 2nd Floor
Type: Semi-Detached
Furnished: Yes
This 662 sf, + covered parking for one car, is a one bedroom home on the 2nd floor overlooking the large pool. It is ideal for a single person or couple.
UNIT #126
FOR RENT $675 mo.
Available September 23
Total Area (Sq Ft): 530
Total area (Sq M): 50
Bedrooms: 1
Bathrooms: 1
Floor(s): 1
Type: Detached
Furnished: Yes
A small one bedroom with outside covered terrace with top of the line finishes (granite, stainless steel appliances, fine crafted wood cabinetry, +, +, +), with lots of well thought out storage...
Our Lives
WEATHER: September weather continues to be normal... beautiful sunny mornings, with clouding around mid day, followed for shower and then clearing. So far, we have not, in this area, had a torrential rain storms...
All in a Week's Living in CR:
It's been a week of trying to put closure on lots of things... bank accounts which take forever to get organized (I still don't have debit cards for an account I started working on 3 mo. ago -new promise is Tuesday). Friends went to Florida and opened an account, received checks, and CC all within an hour...
News Items of the Week
Comments:
Ex President Rodriguez:

Is it just me or am I missing something... a guy who has been charged and stood trial for so many alleged abuses has skated on all... Does anyone want to predict the outcome of the current trial? Wow... I don't know if he's guilty or not but one would think that if there is any basis for the allegations then the adage where there is smoke there is fire comes tomind... or is it just the incompetence of the judiciary in not being able to prove their case or is it a little behind the scenes activity???

Ring Road Collapse:

This is about the washout of a major ring road linking the east and western parts of San Jose. It is a very busy road and the only alternative is a mess through downtown San Jose... which on a good day is a disaster. As I read the 2nd. article, I just realized that so many of the issues I've noted individually, are all imbeded in this event. This series of articles speaks volumns about CR. They can be read simply as a news event or can be read on a deeper level and see what CR is really all about -in this domain... it all comes together, lack of... planning, maintenance, addressing issues in a timely manner vs. waiting until a crisis, political incompetence, engineering malfesence, etc. This same thing happened last year on the Pan American highway--an under sized, rotten culvert which had not been maintained nor cleared of debris caused the wash out of the highway... And the public servants are unhappy that the government didn't declare a national holiday because CR, by default, qualified for the world cup... but yet, there are 20,000 children participating in the celebration of independence and for which the schools have given over learning substantive things for the past several weeks in order to prepare for this event...
Hearing begins today for former Costa Rican president accused of embezzlement

September 9th, 2013 (InsideCostaRica.com) Former President of Costa Rica, Miguel Angel Rodriguez will return to court today, this time in relation to alleged embezzlement involving INS and and a European insurance firm.

Rodriguez is no stranger to corruption scandals. In 1997, while Rodríguez was a candidate for the Presidency of Costa Rica, he met Mexican politician and businessman, Carlos Hank González. He reportedly accepted campaign contributions from Hank, which is forbidden by Costa Rican law.

Later, news reports claimed that Rodríguez had also received $1.4 million from the government of Taiwan. The funds were deposited to a bank account in Panama controlled by the firm Inversiones Denisse S.A., which allegedly belonged to Rodríguez.

Rodríguez was also tried in Costa Rica for allegedly receiving more than $800,000 in payments from French telecom company Alcatel, in exchange for helping the company receive a government contract to provide 400,000 cell phone lines.

Today, Rodriguez will face a preliminary hearing in regards to alleged embezzlement to the detriment of the National Insurance Institute (INS).

An investigation revealed that British reinsurance firm PWS paid more than $2 million in bribes to three Costa Rican officials between 1998 and 2002 in exchange for a contract with INS. One of those officials was allegedly Rodriguez.

Allegedly, PWS inflated the policies of theInstituto Costarricense de Electricidad (ICE) in order to create a discretionary fund of $1.6 million. The director of ICE at the time was Rafael Sequeira, father-in-law of Rodríguez's son.

Rodriguez's preliminary hearing will be held today at the Criminal Court of the Second Circuit of San José, in Goicoechea. In a press release, Rodriguez said his defense "is fully convinced that this process will once again prove my innocence."

Rodriguez served as President of Costa Rica from 1998 to 2002 and was briefly Secretary General of the Organization of American States (OAS) in 2004, before stepping down to return to Costa Rica and face allegations of financial wrongdoing during his time as president.
Burden of highway mess falling on motorists

The public will again pay the price for deficiencies in highway maintenance. The impact of closing a section of the Circunvalación for two months will mean more metro traffic jams, changed work hours for some public employees and more hours when passenger cars are forbidden on the roads.

The Ministerio de Obras Públicas y Transportes said Wednesday afternoon that the washout between Hatillo 8 and the Pavas exit on the four-lane road was too unstable to allow traffic.

This is the spot where the ministry's Consejo Nacional de Vialidad installed four bailey bridges to carry the traffic. Motorists had to live with a week of lane restrictions on the key highway.

Tuesday's rain cause the Río María Aguilar to swell. That river eroded the road. The washout became larger, and experts from the Universidad de Costa Rica said that the bailey bridges were unsafe. The road was closed temporarily Tuesday and permanently Wednesday.

The ministry said that the bridges will be removed and the soil beneath shored up. Workers are expected to install pilings. Then the bridges will be replaced. Officials estimated that this will take two months. Then work will continue rebuilding the spillway under the road. That was what washed out originally causing the erosion.

Officials also are examining other spillways on the highway. Most were constructed of large-diameter corrugated pipes, which are at the end of their useful life.

In addition to traffic jams and difficulties navigating the metro area, motorists also will face additional restrictions based on their license plate. Each personal vehicle already is prohibited from traveling in the metro area one day a week, based on the last digit of the license plate. Now officials want to extend that prohibition to another weekday when the vehicles will be barred during peak traffic hours in the morning and evening.

The ministry is sending 120 traffic officers into the streets today to enforce the prohibitions and direct traffic. Fuerza Pública officers also have been asked to help.

In another effort to reduce rush hour traffic, the ministry said that public employees no longer will start work at 7 a.m. Instead they will arrive a 9 a.m. That comment has not been supported yet by official action by the Presidencia, but the Ministerio de Educación Pública said school times will remain as they are, normally 7 a.m.

The ministry also has not officially released details on the second day of vehicle prohibition. The Circunvalación is a major bypass route that runs from la Uruca to San Pedro along the southern edge of the metro area.

September and October are rainy months, so the weather may change the ministry's plans.
Peñas Blancas border with Nicaragua will be closed most of the day today

September 13th, 2013 (InsideCostaRica.com) The Peñas Blancas border crossing with Nicaragua will be open for only two hours today as a result of the Torch of Liberty being passed to Costa Rica by its northern neighbor as part of the annual celebration marking Central America's independence.

The border will be open only between 6 a.m. and 8 a.m. exclusively for tourists or trailers loaded with perishables, according to Hacienda.

This year, a young student from La Cruz, Abril Morales Ceciliano, will be the first to receive the torch in Costa Rica.

Ceciliano is a 14-year-old student in the eighth grade at the Liceo Experimental Bilingüe de La Cruz who wants to be a neurologist.
Independence celebrations clouded by road woes

The independence day holiday started early Thursday with a big celebration at the Asamblea Legislativa marking the country's 192nd year.

The festivities continue today. Other government offices plan celebrations. One is this morning at the Archivo Nacional where the nation's most important documents are kept.

Some downtown workers will create their own holiday in light of a challenging commute because of the closure of the Circunvalación bypass. A lot of Costa Ricans feel cheated because the Día de la Independencia is Sunday, a day when most do not work. So they are not getting a paid holiday.

They also are irked because President Laura Chinchilla did not declare a holiday for public employees because the national soccer team qualified for the 2014 World cup.

If employes stay home today, most employers will be understanding. By closing the Circunvalación because of an expanding washout, traffic in the southern and western half of the city reached nightmare proportions Thursday. That situation is expected to endure for two more months while highway contractors try to stabilize the eroding soil and replace four bailey bridges on the major highway.

The situation is so bad that Luis Guillermo Solís, the presidential candidate for the Partido Acción Ciudadana, asked President Chinchilla to declare a state of national emergency. He noted that there were other, lesser collapses elsewhere, too.

This declaration would permit contracting projects in a more efficient way as well as resolving the problems that have placed the population is great risk and continue causing a gigantic economic cost for the state, he said in a prepared release. He also said that engineers from a materials lab at the Universidad de Costa Rica should supervise any direct contracts to avoid what he called the ethical lapses of the Chinchilla government. He was referring to the highway built along the northern border that has become a morass of allegations and corruption investigations.

The Cámara Costarricense de la Construcción also checked in Thursday with a statement that proposals by officials to mitigate some of the traffic congestion were not reasonable. The Ministerio de Obras Públicas y Transportes said Wednesday that public employees should come to work at 9 a.m. instead of 7 to avoid the morning rush hour. The ministry also said that vehicles that are now restricted one day because of the last digit on the license plate also will be restricted during morning and evening rush hours the day previous.

These methods will paralyze the metro area for lack of a drain, said the construction chamber, referring to the site of the collapse. it asked for a more efficient solution.

The chamber said that the hours that the valley train runs should be increased, the vehicle restrictions should be eliminated, badly parked cars should be avoided and that the traffic flow on alternate routes should be improved.

The chamber said that in the eight years that traffic restrictions have been in force there has been no study to show they are effective. The chamber also listed a litany of recent infrastructure failures, including a similar washout on the General Cañas highway.

Students carrying the Antorcha de la Independencia from Alajuela through Heredia Saturday will not have to use the Circunvalación. So the torch relay is expected to arrive exactly on time again this year at San José Parque Central where a major ceremony will be held. The torch, signifying the announcement of liberty 192 years ago, is expected to enter the country today about 9 a.m. from Nicaragua.

There will be ceremonies and celebrations along the route from Guanacaste to the Central Valley. The education ministry said 20,000 students will take part in this annual relay. The torch ends up in Cartago Saturday at 8 p.m. for a ceremony with President Laura Chinchilla and ministers.

This is her last independence day as president.

The independence ceremonies are Saturday night, but there will be parades Sunday. The security ministry is having two events, one today and one Saturday. The Asociación Costa Rica de Washington, will host a party for Costa Ricans in Washington Saturday.

Lawmakers Thursday enjoyed the dancing and singing of the Grupo de Proyección Folclórica and a chorus of their own employees. The event was indoors at the legislative complex.

And there was food, traditional picado de papa, tamales, horchata and arroz con leche.
Brian, Lita, the Late Hugo IV, irreverent Vicka, the pigeon toed parrot, Chico II and Chica II