Dear friends,
When I started Residencias Los Jardines, I started writing a weekly news letter -determined to tell all the good, bad, and the ugly. I knew some readers would be interested in the construction process. I expected others might be interested in the lifestyle of two people who had decided to live outside the box. For others, the adventures of Lita, the parrot and the cat took on an entertainment saga all its own.
Residencias Los Jardines is finished. We periodically have resales and rental availability. Some readers may be interested in this information.
Brian Timmons
DEVELOPER / PROPERTY MANAGER
Residencias Los Jardines / https://www.residenciaslosjardines.com info@residenciaslosjardines.com
ResidenciasPropertyManagement@gmail.com
Featured house this week
UNIT #124:
FOR RENT: $900 mo.
Available Immediately
Total Area (Sq Ft): 662
Total area (Sq M): 61
Bedrooms: 1
Bathrooms: 1
Floor(s): 2nd floor
Type: Semi-Detached
Furnished: Yes
This 662 sf, + covered parking for one car, is a one bedroom home on the 2nd floor overlooking the large pool. It is ideal for a single person or couple.
Residencias Los Jardines
Property Management, Rentals, Re-Sales
Market Activity
Sales: none.
Rentals: 5 calls; 3 viewings; 1 rental.
FOR SALE
Unit #114: $235,000 / See Unit
FOR RENT
Unit #113: $1,250 mo. / Leased
Unit #121: $1,600 mo. / Available Immediately -Short term / See Unit
Unit #124: $900 mo. / Available Immediately / See Unit
Unit #126: $675 mo. / Available September 23 / See Unit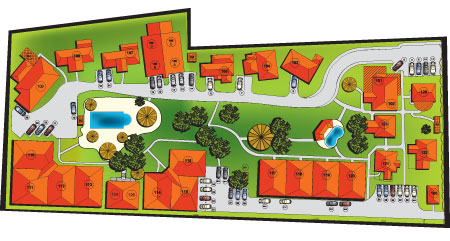 HOUSE FOR SALE
UNIT #114
FOR SALE $235,000
Total Area (Sq Ft): 1290
Total area (Sq M): 120
Bedrooms: 2
Bathrooms: 2
Floor(s): Single Floor
Type: Attached
Furnished: Yes
This 1,290 sf. (plus covered parking for one car and two lockers 67 sf.) single story, semi detached house, with garden terrace, two bedrooms is a beautiful executive style home. This home consists of two large bedrooms one with six piece en-suite bathroom with additional access to separate full shower. Each bedroom has large closets with extensive built-ins for personal organization. The vaulted living room and bathroom ceilings provide a feeling of grandeur while allowing the warmer air to rise and exit through the ceiling ventilating system. There are four TVs (one in each bedroom, one in the living room and one in breakfast / dinning room.) This is a beautiful well appointed home.
HOUSES FOR RENT
UNIT #121
FOR RENT $1,600 mo.
Available Immediately -Short term
Total Area (Sq Ft): 1423
Total area (Sq M): 131
Bedrooms: 2
Bathrooms: 2.5
Floor(s): 2 Story
Type: Detached
Furnished: Yes
This two story, detached 1,423 sf home + parking for one car has two bedrooms, 2 ½ bathrooms and a 2nd. floor covered terrace. The open railed wrought iron cement stair case leads to the 2nd. level where the master bedroom with en-suite master bathroom as well as 2nd. bedroom and en-suite bathroom are located. Also accessed from the 2nd. floor hallway is the covered terrace. This is a very nicely furnished home with a good floor plan for those wanting two floors.
UNIT #124
FOR RENT $900 mo.
Available Immediately
Total Area (Sq Ft): 662
Total area (Sq M): 61
Bedrooms: 1
Bathrooms: 1
Floor(s): 2nd Floor
Type: Semi-Detached
Furnished: Yes
This 662 sf, + covered parking for one car, is a one bedroom home on the 2nd floor overlooking the large pool. It is ideal for a single person or couple.
UNIT #126
FOR RENT $675 mo.
Available September 23
Total Area (Sq Ft): 530
Total area (Sq M): 50
Bedrooms: 1
Bathrooms: 1
Floor(s): 1
Type: Detached
Furnished: Yes
A small one bedroom with outside covered terrace with top of the line finishes (granite, stainless steel appliances, fine crafted wood cabinetry, +, +, +), with lots of well thought out storage...
Our Lives
WEATHER: not much rain; mostly sunny... some overcast.
All in a Week's Living in CR:
Sunday was a luncheon at friends and Lita hosted a luncheon for 14 on Thursday; along with her food and that which others brought, we had lots of great eats... and very few left overs... social events dominate our life now... and Saturday seems to be a repeat of last Sunday...
News Items of the Week
Comments:
Private Lending:

I know a number of expats doing this. The interest rates are high by N. Am. standards but are normal for here. The niche is that for the bower that the funds can be released much faster than banks -which take forever. For the lender, he gets a good return and his investment is fully secured.

Catch and Release:

It has to be really discouraging for the police that the judiciary side of law enforcement is so screwed up. Not only are the police poorly paid, poorly trained, and have very limited resources, the judicial system simply doesn't mesh with the police efforts... and some wonder why the crime rate is increases... it's not hard to figure out...

Nicaragua and CR:

It's easy to get the CR government excited and Ortega knows just how to do it.

Subsidizing the bad guys:

Not only does CR catch and release the bad guys, it also subsidizes their badness and hinders the USA efforts to help them.
If one is into sick humor, just spend a week reading CR news... however, all in all, it's still a wonderful place to live.
Some expats find that mortgages can boost income
By Garland M. Baker
Special to A.M. Costa Rica

Some expat retirees in Costa Rica are giving mortgages to others in order to supplement their retirement incomes. Generating a nice extra sum is possible if ones finds the right debtor because interest rates are high in Costa Rica. Finding the borrower is easier than it was in the past because there are numerous services providing credit information on individuals and companies here. Mortgages are easier to collect now, too, if the deal goes amiss than they were a few years ago.

Balloon mortgages tend to be the financial instruments of choice with interest rates ranging from 6 to 12 percent on the principal. Some lenders even charge more in some situations because they can get away with the practice.

Credit card companies in Costa Rica get exorbitant amounts for interest on credit card debt. They argue high defaults justify rates of 40-plus percent on colons and 30-plus percent on dollars, and these are the preferential rates. This is a great deal for them considering the colon has outperformed the dollar over the past few years. They are really racking in the dough, and no one seems to cry usury.

Most Costa Ricans are accustom to paying high interest rates, even on home mortgages. There are some special programs available for financing a residence, but they are hard to find. For housing determined to be in the social interest, the Banco de Costa Rica offers 9 percent fixed interest loans for one to two years increasing to the tasa basica plus 3 percent adjustable monthly after that period.

The tasa basica is Costa Rica's prime rate in colons fixed by the Banco Central.

Interest rates for money borrowed for residencies that do not qualify as in the social interest are all over the place. Housing in the social interest category are residencies with values up to 58.6 million colons or about $118,000.

A balloon mortgage is a kind of short-term loan secured by property. Regular payments are calculated based for a specific period with the principal due before the end of the payments. For example, a $100,000 loan at 12 percent interest based on 30-year amortization and a five-year balloon returns $1,028 to the lender. When the loan is paid after five years, only $1,308 will have been paid to principal returning $98,693 to the lender. In other words, a great income generator.

There are many caveats to heed when lending money. The most important of them is finding the right borrower, one who pays the bills. Balloon mortgages are not for everyone because of the responsibility to pay the large sum as agreed. However, there are people and businesses with adequate assets and records of accomplishment that can meet the requirement.

One expat on the coast lends his own money short-term to developers. He seeks someone who is building for resale and has a proven track record doing such business. He is also very astute and personally checks out the borrower as well as gets professional advice and information. One of most important things he has learned is to keep the deal clean with a simple first mortgage on a project involving land and keep the debt to equity ratio low.

This investor does not charge 12 percent even though he could get it easily. He charges a lesser percentage because he wants the income to supplement his pension. He also finds most of the people to whom he has lent money pay the balloon payment right on time or before it is due.

Making an additional income has its merits, but it also has its costs. It is the norm that a borrower usually pays all financing costs including legal and registration fees. Registering a mortgage is expensive in legal fees and registration taxes. However, it is must to have a mortgage attached to property used as guarantee at the Costa Rican Registro Nacional. Again, the borrower normally assumes these costs.

What people forget is that they need to pay taxes on their profits to the local government and that U.S. citizens need to pay Uncle Sam. Expats from other countries should consult their home country's tax authority to check their liability.

Even after considering, the taxes and other associated costs, lending money to the right people could generate significant revenue to a retired person. It is very important to note that one cannot lend money as a regular business or use other people's money to do so or they would come under the scrutiny of the regulatory agency, the Superintendencia General de Entidades Financieras, Costa Rica's financial system regulator.

Anyone interested in this sideline endeavor should also work with a competent legal professional, one that knows all the tax and financial regulations and requirements. This said, it is important to note many Costa Rican attorneys are great at law but know nothing about accounting and taxes. There are a few, very few, who are attorneys, notaries and certified accountants, too. Even more unique are the individuals who have C.P.A. credentials from the United States as well.

Costa Rica does not allow compound interest, only simple, referred to as intereses sobre saldos or interest on the balance due. Balloon mortgages are legal, but many attorneys do not have the first clue as to what they are or how to write them up in a legal document for the Registro National.

Balloon mortgages given to the right borrower can be a great source of extra retirement income without eroding principal when they are prepared correctly and adhere to the local laws.

From: https://www.amcostarica.com/monday.htm
Police report they are getting a lot of repeat business
By the A.M. Costa Rica staff

Crooks appear to be able to do the crime and not do the time, at least in the area around La Fortuna.

Some evidence of this exists in the case of an arrest Thursday of a car full of supermarket theft suspects. The car contained items such as rice, crackers and even toilet paper that appeared to have been stolen. The occupants had been detained in the past a total of more than 50 times, said the Fuerza Pública.

One person had been detained for theft and robbery 23 times. a companion had made the trip to the prosecutor's office 10 times, Another man had been detained 17 times. Three of the men had no papers, so they were remanded to the Dirección General de Migración. But the driver of the car had no police record, so police just removed the plates from the vehicle, they said.

The second case involved two men who were detained on a home burglary allegation. The crime was in Barrio Los Olivos in La Fortuna. That was Aug. 12. One of the men was remanded to jail for preventative detention because he carried the backpack that contained the stolen items, but a companion was freed.

Two days later, Wednesday, police said they found the companion in another house, this time in the nearby Barrio Dora. He was again brought to the Tribunales de Flagrancia in San Carlos.

The judge let him go again, police said.
2013 is on track to be a record year for reported crime
By the A.M. Costa Rica staff

Crime reported in the first seven months of this year showed an 11 percent increase over 2012, the Judicial Investigating Organization said Tuesday.

Murders, street robberies, thefts and home invasions all showed increases, said the report.

The data came from the agency's criminal analysis division and only address crimes that have been reported. An unrelated telephone survey that was the subject of a news story earlier this month estimated that there may have been as many as 200,000 robberies or assaults from February to June. That survey was commissioned by the Cámara Norteamericana Costarricense de Comercio and the accounting and consulting firm Deloitte.

The Judicial Investigating Organization said that there were 3,603 asaltos in the seven months. That was reported to be 607 more than the previous period in 2012.

The word in Spanish usually is translated as a robbery and not as a physical assault as in English.

There were 227 murders in the first seven months of 2013. During the same period in 2012 there were 209. That could be considered good news because in the same period in 2008 there were 260, in 2011 there were 283, in 2010 there were 307 and in 2011 there were 291, according to the agency. During these years wars were being waged by rival drug gangs.

Still, an 8.6 percent increase in reported murders was not what Casa Presidencial was seeking. The Laura Chinchilla administration has been promoting the idea that crime had decreased and cherry-picking data to do it.

San José was the provence with the most murders followed by Limón. Because of population differences, that gave Limón a rate of 14.4 murders per 100,000 population compared with the 5.1 per 100,000 in San José.

The central canton of San José, generally considered the city, had 21 reported murders during this period under study. Goicoechea was second in the province with 16, and Tibás and Desamparados tied for third with 14 each.

The central canton of Limón in that province also has 21 murders during the period, and Pococí was second with 13.

Because many of these murders still are under investigation, agents could not provide motives for 72. Arguments led to killing in 52 cases with revenge third with 43. Some 41 persons died during the commission of other crimes, including stickup, according to the data.

The most-used weapon was a firearm, which killed 154 persons or 67 percent of the total, said the agency. Some 42 person died from knife wounds, it said.

With five months to go in 2013, the total murders would appear to project to about 390, the lowest annual amount since 2007 when there were 362. The record was in 2010 with 527 murders.

In the totals so far this year, the judicial report said that nine persons died when citizens or police engaged in self defense and killed a suspect.

In terms of total crime, the central canton of San José also was the leader with 4,271 reported in the first seven months. That is a 12.3 percent increase over the first seven months of 2012. All other cantons in the country had less than 1,000 reported crimes, and a canton such as Mora had just 37 reports, said the agency.

In 2012 the Judicial agency received complaints of 47,433 crimes. Extrapolating the current data suggests that 2013 will end with more than 51,000 reported crimes. That would be a record.
Costa Rica–Nicaragua tensions escalate after Ortega threatens to claim Guanacaste, begins oil exploration

August 19th, 2013 (InsideCostaRica.com) Tensions between Costa Rica and Nicaragua continue after Nicaraguan President Daniel Ortega's threat last Tuesday to make a claim to the Costa Rican province of Guanacaste at the International Court of Justice in The Hague. The statement was made at a celebration marking the 33rd anniversary of Nicaragua's Navy.Guanacaste was annexed by Costa Rica on July 25th, 1824 after its inhabitants decided on their own will to be part of Costa Rica.

Though Nicaragua later downplayed Ortega's statement on Thursday, saying the country was dealing with more "important issues" and appearing to indicate that it had no intentions of actually making such a claim, tensions between the neighbors continue, including disputes over the countries' maritime boundaries as Nicaragua begins to search for offshore oil, a planned "mega canal" to dwarf the Panama Canal, and an ongoing border dispute.

Costa Rica fired back against Ortega's comments in full force beginning last Wednesday.

Eduardo Ulibarri, Costa Rica's ambassador to the United Nations, told CNN last Wednesday that his country has sent 16 letters to the UN Security Council over the "constant provocations" of President Daniel Ortega.

"It is a very disrespectful statement from the point of view of Costa Rica's territorial integrity. The issue of Guanacaste has been fully resolved from the historical, legal, and human standpoints for more than a century," Ulibarri told CNN in response to Ortega's statement.

Ulibarri also described Nicaragua's interest in acquiring weaponry in recent years as an "arms race."

Costa Rica's Foreign Minister, Enrique Castillo, echoed Ulibarri's sentiments to local media the same day. "In regards to Guanacaste, there is nothing to discuss – the issue has been resolved for 100 years by way of the Cañas – Jerez treaty. There is nothing to negotiate, Guanacaste is part of Costa Rica and will be forever," Castillo said, adding that Costa Rica would not be intimidated.

Costa Rican President Laura Chinchilla also gave a lengthy press conference in which she said that Nicaragua "would not touch" Guanacaste.

Costa Rica concerned about "offensive weapons" purchases

On Friday, Costa Rica's Foreign Ministry expressed its concern over Nicaragua's purchase of what of weapons that it describes as "offensive," rather than defensive in purpose.

Nicaraguan Army commander, General Julio Cesar Aviles, seemed to confirm to local media in Nicaragua that his military is indeed in search of weapons.

"We visited different factories and shipyards that manufacture naval assets, including in the Russian Federation, for the type of assets that we need," the general told local media in Nicaragua.

The news comes at a time when it has emerged that two to three ships of the Russian Navy arrived in Nicaragua on Monday, August 12th, on a "visit of friendship and courtesy," according to Nicaraguan Army spokespeople.

Costa Rica forced to close consulate in Nicaragua due to demonstrations

Yesterday, Costa Rican Foreign Minister, Enrique Castillo, announced that his country was forced to close its consulate in Managua due to "xenophobic" demonstrations against the consulate and its Costa Rican staff.

Consulate officials initially decided to relocate the consulate to a different area outside of Managua as a result of the demonstrations, though residents of the area where the consulate was to be relocated later staged demonstrations and prevented consulate staff from reaching their new offices.

Castillo indicated that Costa Rican consulates in the Nicaraguan provinces of Chinandega and Rivas were continuing to operate normally.

"It is a consequence of xenophobia there against Ticos, encouraged by the Government of Nicaragua, that we had decided to move the consulate to a place that offered better conditions for Nicaraguans, but the inhabitants of the district are opposed to the installation of the [new] offices there and even the roads have been closed, so while situation continues, those interested in a visa for Costa Rica, will have to go to Chinandega or Rivas," Castillo said.

Ticos plan demonstrations of their own

Meanwhile, Costa Ricans are planning some demonstrations of their own.

Residents of Nicoya plan a march for Thursday, August 22nd, to protest President Ortega's threat to claim their province.

According to the Mayor of Nicoya, Marco Jimenez, the "March for the Fatherland" is to demonstrate that residents consider themselves "full-blooded" Costa Ricans.

The march will begin at 10 a.m. at the Courts of Justice of Nicoya and will culminate at the Recaredo Briceño park.

Nicaragua begins offshore drilling

On Wednesday, Nicaraguan officials announced to the public that a drilling platform called the Ocean Saratoga has begun drilling the first exploratory offshore oil well as part of Nicaragua's plan to begin offshore oil exploitation off both its coasts.

The Ocean Saratoga is owned by Texas-based Noble Energy. The first well is being drilled 168 kilometers offshore from the town of Bluefields, on Nicaragua's Caribbean coast.

The U.S. company plans to dig a well of 3,358 meters to determine the existence of hydrocarbons in the area. The exploration will be conducted over the next 90 days.

The offshore exploration comes as Costa Rica and Nicaragua dispute their maritime boundaries. Costa Rica claims that Nicaragua has offered up waters belonging to Costa Rica for oil exploration.

Costa Rican authorities said last month that 18 areas or "blocks" of maritime territory offered by Nicaragua in the Pacific and 55 in the Caribbean are "clearly located in Costa Rican territory."
Drug Trafficking Boat Receives Subsidized Fuel from INCOPESCA

The Costa Rica News (TCRN)- The vessel Captain Erson P271, arrested last Sunday near Galapagos Islands with 983 kilos of cocaine in Ecuador, was also part of an anti-drug operation in November of 2012, 346 miles from Cabo Blanco, Puntarenas, when it was arrested with 1,081 kilos of drugs.

In less than six months this ship was caught with a total of 2,064 kilos of cocaine, and despite this fact, it received fuel subsidies for ¢16 million between 2012 and 2013 by the Fishing and Aquaculture Costa Rican Institute (INCOPESCA).

According to a report by the Department of Protection, Registration and Fuels of INCOPESCA, the boat has received a total of 23,060 gallons of diesel. "According to our records the boat has medium-scale commercial fishing license under the name of Mr. Moses Lopez Avalos. During the year he has purchased fuel at preferential prices for a total of around c16 million colones ", said the office.

Last Sunday authorities also arrested two Costa Ricans known by their last names Piedra Quesada and Guzman Lopez.

In the operation that took place on November 29, 2012, 346 miles from Cabo Blanco, four people were arrested: Acevedo Acevedo, Vega Parrales, Pizarro Abarca and Reyes Castillo, who, along with the boat, were detained by Golfito´s Attorney. However, the vessel "Captain Erson" was returned to its owners after a decision by Golfito´s Criminal Court.

In relation to this fact, INCOPESCA CEO, Luis Dobles, stated that the subsidized fuel can only be denied to people with open criminal cases, or who have been legally sentenced. In this particular case, since the boat was returned to its owners, he explained, they could count on the fuel subsidy.

Mario Zamora, Security Minister, said that 90 percent of the vessels involved in drug trafficking have been granted subsidized fuel by INCOPESCA.

Since 2008, State authorities have warned that the country lacks mechanisms, studies and capacity to control this subsidy scheme and that it is not possible to know its proper use.
Brian, Lita, the Late Hugo IV, irreverent Vicka, the pigeon toed parrot, Chico II and Chica II