Dear friends,
When I started Residencias Los Jardines, I started writing a weekly news letter -determined to tell all the good, bad, and the ugly. I knew some readers would be interested in the construction process. I expected others might be interested in the lifestyle of two people who had decided to live outside the box. For others, the adventures of Lita, the parrot and the cat took on an entertainment saga all its own.
Residencias Los Jardines is finished. We periodically have resales and rental availability. Some readers may be interested in this information.
Brian Timmons
DEVELOPER / PROPERTY MANAGER
Residencias Los Jardines / https://www.residenciaslosjardines.com info@residenciaslosjardines.com
ResidenciasPropertyManagement@gmail.com
Featured house this week
UNIT #126:
FOR RENT: $675 mo.
Total Area (Sq Ft): 530
Total area (Sq M): 50
Bedrooms: 1
Bathrooms: 1
Floor(s): 1
Type: Detached
Furnished: Yes
A small one bedroom with outside covered terrace with top of the line finishes (granite, stainless steel appliances, fine crafted wood cabinetry, +, +, +), with lots of well thought out storage...
Residencias Los Jardines
Property Management, Rentals, Re-Sales
Market Activity
Sales: no calls.
Rentals: 8 calls, 3 viewings with 1 scheduled for next week; 3 long term rentals.
FOR SALE
Unit #114: $235,000 / See Unit
FOR RENT
Unit #106C: $1,250 mo. / Available Immediately / See Unit
Unit #113: $1,350 mo. / Available Sept. 1 / See Unit
Unit #121: $1,600 mo. / Available Immediately -Short term / See Unit
Unit #123: $1,650 mo. / Lease Pending
Unit #124: $1,000 mo. / Available Immediately / See Unit
Unit #126: $675 mo. / Available September 1 / See Unit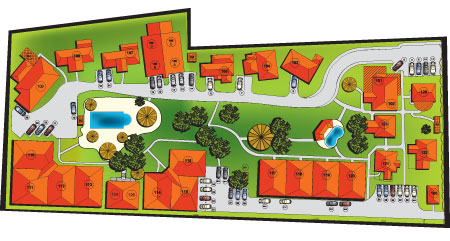 HOUSE FOR SALE
UNIT #114
FOR SALE $235,000
Total Area (Sq Ft): 1290
Total area (Sq M): 120
Bedrooms: 2
Bathrooms: 2
Floor(s): Single Floor
Type: Attached
Furnished: Yes
This 1,290 sf. (plus covered parking for one car and two lockers 67 sf.) single story, semi detached house, with garden terrace, two bedrooms is a beautiful executive style home. This home consists of two large bedrooms one with six piece en-suite bathroom with additional access to separate full shower. Each bedroom has large closets with extensive built-ins for personal organization. The vaulted living room and bathroom ceilings provide a feeling of grandeur while allowing the warmer air to rise and exit through the ceiling ventilating system. There are four TVs (one in each bedroom, one in the living room and one in breakfast / dinning room.) This is a beautiful well appointed home.
HOUSES FOR RENT
UNIT #106C
FOR RENT $1,250 mo.
Available Immediately
Total Area (Sq Ft): 1250
Total area (Sq M): 120
Bedrooms: 2
Bathrooms: 2
Floor(s): Single Floor
Type: 4-plex
Furnished: Yes
This is a fully furnished 2-bedroom unit situated in a 2-story building, which has two units on the ground floor and two units on the 2nd. floor. Each unit is the same size (1,250sf) divided into 800 sf of interior space and 450 sf of covered front and back terraces. Units 106A and B are on the ground floor; Units 106 C and D are on the 2nd. Floor. The solid masonry demising wall (common wall) as well as the 5" concrete slab prevent sound transference.
UNIT #113
FOR RENT $1,350 mo.
Available September 1
Total Area (Sq Ft): 1290
Total area (Sq M): 120
Bedrooms: 2
Bathrooms: 2
Floor(s): 1
Type: Semi-Attached
Furnished: Yes
This 1,290 sf single floor home includes a 300 sf front terrace plus parking for one car. It is attached on one side by a 6 inch cement demising (common) wall, which prevents sound transfer. The three other sides allow light, ventilation and garden views.
UNIT #121
FOR RENT $1,600 mo.
Available Immediately -Short term
Total Area (Sq Ft): 1423
Total area (Sq M): 131
Bedrooms: 2
Bathrooms: 2.5
Floor(s): 2 Story
Type: Detached
Furnished: Yes
This two story, detached 1,423 sf home + parking for one car has two bedrooms, 2 ½ bathrooms and a 2nd. floor covered terrace. The open railed wrought iron cement stair case leads to the 2nd. level where the master bedroom with en-suite master bathroom as well as 2nd. bedroom and en-suite bathroom are located. Also accessed from the 2nd. floor hallway is the covered terrace. This is a very nicely furnished home with a good floor plan for those wanting two floors.
UNIT #124
FOR RENT $1,000 mo.
Available Immediately
Total Area (Sq Ft): 662
Total area (Sq M): 61
Bedrooms: 1
Bathrooms: 1
Floor(s): 2nd Floor
Type: Semi-Detached
Furnished: Yes
This 662 sf, + covered parking for one car, is a one bedroom home on the 2nd floor overlooking the large pool. It is ideal for a single person or couple.
UNIT #126
FOR RENT $675 mo.
Available September 1
Total Area (Sq Ft): 530
Total area (Sq M): 50
Bedrooms: 1
Bathrooms: 1
Floor(s): 1
Type: Detached
Furnished: Yes
A small one bedroom with outside covered terrace with top of the line finishes (granite, stainless steel appliances, fine crafted wood cabinetry, +, +, +), with lots of well thought out storage...
Our Lives
WEATHER: some rain but not much -again a virtually dry week... it's great for living and the garden but in the long run, it may have consequences.
All in a Week's Living in CR:
Re. the new bank account: It still isn't available.. The PIN is yet to be issued. The bank forgot to attach a document and Friday was a holiday. I'm still waiting. Incredible!!
Rentals: Like several weeks ago, all of a sudden I had a flurry of activity. The chart doesn't really show what all happened since the was internal movement: One tenant, who leads a chaotic life, left... I had a heads-up but didn't know for sure until the last minute. An existing tenant who has moved twice before looking for the "perfect" unit decided to upgrade and move again into the newly vacant unit... That's happening as I write. A new long term tenant is back filling the now vacant unit (112). One shorter term client is extending. The German tenant for 123 has yet to transfer funds to my account because his people cannot manage information... having said that, I believe it to be just a matter of time. A Spanish family is considering #106C but their offer is not acceptable so we'll see. The short term clients are being replaced by longer term prospects. I hope the activity extends into next week and beyond. I'd like to be fully rented.
News Items of the Week
Comments:
Solis: the next political campaign seems to be shaping up as J. Araya vs. Solis. Johnny Araya is from the same party as L. Chinchilla and the former president. Solis ran ran last time and represents a different party. The same characteristic which allow the current president and previous presidents from that party to be elected is again playing itself out... the opposition is disjointed... there are lots of small parties, disorganized and representing very specific issues.. If that continues, which I expect it will and the small parties cannot form a coalition, J. Aroya will likely be elected...
Drugs: there are lots of them around and some of them actually got on the plane vs. being "lost" in transport and storage.
BCR -the government bank is investment grade... better than it was before so guess the government funds are being managed effectively.
Murder and Arrests of Turtle eggs: Only in CR would there be a murder over turtle eggs... when people are desperate or opportunists, they do crazy things. There seems to be a health degree of skepticism that the version presented in this article is correct vs. being trumped up over media pressure... We'll see how it plays out but the environmental activist Paul Watson wrote a very damning open letter to the president Laura Chinchilla and posted in on Facebook... he has lots of followers and has vowed to make this a media event... he's been harrassed by the CR government over what he claims are Japanese special interest pressure for an event 10+ years ago.
Bank Exchange Rate: Speculation by the Central Banker who really wants the exchange rate to go down and wants to eliminate borrowing in US dollars. While I missed the article, I was told that he was hauled into the President's offer and told to eliminate the recently imposed borrowing restriction on US dollars because the economy needed the relief. I'm sure he wasn't happy but as of now, the 12% increased limit in US $ borrowing has been removed (quietly, I think).
Solis confirmed as PAC presidential candidate after recount

July 30th, 2013 (InsideCostaRica.com) The main opposition party in Costa Rica confirmed on Monday political scientist Luis Guillermo Solis as its candidate for the February 2nd Presidential Elections after completing a manual recount of the vote.

On Monday, PAC announced that Solis received 113 votes more than his closest competitor, Juan Carlos Mendoza.

Solis, 55, is a political scientist and historian who was associated for nearly 30 years with the ruling National Liberation Party (PLN), becoming general secretary of that party from 2002 to 2003.

Solis, a 55-year-old political scientist, historian, and professor at the University of Costa Rica, was a member of the competing National Liberation Party (PLN) for nearly three decades, serving as general secretary of the party between 2002 and 2003.

Solis left the party in 2005, citing the abandonment of the party's original "social democratic" ideals and unacceptable levels of corruption.

Solis will face PLN nominee Johnny Araya, who is listed as the favorite to win the presidential race.

Over the weekend, the PAC announced that it has not yet managed to form a coalition with two other opposition parties to confront Araya.
United States Air Force plane picked up nearly 24 tons of cocaine at Liberia airport

July 30th, 2013 (InsideCostaRica.com) Under tight security and in complete secrecy, the Judicial Investigation Organization (OIJ) transported nearly 24 tons of cocaine to the Liberia airport, which was loaded onto a U.S. Air Force plane to be transported to Miami, Florida for destruction. The cocaine had been seized over the course of the last two years during anti-drug operations in the country.

According to information from the OIJ press office, the drugs were transported from San José in two containers in what the OIJ describes as a rare operation. Apparently, Costa Rica does not currently have the capability to destroy large amounts of the drug.

The Costa Rica consulate in Miami will continue the chain of custody of the drugs until their destruction, according to OIJ officials.

The U.S. Air Force aircraft that picked up the drugs received legislative permission to enter the country, according to officials.
BCR rated 'investment grade' by Moody's

July 30th, 2013 (InsideCostaRica.com) Rating agency Moody's has given a rating of "baa3" to Banco de Costa Rica (BCR), which is considered 'investment grade.'

The rating assigned to the bank is similar to that assigned to the Government of Costa Rica.

In its report, Moody's praised BCR's "strong capitalization and proactive management." The report also notes that the bank is highly focused on improving internal controls, risk management and corporate governance.

According to the bank, the 'investment grade' ranking makes BCR attractive to international investors.

BCR is the first Costa Rican bank to be rated by Moody's.
Eight arrests made in case of slain environmentalist
By the A.M. Costa Rica staff

Judicial agents have detained eight persons in the Limón area in the murder of environmentalist Jairo Mora.

The Judicial Investigating Organization took the unusual step of putting some of the arrests on YouTube because the case was publicized highly.

Not all those arrested are suspects in the murder. The Judicial agents are describing a gang of robbers who also were involved in stealing turtle eggs and other crimes.

The encounter with Mora and four female passengers was accidental, according to investigators. Robbers had blocked a road with a tree in order to stick up occupants of a car that came by. Some had a grudge with Mora, and when he showed up, they took him away.

Mora and the non-profit organization for which he worked had filed complaints against some of the individuals for stealing turtle eggs, something that is frequent in the area. The non-profit was trying to safeguard a turtle nesting location.

Judicial agents made the arrests this morning when they conducted eight raids. The arrests can be seen HERE, HERE and HERE.

Mora was kidnapped and murdered May 30 or early May 31 in Moín.

He was with four women headed to a turtle sanctuary when his was taken.

The vehicle was intercepted between Barra de Matina and Moín because someone blocked the road with a tree trunk. When Mora got out of the car he was confronted by the five men, agents said.

A protest march had been planned for this afternoon to deliver a petition demanding justice for Mora.

Organizers said they had collected some 130,000 signatures seeking justice for Mora.

An announcement of the march sent by the Programa de Restauración de Tiburones y Tortugas Marinas said that sea turtle poaching and drug trafficking continue to threaten the lives of people and sea turtles, endangering Costa Rica's image as an ecotourist mecca. Costa Rica's Caribbean beaches have seen an increase in sea turtle poaching, it said, adding that Mora's murder has forced an abrupt halt to protection efforts in Moín.

Local environmentalists have long complained of lack of police protection.

The four women with Mora when he was abducted were taken to a shack and then freed themselves when captors left.

Agents zeroed in on the suspects because of their prior involvement with turtle eggs and encounters with police over that practice.
BANK EXCHANGE RATE

Central Bank President Rodrigo Bolaños, warned yesterday that as the U.S. economy begins to revive, interest rates in that country will begin to rise.

If that happens, the dollar rates in Costa Rica will also increase, as many local loans are referenced international interests, and because the local banks also borrow abroad and their costs would rise.

Yesterday the New York Stock Exchange reached a record because of good U.S. economic data

In addition, if rates rise in the country, foreign investors who have money in Costa Rica will have an incentive to take him to the United States and that would mean an exit of foreign exchange may result in a rise in the dollar price.

In this scenario, people who have dollar debts and banks that were funded in that currency abroad could begin to face problems paying.

This, because the fees would rise by the rate increase. But also, those earning in colones and dollars are credits would have to buy more expensive currency to meet payments.

Therefore, Rodrigo Bolaños called again yesterday to caution people and banks that borrow in foreign currency, during a chat in The Nation.

How likely is that to happen? Bankers consulted believe that this scenario is feasible, but also feel they are prepared to face it.

"Analysts still give a low probability to this scenario. However, no one really knows for sure when the monetary policies of the United States and Europe are reversed and that is that the Central Bank is alerting us to act with more prudence in borrowing abroad, especially to fund loans no generators (dollars), "said Gerardo Corrales, manager of BAC San José.

For Mario Rivera, manager of the Bank of Costa Rica, the scenario is likely, but banks are currently testing to customers of each credit to see if they support adjustments to these variables. He added that these measures will be reinforced with new regulations issued soon supervisory authorities.

It refers to a series of amendments that tighten the requirements to grant credit, especially in dollars.
Brian, Lita, the Late Hugo IV, irreverent Vicka, the pigeon toed parrot, Chico II and Chica II