Dear friends,
When I started Residencias Los Jardines, I started writing a weekly news letter -determined to tell all the good, bad, and the ugly. I knew some readers would be interested in the construction process. I expected others might be interested in the lifestyle of two people who had decided to live outside the box. For others, the adventures of Lita, the parrot and the cat took on an entertainment saga all its own.
Residencias Los Jardines is finished. We periodically have resales and rental availability. Some readers may be interested in this information.
Brian Timmons
DEVELOPER / PROPERTY MANAGER
Residencias Los Jardines / https://www.residenciaslosjardines.com info@residenciaslosjardines.com
ResidenciasPropertyManagement@gmail.com
Featured house this week
UNIT #106C:
FOR RENT: $1,250 mo.
Total Area (Sq Ft): 1250
Total area (Sq M): 120
Bedrooms: 2
Bathrooms: 2
Floor(s): 1
Type: 4-plex
Furnished: Yes
This is a fully furnished 2-bedroom unit situated in a 2-story building, which has two units on the ground floor and two units on the 2nd. floor. Each unit is the same size (1,250sf) divided into 800 sf of interior space and 450 sf of covered front and back terraces. Units 106A and B are on the ground floor; Units 106 C and D are on the 2nd. Floor. The solid masonry demising wall (common wall) as well as the 5" concrete slab prevent sound transference.
Residencias Los Jardines
Property Management, Rentals, Re-Sales
Market Activity
Sales: one call viewing
Rentals: 1 lease; two viewings
FOR SALE
Unit #114: $235,000 / See Unit
FOR RENT
Unit #106C: $1,250 mo. / Available Immediately / See Unit
Unit #123: $1,650 mo. / Lease Pending / See Unit
Unit #124: $1,000 mo. / Available Immediately / See Unit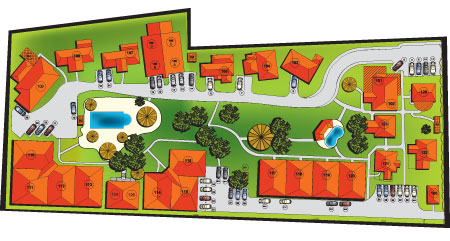 HOUSE FOR SALE
UNIT #114
FOR SALE $235,000
Total Area (Sq Ft): 1290
Total area (Sq M): 120
Bedrooms: 2
Bathrooms: 2
Floor(s): Single Floor
Type: Attached
Furnished: Yes
This 1,290 sf. (plus covered parking for one car and two lockers 67 sf.) single story, semi detached house, with garden terrace, two bedrooms is a beautiful executive style home. This home consists of two large bedrooms one with six piece en-suite bathroom with additional access to separate full shower. Each bedroom has large closets with extensive built-ins for personal organization. The vaulted living room and bathroom ceilings provide a feeling of grandeur while allowing the warmer air to rise and exit through the ceiling ventilating system. There are four TVs (one in each bedroom, one in the living room and one in breakfast / dinning room.) This is a beautiful well appointed home.
HOUSES FOR RENT
UNIT #106C
FOR RENT $1,250 mo.
Available Immediately
Total Area (Sq Ft): 1250
Total area (Sq M): 120
Bedrooms: 2
Bathrooms: 2
Floor(s): Single Floor
Type: 4-plex
Furnished: Yes
This is a fully furnished 2-bedroom unit situated in a 2-story building, which has two units on the ground floor and two units on the 2nd. floor. Each unit is the same size (1,250sf) divided into 800 sf of interior space and 450 sf of covered front and back terraces. Units 106A and B are on the ground floor; Units 106 C and D are on the 2nd. Floor. The solid masonry demising wall (common wall) as well as the 5" concrete slab prevent sound transference.
UNIT #123
FOR RENT $1,650 mo.
Lease Pending
Total Area (Sq Ft): 1516
Total area (Sq M): 140
Bedrooms: 2
Bathrooms: 2.5
Floor(s): 2 Story
Type: Detached
Furnished: Yes
This two story, detached 1,423 sf home + parking for one car has two bedrooms, 2 ½ bathrooms and a 2nd floor covered terrace. The open railed wrought iron cement stair case leads to the 2nd level where the master bedroom with en-suite master bathroom as well as 2nd bedroom and en-suite bathroom are located. Also accessed from the 2nd floor hallway is the covered terrace. This is a very nicely furnished home with a good floor plan for those wanting two floors.
UNIT #124
FOR RENT $1,000 mo.
Available Immediately
Total Area (Sq Ft): 662
Total area (Sq M): 61
Bedrooms: 1
Bathrooms: 1
Floor(s): 2nd Floor
Type: Semi-Detached
Furnished: Yes
This 662 sf, + covered parking for one car, is a one bedroom home on the 2nd floor overlooking the large pool. It is ideal for a single person or couple.
Our Lives
WEATHER: some rain but not much -rainfall is reported to be 1/3 below normal. I believe it to be at least that in the Central Valley... we are irrigating. If this weather pattern continues, it will be the 2nd year in a row. Reservoirs are low, hydraulic generation is curtailed, ground water tables will be going lower...
All in a Week's Living in CR:
In discussions with RE agents this week, I learned that a number of condos at a nearby development which were previously leased at $1,200 are not sitting vacant and are offered at $800 with no takers. There continues to be an oversupply of rental property in the Santa Ana area and more seems to be coming on the market.
I have now been working on establishing a new company and a new bank account. I'm currently at 2 1/2 months... I now have a duly registered company and as of this week, a bank account but no PIN so it still isn't useful. The bank's employee first filled out the forms wrong and they had to be re-done. Next, they lost a number of supporting documents I had submitted so those had to be re-submitted. (Actually, this is the same thing which happened during the previous effort at a different bank.)
We have a family here leasing until such time as they get their residency application file. They are estimating one month. If that happens, it would be the record or all records... and even though they seem very organized and prepared...I'm betting it won't happen. We'll see.
I now know of 5 non-Los Jardines expats, who have been trying to sell their houses for several years and who, when they do, will return to the States. Reasons? health care, disillusionment, and / or family -cost is a factor in that it is no longer substantially cheaper to live here than in parts of the USA or Canada...
News Items of the Week
Comments:
Exports are falling; the economy is slowing... the government is lowering the interest rates to try and stimulate borrowing. But at the same time, they have limited the borrowing in US dollar denominated loans.
The world court decided not to decide on CR's allegation of Nicaragua's alleged incursion into swamp land in the middle of nowhere two years ago. Now CR is upset about Nicaragua's plans to auction off exploration rights to seabed which is claimed by CR. This past week was CR's annual national celebration of the voluntary annexation of Guanacaste, formerly part of Nicaragua, into CR. This incursion lead to an emergency road building effort by CR which continues to be an engineering, ecological, financial, and political disaster... it was the perfect storm for CR--which happens all too regularly...
Landlord-Tenant legislation reform seems to be moving along. For years, the tenants have had a disproportionate list of "rights" which has made use of the legal system a farce. Mostly only determined and organized tenants availed themselves to these but if they were determined, they could cause extensive problems for landlords... It seems that for the most part, Tico landlords have ignored many of the legal niceties so the law was not as draconian for them. Those who tried the "due process approach" were continually disappointed. The current proposed legislation is an attempt to right this inequity.
Guancaste pottery is really nice... it's a cottage industry handed down for generations and is localized due to availability of clay... which is now privately owned and it's supply is being threatened.
CR Coast guard captain: again, those in authority with supposed integrity fail to make the standard.
Costa Rican exports fall 2.3% in first half of 2013

July 23rd, 2013 (InsideCostaRica.com) Costa Rican exports during the first half of the year totaled $5.739 billion, down 2.3% over the same period in 2012, trade officials at Procomer reported Monday.

In a statement, Procomer said the declines were mostly in coffee, palm oil, electronics, textiles, some medical equipment, and fruit juices and concentrates.

Among the sectors that have seen positive growth are beef and dairy, whose exports grew 7.8%, and plastics, which grew 8.2%.

Procomer blamed the decline in exports on the "slow recovery of the U.S. and global economy" and falling international prices.

Procomer noted that exports to newer markets grew, such as to China, Malaysia, Sweden, and Ecuador, though the United States continues to purchase 40% of Costa Rica's exports.

Foreign Trade Minister, Anabel González, said the government would promote market diversification.

Last year Costa Rica exported $16.875 billion, an increase of 8.9$ over 2011.
Tensions between Costa Rica and Nicaragua over oil concessions could lead to conflict

July 23rd, 2013 (InsideCostaRica.com) The government of Costa Rica expressed its strong condemnation yesterday over Nicaragua's plans for oil exploration off both of its coasts, saying that a "significant number of areas" being offered by that country for oil exploration are Costa Rican territory.

An official letter of protest signed by Foreign Minister Enrique Castillo "demands that Nicaragua not make concessions for the exploration or exploitation of maritime areas, either in the Pacific Ocean or the Caribbean Sea, which violate maritime spaces belonging to Costa Rica," according to a statement from the Foreign Ministry.

The letter also requested the "immediate withdrawal" of promotional material issued by Nicaragua promoting areas of potential oil exploration and exploitation that Costa Rica claims as its own.

Costa Rican authorities said that 18 areas or "blocks" of maritime territory offered by Nicaragua in the Pacific and 55 in the Caribbean are "clearly located in Costa Rican territory."

"Nicaragua has not wanted to alert potential bidders that their [maritime] boundaries are not defined in relation to Costa Rica, or that areas on offer are owned or claimed by Costa Rica," the statement said.

Costa Rica's Foreign Ministry said that on August 26th, 2002 it objected to a similar action by Nicaragua, and invited the country to begin a process to negotiate the countries' maritime boundaries. The Foreign Ministry said those negotiations were interrupted by Nicaragua unilaterally in 2005.

"This is another manifestation of the expansionist policy of Nicaragua, of arrogance in its relations with Costa Rica. A further act of hostility, and we are responding today (yesterday) with a note of protest," Costa Rica's Foreign Minister, Enrique Castillo, said yesterday.

Nicaragua's Ambassador to Costa Rica, Harold Rivas, acknowledged receipt of the letter and said he had sent the note to Nicaraguan Foreign Minister, Samuel Santos.

Costa Rica's government said it would also circulate a communiqué to governments and oil companies around the world letting its position be known.

Nicaragua pushing ahead

Costa Rica's claims, however, don't seem to be deterring Nicaragua's plans, according to recent media reports.

Nicaragua's Minister of Energy and Mines told Mexico's El Economista that Nicaragua has authorized the Spanish firm Repsol Exploración to carry out explorations in the Caribbean Sea with an investment of $30 million beginning in August. The Minister said drilling would begin next month, "more or less 190 kilometers from El Bluff" in Bluefields Bay (Bahia Bluefields).

The location, located off Nicaragua's southern Caribbean coast, is near Isla Calero – territory that is disputed by both countries.

Potential conflict?

Analyst Freddy Pacheco believes the absence of negotiated – much less signed and ratified – maritime boundaries between the countries could lead to potential conflict.

"Until we know, with legal certainty, how far we exercise our maritime sovereignty on both sides, and while the two states continue clinging to widely divergent boundary options, we face an eminent danger of confrontation that could even threaten peace between the neighboring countries. If a foreign entity obtains an oil concession from Nicaragua in an area unmarked but claimed by both countries, we could move towards a confrontation punctuated by petrodollars where new players have a new stage," Pacheco said in a statement on Facebook.
Base lending rate decreases to 6.55%

The basic interest rate will drop to 6.55% Thursday from 6.65% that was maintained for the last week, according to the Central Bank on its website.

This is the lowest percentage since 2008, when this indicator was at 7%, during the third week of June.

The TBP is used as a guide for most colones loans granted by financial institutions, and is calculated using the weighted behavior rates private and public banks and other financial intermediaries.

With the new methodology for calculating this indicator, approved by the Central Bank last December, the rate is rounded to the nearest five basis points rather than 25 basis points closest as before.

The new methodology excluded outliers, those rates that are too high or too low and measurement were taken deposits from the Ministry of Finance and the Central Bank.
Legislators approve bill to speed up evictions

Representatives approved yesterday, in the first debate, the draft Admonitory Tenancy Act, an initiative that streamlines the process of eviction trials due to nonpayment of rent.

The vote on the plan to expedite evictions had 39 votes in favor and three against. The second debate is set for next Monday.

The amendment provides that an owner can raise a lawsuit judgment against the tenant for failure to renting a property, after two months of not receiving the amount of rent.

The law also introduces the oral modality in such litigation, to last for years and not for a court to rule, but that the resolution of eviction is given in just months.

Among the MPs who voted against the bill were quick evictions José María Villalta, the Frente Amplio, who fears that the new rules be given to trample the right to housing for families forced to rent the roof under which they live.

"This law gives too much power to the home, even when they find violations that could be responsible, such as the late payment of utility bills," said Villalta.

Processes for life. The libertarian faction chief, Danilo Cubero, said the law leaves behind the cumbersome judicial processes, which in many cases have no end, to enforce the eviction for nonpayment of rent.

"There will be no problems on the rights of people who rent a place because there are deadlines for reporting, although the conditions stipulated preceding eviction," the libertarian.

Among the benefits that lawmakers are in Admonitory Tenancy Act is the concentration of process steps, and eliminating a lot of documentation to secure its realization face to face with the judge.

The chairman of the Legal Affairs Committee of the Assembly, Luis Gerardo Villanueva, said the law will take effect when published, and that will ensure promptness of the judges in issuing resolutions pending evictions.

Against. Carmen Muñoz, head of caucus Citizen Action Party (PAC), and his partner Carmen Granados voted against.

Muñoz recommended efforts keep a law that lose validity when the Civil Procedure Code becomes applicable. That recommendation, Carmen Granados voted against the plan.

That Procedure Code was also approved yesterday in the first debate, but enter into force two years and a half after its publication in the Gazette.

"Civil proceedings are more ritualistic in justice, with excessive delays. This law establishes a orality that will give you much flexibility to the process and reduce those deadlines, "said Social Christian leader, Rodolfo Sotomayor.

Danilo Cubero added that the law seeks to do justice to homeowners suffering to the irresponsibility of its tenants.
Chorotega pottery tradition gets boost in clay search
By the A.M. Costa Rica staff

The pottery operations in Guanacaste that date back before the Mayan empires got a boost Wednesday.

President Laura Chinchilla declared them in the public interest. The artisans and their work also were declared intangible cultural heritage of the country. So designated were the communities of Guaitil de Santa Cruz, San Vicente and las Pozas de Nicoya where about 800 families depend directly or indirectly on the production of pre-Columbian-style pottery.

The designations are more than just recognition. The potters there have been having trouble obtaining the right kind of clay for their work.

Manuel Obregón, the minister of Cultura y Juventud, was at a meeting there in June to hear about the problem. He was there Wednesday, too, with the president.

The designations might open the way for the potters to obtain clay elsewhere than on the private land that has been the traditional source.

The works are called Chorotega pottery. Usually they are polychrome bowls and sometimes elaborate figurines. The designations also open the possibility of financial aid for the artisans, said the culture ministry.

The designations came in the form of decrees issued at a presidential cabinet meeting Wednesday in Filadelfia, Guanacaste. The president has been in that area for two days as part of the celebration of the 189th anniversary of the Anexión del Partido de Nicoya, which is today.

The area is home to the Eco Museo that features the work of the potters.

The Museo Nacional says that the residents of the San Vicente area have been making ceramics for the last 4,000 years. That may be a conservative estimate. The workshops were a source of ceramics for the Mayans and Aztec cultures.

Some of the molds may well be the same ones that were used to put pots on the table of the elite in the Valley of México.

The Museo Nacional estimates that about half the population of the community older than 12 years is involved in gathering the raw materials, fabricating the pieces, firing them and marketing them.

The clay has been becoming harder and harder to obtain because the best sources are on private land and the price has become so high that it puts the economic stability of the community at risk, the ministry has said.
Coast guard captain arrested – provided fuel for narcos

(ISH) A Costa Rican Coast Guard captain has been arrested and charged for allegedly providing fuel for narco-traffickers, according to the Costa Rican Prosecutor's Office.

The suspect, Arístides Moya, was arrested last week. The Drug Control Police said they seized US$64,000, cellphones and computers in one of his residences in Puntarenas.

Authorities are continuing to compile a case against the suspect, who faces up to 20 years behind bars if he is found guilty of helping a narco-trafficking group that was arrested in May for allegedly shipping South American narcotics to Mexico and the United States.
Brian, Lita, the Late Hugo IV, irreverent Vicka, the pigeon toed parrot, Chico II and Chica II