Dear friends,
Note: the brian@eldoradocostarica.com address will be discontinued effective Wednesday July 10. All other addresses will remain functional.
When I started Residencias Los Jardines, I started writing a weekly news letter -determined to tell all the good, bad, and the ugly. I knew some readers would be interested in the construction process. I expected others might be interested in the lifestyle of two people who had decided to live outside the box. For others, the adventures of Lita, the parrot and the cat took on an entertainment saga all its own.
Residencias Los Jardines is finished. We periodically have resales and rental availability. Some readers may be interested in this information.
Brian Timmons
DEVELOPER / PROPERTY MANAGER
Residencias Los Jardines / https://www.residenciaslosjardines.com info@residenciaslosjardines.com
ResidenciasPropertyManagement@gmail.com
Featured house this week
UNIT #106C:
FOR RENT: $1,250 mo.
Total Area (Sq Ft): 1250
Total area (Sq M): 120
Bedrooms: 2
Bathrooms: 2
Floor(s): Single Floor
Type: 4-plex
Furnished: Yes
This is a fully furnished 2-bedroom unit situated in a 2-story building, which has two units on the ground floor and two units on the 2nd. floor. Each unit is the same size (1,250sf) divided into 800 sf of interior space and 450 sf of covered front and back terraces. Units 106A and B are on the ground floor; Units 106 C and D are on the 2nd. Floor. The solid masonry demising wall (common wall) as well as the 5" concrete slab prevent sound transference.
Residencias Los Jardines
Property Management, Rentals, Re-Sales
Market Activity
Sales: no calls
Rentals: 3 viewings; no commitments
FOR SALE
Unit #114: $235,000 / See Unit
FOR RENT
Unit #106C: $1,250 mo. / Available Immediately / See Unit
Unit #113: $1,350 mo. / Available Immediately / See Unit
Unit #123: $1,650 mo. / Available Immediately / See Unit
Unit #124: $1,000 mo. / Available Immediately / See Unit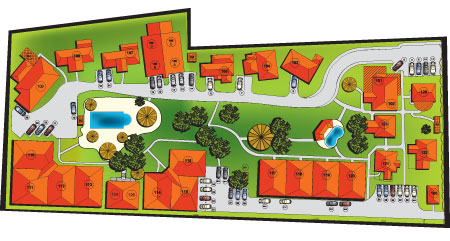 HOUSE FOR SALE
UNIT #114
FOR SALE $235,000
Total Area (Sq Ft): 1290
Total area (Sq M): 120
Bedrooms: 2
Bathrooms: 2
Floor(s): Single Floor
Type: Attached
Furnished: Yes
This 1,290 sf. (plus covered parking for one car and two lockers 67 sf.) single story, semi detached house, with garden terrace, two bedrooms is a beautiful executive style home. This home consists of two large bedrooms one with six piece en-suite bathroom with additional access to separate full shower. Each bedroom has large closets with extensive built-ins for personal organization. The vaulted living room and bathroom ceilings provide a feeling of grandeur while allowing the warmer air to rise and exit through the ceiling ventilating system. There are four TVs (one in each bedroom, one in the living room and one in breakfast / dinning room.) This is a beautiful well appointed home.
HOUSES FOR RENT
UNIT #106C
FOR RENT $1,250 mo.
Available Immediately
Total Area (Sq Ft): 1250
Total area (Sq M): 120
Bedrooms: 2
Bathrooms: 2
Floor(s): Single Floor
Type: 4-plex
Furnished: Yes
This is a fully furnished 2-bedroom unit situated in a 2-story building, which has two units on the ground floor and two units on the 2nd. floor. Each unit is the same size (1,250sf) divided into 800 sf of interior space and 450 sf of covered front and back terraces. Units 106A and B are on the ground floor; Units 106 C and D are on the 2nd. Floor. The solid masonry demising wall (common wall) as well as the 5" concrete slab prevent sound transference.
UNIT #113
FOR RENT $1,350 mo.
Available Immediately
Total Area (Sq Ft): 1290
Total area (Sq M): 120
Bedrooms: 2
Bathrooms: 2
Floor(s): 1
Type: Semi-Attached
Furnished: Yes
This 1,290 sf single floor home includes a 300 sf front terrace plus parking for one car. It is attached on one side by a 6 inch cement demising (common) wall, which prevents sound transfer. The three other sides allow light, ventilation and garden views.
UNIT #123
FOR RENT $1,650 mo.
Available Immediately
Total Area (Sq Ft): 1516
Total area (Sq M): 140
Bedrooms: 2
Bathrooms: 2.5
Floor(s): 2 Story
Type: Detached
Furnished: Yes
This two story, detached 1,423 sf home + parking for one car has two bedrooms, 2 ½ bathrooms and a 2nd floor covered terrace. The open railed wrought iron cement stair case leads to the 2nd level where the master bedroom with en-suite master bathroom as well as 2nd bedroom and en-suite bathroom are located. Also accessed from the 2nd floor hallway is the covered terrace. This is a very nicely furnished home with a good floor plan for those wanting two floors.
UNIT #124
FOR RENT $1,000 mo.
Available Immediately
Total Area (Sq Ft): 662
Total area (Sq M): 61
Bedrooms: 1
Bathrooms: 1
Floor(s): 2nd Floor
Type: Semi-Detached
Furnished: Yes
This 662 sf, + covered parking for one car, is a one bedroom home on the 2nd floor overlooking the large pool. It is ideal for a single person or couple.
Our Lives
WEATHER: it may be the "rainy season" but it hasn't rained any this week. It could be the "mini-summer" that sometimes occurs around this time.
All in a Week's Living in CR:
Car Accidents: I've had 5 small, fender-benders; 4 in broad daylight with good road conditions; 1 at night under bad road conditions; all were older model cars, not well maintained, driven by young drivers -4 men, one woman
Three accidents occurred when Lita was in the car --two rear-enders and the February accident. In each case of the rear-enders, I sensed we would be hit and I saw each event unfold in the rear-view mirror... in case 1, the driver was talking with his passenger and not watching where he was going -we were stopped in traffic due to construction. In the 2nd case, a young woman was looking to her child in the back seat -we were stopped for a car in front of us to turn left. The other three accidents were caused by speeding and aggressive driving -two of which were passing because they didn't want to wait for a bus or a car to turn... such was the most recent case in February.
Lita and I were returning around 7:15pm from dinner at Kiante's... there had been a heavy downpour, roads were wet, slick, and we had to go through a very busy (it was rush hour traffic) intersection with traffic coming / going from 6 directions--no traffic lights, minimal road lines, and virtually no lighting. A 1993 small car with mal-functioning headlights was driven very aggressively by an early 20s kid who passed an SUV on the inside lane...he hit us. At the time of the accident, he was being an unapologetic hothead. His left front fender, bumper and hood were damaged; my back driver's side door had to be replaced along with the stile and front door needed some body work--$400., At the accident site, the traffic cop attended and made is report which was filed with the Heredia area traffic court. Both the other driver and I filed our stories within days of the accident. On Tuesday, we were to appear for trial. We did... The process was overseen by an early 30s female judge-- we were ushered into a room where she explained the process. First she outlined the opportunity for the parties to come to an voluntary settlement which she would record. Failing that, a trial and the looser pay would pay all as well as will get points deducted from their driving record. The now subdued driver accompanied by his mother evidently weighed the merits of his argument and the consequences of loosing... he quickly offered that each party would pick up their own costs.--I accepted... the "judge" recorded that, we each signed, and will now wait to see if the government department (CONSEVI) removes the note on each of our vehicles (supposedly about 3 wks)... so that's how the process worked in this case.
News Items of the Week
Comments:
Even the former mentor of the current president is distancing himself from her and what is generally felt to be a disastrous administration and will likely render any candidate from that party non-electable. However, the current front runner isn't likely to be much different.
US Government monitoring: anyone who didn't know, didn't want to or was naive and it will soon regularly include reviewing banking information
Corruption: CR placed 48th. with political parties in all countries found to be the most corrupt institutions.
Hotel Occupancy: Average at 43%... same as the previous year... but looking closer the actual occupancy is much less... the large, all inclusive hotels had higher sold rooms to U.S. and European travel agencies who in turn, couldn't fill the rooms... while the smaller hotels had lower than the average. Again the tourism industries is hoping for a more favorable exchange rate... on that topic, again I heard from a knowledgeable source that if the exchange rate was left to the free market and freed from government manipulation, the rate would probably be around 670-680 colones vs. the current 495...
The government restriction on banks not to lend in US dollars is beginning to negatively affect economic growth and development and the effects will begin to show up in the latter part of the year...slower GDP, construction permits, higher unemploment -food for the electoral process beginning in November.
Oscar Arias gives scathing criticism of President Laura Chinchilla on national TV

July 8th, 2013 (InsideCostaRica.com) Former president Oscar Arias gave a scathing criticism of current president, Laura Chinchilla, on the national television network Repretel.

Arias accused Chinchilla of not known how to govern the country, and said his former 'right hand' has not sought council for help in governing. Chinchilla was formerly one of Arias' two vice presidents during his administration.

Arias, speaking as though he was giving confession, told the Repretel news reporter that he regretted having supported Chinchilla and "pushing" her into the Presidency.

Unlike the praise that Arias gave Chinchilla four years ago during the 2010 campaign, and after her election, Arias joined the sharp criticism that has been lobbed at Chinchilla in recent years over the government's lack of transparency and corruption.

In the television interview, Arias accused his successor and fellow party member of a "lack of intellectual clarity," which he said affects her ability to govern.

"I have nothing to do with this government, however – mea culpa, mea culpa. I [supported] Laura, who was my vice president. She did not continue any of my government's policies. She distanced herself; […] and evidently when she [became president] she wanted to do things differently," Arias said.

"I imagine that her most intimate advisors told her that she needs to distance herself [from me]. I have not spoken to her in three years. She has never consulted me over anything, never asked my advice or opinion on how to do things," Arias continued.

"She, like I've said many times, does not have intellectual clarity […] and the truth is, the Costa Rican people resent this, they resent that the country doesn't have a course, doesn't have a compass. No one knows where we are going," Arias said.

"As well, there have been cases of corruption, which are regrettable; you must know who you surround yourself with," Arias added.
Expats knew for years that communication is insecure

Expats have known for years that their international calls from Costa Rica were being monitored by U.S. security agencies. So it is no surprise that a Brazilian newspaper listed the country among those subject to U.S. spying.

Although local officials are putting on a public show of unhappiness, they also have an extensive network of eavesdropping.

The George Bush administration authorized the government to eavesdrop on international phone calls and e-mails to and from the U.S., without obtaining a warrant from a secret security court, shortly after the Sept. 11, 2001, terrorist attacks in the United States. In 2007 Bush signed into law a bill that gave the U.S. government more power to eavesdrop on suspected foreign terrorists and even on expats living in Costa Rica. The legislation, signed in August that year, lifted a requirement that such surveillance could not begin without advance permission from a court. Bush said in a statement that this change would give U.S. agents dynamic and flexible tools for counterterrorism work.

The law, called the Protect America Act, allowed the U.S. National Security Agency to intercept telephone conversations, e-mails and other communications between foreigners that are routed through American equipment.

According to the Brazilian newspaper O Globo, U.S. snoopers made the next logical move and set up satellite eavesdropping stations overseas. There were none in Costa Rica, according to the newspaper, but there are such setups in Colombia and México.

Spy equipment is so sophisticated these days that even encrypted communications is vulnerable to snooping. In fact, encrypting a message is an invitation for snoopers.

The extent of U.S. spying suggests that the information obtained is not limited to terrorism. Costa Rican officials fully expect that the United States is scanning for anti-drug information. Then there is money laundering and even tax cheats.

Costa Rica's $1.5 million eavesdropping system is on judicial property in San Joaquín de Flores de Heredia.

Officials said when it was set up two years ago that they see the center as a tool for catching organized crimes including drug traffickers. The United States put up some money for the system, so it is likely that U.S. snoops are bugging that place, too.
Corruption index reports many think problem is worse

More than half the respondents in a global poll on corruption released Tuesday think graft has worsened over the past two years, and 27 percent report having paid officials a bribe in the last 12 months.

Costa Rica was assigned 48th place in the world with a score of 54, but there was little more about the country in the report.

The survey by Berlin-based Transparency International also found that people have the least trust in institutions meant to protect or represent the public, including police and the courts.

Worldwide, political parties are considered the most corrupt institution, with respondents in 51 countries putting them at the top of the list. In 36 countries, people view police as the most corrupt, while in 20 the judiciary is seen as the most graft-ridden.

A Transparency spokesman pointed to a link between poverty and graft, saying eight of the 10 countries with the highest bribery rates are African.

According to the poll, corruption has also worsened in most Arab countries since their 2011 revolutions, even though anger with corrupt officials was a major reason for the uprisings.

In Israel, Japan, Sudan and South Sudan, religious bodies are considered highly corrupt.

A majority of people surveyed see governments as less effective at fighting corruption since the 2008 global financial crisis. Still, two-thirds of individuals asked to pay a bribe said they had refused, reflecting a growing will to fight back.

The group says its Global Corruption Barometer 2013 is the world's largest public opinion survey on corruption. It surveyed 114,000 people in 107 countries.
National hotel occupancy steady but down in Caribbean coast

Hotel occupancy in Costa Rica was about the same in May as it was a year before, said the Cámara Costarricense de Hoteles. The occupancy stood at 43 percent, according to a survey of member hotels.

There were slight increases 8 points to 40 percent in the northern zone and in the central and south Pacific. The central Pacific was up 4 points to 38 percent. The south Pacific was up 5 points to 36 percent. But the Caribbean, perhaps due to reports of criminal activity there, dropped from 50 percent to 33 percent, the hotel chamber said.
Medical tourism: Latin America is a prime destination

The high cost of healthcare has created the lucrative phenomenon of medical tourism.

An IPK International survey revealed roughly 3 percent of the world's population travels to foreign countries for medical treatment, while Patients Beyond Borders, which publishes international medical travel guidebooks, reported the medical tourism industry is a $40 billion a year business.

In the United States, the impetus behind medical traveling goes beyond saving a penny. For the Latino community especially, the attraction of traveling to Latin America is to not only spend less but also peace of mind dealing with Spanish-speaking doctors and quality facilities.

As for why people are seeking out Latin America, the answer is basically, why not? Procedures are much more affordable and with proper research, many quality facilities and accredited doctors can be found.

There is tubal ligation reversal surgery in Mexico, buttock implants in Costa Rica, chin and breast implants in Colombia, assisted fertility and gastric bypass in Argentina, and dental work in El Salvador. More so, people are also visiting Latin America for cancer treatments, cheap pharmaceuticals, diabetic care and rehab.

In fact, Patients Beyond Borders reports Mexico now attracts more than a million patients a year, many of whom are Hispanics from California, Arizona and Texas. It's this proximity to North America that makes Latin America's medical tourism so attractive. Other factors include favorable exchange rates, bilingual healthcare officials, friendly cultures, tropical climates and exotic locations allowing for relaxing and scenic recovery time.

Still, there are those who are fearful of traveling to a foreign country for a medical procedure. They often have misconceptions about third world standards of living, poverty, disease, violence and more. Something else that may keep them from experiencing medical tourism is the threat of malpractice without the U.S. legal system offering protection.

The truth is many healthcare providers in Latin America are internationally accredited by the Joint Commission International (JCI). The doctors are bilingual, with many of them U.S. board certified or trained in the states. Some healthcare providers also have ties to stateside medical institutions.

Here's a look at popular Latin American destinations for medical tourism, according to Healthbase:

Costa Rica offers services in various departments of medicine including orthopedics, bariatrics, ophthamology, dermatology, plastic surgery and dentistry. Savings can be as much as 70 percent or more.

Panama is Central America's most industrialized country. Its medical tourism sector is growing rapidly with upwards of 50 percent in savings. Also, its use of the U.S. dollar as currency makes its friendly for Americans. Many doctors are bilingual and board certified.

Mexico is popular for dental and medical tourism due to cheap surgeries, which are not covered by American insurance companies. Also growing in Mexico is laser eye surgery, dermatology and cardiology with savings ranging from 30 to 70 percent.

Brazil and Colombia are among the most popular destinations for plastic surgery. With many accredited and awarded doctors, costs are usually cut in half, even adding the travel arrangements. In fact, according to Bloomberg News, Brazil is the sixth most popular destination for medical traveling, with more than 4,500 licensed cosmetic surgeons.

Looking ahead, Latin American countries hoping to expand medical traveling may follow the path of Costa Rica, where earlier this year the International Medical Travel and Business Summit was held.

"Costa Rica has become the premier destination for medical travel and tourism in the Western hemisphere," said PROMED [The Council for the International Promotion of Costa Rica Medicine] Director Massimo Manzi, in a press release. "Our biggest challenge is educating the consumer. The Summit is a marvelous opportunity to highlight our medical providers and to showcase the incredible opportunities that exist by placing buyers and sellers of medical tourism together."
Stronger dollar elsewhere gives hope to tourism operators here

Expats, tourism operators and exporters are hoping that the strengthening U.S. dollar will have an effect on exchange rates in Costa Rica.

In the Americas only Costa Rica, Guatemala and Bolivia have shown stronger local currencies against the dollar this year. Costa Rica's colon is reported to be up 1.8 percent against the dollar. Bolivia is up 1.2 per cent, and Guatemala is up 0.07 percent, according to tables of data compiled by The Wall Street Journal.

The dollar advanced 9.2 percent in Colombia, and 9.9 percent in Brazil.

The local market for the dollar continues to be frozen with one U.S. dollar bringing 493.5 colons and 504 colons needed to buy a dollar at local banks.

Publicly traded companies in the United States are showing lower net income for the year due to the stronger dollar in places overseas where they sell their goods.

The exchange market for the dollar in Costa Rica is thin, and companies receiving dollars in sales must exchange them.

Expats on fixed incomes have been complaining since the dollar plummeted from about 570 to the colon to the current level. So have the tourism operators who generally receive money in dollars and must make payments locally in colons.

Improvements in the U.S. economy have been cited as a reason for the strengthening of the dollar. In addition, congressional politics have put a lid on federal government spending.

Tourism operators like a strong dollar because foreigners find prices here cheaper. The U.S. government likes a weak dollar to stimulate foreign sales.
Loosening of credit urgedby builders, vice president

The Banco Central is coming under more pressure to eliminate restrictions on credit.

The Cámara Costarricense de la Construcción said that in the first six months of the year, construction approvals fell 7.6 percent compared to the same period last year.

Vice President Luis Liberman also urged that restrictions be loosened although the central government does snot have the power to do that, said Casa Presidencial.

In January the central bank limited increases in credit to about 12 percent. But as Liberman noted, the inflow of dollars has lessened and the international economy is growing slower.
Latin America demands answers from US on spying

July 11, 2013 (AFP & ICR) – From its neighbor Mexico down to Argentina, Latin American nations are demanding answers from the United States after a report of vast US spying on close allies and leftist critics alike.

Governments voiced a mix of outrage and concern after the Brazilian daily O Globo, citing documents leaked by fugitive former US intelligence contractor Edward Snowden, said several nations were targets of US electronic surveillance.

The snooping included lifting data on leftist Venezuela's oil and military purchases and Mexico's drug war and energy sector as well as mapping the movements of a Marxist guerrilla group in Colombia, the newspaper said.

Mexican President Enrique Pena Nieto said Wednesday his government had asked for "an explanation to clear up" the spying claims and that if they turn out to be true, "it would be completely unacceptable."

Pena Nieto, however, said the two allies still maintained relations of "respect and cordiality."

The Mexican daily Excelsior reported Wednesday that Pena Nieto's predecessor had allowed the United States to install a system to intercept phone calls and Internet chatter.

The Mexican attorney general's office opened an investigation to determine whether a crime was committed.

Mexico and the United States have worked closely in the battle against drug trafficking in recent years, with the US government earmarking $1.9 billion in law enforcement training and equipment.

The reported spying on the energy sector comes as Pena Nieto, who took office in December, mulls a reform aimed at attracting more private investment in the state-run oil monopoly Pemex.

O Globo said other countries targeted by the National Security Agency were Argentina, Ecuador, Panama, Costa Rica, Nicaragua, Honduras, Paraguay, Chile, Peru and El Salvador.

Costa Rican President Laura Chinchilla has called for an international debate on the matter.

"It sends chills up my spine when we learn that they are spying on us through their intelligence services in Brazil," Argentine President Cristina Kirchner said, referring to another Globo report that the United States maintained a satellite spy base in Brasilia at least until 2002.

The issue will be on the agenda of Friday's summit of the Mercosur trade bloc, which includes Brazil, Argentina, Uruguay and Venezuela. The leaders of Bolivia and Honduras were also invited to the talks in Montevideo.

"The Mercosur meeting is an opportunity to take a common stand. Any attack on the sovereignty of one country must be answered with great firmness, because if we lower our heads, they will walk all over us," warned Brazil's presidential chief of staff Gilberto Carvalho.

President Dilma Rousseff has ordered an investigation into the report of electronic spying on Brazilian citizens and companies.

Colombia, the top US ally in the region which has received billions of dollars in US military aid to combat drug trafficking and the leftist rebels, voiced concern and said it would seek answers from the United States.

A foreign ministry statement late Tuesday said that Colombia rejects "acts of espionage that violate people's right to privacy and international conventions on telecommunications."

The US ambassador to Colombia, Michael McKinley, said he understood "expressions of concern" and that the United States had an obligation to respond through diplomatic channels to its partners.

US State Department spokeswoman Jen Psaki said that any answers to requests from countries such as Colombia would remain private.

"We have a range of diplomatic conversations with a broad number of countries, and as any allegations surface, we're happy to have those, but we keep those private for obvious reasons," Psaki said.

In Chile, the foreign ministry said it "firmly condemns espionage, whatever its origin, nature and objective."

El Salvador's deputy development minister, Jaime Miranda said, his government was checking the veracity of the claims, which would "clash with the principle of sovereignty and violate Salvadorans' right to privacy."

The outrage comes as Snowden, who is believed to be holed up in Moscow's international airport, is considering taking asylum in Latin America after the leftist leaders of Venezuela, Bolivia and Nicaragua offered to take in the 30-year-old fugitive.
U.S. gives foreign banks one year to supply information on U.S. citizens

July 12, 2013 (AFP) – The United States on Friday put off until mid-2014 the deadline for foreign banks to agree to supply information on the accounts of US citizens, part of the effort to battle tax evasion.

The US Treasury said that "due to overwhelming interest from countries around the world," it would extend the deadline for compliance with the US Foreign Account Tax Compliance Act (FATCA) by six months to July 1, 2014.

On that date foreign banks and other financial institutions will have to have agreed to identify and report information on US account holders, or the Treasury will require US financial institutions to hold back 30 percent of dividend and interest payments due to them.

But the deadline for the first full reporting of the accounts remains 2015, when the foreign banks will have to supply data on accounts held by Americans during the previous year.

The Treasury said it was working with more than 80 countries and jurisdictions to begin exchanging data on the offshore accounts of their respective foreign nationals, amid a global effort to police tax evasion.

"The high volume of international participation in this effort represents a quintessential race to the top," said Robert Stack, the Treasury's deputy assistant secretary for international tax affairs.

"Every additional country we bring on board means we are one step closer to winning the fight against offshore tax evasion," he said in a statement.

The Treasury said it had signed nine agreements with other governments to facilitate the automatic exchange of information required by FATCA.
Brian, Lita, the Late Hugo IV, irreverent Vicka, the pigeon toed parrot, Chico II and Chica II