Dear friends,
When I started Residencias Los Jardines, I started writing a weekly news letter -determined to tell all the good, bad, and the ugly. I knew some readers would be interested in the construction process. I expected others might be interested in the lifestyle of two people who had decided to live outside the box. For others, the adventures of Lita, the parrot and the cat took on an entertainment saga all its own.
Residencias Los Jardines is finished. We periodically have resales and rental availability. Some readers may be interested in this information.
Brian Timmons
DEVELOPER / PROPERTY MANAGER
Residencias Los Jardines / https://www.residenciaslosjardines.com info@residenciaslosjardines.com
ResidenciasPropertyManagement@gmail.com
Featured house this week
UNIT #114:
FOR SALE: $235,000
Total Area (Sq Ft): 1290
Total area (Sq M): 120
Bedrooms: 2
Bathrooms: 2
Floor(s): Single Floor
Type: Attached
Furnished: Yes
Residencias Los Jardines
Property Management, Rentals, Re-Sales
TV Signal: About a month ago electricity / Internet / and TV were taken out of service for a day. When the TV was hooked back up, our reception was bad. We brought in a guy to fix it; he tried but really didn't know what he was doing. Through contacts, I found a specialist in Santa Ana -I called for service for 2 weeks; no return calls. At 8:15 I showed up at his place of work; he came that afternoon. After studying our problem, he measured the signal strength from the provider... it was less than 1/2 of what it should be... thus our problem. Fixing this, however, is a bit complicated but this won't be my problem... who ever is going to assume these responsibilities can pick up the problem from here... and there in lies a concern...
Market Activity
Sales: several people looking but nothing serious...
Rentals: no long term clients looking but we have a few shorter term fill-ins which will help. While Jan seems to continue to have corporate client in the $3000 - $4000 mo. market, and a few in the $1,000 to $1,200 market, others tell me a different story.
FOR SALE
Unit #114: $235,000
FOR RENT
Unit #102: $1,650 mo. / Available Immediately / See Unit
Unit #106C: $1,250 mo. / Available May 17 / See Unit
Unit #110: $1,500 mo. / Available April 25 / See Unit
Unit #123: $1,650 mo. / Available Immediately / See Unit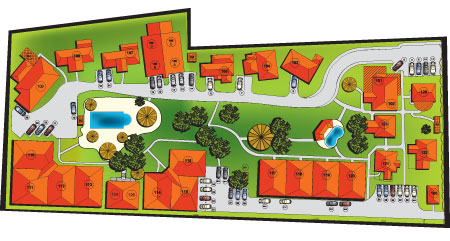 HOUSE FOR SALE
UNIT #114
FOR SALE $235,000
Total Area (Sq Ft): 1290
Total area (Sq M): 120
Bedrooms: 2
Bathrooms: 2
Floor(s): Single Floor
Type: Attached
Furnished: Yes
This 1,290 sf. (plus covered parking for one car and two lockers 67 sf.) single story, semi detached house, with garden terrace, two bedrooms is a beautiful executive style home. This home consists of two large bedrooms one with six piece en-suite bathroom with additional access to separate full shower. Each bedroom has large closets with extensive built-ins for personal organization. The vaulted living room and bathroom ceilings provide a feeling of grandeur while allowing the warmer air to rise and exit through the ceiling ventilating system. There are four TVs (one in each bedroom, one in the living room and one in breakfast / dinning room.) This is a beautiful well appointed home.
HOUSES FOR RENT
UNIT #102
FOR RENT $1,650 mo.
Available Immediately
Total Area (Sq Ft): 1922
Total area (Sq M): 177
Bedrooms: 2
Bathrooms: 2 1/2
Floor(s): Ground
Type: Apartment
Furnished: Yes
This two bedroom, 1922 sf (177 m2) FURNISHED and well appointed home with AC, bright office, and covered parking is a single story home surrounding by manicured gardens in Residencias Los Jardines. It was completed 5 years ago and has been lovingly cared for since. It is situated on the ground floor of a two storey, horizontal duplex. This home has two split system air conditioning units for quiet, efficient cooling. It is in PRISTINE condition.
UNIT #106C
FOR RENT $1,250 mo.
Available May 17
Total Area (Sq Ft): 1250
Total area (Sq M): 120
Bedrooms: 2
Bathrooms: 2
Floor(s): 1
Type: 4-plex
Furnished: Yes
This is a fully furnished 2-bedroom unit situated in a 2-story building, which has two units on the ground floor and two units on the 2nd. floor. Each unit is the same size (1,250sf) divided into 800 sf of interior space and 450 sf of covered front and back terraces. Units 106A and B are on the ground floor; Units 106 C and D are on the 2nd. floor. The solid masonry demising wall (common wall) as well as the 5" concrete slab prevent sound transference.
UNIT #110
FOR RENT $1,500 mo.
Available April 25
Total Area (Sq Ft): 1290
Total area (Sq M): 120
Bedrooms: 2
Bathrooms: 2
Floor(s): 1
Type: Attached
Furnished: Yes
This 1,290 sf single floor home includes a 300 sf front terrace plus parking for one car. It is attached on one side by a 6 inch cement demising (common) wall, which prevents sound transfer. The three other sides allow light, ventilation and garden views. This is an exceptionally well decorated and appointed home by owners who really care.
UNIT #123
FOR RENT $1,650 mo.
Available April Immediately
Total Area (Sq Ft): 1516
Total area (Sq M): 140
Bedrooms: 2
Bathrooms: 2.5
Floor(s): 2 Story
Type: Detached
Furnished: Yes
This two story, detached 1,423 sf home + parking for one car has two bedrooms, 2 ½ bathrooms and a 2nd floor covered terrace.
The open railed wrought iron cement stair case leads to the 2nd level where the master bedroom with en-suite master bathroom as well as 2nd bedroom and en-suite bathroom are located. Also accessed from the 2nd floor hallway is the covered terrace.
This is a very nicely furnished home with a good floor plan for those wanting two floors.
Our Lives
WEATHER: little rain, warm and some breeze... The garden is beginning to respond.
All in a Week's Living in CR:
Note: This newsletter is undergoing changes to reflect the cancellation of the Hacienda El Dorado development. I was hoping those changes would be ready this week -some might be, but by next week all changes should be reflected in the newsletter.
Still winding down and gearing up... not very exciting but I've actually been able to retrieve files and materials I've needed so I feel that is a mark of success. As long as I'm into this, I've got several weeks work ahead of me working on personal stuff before I'm going to declare that "I'm done".
RLJ is coming to grips with back-filling me. Rumor has it that the 4 quotes received were VERY expensive... while I don't know (nor does anyone know) what the scope of work (which has never been defined -that I know of and certainly not published to the shareholders- I am sure it did not include the broad spectrum of duties and services that the Shareholder Agreement calls for and that my contract included. While various discussions are on going, there isn't as much interest amongst the shareholders as, in my opinion, there should be. My concern is that some day in the future, they will wake up and realize a mess has been created and then vote with their fee. I have been tempted to enter the discussion but unless REALLY REALLY pissed off, my current thinking is to simply withdraw (accept a certain amount of pillaring regardless of personal agendas, level of information, and objectivity -it's time to create a new future for me which for now, will continue to include leasehold management of a number of owner's units...
Below are a number of articles I ran across this week which I thought useful to understand what's happening in CR:
News Items of the Week
Road Rebuild Canceled
By the A.M. Costa Rica staff

President Laura Chinchilla said Monday night that she was terminating the concession with the contractor who was supposed to build a modern highway to San Ramón.

The president said she was doing this to guarantee the social peace of the country.

"I recognize that in the current environment it is not possible nor convenient to carry forward a project that has received the rejection of diverse sections of the population, among them communities, social organizations and even business chambers," said the president. She was speaking on television.

This is the project with the Brazilian firm OAS that has generated so much opposition along the route. The main reason is the 2,000-colon toll the company planned to impose once the route was constructed from San José to San Ramón.

Ms. Chinchilla reminded viewers that the concession received approval in 2004 in the Abel Pacheo administration and that she was faced with the option of pushing the project forward or starting over when she took office.

She said the project was one of three that her administration had as priorities. She named the northern route, the Chilamate Vueta de Kooper highway that connects the northern zone with the Caribbean. She also cited the widening of the Interamericana Norte from Liberia to the Nicaraguan border. She did not mention the roadway along the Río San Juan that is involved in scandal over corruption and poor workmanship.

The president said that by terminating the contract, she was exposing the country to possible financial penalties from the contractor and also imposing a delay on the eventual construction of the route. She estimated the delay to be at least two years.

Despite giving a summary of the history of the proposed highway, Ms. Chinchilla failed to mention that the government of Taiwan was bankrolling the job but stopped in 2007 when former president Óscar Arias Sánchez dumped Taiwan in favor of diplomatic relations with the People's Republic of China. Ms. Chinchilla was vice president then.

There was no indication how much the country will have to spend to pay off the contractor. There also is the chance of renegotiating the deal, as Ms. Chinchilla noted.

The president said that the concession project was always out in the open and that those who now oppose it never sought to discuss it.

She also said that she was concerned with the firm in which some sectors due to narrow interests decided to attack the project and increase the opposition. She said the government should confront those who for economic or political interests frequently slow projects simply to agitate or because their firm did not get the job. She was referring to local companies that did not win the concession and also to the political football that the concession had become. This was the reason citizens protested last April 11 when Ms. Chinchilla spoke at the Juan Santamaría day ceremonies in Alajuela. There was a heavy police presence.

She criticized cowardly rumors and defended public employees and officials who have been involved in the project.

She did not mention by name Pedro Castro, the minister of public works, who has been a frequent target.

The political opposition has leveled allegations of corruption and illegalities. José María Villalta, of the leftist Partido Frente Amplio made a point to say on the Internet that OAS had a headquarters in the British Virgin Islands, which is a tax haven, he said. He suggested without any evidence that the firm was engaged in tax fraud and money laundering.

Although she did not say it, Ms. Chinchilla might have acted to reduce any public protests in the first days of May when heads of state, including U.S. President Barack Obama, will be in the country for a summit.

From: https://www.amcostarica.com/tuesday.htm
The TICO way... if it's easy, make it hard... that's progress
By the A.M. Costa Rica staff

True to the unofficial government slogan We make easy hard, the traffic agency has set up an elaborate scheme so vehicle owners can report an email address.

That email addresses were desired was another one of those hidden clauses in the new traffic law. Supposedly Friday is the deadline for submitting a valid email address.

Because hardly anyone knew about the request, the Consejo de Seguridad Vial has granted two more months for compliance.

Of course, the agency could have just asked for an email address in December when the vehicle road tax was paid. Or the agency could have set up a Web page where someone could simply send an email. Or they could have workers at the Registro Nacional obtain the information when motorists make an obligatory exchange of old license plates for new.

Instead, the agency decided to produce forms to be printed on paper. The document templates are available on the Consejo Web site. Motorists have to print their email addresses, a single character to an individual box. Then they can mail it. or they can drop it off at a traffic agency office or at a vehicle inspection station.

Of course one form just will not do. So each motorist inexplicably has to fill out identical forms. One serves as a receipt, and it probably will be stamped and dated.

If a motorist mails the document, he or she has to include a photocopy of a cédula or a passport. Presumably this is to prevent unauthorized persons from learning that the motorist has received a traffic ticket. That's the reason the email address will be maintained.

Those who fail to provide an email address will just have to check out their license plate number when lists of speeding violators are listed in the La Gaceta official newspapers, which is now online. Those without an email address can obtain a free one from the Consejo.

Still, there is an option to return the scanned forms by email as long as the person doing so includes a scanned copy of a cédula. Those who have digital signature cards just have to send the forms and sign it electronically, the agency said.

The person responsible for this procedure is Silvia Bolaños, the vice minister of Transporte Terrestre y Seguridad Vial. Somewhere in her office will be rows of workers typing in the email address from the printed forms.

Of course the procedure is a bit more complex for owners who have their vehicles in a corporation. A cédula juridica, the proof of the corporation's identity, is required. And government workers will be making the rounds of companies with fleets of vehicles to help them submit the email address, said the Consejo.

From: https://www.amcostarica.com/042513.htm
What do expats want II? That wasteful border run
By James Brodell
editor A.M. Costa Rica

The issue of immigration and the process of renewing a tourist visa are important to expat readers, according to feedback from a news story Wednesday.

At the very least, snowbirds would like to be able to pay money and renew a three-month tourist visa without traveling to another country.

The 2010 immigration law contained such a provision, and discussion when the proposal was going through the legislature found broad agreement. But once the law went into effect, the final wording excluded those who had been granted a 90-day visa. These were exactly the individuals for whom the clause had been drafted. The question still remains if this was an error or a trick played by the legislative staff.

Consequently, a Canadian couple who seeks to spend four or five winter months at their $400,000 condo on the Pacific coast must dash off to Nicaragua or Panamá. And there is no guarantee that they will be readmitted for the same amount of time.

"One thing the immigration people could do that would be a win-win for both them and the expat professional tourist would be to charge $100 to renew visas for 90 days instead of forcing people to leave the country and spend their money in Nicaragua or Panama and also providing additional income to the government," said readers Charles and Shirley Varnum of Arenal.

A $100 renewal also would be a benefit for the large and growing group of perpetual tourists. Current legislation encourages expats to avoid the various residency requirements. The only downside is the need to make a border run every 90 days and the fear that a surly immigration agent will not grant a full 90-day renewal.

A lot of these perpetual tourists have lived for some time here and hold local or Internet jobs, even though they are not supposed to do that. Some expats actually have surrendered their pensionado or rentista residencies to become perpetual tourists and avoid the obligatory monthly assessment for the Caja Costarricense de Seguro Social and the expense of renewing every two to five years.

Javier Zavaleta of Residency in Costa Rica is an expert in immigration, He is a Costa Rican who lives in California, and this is his take:

"Costa Rica is losing a lot of divisas extranjeras and investment to Panama and Nicaragua. Instead of making moving to Costa Rica more attractive and easier, the current (and last administration) have set up expensive and tedious barriers for the successful relocation of foreigners to Costa Rica.

"Pensionados and rentistas bring not only dollars to the local economy. They also bring a desire to keep busy and active, and many want to put their background and experience to use by working as unpaid volunteers in CR's educational system, working to protect the environment, to save land from being deforested. Some develop small businesses that employ Ticos. Many make long-term investments in homes and farms. By and large, the expat community tends to integrate with Costa Rican social values, and their contributions should be recognized and encouraged."

Said another expat: "The Caja and having to have $2,500/month income to get residency are a joke. How many people on Social Security get that much per month? Why should an expat have to have an income five times more than the average citizen makes in Costa Rica? Buying a vehicle, insurance, appliances, are much more expensive than other equally beautiful retirement destinations."

Rentistas are required to have a $2,500 monthly income from elsewhere or have equivalent funds in a bank. Pensionado couples still can obtain residency with an income of $1,000 a month.

Another expat suggested a completely different system for immigration:

"Twenty years ago Costa Rica sensibly crafted policies designed to attract expats, and now sensibly has more restrictive policies. My own recommendation is that immigration to Costa Rica move toward more of a point system like Canadian immigration. Canada's system gives points to prospective immigrants based upon their language abilities (French and English), their education, their work experience, and so on. This enables Canada to attract immigrants who will assimilate into the society and contribute to it in ways that go beyond money, although money is a factor too."

That is the view of Ken Morris of San Pedro. His full comments are on Page Two.

Some expats choose to take an investor or inversionista residency by purchasing a home for $200,000 or more. That is permitted now.

Angela Jiménez Rocha of Escazú is a licensed architect and appraiser.

"Much of my work is doing appraisals and inspections of real estate for buyers or sellers of property," she said. "For the banks that I work for, I required to make sure the property is exactly in the position the official plot map indicates and that the property meets all the zoning, insurance requirements of the government before they approve any loans. I am required to attend seminars each year which address any regulation changes. I think an expat would be well served by having a licensed architect to help address real estate needs even if they only want to rent." The remainder of her comments are on Page Two.

The issue of perpetual tourist does not only relate to retirees or those nearly so. Costa Rica has no system for young guest workers, and the paperwork to be a legitimate volunteer is similar to applying for residency. Work permits are difficult to obtain and the procedure may take as much as a year. That is unless the applicant is some favored, large corporation.

Consequently, there are many young men and women working in Costa Rica without legal protection or rights. Sportsbooks have been known to hire many native English speakers and to pay them with credit card deposits made through banks in Panamá or in the Caribbean.

Costa Rica loses out on the tax dollars, and the workers are not affiliated with the Caja. Some workers have been here so long that they marry and have children, thereby giving them residency rights.

Another class of expat are those couples or single women who come here to have a child on purpose in Costa Rica. That provides immigration rights, too, and it is presumed that residency is just a byproduct of the situation and not the principal reason for the birth.

In all of these cases, expats tend to keep a low profile, and only are consulted infrequently when legal changes are being considered. In fact, one official in the Abel Pacheco administration was surprised that a reporter thought that abolishing the rentista category was a dumb idea. The category stayed in the law.

From: https://www.amcostarica.com/thursday.htm
Proposal to replace currency with dollar

Full Article Published in Diario Extra on Apr 25, 2013

Economist Luis Loria has presented a proposal to the legislature to replace the national currency with the United States Dollar. The change would eliminate the ability of the Central Bank of Costa Rica (BCCR) to set national interest rates.
Brian, Lita, the Late Hugo IV, irreverent Vicka, the pigeon toed parrot, Chico II and Chica II