Dear friends,
When I started Residencias Los Jardines, I started writing a weekly news letter -determined to tell all the good, bad, and the ugly. I knew some readers would be interested in the construction process. I expected others might be interested in the lifestyle of two people who had decided to live outside the box. For others, the adventures of Lita, the parrot and the cat took on an entertainment saga all its own.
Residencias Los Jardines is finished. We periodically have resales and rental availability. Some readers may be interested in this information.
Brian Timmons
DEVELOPER / PROPERTY MANAGER
Residencias Los Jardines / https://www.residenciaslosjardines.com info@residenciaslosjardines.com
ResidenciasPropertyManagement@gmail.com
Construction Log
Updates about Hacienda El Dorado
Rio Oro: This property has been sold and our dreams for it have ended. Still cleaning up details...but nearing completion of all items...
Residencias Los Jardines
Property Management, Rentals, Re-Sales
Tree Cutting: nearly completed.
Transitioning: The goal is to make the transition transparent to the clients -owners and tenants. I'm working on my end and expect to be fully operational this time next week. Doneste...?? don't know what their plans are other than to rely on Krysia.
Market Activity
Sales: the conditional offer fell through because in the end, the parties couldn't agree on a price.
Several other people were on site looking for purchases.
Rentals: we've had a number of short term clients looking and have secured several fill-in rentals. Since we do not have a large number of similar places to rent, each client has their preferences and coordinating and negotiating dates is sometimes time and always time consuming. Many places say they do not accept clients less than a year. We are getting clients look for 1 - 3 month terms. We're taking them if the unit is vacant... it keeps the money coming in and keeps us on the agent radar screen... and who knows, sometimes the client gives us a referral or returns... as is happening with one former client for the third time...
FOR SALE
Unit #114: $235,000
FOR RENT
Unit #102: $1,650 mo. / Available Immediately / See Unit
Unit #110: $1,500 mo. / Available April 25 / See Unit
Unit #123: $1,650 mo. / Available Immediately / See Unit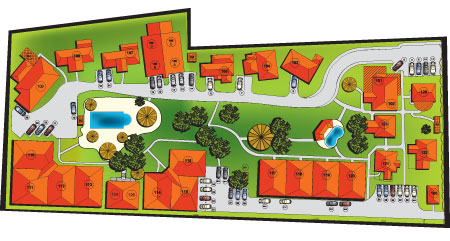 -
HOUSE FOR SALE
UNIT #114
FOR SALE $235,000
Total Area (Sq Ft): 1290
Total area (Sq M): 120
Bedrooms: 2
Bathrooms: 2
Floor(s): Single Floor
Type: Attached
Furnished: Yes
This 1,290 sf. (plus covered parking for one car and two lockers 67 sf.) single story, semi detached house, with garden terrace, two bedrooms is a beautiful executive style home. This home consists of two large bedrooms one with six piece en-suite bathroom with additional access to separate full shower. Each bedroom has large closets with extensive built-ins for personal organization. The vaulted living room and bathroom ceilings provide a feeling of grandeur while allowing the warmer air to rise and exit through the ceiling ventilating system. There are four TVs (one in each bedroom, one in the living room and one in breakfast / dinning room.) This is a beautiful well appointed home.
HOUSES FOR RENT
UNIT #102
FOR RENT $1,650 mo.
Available Immediately
Total Area (Sq Ft): 1922
Total area (Sq M): 177
Bedrooms: 2
Bathrooms: 2 1/2
Floor(s): Ground
Type: Apartment
Furnished: Yes
This two bedroom, 1922 sf (177 m2) FURNISHED and well appointed home with AC, bright office, and covered parking is a single story home surrounding by manicured gardens in Residencias Los Jardines. It was completed 5 years ago and has been lovingly cared for since. It is situated on the ground floor of a two storey, horizontal duplex. This home has two split system air conditioning units for quiet, efficient cooling. It is in PRISTINE condition.
UNIT #110
FOR RENT $1,500 mo.
Available April 25
Total Area (Sq Ft): 1290
Total area (Sq M): 120
Bedrooms: 2
Bathrooms: 2
Floor(s): 1
Type: Attached
Furnished: Yes
This 1,290 sf single floor home includes a 300 sf front terrace plus parking for one car. It is attached on one side by a 6 inch cement demising (common) wall, which prevents sound transfer. The three other sides allow light, ventilation and garden views. This is an exceptionally well decorated and appointed home by owners who really care.
UNIT #123
FOR RENT $1,650 mo.
Available April Immediately
Total Area (Sq Ft): 1516
Total area (Sq M): 140
Bedrooms: 2
Bathrooms: 2.5
Floor(s): 2 Story
Type: Detached
Furnished: Yes
This two story, detached 1,423 sf home + parking for one car has two bedrooms, 2 ½ bathrooms and a 2nd floor covered terrace.
The open railed wrought iron cement stair case leads to the 2nd level where the master bedroom with en-suite master bathroom as well as 2nd bedroom and en-suite bathroom are located. Also accessed from the 2nd floor hallway is the covered terrace.
This is a very nicely furnished home with a good floor plan for those wanting two floors.
Our Lives
WEATHER: more overcast, hot, humid until there's a shower. The garden is beginning to respond.
All in a Week's Living in CR:
Note: This newsletter is undergoing changes to reflect the cancellation of the Hacienda El Dorado development. I was hoping those changes would be ready this week -some might be, but by next week all changes should be reflected in the newsletter.
This week has been devoted to separating files, setting up a new filing system, a new invoicing system, and basically, a new operating system... I've been and continue to deal with the nitty-gritty of making this all happen... AND in winding down the few remaining details of El Dorado -while coming face-to-face with many things I have taken and still take for granted... now I have to learn how to do them because my help, mainly Krysia, will be less available...
Brian, Lita, the Late Hugo IV, irreverent Vicka, the pigeon toed parrot, Chico II and Chica II