Dear friends,
When I started Residencias Los Jardines, I started writing a weekly news letter -determined to tell all the good, bad, and the ugly. I knew some readers would be interested in the construction process. I expected others might be interested in the lifestyle of two people who had decided to live outside the box. For others, the adventures of Lita, the parrot and the cat took on an entertainment saga all its own.
Residencias Los Jardines is finished. We periodically have resales and rental availability. Some readers may be interested in this information.
More and more, the content will be dominated by events of our new project, "El Dorado" for short. While the future is always uncertain, I again aim to tell it like it happens -the good, the bad, and the ugly, and that is what follows.
Brian Timmons
DEVELOPER:
Residencias Los Jardines / https://www.residenciaslosjardines.com
Hacienda El Dorado / https://www.eldoradocostarica.com
E-mail:
brian@eldoradocostarica.com
info@residenciaslosjardines.com
ResidenciasPropertyManagement@gmail.com
Construction Log
Updates about Hacienda El Dorado
Rio Oro: A New Beginning: We've reached an agreement and inked a deal with a very strong developer from Venezuela. El Dorado will be reborn with a different vision. That new vision will be created over the next year. They are busy surveying, and having other consultants in attendance. They've come back to us with a different scenario. They have to flesh it out. We'll listen.
The initiative we took with a group of our purchasers took 4 years to play itself out however the script was largely written in the first few months of that period. We went above and beyond our legal or contractual obligation because we felt it was the right thing to do. Not only did the vast majority agree and if not elated were at least surprised and thankful. One wasn't. As far as we are concerned, we've closed this chapter and will now move on to the second chapter.
Meanwhile, another interesting story is in the making but we are a long way from knowing how sweet the ending will be. More keeps getting added to this story... at this point in time, we have no idea as to the ending.
Residencias Los Jardines
Property Management, Rentals, Re-Sales
We repaired an annoying clanking manhole cover. It took 4 tries but it now seems to be fixed. It's amazing how focused attention becomes from stating that the weekly pay will be paid when the job is done. Three times they reported to me with great satisfaction that the job was done. I did the acid test... did the manhole cover clink when driven over. Three times they were deflated... the last time, just a quitting time they again announced it was finished... I tried it and it seems o.k. They were happy, got their money and returned today...
Work on the to do list includes refinishing the cana brava on the ranchos... this is a labor intensive task involving preparation of the surface... scraping off the old varnish. Pressure washing and touch up stuccoing work will also be done and now limited iron railing touch up painting. Also the Board has decided to advance with the tree cutting at the back of the property... The draft contract is out for the Board's comments; when we have all the issues identified, I'll have it drafted...
Market Activity
Sales: no calls.
Rentals: no calls.
FOR RENT
Unit #102

:
$1,750 mo
Available March 19
See Unit

Unit #112

:
$1,250 mo.
Available March 1
See Unit

Unit #114

:
$1,600 mo.
Available with several week's notice
See Unit

Unit #123

:
$1,650 mo.
Available March 17
See Unit

Unit #124

:
$1,000 mo.
Available March 10
See Unit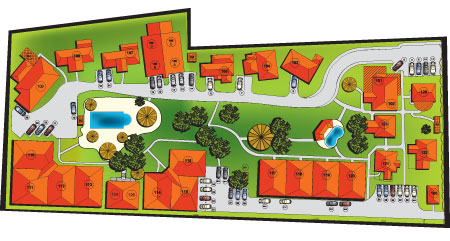 -
HOUSES FOR RENT
UNIT #102
FOR RENT $1,750 mo.
Available March 19
Total Area (Sq Ft): 1922
Total area (Sq M): 177
Bedrooms: 2
Bathrooms: 2 1/2
Floor(s): Ground
Type: Apartment
Furnished: Yes
This two bedroom, 1922 sf (177 m2) FURNISHED and well appointed home with AC, bright office, and covered parking is a single story home surrounding by manicured gardens in Residencias Los Jardines. It was completed 5 years ago and has been lovingly cared for since. It is situated on the ground floor of a two storey, horizontal duplex. This home has two split system air conditioning units for quiet, efficient cooling. It is in PRISTINE condition.
UNIT #112
FOR RENT $1,250 mo.
Available March 1
Total Area (Sq Ft): 1290
Total area (Sq M): 120
Bedrooms: 2
Bathrooms: 2
Floor(s): 1
Type: Attached
Furnished: Yes
This 1,290 sf single floor home includes a 300 sf front terrace plus parking for one car. It is attached on two sides by a 6 inch cement demising (common) wall, which prevents sound transfer.
UNIT #114
FOR RENT $1,600 mo.
Available with several week's notice
Total Area (Sq Ft): 1290
Total area (Sq M): 120
Bedrooms: 2
Bathrooms: 2
Floor(s): 1
Type: Semi-Attached
Furnished: Yes
This 2 bedroom/2bathroom,1,290 sf single floor end unit home includes a 150 sf front terrace plus parking for one car. This house is fully air conditioned and has recently been professionally decorated by international decorator Alcides Graffe and has undergone a complete renovation—new modern furniture, finishings, window coverings, and art work by Carlos Gambino. It is arguably the nicest furnished unit at Residencias Los Jardines and only steps from the pool.
UNIT #123
FOR RENT $1,650 mo.
Available March 17
Total Area (Sq Ft): 1516
Total area (Sq M): 140
Bedrooms: 2
Bathrooms: 2.5
Floor(s): 2 Story
Type: Detached
Furnished: Yes
This two story, detached 1,423 sf home + parking for one car has two bedrooms, 2 ½ bathrooms and a 2nd floor covered terrace.
The open railed wrought iron cement stair case leads to the 2nd level where the master bedroom with en-suite master bathroom as well as 2nd bedroom and en-suite bathroom are located. Also accessed from the 2nd floor hallway is the covered terrace.
This is a very nicely furnished home with a good floor plan for those wanting two floors.
UNIT #124
FOR RENT $1,000 mo.
Available March 10
Total Area (Sq Ft): 662
Total area (Sq M): 61
Bedrooms: 1
Bathrooms: 1
Floor(s): 2nd Floor
Type: Semi-Detached
Furnished: Yes
This 662 sf, + covered parking for one car, is a one bedroom home on the 2nd floor overlooking the large pool. It is ideal for a single person or couple.
Our Lives
WEATHER: soft breezes - normal temperatures... clear and beautiful - and fairly warm
All in a Week's Living in CR:
Accident Aftermath: The accident was the easy part. What follows is not:
A week after the incident, I now have 5 mandays invested, three trips to Heredia reporting center, 1 lawyer at $200, 1 tank of gas, and 1 bottle of scotch.
I was instructed by the traffic cop to make a report of the incident at the Heredia base since the accident occured in Belen which is in Heredia. It took 6 times to ask for directions from locals before we found the correct building buried in the middle of a city block with no signage on it. I had written out my statement, translated it into Spanish, had that corrected, and was prepared to file it. Not so fast... once we found the place, took our number and waited our turn... I was first asked how good my Spanish was... not good enough she assessed so I had to return with a translator (not a ludicrous requirement actually). Ok, I review the statement with a lawyer / translator, he adds some Spanish flower words to it, and we return to Heredia the next day... We file the story and are told that the trial will probably be in July / August. I had to return the next day with a missing document... now we have three trips and 5 man days. I decided the way the repair process was going, that I'd just do it myself since it looked like the deductible was going to be more than the cost of having it done outside the insurance system. I was able to find a used door for $90... when I went to pick it up, it was now $230 "...sorry, we made a mistake, the first price was for a 1993 Pathfinder..." Enrique made a few more calls and found another door, confirmed 4 times that it was what I needed, and we picked it up for $70. Body work is scheduled for Monday and Tuesday... $240... total about $300... so far, this incident has taken way too much time, stress, numerous close calls (returning from one trip we saw a 4 car pile up, on a straight away, rear-ended and acordianed)...
Power Outage: again last night at dinner time... most of us are prepared for this but it still requires one to change their plans a bit. This is the 2nd in about 6 wks.
El Dorado: The activity here is pretty interesting... there are a whole series of conversations with many open ended scenarios.
...and if that wasn't enough along with just ordinary mtnc. work, I had to follow up on a missing bar-b-q part ordered from Canada, sent from Kentucky to the wrong client... The Canadian company made a typo in the address and the package went missing... I requested a trace and it arrived on Saturday... Now I just need the important part which was missing from the shipment...
...and yes, then there's the brakes to replace on the car... that's another day and $500 later... but brakes are important so...
Conclusion: trying to get anything done here is difficult and people who have never experienced it, simply don't understand. If someone else is responsible, it always easy and simple... first time they have to accomplish anything, well, they begin to get an understanding.
Here 'com da Judge!: An owner died about 8 mo. ago without a will. His house sits there empty and we don't know what's happening. I've changed the locks and put on a notice that anyone wanting access needs to contact me. I've agreed that anyone with a court order can enter as per the order but... I've had three different parties try to enter and all three were told to return with a court order. I never saw them again. Last week I was called by the gardener that someone wanted to enter the house. I arrived there to see two guys, and two women... one I recognized as the former girlfriend... the others I didn't. It turned out that the other woman was a court appointed "judge" and she had authorization to do an inventory of the contents. The corporate lawyer arrived, reviewed the documentation and the inventorying process proceeded. I followed up with the only contact we had for the deceased... I got a call from ??? saying he was the guy's lawyer and wanted to know what was going on. I said, send me an e-mail identifying yourself and your relationship to the deceased or interested party... five days later, I'm still waiting.
How to Pay -and Who are you- and you want what? The long time associate, Maria, who does website support and who publishes the newsletter lives in Argentina. Every six months or so, she invoices me. Payment over the past several years has been difficult but was usually accomplished by wire transfer to a friend's account in CR. However, now a DIMEX number is required and only residents have such a number... it's a USA... IRS tracking system... I can't transfer money to his account. o.k. so I'm instructed to deposit cash. I tried that, won't work... his bank won't accept it for whatever reason... what to do? I'm advised that when her friend returns to CR, he'll contact me and I'll give him the $1,100. Not a problem. He returns, but lives on the other side of San Jose and doesn't have a car... but he has a friend living near Los Jardines. o.k. on my way out for errands, someone arrives with vague instructions about why they are there but have been told to pick up some $$. They have no ID at all and I insist knowing to whom I give the $1,100... They haven't yet returned.
And finally, one of Lita's pericos (little parrots) died. He was fine one day... dead the next morning...
Brian, Lita, the Late Hugo IV, irreverent Vicka, the pigeon toed parrot, Chico II and Chica II