Dear friends,
When I started Residencias Los Jardines, I started writing a weekly news letter -determined to tell all the good, bad, and the ugly. I knew some readers would be interested in the construction process. I expected others might be interested in the lifestyle of two people who had decided to live outside the box. For others, the adventures of Lita, the parrot and the cat took on an entertainment saga all its own.
Residencias Los Jardines is finished. We periodically have resales and rental availability. Some readers may be interested in this information.
More and more, the content will be dominated by events of our new project, "El Dorado" for short. While the future is always uncertain, I again aim to tell it like it happens -the good, the bad, and the ugly, and that is what follows.
Brian Timmons
DEVELOPER:
Residencias Los Jardines / https://www.residenciaslosjardines.com
Hacienda El Dorado / https://www.eldoradocostarica.com
E-mail:
brian@eldoradocostarica.com
info@residenciaslosjardines.com
ResidenciasPropertyManagement@gmail.com
Construction Log
Updates about Hacienda El Dorado
Rio Oro: A New Beginning: We've reached an agreement and inked a deal with a very strong developer from Venezuela. El Dorado will be reborn with a different vision. That new vision will be created over the next year. They are busy surveying, and having other consultants in attendance. We;ll see what the come up with. Meanwhile their current project continues.
While our current initiative is not yet over until Feb. 18, it is nearing and end with the results we wanted and expected; I'll write about it probably next week.. and then we expect to move to the next phase.
Meanwhile, another interesting story is in the making but we are a long way from knowing how sweet the ending will be.
Residencias Los Jardines
Property Management, Rentals, Re-Sales
We've started the yearly maintenance schedule... painting, patching, staining, etc. -this continues...
Touch up painting on various metal components has started.
Market Activity
Sales: no calls.
Rentals: short term lease on 123; one client with a dog... wouldn't work, and one couple wanting a place right away... and that didn't work either.
FOR RENT
Unit #102

:
$1,750 mo
Available March 19
See Unit

Unit #112

:
$1,250 mo.
Available March 1
See Unit

Unit #114

:
$1,600 mo.
Available with several week's notice
See Unit

Unit #123

:
$1,650 mo.
Available March 17
See Unit

Unit #124

:
$1,000 mo.
Available March 10
See Unit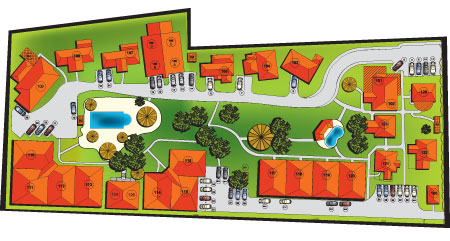 -
HOUSES FOR RENT
UNIT #102
FOR RENT $1,750 mo.
Available March 19
Total Area (Sq Ft): 1922
Total area (Sq M): 177
Bedrooms: 2
Bathrooms: 2 1/2
Floor(s): Ground
Type: Apartment
Furnished: Yes
This two bedroom, 1922 sf (177 m2) FURNISHED and well appointed home with AC, bright office, and covered parking is a single story home surrounding by manicured gardens in Residencias Los Jardines. It was completed 5 years ago and has been lovingly cared for since. It is situated on the ground floor of a two storey, horizontal duplex. This home has two split system air conditioning units for quiet, efficient cooling. It is in PRISTINE condition.
UNIT #112
FOR RENT $1,250 mo.
Available March 1
Total Area (Sq Ft): 1290
Total area (Sq M): 120
Bedrooms: 2
Bathrooms: 2
Floor(s): 1
Type: Attached
Furnished: Yes
This 1,290 sf single floor home includes a 300 sf front terrace plus parking for one car. It is attached on two sides by a 6 inch cement demising (common) wall, which prevents sound transfer.
UNIT #114
FOR RENT $1,600 mo.
Available with several week's notice
Total Area (Sq Ft): 1290
Total area (Sq M): 120
Bedrooms: 2
Bathrooms: 2
Floor(s): 1
Type: Semi-Attached
Furnished: Yes
This 2 bedroom/2bathroom,1,290 sf single floor end unit home includes a 150 sf front terrace plus parking for one car. This house is fully air conditioned and has recently been professionally decorated by international decorator Alcides Graffe and has undergone a complete renovation—new modern furniture, finishings, window coverings, and art work by Carlos Gambino. It is arguably the nicest furnished unit at Residencias Los Jardines and only steps from the pool.
UNIT #123
FOR RENT $1,650 mo.
Available March 17
Total Area (Sq Ft): 1516
Total area (Sq M): 140
Bedrooms: 2
Bathrooms: 2.5
Floor(s): 2 Story
Type: Detached
Furnished: Yes
This two story, detached 1,423 sf home + parking for one car has two bedrooms, 2 ½ bathrooms and a 2nd floor covered terrace.
The open railed wrought iron cement stair case leads to the 2nd level where the master bedroom with en-suite master bathroom as well as 2nd bedroom and en-suite bathroom are located. Also accessed from the 2nd floor hallway is the covered terrace.
This is a very nicely furnished home with a good floor plan for those wanting two floors.
UNIT #124
FOR RENT $1,000 mo.
Available March 10
Total Area (Sq Ft): 662
Total area (Sq M): 61
Bedrooms: 1
Bathrooms: 1
Floor(s): 2nd Floor
Type: Semi-Detached
Furnished: Yes
This 662 sf, + covered parking for one car, is a one bedroom home on the 2nd floor overlooking the large pool. It is ideal for a single person or couple.
Our Lives
WEATHER: soft breezes - normal temperatures... clear and beautiful -we actually had one short, decent rain and one very light sprinkle. Belen (near by) got a heavy rain on Feb. 13. -this is not a portend to the rainy season, just an aberration...
All in a Week's Living in CR:
...and the joke's on me... In the previous week, residents of Los Jardines had car trouble. They had not planned ahead... had no phone numbers or tow trucks, emergency roadside assistance numbers, no INS towing number, and no safety net. They solved their problem but it was expensive and unnecessarily stressful. -Note: I had been in exactly their situation and could identify with it... I had learned from this and now felt very smug in knowing that I had planned for this situation... I had contact numbers in the car and knew exactly where they were and new that my INS insurance also provided towing services.- At dinner the next night, I told this story to friends who I knew were not prepared... this story was meant to be a wake-up call for them and regardless of just having experienced an emergency medical incident, I don't think anything will change with them but that is as it will be.
When returning from a nearby restaurant after the heavy rainstorm, I had to negotiate a busy, dangerous "Y" intersection with 4 lanes on each entrance into the intersection. Of course there are no signs, no lanes and no lights... I didn't make it through -a small car, with very dim headlights which had been drowned out by the many other cars with bright lights, multiple road reflections from the recent rain, slickened highway... and the driver was a hot shot punk kid driving way too fast with probably an unsafe car gave me a glancing blow on the back door panel... however this is not the story...
The story is this: o.k., I've had an accident... small damage, no one hurt... While the other driver calls the transit police (standard procedure) (and he had no insurance); I call the INS insurance 24 / 7 number... phone message comes back... "your call cannot be connected" I re-try it a number of times... same message... great... the insurance company which has probably 80% driver coverage cannot receive phone calls... "Information" was called to confirm the number or see if there is another number. It didn't connect either. So, here's the joke: regardless of my efforts to plan ahead and to make sure that I had a safety net, no one answered the phone... again, I had allowed myself to believe that just because I had planned, had numbers, that the planning would work. It didn't... back to the "Etcho-sketch" drawing board. We returned home laughing at myself...
Brian, Lita, the Late Hugo IV, irreverent Vicka, the pigeon toed parrot, Chico II and Chica II