Dear friends,
When I started Residencias Los Jardines, I started writing a weekly news letter -determined to tell all the good, bad, and the ugly. I knew some readers would be interested in the construction process. I expected others might be interested in the lifestyle of two people who had decided to live outside the box. For others, the adventures of Lita, the parrot and the cat took on an entertainment saga all its own.
Residencias Los Jardines is finished. We periodically have resales and rental availability. Some readers may be interested in this information.
More and more, the content will be dominated by events of our new project, "El Dorado" for short. While the future is always uncertain, I again aim to tell it like it happens -the good, the bad, and the ugly, and that is what follows.
Brian Timmons
DEVELOPER:
Residencias Los Jardines / https://www.residenciaslosjardines.com
Hacienda El Dorado / https://www.eldoradocostarica.com
E-mail:
brian@eldoradocostarica.com
info@residenciaslosjardines.com
ResidenciasPropertyManagement@gmail.com
Construction Log
Updates about Hacienda El Dorado
Rio Oro: A New Beginning: We've reached an agreement and inked a deal with a very strong developer from Venezuela. El Dorado will be reborn with a different vision. That new vision will be created over the next year. They are busy surveying, and having other consultants in attendance. We;ll see what the come up with. Meanwhile their current project continues.
My work on Phase 2 is now completed and is off my computer. It's progressing as we expected. We expect the final results on or before February 18.
Residencias Los Jardines
Property Management, Rentals, Re-Sales
We've started the yearly maintenance schedule... painting, patching, staining, etc. -this continues...
The gutter trim is completed and now we start on the black mental paint which has faded.
Market Activity
Sales: no calls.
Rentals: several inquiries, no takers -one previous client returns for a short stay.
FOR SALE
FOR RENT
Unit #112

:
$1,250 mo.
Available March 1
See Unit

Unit #114

:
$1,600 mo.
Available IMMEDIATELY
See Unit

Unit #123

:
$1,650 mo.
Available IMMEDIATELY
See Unit

Unit #124

:
$1,000 mo.
Available March 10
See Unit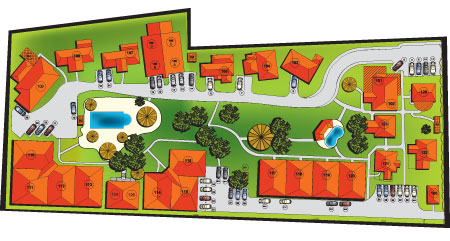 -
HOUSES FOR RENT
UNIT #112
FOR RENT $1,250 mo.
Available March 1
Total Area (Sq Ft): 1290
Total area (Sq M): 120
Bedrooms: 2
Bathrooms: 2
Floor(s): 1
Type: Attached
Furnished: Yes
This 1,290 sf single floor home includes a 300 sf front terrace plus parking for one car. It is attached on two sides by a 6 inch cement demising (common) wall, which prevents sound transfer.
UNIT #114
FOR RENT $1,600 mo.
Available IMMEDIATELY
Total Area (Sq Ft): 1290
Total area (Sq M): 120
Bedrooms: 2
Bathrooms: 2
Floor(s): 1
Type: Semi-Attached
Furnished: Yes
This 2 bedroom/2bathroom,1,290 sf single floor end unit home includes a 150 sf front terrace plus parking for one car. This house is fully air conditioned and has recently been professionally decorated by international decorator Alcides Graffe and has undergone a complete renovation—new modern furniture, finishings, window coverings, and art work by Carlos Gambino. It is arguably the nicest furnished unit at Residencias Los Jardines and only steps from the pool.
UNIT #123
FOR RENT $1,650 mo.
Available IMMEDIATELY
Total Area (Sq Ft): 1516
Total area (Sq M): 140
Bedrooms: 2
Bathrooms: 2.5
Floor(s): 2 Story
Type: Detached
Furnished: Yes
This two story, detached 1,423 sf home + parking for one car has two bedrooms, 2 ½ bathrooms and a 2nd floor covered terrace.
The open railed wrought iron cement stair case leads to the 2nd level where the master bedroom with en-suite master bathroom as well as 2nd bedroom and en-suite bathroom are located. Also accessed from the 2nd floor hallway is the covered terrace.
This is a very nicely furnished home with a good floor plan for those wanting two floors.
UNIT #124
FOR RENT $1,000 mo.
Available March 10
Total Area (Sq Ft): 662
Total area (Sq M): 61
Bedrooms: 1
Bathrooms: 1
Floor(s): 2nd Floor
Type: Semi-Detached
Furnished: Yes
This 662 sf, + covered parking for one car, is a one bedroom home on the 2nd floor overlooking the large pool. It is ideal for a single person or couple.
Our Lives
WEATHER: dry, winds have softened - normal temperatures...clear and beautiful.
All in a Week's Living in CR:
Bar-b-q parts: It seems that the most important use for our mail forwarding service is to order bar-b-q parts...
Steaks to Brag About: I never thought I'd write this but... Background: those readers who have been board knew that over the years, I have bemoaned the lack of decent beef in CR, I have imported it, I have gone to restaurant purveyors, I have tried various methods of aging (both disasters), and have finally concluded that I could get my fix at a restaurant in Granda (El Zaguan) and in Belen (Kiante's). I accepted this but have continued to look for opportunities... My Experience: The other day, while shopping in AutoMercado, a number of 25% discount signs in the meat section caught eye -that is the first time I've ever seen a decent "discount" at their normally very over priced meat (my opinion) and was shocked, so I had to take a closer look. After debate, I decided to buy a huge Delmonico fillet a C7,350 a kilo ($7.60 US a pound) -the price was right but I had generally had mediocre to lousy results from this cut before. I chanced it. I cut it up into 17 -1/1/4 steaks and freezer bagged them two to a package. As I was cutting, I noted the marbling throughout, and two larger pieces of fat where they were suppose to be along with a deep red color and no blood. All was looking good and I was developing fantasies. On Thursday I pulled a package from the freezer -cooked them to perfection and Lita and I had a purely orgasmic experience... tender, tasty, juicy... perfect in every way. I've got a lot more good eating in the freezer but I'm beginning to worry if this can be repeated... If so, it will show me how the country is changing -for the better... I've been waiting and working on this for 10 years now.
Lita's got a busy social schedule planned for this weekend. Hope I can keep up... I'll have to, I'm the driver...
Brian, Lita, the Late Hugo IV, irreverent Vicka, the pigeon toed parrot, Chico II and Chica II