Dear friends,
When I started Residencias Los Jardines, I started writing a weekly news letter -determined to tell all the good, bad, and the ugly. I knew some readers would be interested in the construction process. I expected others might be interested in the lifestyle of two people who had decided to live outside the box. For others, the adventures of Lita, the parrot and the cat took on an entertainment saga all its own.
Residencias Los Jardines is finished. We periodically have resales and rental availability. Some readers may be interested in this information.
More and more, the content will be dominated by events of our new project, "El Dorado" for short. While the future is always uncertain, I again aim to tell it like it happens -the good, the bad, and the ugly, and that is what follows.
Brian Timmons
DEVELOPER:
Residencias Los Jardines / https://www.residenciaslosjardines.com
Hacienda El Dorado / https://www.eldoradocostarica.com
E-mail:
brian@eldoradocostarica.com
info@residenciaslosjardines.com
ResidenciasPropertyManagement@gmail.com
Construction Log
Updates about Hacienda El Dorado
Rio Oro: A New Beginning: We've reached an agreement and inked a deal with a very strong developer from Venezuela. El Dorado will be reborn with a different vision. That new vision will be created over the next year.
We've started working on finishing up and hopefully putting closure to this project. Phase 1 of this should be off my desk early this week.
Residencias Los Jardines
Property Management, Rentals, Re-Sales
We've started the yearly maintenance schedule... painting, patching, staining, etc. -this continues...
Another sale: Unit 125 is being sold privately to a known purchaser.
Unit 109 closed as scheduled. The buyer will move in this next week and the seller is happily onto the next phase of their life. The purchaser was actually a client I had met 5 years ago and had had a long discussion. He wasn't in a position to commit at the time but when he was (now) he remembered Los Jardines...
Unit 121 will close on or before Feb. 8... the issue is getting the paperwork all resolved and transferred between the US and CR.
Over the past 13 months, there have or will have been 8 sales. There is no common denominator in either seller or buyers that I see, except that all were reasonably priced.

Market Activity
Sales: two viewings -no offers.
Rentals: one viewing.
FOR SALE
Unit #114

:
$250,000
See Unit

Unit #121

:

Sale Pending

Unit #125

:

Sale Pending
FOR RENT
Unit #114

:
$1,600 mo.
Available IMMEDIATELY
See Unit

Unit #123

:
$1,650 mo.
Available Jan. 28
See Unit

Unit #124

:
$1,000 mo.
Available IMMEDIATELY
See Unit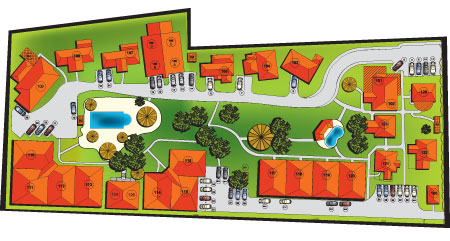 -
HOUSE FOR RENT / SALE
UNIT #114
FOR RENT $1,600 mo.
FOR SALE $250,000
Available IMMEDIATELY
Total Area (Sq Ft): 1290
Total area (Sq M): 120
Bedrooms: 2
Bathrooms: 2
Floor(s): 1
Type: Semi-Attached
Furnished: Yes
This 2 bedroom/2bathroom,1,290 sf single floor end unit home includes a 150 sf front terrace plus parking for one car. This house is fully air conditioned and has recently been professionally decorated by international decorator Alcides Graffe and has undergone a complete renovation—new modern furniture, finishings, window coverings, and art work by Carlos Gambino. It is arguably the nicest furnished unit at Residencias Los Jardines and only steps from the pool.
HOUSES FOR RENT
UNIT #123
FOR RENT $1,650 mo.
Available Jan. 28
Total Area (Sq Ft): 1516
Total area (Sq M): 140
Bedrooms: 2
Bathrooms: 2.5
Floor(s): 2 Story
Type: Detached
Furnished: Yes
This two story, detached 1,423 sf home + parking for one car has two bedrooms, 2 ½ bathrooms and a 2nd floor covered terrace.
The open railed wrought iron cement stair case leads to the 2nd level where the master bedroom with en-suite master bathroom as well as 2nd bedroom and en-suite bathroom are located. Also accessed from the 2nd floor hallway is the covered terrace.
This is a very nicely furnished home with a good floor plan for those wanting two floors.
UNIT #124
FOR RENT $1,000 mo.
Available IMMEDIATELY
Total Area (Sq Ft): 662
Total area (Sq M): 61
Bedrooms: 1
Bathrooms: 1
Floor(s): 2nd Floor
Type: Semi-Detached
Furnished: Yes
This 662 sf, + covered parking for one car, is a one bedroom home on the 2nd floor overlooking the large pool. It is ideal for a single person or couple.
Our Lives
WEATHER: dry, lots of wind -cooler than normal.
All in a Week's Living in CR:
Not much "living" as I've been working too much... people arriving, leaving, settling in, marketing, maintenance issues, invoicing, money juggling, working out of situations, a couple dinners in and out, all take time and energy. My backside hasn't seen the hammock much. Others had time for my birthday but it was a non-event for me...
We and others were treated to a very nice dinner at a special events estate hidden in the middle of Santa Ana. We had been there before and as before, it was a beautiful meal and setting. The vista is of a private pond which is the nesting place for egrets... an elegant pure white bird.
AyA is now planning on water rationing. This isn't a surprise since the last rainy season was so dry. We won't be affected (hopefully) since we are on a well.
The government has ordered the state banks not to compete on interest rates... this edict does not apply to private banks. It seems that the government hopes that interest rates will drop and less money will flow into CR as non-job creating interest earning funds... or at least the government may not have to buy as many US $ to maintain the approved exchange rate. Other proposals floated by the government are as bad as self induced Ebola... We'll see...
Brian, Lita, the Late Hugo IV, irreverent Vicka, the pigeon toed parrot, Chico II and Chica II