Dear friends,
When I started Residencias Los Jardines, I started writing a weekly news letter -determined to tell all the good, bad, and the ugly. I knew some readers would be interested in the construction process. I expected others might be interested in the lifestyle of two people who had decided to live outside the box. For others, the adventures of Lita, the parrot and the cat took on an entertainment saga all its own.
Residencias Los Jardines is finished. We periodically have resales and rental availability. Some readers may be interested in this information.
More and more, the content will be dominated by events of our new project, "El Dorado" for short. While the future is always uncertain, I again aim to tell it like it happens -the good, the bad, and the ugly, and that is what follows.
Brian Timmons
DEVELOPER:
Residencias Los Jardines / https://www.residenciaslosjardines.com
Hacienda El Dorado / https://www.eldoradocostarica.com
E-mail:
brian@eldoradocostarica.com
info@residenciaslosjardines.com
ResidenciasPropertyManagement@gmail.com
Construction Log
Updates about Hacienda El Dorado
Rio Oro: A New Beginning: We've reached an agreement and inked a deal with a very strong developer from Venezuela. El Dorado will be reborn with a different vision. That new vision will be created over the next year.
We've started working on finishing up and hopefully putting closure to this project. This effort got bogged down because a key person was still on holidays and I was too busy managing Los Jardines. I'll pick this up next week -my work is now down and await final review... next week I'm hoping to ove forward...
Residencias Los Jardines
Property Management, Rentals, Re-Sales
We've started the yearly maintenance schedule... painting, patching, staining, etc. -this continues...
A Quick Sale: Unit 109 had been listed only about a month. It's a nice house and was priced correctly. It found a buyer and the deal is scheduled to close on Monday. Purchaser and seller are all happy.
Sale of 121: This is finally moving as the trust company in the US gets its act together and assigns someone to deal with it and gives the required information.
Market Activity
Sales: one viewing -sale pending.
Rentals: two viewings and a number of no shows...
FOR SALE
Unit #109

:

Sale Pending

Unit #114

:
$250,000
See Unit

Unit #121

:

Sale Pending

Unit #125

:
$140,000
See Unit
FOR RENT
Unit #114

:
$1,600 mo.
Available IMMEDIATELY
See Unit

Unit #123

:
$1,650 mo.
Available Jan. 28
See Unit

Unit #124

:
$1,000 mo.
Available Jan. 28
See Unit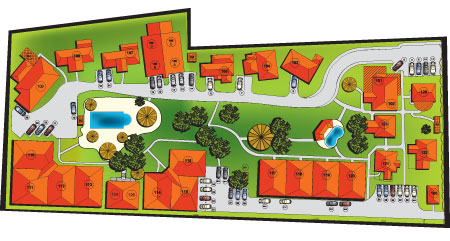 -
HOUSE FOR SALE
UNIT #125
$140,000
Private financing may be available
Total Area (Sq Ft): 662
Total Area (Sq M): 61
Bedrooms: 1
Bathrooms: 1
Floor(s): 2nd Floor
Type: Semi-Detached
Furnished: Yes
This 662 sf, + parking for one car and 33sf locker is a one bedroom home on the 2nd floor overlooking the large pool. It is ideal for a single person or couple—or investment property.
HOUSE FOR RENT / SALE
UNIT #114
FOR RENT $1,600 mo.
FOR SALE $250,000
Available IMMEDIATELY
Total Area (Sq Ft): 1290
Total area (Sq M): 120
Bedrooms: 2
Bathrooms: 2
Floor(s): 1
Type: Semi-Attached
Furnished: Yes
This 2 bedroom/2bathroom,1,290 sf single floor end unit home includes a 150 sf front terrace plus parking for one car. This house is fully air conditioned and has recently been professionally decorated by international decorator Alcides Graffe and has undergone a complete renovation—new modern furniture, finishings, window coverings, and art work by Carlos Gambino. It is arguably the nicest furnished unit at Residencias Los Jardines and only steps from the pool.
HOUSES FOR RENT
UNIT #123
FOR RENT $1,650 mo.
Available Jan. 22
Total Area (Sq Ft): 1516
Total area (Sq M): 140
Bedrooms: 2
Bathrooms: 2.5
Floor(s): 2 Story
Type: Detached
Furnished: Yes
This two story, detached 1,423 sf home + parking for one car has two bedrooms, 2 ½ bathrooms and a 2nd floor covered terrace.
The open railed wrought iron cement stair case leads to the 2nd level where the master bedroom with en-suite master bathroom as well as 2nd bedroom and en-suite bathroom are located. Also accessed from the 2nd floor hallway is the covered terrace.
This is a very nicely furnished home with a good floor plan for those wanting two floors.
UNIT #124
FOR RENT $1,000 mo.
Available Jan. 23
Total Area (Sq Ft): 662
Total area (Sq M): 61
Bedrooms: 1
Bathrooms: 1
Floor(s): 2nd Floor
Type: Semi-Detached
Furnished: Yes
This 662 sf, + covered parking for one car, is a one bedroom home on the 2nd floor overlooking the large pool. It is ideal for a single person or couple.
Our Lives
WEATHER: dry, lots of wind -beautiful temperatures.
All in a Week's Living in CR:
To Granada and Return: We went for 4 nights / 5 days and stayed at the Hotel Malinche. We had stayed there before and it was fine and it was again fine ($88 per night for two including a great breakfast). Granada was full of mostly European travelers. Not much has changed. We had dinner (twice) in our favorite steak restaurant, the EL ZAGUAN. Four people had three very delicious steaks grilled over charcoal to perfection, one grilled chicken breast with orange sauce, grilled potatoes, vegetables, salad, grilled bread, condiment's, a bottle of water, two large frozen margaritas, and two glasses of good red wine...!, 830 cordobas including tax and tip (25%) which at 24.12 cordobas to $1 = $75.45 or $18.86 each. All served in a nice ambiance, with great wait staff.
One significant positive change -the Costa Rican border processing: They now have new facilities and actually have staff to process people entering and exiting the country much faster. On the return, luggage inspection USED to take forever. Now they have installed the same type of X-ray machines... Nicaragua is now the slow poke in the process.
TRANS-NICA - "EXCUTIVO": It was a disappointment this time... It is the same bus as others except that it has substantially more leg room, a leg rest, and serves lunch -the lunch isn't important as we always take a full picnic along with wine and rum... so who really cares about their lunch????. It costs $10 more per person round trip than the regular bus... About C19,000 per person round trip... Going was fine. Returning, however, it was a regular bus with very, very limited leg room. In fact, one of our two companions had to sit sideways because he had no knee space. He complained the next day at the San Jose terminal showing pictures. The response was in effect, well you got lunch, and you want leg room as well. Hahhhh... too bad, fill out the complaint form... While this is the first time this has happened, I don't think I'll be around to see if it happens again... TICA Bus has a similar service, except that it leaves at an ungodly time... or maybe, we'll just back off Granada... it's no longer a significantly cheaper destination and with a 15 hr. round trip bus ride and an additional $150 for two to go to a place we've been to 20-30 times... I think we can find other destinations and avoid Trans Nica...
Misc: The Chinese Gift of a Stadium: the main electrical bank failed. All the repair instructions were in Chinese. They are sending three electrical engineers here to figure out the problem. In the meantime, CR has hooked up a portable generator to power it when needed -not very often...
The cistern for potable water in Carrrillo no longer has a top on it; buzzards are nesting in the area. The quality of the water is suspect; AyA doesn't have the money to repair / replace the top.
Another fraud and corruption investigation has been open in yet another series of road construction contracts... so far, there isn't much info...
Costa Rica is considering ways to limit the flow of US dollars across it's borders. This is not good news... but too early to get too upset.
Experts offer to help stadium with power advice
By the A.M. Costa Rica staff

Operators of the new national stadium, a gift from the People's Republic, are struggling.

The latest problem is electrical. The Colegio Federado de Ingenieros y de Arquitectos has offered to inspect the public facility after there was an outage. But the colegio said that stadium staffers were running the lights and other electrical devices off a backup generator.

The stadium was designed to take its power from the national electric grid and not from an emergency generator, said the colegio. The statement suggested that more attention needs to be paid to maintenance and upkeep.

There was no time given for a possible inspection. The stadium already is in trouble with the health ministry for noise pollution. That is having a serious effect on the neighbors. The stadium is in Sabana Oeste at the northwest corner of Parque La Sabana.
Business leaders favor tax on money leaving country
By the A.M. Costa Rica staff

Business leaders came out with their own proposals Thursday to protect the nation's economy from speculative investments.

The proposals were in response to those by President Laura Chinchilla, who called the influx of speculative capital an economic weapon of mass destruction.

The proposals Thursday include an exit tax on dollars from 5 to 25 percent and encouraging an effort by the Dirección General de Tributación to tax interest generated here by speculative deposits.

Investors in colons can make from 10 to 12 percent, depending on how they deposit their money. So the rates have attracted millions from First World economies where the rate may be 2 percent or less.

Wednesday the central government said it has been in contact with the Banco Central to discuss methods to reduce capital inflow. A presidential decree would seek to reduce the interest rate. The use of state funds was suggested as a way to reduce the current interest rate.

The issue is of high importance to expats living in Costa Rica because many receive their income from abroad. Many also have large amounts of money in Costa Rica banks.

The proposals Thursday came from the Unión Costarricense de Cámaras y Asociaciones del Sector Empresarial Privado and the Cámara de Exportadores.

The last thing that the business community and exports want is for the Banco Central to remove its support of the dollar. They fear that with large amounts of dollars entering the country the amount of colons they will be able to get for dollars will drop significantly. Most export sales are paid in dollars but the local costs are in colons. The two entities said they want a floor maintained of 500 colons to the dollar.

Jaime Molina, president of the business chamber said the issue was one of preserving jobs here.

The new proposals also call for a reduction of the colon interest rate by the government exerting moral pressure and by establishing a reasonable inflation goal. The entities also called for action by the Ministerio de Hacienda to use government money to reduce the interest rate.

These ideas are similar to those voiced by President Chinchilla Wednesday. Except the president never specifically mentioned a surcharge or a tax on money sent out of the country. The idea was implied, however.

Also proposed was some type of surcharge on money entering the country. That idea is sure to get the notice of expats, because experts say that separating so-called speculative capital from other money is difficult.

In the past, the central government has proposed surcharges of financial transactions at automatic tellers, but these did not become law.

The business chamber noted that the proposal of speculative capital and its consequences is not unique to Costa Rica. In fact, many Latin countries are facing the same problems, and some have prohibited the transfer of large amounts of cash abroad.
Brian, Lita, the Late Hugo IV, irreverent Vicka, the pigeon toed parrot, Chico II and Chica II