Dear friends,
When I started Residencias Los Jardines, I started writing a weekly news letter -determined to tell all the good, bad, and the ugly. I knew some readers would be interested in the construction process. I expected others might be interested in the lifestyle of two people who had decided to live outside the box. For others, the adventures of Lita, the parrot and the cat took on an entertainment saga all its own.
Residencias Los Jardines is finished. We periodically have resales and rental availability. Some readers may be interested in this information.
More and more, the content will be dominated by events of our new project, "El Dorado" for short. While the future is always uncertain, I again aim to tell it like it happens -the good, the bad, and the ugly, and that is what follows.
Brian Timmons
DEVELOPER:
Residencias Los Jardines / https://www.residenciaslosjardines.com
Hacienda El Dorado / https://www.eldoradocostarica.com
E-mail:
brian@eldoradocostarica.com
info@residenciaslosjardines.com
ResidenciasPropertyManagement@gmail.com
Construction Log
Updates about Hacienda El Dorado
Rio Oro: We're waiting on one party to get their money together (despite promises, it hasn't yet happened) and for the other to figure out what they want to do... the offer that was suppose to be made this week wasn't... we're still waiting... this is CR.
Residencias Los Jardines
Property Management, Rentals, Re-Sales
Property Tax Reassessment: we are due for our 5 year reassessment. While we don't know for sure what it will be, we did do a pro forma based on the information we were able to get, and the increase could be substantial... probably around 45%...
Budgeting for Next Year: last year's performance has been reviewed and vetted; a proposed budget presented, vetted and accepted by the Board for next year.
Tree Trimming: a number of estimates were gotten for substantially trimming the ficus trees at the back of the lot. We'll see if that translates into an authorized work program.
Market Activity
Sales: no calls.
Rentals: no calls.
FOR SALE
Unit #103

:

Sale Pending

Unit #121

:

Sale Pending
FOR RENT
Unit #106C

:
$1,300mo.
Available IMMEDIATELY
See Unit

Unit #114

:
$1,600 mo.
Available December 1
See Unit

Unit #123

:
$1,650 mo.
Available December 15
See Unit

Unit #124

:
$1,000 mo.
Available IMMEDIATELY
See Unit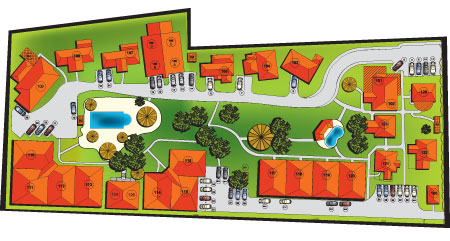 -
HOUSES FOR RENT
UNIT #106C
FOR RENT $1,300 mo.
Available IMMEDIATELY
Total Area (Sq Ft): 1250
Total Area (Sq M): 120
Bedrooms: 2
Bathrooms: 2
Floor(s): 1
Type: 4-plex
Furnished: Yes
This is a fully furnished 2-bedroom unit situated in a 2-story building, which has two units on the ground floor and two units on the 2nd. floor. Each unit is the same size (1,250sf) divided into 800 sf of interior space and 450 sf of covered front and back terraces. Units 106A and B are on the ground floor; Units 106 C and D are on the 2nd. Floor. The solid masonry demising wall (common wall) as well as the 5" concrete slab prevent sound transference.
UNIT #114
FOR RENT $1,600 mo.
Available December 1
Total Area (Sq Ft): 1290
Total area (Sq M): 120
Bedrooms: 2
Bathrooms: 2
Floor(s): 1
Type: Semi-Attached
Furnished: Yes
This 2 bedroom/2bathroom,1,290 sf single floor end unit home includes a 150 sf front terrace plus parking for one car. This house is fully air conditioned and has recently been professionally decorated by international decorator Alcides Graffe and has undergone a complete renovation—new modern furniture, finishings, window coverings, and art work by Carlos Gambino. It is arguably the nicest furnished unit at Residencias Los Jardines and only steps from the pool.
UNIT #123
FOR RENT $1,650 mo.
Available December 15
Total Area (Sq Ft): 1516
Total area (Sq M): 140
Bedrooms: 2
Bathrooms: 2.5
Floor(s): 2 Story
Type: Detached
Furnished: Yes
This two story, detached 1,423 sf home + parking for one car has two bedrooms, 2 ½ bathrooms and a 2nd floor covered terrace.
The open railed wrought iron cement stair case leads to the 2nd level where the master bedroom with en-suite master bathroom as well as 2nd bedroom and en-suite bathroom are located. Also accessed from the 2nd floor hallway is the covered terrace.
This is a very nicely furnished home with a good floor plan for those wanting two floors.
UNIT #124
FOR RENT $1,000 mo.
Available IMMEDIATELY
Total Area (Sq Ft): 662
Total area (Sq M): 61
Bedrooms: 1
Bathrooms: 1
Floor(s): 2nd Floor
Type: Semi-Detached
Furnished: Yes
This 662 sf, + covered parking for one car, is a one bedroom home on the 2nd floor overlooking the large pool. It is ideal for a single person or couple.
Our Lives
WEATHER: the dry, windy, summer season is beginning. Many of the locals fear it is way too early and that the country has not had enough rain. They are concerned about the consequences... so am I.
All in a Week's Living in CR:
CAJA: is the socialized medical services that everyone has to be belong to, including ex-pats even if they have insurance coverage elsewhere. The government organization is mostly broke due to inefficiencies, too many staff and of many companies and government agencies not paying. However, the little guy has to pay... as always, the big guys seem to get away with "delayed" payments. The government quietly passed an increase in the rates, especially for the self employed and the ex-pats. Increases ranged far and wide... mine went from C123,000 ($246) to C203,000 ($406 mo). or a 65% increase. Wow!!!!!!!
CAJA employees: went on strike protesting the cuts to the health care system... which has to be one of the most over staffed and least effective of the CR branches of government. what was suppose to be peaceful, became ugly... actually, this was pretty bad timing given the increase that had happened just days before... there isn't / wasn't a lot of sympathy for them...
ICE: a demonstration of about 2,000 employees occurred on Monday. They are upset that the monopolist status (now being broken) and the non-competiveness of the company may affect their jobs and liberal benefits. They took a day off work, and create traffic chaos at one critical junction... traffic was stalled for an hour... I got caught... there's not a lot of sympathy for these people either... ICE continues to do everything it can to thwart the build out of the competing cell phone system, eg... not connecting power to the rival company's towers so they can get complete signal coverage. Electricity rates -already one of the highest in the world- are expected to increase 10-20% in January... and we have been warned of power outages due to low water generation... this happened a few years go when they didn't manage their water reserves well.
Teachers: They went on strike for a day because the government didn't want to pay those 90% who didn't show up for a mandated day of courses on how to teach sex education.
MARCHMO: the annual road tax -will be going up substantially this year and the cost of driver's licenses will also increase. However, the cost of gas will decrease a few colones but still be substantially higher than 6 mo. ago... (we should be happy)
Stupidity: I wonder if it is only in CR that a driver of an 85 ton mobile crane will try to drive over a Bailey bridge rated at max. capacity of 40 tons?... Well, guess what happened... traffic chaos for hours at evening rush hour traffic...
Brian, Lita, the Late Hugo IV, irreverent Vicka, the pigeon toed parrot, Chico II and Chica II