Brian Timmons
Dear friends,
When I started Residencias Los Jardines, I started writing a weekly news letter -determined to tell all the good, bad, and the ugly. I knew some readers would be interested in the construction process. I expected others might be interested in the lifestyle of two people who had decided to live outside the box. For others, the adventures of Lita, the parrot and the cat took on an entertainment saga all its own.
Residencias Los Jardines is finished. We periodically have resales and rental availability. Some readers may be interested in this information.
More and more, the content will be dominated by events of our new project, "El Dorado" for short. While the future is always uncertain, I again aim to tell it like it happens -the good, the bad, and the ugly, and that is what follows.
Brian Timmons
DEVELOPER:
Residencias Los Jardines / https://www.residenciaslosjardines.com
Hacienda El Dorado / https://www.eldoradocostarica.com
E-mail:
brian@eldoradocostarica.com
info@residenciaslosjardines.com
ResidenciasPropertyManagement@gmail.com
Construction Log
Updates about Hacienda El Dorado
Rio Oro: The feedback we finally got was that they couldn't get the money from the bank to meet the schedule we had agreed to. Instead of being forthwith, they used various ruses... The door is still open but...
We've moving on and have supplied a Venezuelan builder with more information as requested. They are evaluating it. We should get past this evaluations stage next week.
Residencias Los Jardines
Property Management, Rentals, Re-Sales
Property Management: The shareholders renewed the existing property management contract for another three years counting from it's planned expiry date... May 2013. This will provide stability.
Tree Trimming: One large project undergoing definition and costing is cutting the large ficus benjamina trees at the back of the property. They have become huge, continue to drop leaves, create lots of shade and their roots could be a problem for drainage / septic / and footings/slabs... this is not an emergency but one which is being investigated as a planned work program for next year.
Market Activity
Sales: one viewing; sale pending.
Rentals: no calls.
FOR SALE
Unit #106D

:

Sale Pending

Unit #103

:

Sale Pending

Unit #121

:

Sale Pending
FOR RENT
Unit #106D

:
$1,350mo.
Available November 10
See Unit

Unit #124

:
$1,000 mo.
Available November 1
See Unit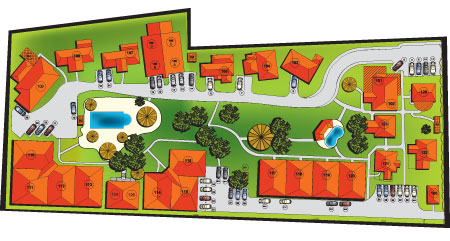 -
HOUSES FOR RENT
UNIT #106D
FOR RENT $1,350 mo.
Available November 10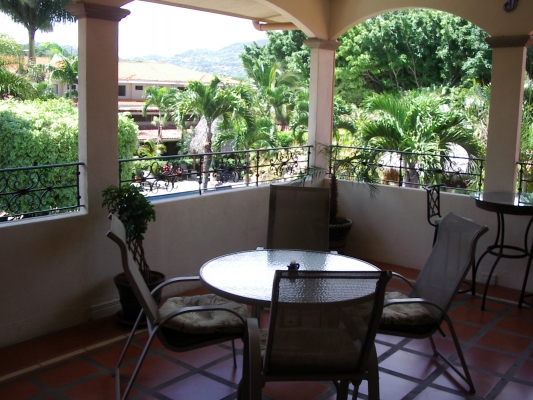 See a complete description of this unit
Total Area (Sq Ft): 1227 sf. + parking
Total Area (Sq M): 113 + parking
Bedrooms: 1 + den (bedroom possible)
Bathrooms: 2
Floor(s): 2nd. floor
Type: apartment in 4 plex
Furnished: Yes
This 2nd story, 1,227 sf (113 m2 + one parking space) )is a georgous home with one of the best views at Los Jardines. The very large front covered terrace faces west and is suitable for entertaining; the off-bedroom covered terrace faces east for sun sets. This very tastefully furnished and fully equipped home offers a lifestyle envied by many. The owner offers financing if desired.
UNIT #124
FOR RENT $1,000 mo.
Available November 1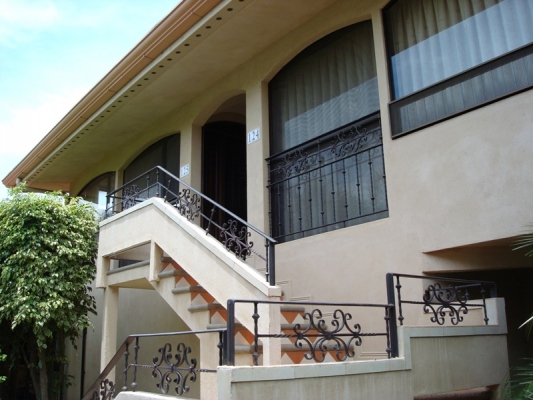 See a complete description of this unit
Total Area (Sq Ft): 662
Total area (Sq M): 61
Bedrooms: 1
Bathrooms: 1
Floor(s): 2nd Floor
Type: Semi-Detached
Furnished: Yes
This 662 sf, + covered parking for one car, is a one bedroom home on the 2nd floor overlooking the large pool. It is ideal for a single person or couple.
Our Lives
WEATHER: Lots of rain -nothing really hard- this week as a byproduct of the hurricane on the Atlantic. Friday was the first day we saw the sun.
All in a Week's Living in CR:
Another Week, Another Sale: I now have have three houses in various stages of selling... the most recent one being 103. This week I was asked by a marketing company if I had any more homes for sale listed at a decent price. I had to say "no" on both counts. Houses managed by owners or listed with other agents for sale are overpriced (in my opinion and when comparative info of actual sales are used) and are not getting any attention from what I see. The owners will have to figure it out some day.
Family Arrival: My sister arrived Friday evening... I'm taking some family time this next week while trying to keep the conversations on track and advancing.
Brian, Lita, the Late Hugo IV, irreverent Vicka, the pigeon toed parrot, Chico II and Chica II