Dear friends,
When I started Residencias Los Jardines, I started writing a weekly news letter -determined to tell all the good, bad, and the ugly. I knew some readers would be interested in the construction process. I expected others might be interested in the lifestyle of two people who had decided to live outside the box. For others, the adventures of Lita, the parrot and the cat took on an entertainment saga all its own.
Residencias Los Jardines is finished. We periodically have resales and rental availability. Some readers may be interested in this information.
More and more, the content will be dominated by events of our new project, "El Dorado" for short. While the future is always uncertain, I again aim to tell it like it happens -the good, the bad, and the ugly, and that is what follows.
Brian Timmons
DEVELOPER:
Residencias Los Jardines / https://www.residenciaslosjardines.com
Hacienda El Dorado / https://www.eldoradocostarica.com
E-mail:
brian@eldoradocostarica.com
info@residenciaslosjardines.com
ResidenciasPropertyManagement@gmail.com
Construction Log
Updates about Hacienda El Dorado
Rio Oro: The only feedback we got was that the purchaser is currently working to resolve some personal problems and cannot move forward as expected at this point in time. We're moving on and have a 2nd meeting set up next week with a Venezuelan builder.
Residencias Los Jardines
Property Management, Rentals, Re-Sales
Fiscal Year End: In CR, it is Sept. 30 for companies. Our report, thanks to Krysia is in and I've now completed the analysis. Our expenses were substantially lower than budgeted for because: (1) inflation was substantially lower; (2) the exchange rate remain stable; (3) weather was mild and we had no disaster repairs; and (4) we ran our garden lighting dark for much of the year and then switched to LEDs in the pool and garden later in the year resulting in a substantial savings. The combined effect of this along with the substantial increase in monthly maintenance fees last year, should allow the Board to deliver pleasant news at the up coming annual shareholder meeting.
Market Activity
Sales: no calls.
Rentals: no calls.
FOR SALE
Unit #106D

:

Sale Pending

Unit #103

:
$157,000
PRICE REDUCTION from $164,000
See Unit

Unit #121

:

Sale Pending
FOR RENT
Unit #106D

:
$1,350mo.
Available November 10
See Unit

Unit #109

:
$1,450 mo.
Available until November 13
See Unit

Unit #124

:
$1,000 mo.
Available November 1
See Unit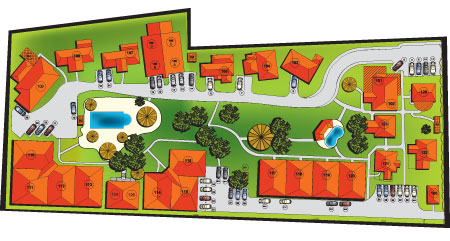 -
HOUSE FOR SALE
UNIT #103
FOR SALE $157,000
Price Reduction from $164,000
Total Area (Sq Ft): 1000
Total Area (Sq M): 93
Bedrooms: 2
Bathrooms: 2
Floor(s): 1
Type: Detached
Furnished: Yes
1000 sf., single story, detached, two bedroom, two bathroom, with a nice covered terrace overlooking a nicely landscaped tropical backyard. Breakfast counter, dinning room table for 4, parking for one car. Vaulted ceilings in master bedroom and kitchen/dining area.
HOUSES FOR RENT
UNIT #106D
FOR RENT $1,350 mo.
Available November 10
Total Area (Sq Ft): 1227 sf. + parking
Total Area (Sq M): 113 + parking
Bedrooms: 1 + den (bedroom possible)
Bathrooms: 2
Floor(s): 2nd. floor
Type: apartment in 4 plex
Furnished: Yes
This 2nd story, 1,227 sf (113 m2 + one parking space) )is a georgous home with one of the best views at Los Jardines. The very large front covered terrace faces west and is suitable for entertaining; the off-bedroom covered terrace faces east for sun sets. This very tastefully furnished and fully equipped home offers a lifestyle envied by many. The owner offers financing if desired.
UNIT #109
FOR RENT $1,450 mo.
Available until November 13
Total Area (Sq Ft): 1506
Total Area (Sq M): 140
Bedrooms: 2
Bathrooms: 2
Floor(s): 1 Story
Type: Detached
Furnished: Yes
This single story home (1506 sf. + parking for one car) is detached, has two bedrooms, two bathrooms, home office, living room wall / entertainment center along with a built in office and a semi-private terrace. In addition, it has a vaulted ceiling in the "great" room and two skylights. The covered entrance way is suitable for two chairs located next to a covered garden area. Once through the impressive front door, you enter the "great room" which houses the kitchen, dining room, office and living room. Upon entering, there is a built in wooden hutch surfaced with granite—it matches all the built-in furniture in the great room. There is a clothes washer and dryer off the 2nd bedroom. The owners have added many personal touches and have done a supurb job in decodrating the home.
UNIT #124
FOR RENT $1,000 mo.
Available November 1
Total Area (Sq Ft): 662
Total area (Sq M): 61
Bedrooms: 1
Bathrooms: 1
Floor(s): 2nd Floor
Type: Semi-Detached
Furnished: Yes
This 662 sf, + covered parking for one car, is a one bedroom home on the 2nd floor overlooking the large pool. It is ideal for a single person or couple.
Our Lives
WEATHER: This week saw what the normal weather pattern in October is suppose to be -a little rain each day or night and beautiful the rest of the time.
All in a Week's Living in CR:
Fiscal year end -Sept. 30: Now that the financial year end is over and reported, begins the task of comparing actual vs. what was forecast the year previously and explaining the differences. Usually about 3 hrs work. Then to make another forecast for the coming 12 months -another couple hours and a list of assumptions. That's been the singular major activity this week.
Office Printer and technological change: Our workhouse HP all in one printer needed repairs. I took it to the service repair place. This is a 35lb and physically large item. A week later and after two failed return phone calls, it needed $135 worth of work and I'd have to wait 15 days (which is a lifetime in CR since experience tells that they have no idea when the part would be available). I went to Office Depot and bought a new multi-functional printer/scanner/fax for $100 which is faster the the cartridges are cheaper.
Brian, Lita, the Late Hugo IV, irreverent Vicka, the pigeon toed parrot, Chico II and Chica II