Dear friends,
When I started Residencias Los Jardines, I started writing a weekly news letter -determined to tell all the good, bad, and the ugly. I knew some readers would be interested in the construction process. I expected others might be interested in the lifestyle of two people who had decided to live outside the box. For others, the adventures of Lita, the parrot and the cat took on an entertainment saga all its own.
Residencias Los Jardines is finished. We periodically have resales and rental availability. Some readers may be interested in this information.
More and more, the content will be dominated by events of our new project, "El Dorado" for short. While the future is always uncertain, I again aim to tell it like it happens -the good, the bad, and the ugly, and that is what follows.
Brian Timmons
DEVELOPER:
Residencias Los Jardines / https://www.residenciaslosjardines.com
Hacienda El Dorado / https://www.eldoradocostarica.com
E-mail:
brian@eldoradocostarica.com
info@residenciaslosjardines.com
ResidenciasPropertyManagement@gmail.com
Construction Log
Updates about Hacienda El Dorado
Rio Oro: This is not going as expected. May may have bet on the wrong horse... we'll see. In the meantime, we're not sitting still.
Residencias Los Jardines
Property Management, Rentals, Re-Sales
Market Activity
Sales: One client -not serious.
Rentals: One viewer -not serious.
Comment: The Chinese group I hosted on Sunday -about 10- are the first in six or so groups -couples and singles in their 30's and 40's. Even though they had a translator, communications was difficult. They are in CR to get residency and many are looking to buy houses. We were not able to get any feedback as to what they wanted or how they liked what they saw. Sometimes I got the feeling we were Sunday morning fill-in entertainment and education. We'll see.
FOR SALE
Unit #106D

:

Sale Pending

Unit #103

:
$157,000
PRICE REDUCTION from $164,000
See Unit

Unit #121

:
$199,500
See Unit
FOR RENT
Unit #106D

:
$1,350 mo.
Available November 1
See Unit

Unit #109

:
$1,450 mo.
Available until November 13
See Unit

Unit #121

:
$1,650 mo.
Available Immediately
See Unit

Unit #124

:
$1,000 mo.
Available November 1
See Unit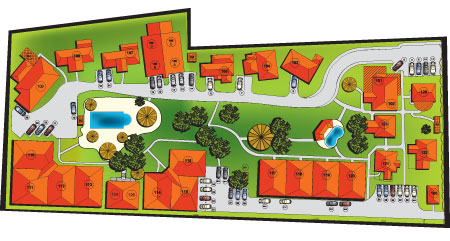 -
HOUSE FOR SALE
UNIT #103
FOR SALE $157,000
Price Reduction from $164,000
Total Area (Sq Ft): 1000
Total Area (Sq M): 93
Bedrooms: 2
Bathrooms: 2
Floor(s): 1
Type: Detached
Furnished: Yes
1000 sf., single story, detached, two bedroom, two bathroom, with a nice covered terrace overlooking a nicely landscaped tropical backyard. Breakfast counter, dinning room table for 4, parking for one car. Vaulted ceilings in master bedroom and kitchen/dining area.
HOUSE FOR SALE / RENT
UNIT #121
FOR SALE $199,500
FOR RENT $1,650 mo. Available Immediately

Total Area (Sq Ft): 1423
Total Area (Sq M): 131
Bedrooms: 2
Bathrooms: 2.5
Floor(s): 2 Story
Type: Detached
Furnished: Yes
This two story, detached 1,423 sf home + parking for one car has two bedrooms, 2 ½ bathrooms and a 2nd. floor covered terrace.
The open railed wrought iron cement stair case leads to the 2nd. level where the master bedroom with en-suite master bathroom as well as 2nd. bedroom and en-suite bathroom are located. Also accessed from the 2nd. floor hallway is the covered terrace.
This is a very nicely furnished home with a good floor plan for those wanting two floors.
HOUSES FOR RENT
UNIT #106D
FOR RENT $1,350 mo.
Available November 1
Total Area (Sq Ft): 1227 sf . + parking
Total Area (Sq M): 113 + parking
Bedrooms: 1 + den (bedroom possible)
Bathrooms: 2
Floor(s): 2nd. floor
Type: apartment in 4 plex
Furnished: Yes
This 2nd story, 1,227 sf (113 m2 + one parking space) )is a georgous home with one of the best views at Los Jardines. The very large front covered terrace faces west and is suitable for entertaining; the off-bedroom covered terrace faces east for sun sets. This very tastefully furnished and fully equipped home offers a lifestyle envied by many. The owner offers financing if desired.
UNIT #109
FOR RENT $1,450 mo.
Available until November 13
Total Area (Sq Ft): 1506
Total Area (Sq M): 140
Bedrooms: 2
Bathrooms: 2
Floor(s): 1 Story
Type: Detached
Furnished: Yes
This single story home (1506 sf. + parking for one car) is detached, has two bedrooms, two bathrooms, home office, living room wall / entertainment center along with a built in office and a semi-private terrace. In addition, it has a vaulted ceiling in the "great" room and two skylights. The covered entrance way is suitable for two chairs located next to a covered garden area. Once through the impressive front door, you enter the "great room" which houses the kitchen, dining room, office and living room. Upon entering, there is a built in wooden hutch surfaced with granite—it matches all the built-in furniture in the great room. There is a clothes washer and dryer off the 2nd bedroom. The owners have added many personal touches and have done a supurb job in decodrating the home.
UNIT #124
FOR RENT $1,000 mo.
Available November 1
Total Area (Sq Ft): 662
Total area (Sq M): 61
Bedrooms: 1
Bathrooms: 1
Floor(s): 2nd Floor
Type: Semi-Detached
Furnished: Yes
This 662 sf, + covered parking for one car, is a one bedroom home on the 2nd floor overlooking the large pool. It is ideal for a single person or couple.
Our Lives
WEATHER: for OCTOBER being the wettest month -- someone forgot to advise Nature..... virtually no rain at all this week. We're watering.
All in a Week's Living in CR:
Residency: our appointment to complete the process is Nov. 19.
Development in Overdrive: Construction continues at a dizzying pace in Santa Ana: The multi-use plaza continues under construction near Cruz Roja. It was recently announced that another huge multi-use plaza like the one built next to Cima will starting -offices, retail, movie theaters, hotel, condos- will go in next to the current plaza under construction. A piece of land slated for residential development near our El Dorado development just sold to Chinese investors. The third lot next to the huge call center and what will become a "Fresh Market" (small, high end grocery store chain) is now under development. I don't know what's being built. Several smaller residential developments on the old read linking Pozos to Santa Ana have started. The residential development to our east is finished -thankfully- just minor interior finishings and customizations.
Comment 1: The purchaser of 106D used a lawyer who was new to Los Jardines and our legal structure -he wanted to understand how it worked to properly advise his client. He was very thorough and represented his client well. The review and explanations were very time consuming. We evidently passed his legal scrutiny test because the deal is on.
Comment 2: It was nice to read in last week's news that the construction application process will be reduced from 180 documents to 6 and they will be electronic. (I wonder how this will affect the "chorizo" payments along the way???... just think about this... the 180 was only for construction... that's the easy part... development of land requires probably three times that many... electronic???... what normally happens when this new development happens is that they required both paper and electronic..hard to give up old habits and given the reliability of systems here and lack of staff training, it just doesn't work as well in life as on paper becasue..the system is "down for mtnc" or is not working for some reason or other... just note the frequency of outages of banks, CAJA, INS which has gone paperless... yeah, right... (remote locations cannot access the databases of INS that we, as employers, spend hours inputting data to)... that's only because they couldn't find anything in their files...
Brian, Lita, the Late Hugo IV, irreverent Vicka, the pigeon toed parrot, Chico II and Chica II