Dear friends,
When I started Residencias Los Jardines, I started writing a weekly news letter -determined to tell all the good, bad, and the ugly. I knew some readers would be interested in the construction process. I expected others might be interested in the lifestyle of two people who had decided to live outside the box. For others, the adventures of Lita, the parrot and the cat took on an entertainment saga all its own.
Residencias Los Jardines is finished. We periodically have resales and rental availability. Some readers may be interested in this information.
More and more, the content will be dominated by events of our new project, "El Dorado" for short. While the future is always uncertain, I again aim to tell it like it happens -the good, the bad, and the ugly, and that is what follows.
Brian Timmons
DEVELOPER:
Residencias Los Jardines / https://www.residenciaslosjardines.com
Hacienda El Dorado / https://www.eldoradocostarica.com
E-mail:
brian@eldoradocostarica.com
info@residenciaslosjardines.com
ResidenciasPropertyManagement@gmail.com
Construction Log
Updates about Hacienda El Dorado
Rio Oro: This isn't won't of the miracles -well, that didn't happen and we're following up to get a response- we'll up the ante next week...
Residencias Los Jardines
Property Management, Rentals, Re-Sales
Market Activity
Sales: MULTIPLE MIRACLES: one sale and a number of clients lined up. In addition to the two clients I'll be meeting with next week, I'm on Sunday morning, I'm hosting a group of foreign purchasers who want to buy 5-6 houses. It almost feels like what normal business was like two years ago. But will it have legs????
Rentals: no requests.
FOR SALE
Unit #106 D

:

Sale Pending

Unit #103

:
$157,000
PRICE REDUCTION from $164,000
See Unit

Unit #121

:
$199,000
See Unit
FOR RENT
Unit #109

:
$1,450 mo.
Available until November 13
See Unit

Unit #121

:
$1,650 mo.
Available Immediately
See Unit

Unit #124

:
$1,000 mo.
Available November 1
See Unit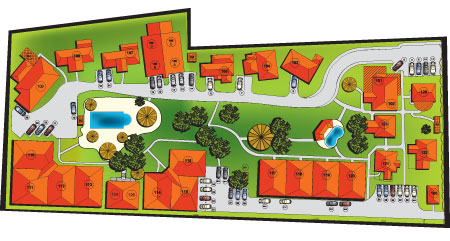 -
HOUSE FOR SALE
UNIT #103
FOR SALE $157,000
Price Reduction from $164,000
Total Area (Sq Ft): 1000
Total Area (Sq M): 93
Bedrooms: 2
Bathrooms: 2
Floor(s): 1
Type: Detached
Furnished: Yes
1000 sf., single story, detached, two bedroom, two bathroom, with a nice covered terrace overlooking a nicely landscaped tropical backyard. Breakfast counter, dinning room table for 4, parking for one car. Vaulted ceilings in master bedroom and kitchen/dining area.
HOUSE FOR SALE / RENT
UNIT #121
FOR SALE $199,000
FOR RENT $1,650 mo. Available Immediately

Total Area (Sq Ft): 1423
Total Area (Sq M): 131
Bedrooms: 2
Bathrooms: 2.5
Floor(s): 2 Story
Type: Detached
Furnished: Yes
This two story, detached 1,423 sf home + parking for one car has two bedrooms, 2 ½ bathrooms and a 2nd. floor covered terrace.
The open railed wrought iron cement stair case leads to the 2nd. level where the master bedroom with en-suite master bathroom as well as 2nd. bedroom and en-suite bathroom are located. Also accessed from the 2nd. floor hallway is the covered terrace.
This is a very nicely furnished home with a good floor plan for those wanting two floors.
HOUSES FOR RENT
UNIT #109
FOR RENT $1,450 mo.
Available until November 13
Total Area (Sq Ft): 1506
Total Area (Sq M): 140
Bedrooms: 2
Bathrooms: 2
Floor(s): 1 Story
Type: Detached
Furnished: Yes
This single story home (1506 sf. + parking for one car) is detached, has two bedrooms, two bathrooms, home office, living room wall / entertainment center along with a built in office and a semi-private terrace. In addition, it has a vaulted ceiling in the "great" room and two skylights. The covered entrance way is suitable for two chairs located next to a covered garden area. Once through the impressive front door, you enter the "great room" which houses the kitchen, dining room, office and living room. Upon entering, there is a built in wooden hutch surfaced with granite—it matches all the built-in furniture in the great room. There is a clothes washer and dryer off the 2nd bedroom. The owners have added many personal touches and have done a supurb job in decodrating the home.
UNIT #124
FOR RENT $1,000 mo.
Available November 1
Total Area (Sq Ft): 662
Total area (Sq M): 61
Bedrooms: 1
Bathrooms: 1
Floor(s): 2nd Floor
Type: Semi-Detached
Furnished: Yes
This 662 sf, + covered parking for one car, is a one bedroom home on the 2nd floor overlooking the large pool. It is ideal for a single person or couple.
Our Lives
WEATHER: normal rains this week. The garden is happy.
All in a Week's Living in CR:
Another Miracle: Residency: -we've been waiting for 2 1/2 years- we received word this week that Lita's residency had been approved. Mine had been approved in May but without Lita's, it was useless to me so I didn't do anything on it. It seems that one piece of paper had been missing from her documents; when notified it was added and then her file went into the quay... Once her's was approved, we then made application to join the CAJA (a requirement) and pay the fees for the residency and the CAJA. That was a challenge itself. There were three fees for each application... two were quoted in dollars and one in colones. I tried paying with CC... no, only cash... so off to the bank... we had to use a specific government bank (BCR)... they don't accept MasterCard. So my helper offered that I use her VISA -it didn't work because the system was down. Off to my bank to withdraw funds... in both colones and US dollars. I go to pay cash at the designated bank... regardless that two of the three amounts were stated in US dollars, they had to be paid in colones. Fortunately, I had enough... off to sign up at the local CAJA clinic -it worked. We got signed up with temporary cards... all this was done (albeit in three different locations) in three hours... now we can make our appointments to finish the process (probably in November)... the lawyer who had taken 2 1/2 years to get us to this stage, was amazed that we could get signed up in 3 hrs. and insisted on reviewing all documents to see they were correct and complete -I believe he was disappointed when he couldn't find fault with them... anyway he wants to be paid... that's always the fastest part of his process...
Cars: -they aren't easy to keep running- before I bought the car, the aerial had been broken -it worked but I probably wasn't getting as good reception as I otherwise should. I decided to replace it. To do that, the tire has to be removed. In the process, they broke a lug nut. Now it has to be drilled out. The AC wasn't working well. Solution, clean the filters and oil the compressor and associated moving parts... and finally, I had gone swimming with the remote control in pocket... stupid, stupid, stupid... but that's what most accidents are... I decided to get a replacement remote. The prices ranged from $500 to $50... wow... guess which one I chose... the guy came to install / program the new remote. Fine... off he goes... next morning, the car won't start... obviously... the original key has a chip in it for safety purposes which has to be replicated or somehow bypassed... three hours later, the guy embedded the old key in the steering column and now the chip worked and I could start it...
TicoTimes: this week is the last print publication... while never a great newspaper, it did provide some information -it will still be available at a charge, on line.
Brian, Lita, the Late Hugo IV, irreverent Vicka, the pigeon toed parrot, Chico II and Chica II