Dear friends,
When I started Residencias Los Jardines, I started writing a weekly news letter -determined to tell all the good, bad, and the ugly. I knew some readers would be interested in the construction process. I expected others might be interested in the lifestyle of two people who had decided to live outside the box. For others, the adventures of Lita, the parrot and the cat took on an entertainment saga all its own.
Residencias Los Jardines is finished. We periodically have resales and rental availability. Some readers may be interested in this information.
More and more, the content will be dominated by events of our new project, "El Dorado" for short. While the future is always uncertain, I again aim to tell it like it happens -the good, the bad, and the ugly, and that is what follows.
Brian Timmons
DEVELOPER:
Residencias Los Jardines / https://www.residenciaslosjardines.com
Hacienda El Dorado / https://www.eldoradocostarica.com
E-mail:
brian@eldoradocostarica.com
info@residenciaslosjardines.com
ResidenciasPropertyManagement@gmail.com
Construction Log
Updates about Hacienda El Dorado
Rio Oro: ...The Rainbow Syndrome: our experience this week reminds me of when I was younger and while I could see the rainbow, I could never find the end... it was always elusive. Regardless, a contract is drafted based on conversations to date; there are no major issues that I'm aware of. The purchaser's lawyer is simply slow to respond. We've given a deadline at which, if not met, we will begin dealing with a 2nd acceptable offer. Both offers are very similar so it shouldn't take long... change a few names and a few other specifics. Regardless of which group we sign with, this will simply be a new chapter... and because in CR there's always the rainbow syndrome... we're continuing to speak with a third party and expect to meet a 4th party on Monday or Tuesday...
Residencias Los Jardines
Property Management, Rentals, Re-Sales
Managing Contracts: The lease I use is based on years and years of experience and is periodically revised as a new experience dictates. It's quite specific and anticipates a number of situations. When one of the situations arises... the contract specifies what will happen and no consultation is necessary -there's really no decision making at this point. -- only advising both parties. If, on the other hand, the contract does not anticipate a situation, then a new road map has to be created. At this point, the owner is usually consulted... Owners can be as difficult and unreasonable as tenants -in two cases this week, I was asked to violate the terms of the contract and in one case I was asked to break CR law as well as the rule of good sense. One case is resolved; one is still pending.
Unwanted Interference: A year ago, we replaced a palm tree because it was getting too big for the container. We replaced it with a bougainvillea... a very decorative, show piece especially during the dry season. This was to be a feature planting and focal point. It was just beginning to reach our goal... arching, colorful branches over the waterfall and brighten up the whole area. One of our owners decided on his own early Friday morning to prune it -guess he didn't share in the vision, or??? who knows... this was not appreciated by a number of people and now we'll have to wait another 6 mo. before we achieve the goal... and this is the reason why owners and tenants are NOT suppose to touch anything in the garden... we have a management structure in place...
Market Activity
Sales: two viewings.
Rentals: one call, one viewing.
FOR SALE
Unit #106 D

:
$179,000
PRICE REDUCTION

75% owner financing available

See Unit

Unit #103

:
$157,000
PRICE REDUCTION from $164,000
See Unit
FOR RENT
Unit #109

:
$1,450 mo.
Available August 30 up to December 31
See Unit

Unit #116

:
$1,400 mo.
Available Immediately
See Unit

Unit #121

:
$1,650 mo.
Available September 1
See Unit

Unit #124

:
$1,000 mo.
Available September 1
See Unit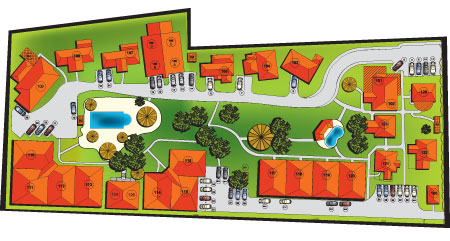 -
HOUSES FOR SALE
UNIT #106 D
FOR SALE $179,000
PRICE REDUCTION - 75% owner financing available
Total Area (Sq Ft): 1227 + parking
Total Area (Sq M): 113 + parking
Bedrooms: 1 + den (bedroom possible)
Bathrooms: 2
Floor(s): 2nd. floor
Type: apartment in 4 plex
Furnished: Yes
This 2nd story, 1,227 sf (113 m2 + one parking space) )is a georgous home with one of the best views at Los Jardines. The very large front covered terrace faces west and is suitable for entertaining; the off-bedroom covered terrace faces east for sun sets. This very tastefully furnished and fully equipped home offers a lifestyle envied by many. The owner offers financing if desired.
UNIT #103
FOR SALE $157,000
Price Reduction from $164,000
Total Area (Sq Ft): 1000
Total Area (Sq M): 93
Bedrooms: 2
Bathrooms: 2
Floor(s): 1
Type: Detached
Furnished: Yes
1000 sf., single story, detached, two bedroom, two bathroom, with a nice covered terrace overlooking a nicely landscaped tropical backyard. Breakfast counter, dinning room table for 4, parking for one car. Vaulted ceilings in master bedroom and kitchen/dining area.
HOUSES FOR RENT
UNIT #109
FOR RENT $1,450 mo.
Available August 30 up to December 31
Total Area (Sq Ft): 1506
Total Area (Sq M): 140
Bedrooms: 2
Bathrooms: 2
Floor(s): 1 Story
Type: Detached
Furnished: Yes
This single story home (1506 sf. + parking for one car) is detached, has two bedrooms, two bathrooms, home office, living room wall / entertainment center along with a built in office and a semi-private terrace. In addition, it has a vaulted ceiling in the "great" room and two skylights. The covered entrance way is suitable for two chairs located next to a covered garden area. Once through the impressive front door, you enter the "great room" which houses the kitchen, dining room, office and living room. Upon entering, there is a built in wooden hutch surfaced with granite—it matches all the built-in furniture in the great room. There is a clothes washer and dryer off the 2nd bedroom. The owners have added many personal touches and have done a supurb job in decodrating the home.
UNIT #116
FOR RENT $1,400 mo.
Available Immediately
Total Area (Sq Ft): 1290
Total area (Sq M): 120
Bedrooms: 2
Bathrooms: 2
Floor(s): 1
Type: Semi-Attached
Furnished: Yes
This 1,290 sf single floor home includes a 300 sf front terrace plus parking for one car and a separate, secure storage locker. It is and end unit and therefore attached on only one side by a 6 inch cement demising (common) wall, which prevents sound transfer.
UNIT #121
FOR RENT $1,650 mo.
Available September 1
Total Area (Sq Ft): 1423
Total area (Sq M): 131
Bedrooms: 2
Bathrooms: 2.5
Floor(s): 2 Story
Type: Detached
Furnished: Yes
This two story, detached 1,423 sf home + parking for one car has two bedrooms, 2 ½ bathrooms and a 2nd. floor covered terrace.
The open railed wrought iron cement stair case leads to the 2nd. level where the master bedroom with en-suite master bathroom as well as 2nd. bedroom and en-suite bathroom are located. Also accessed from the 2nd. floor hallway is the covered terrace.
This is a very nicely furnished home with a good floor plan for those wanting two floors.
UNIT #124
FOR RENT $1,000 mo.
Available September 1
Total Area (Sq Ft): 662
Total area (Sq M): 61
Bedrooms: 1
Bathrooms: 1
Floor(s): 2nd Floor
Type: Semi-Detached
Furnished: Yes
This 662 sf, + covered parking for one car, is a one bedroom home on the 2nd floor overlooking the large pool. It is ideal for a single person or couple.
Our Lives
WEATHER: we actually got normal rains this week. The garden is happy and all pumps and drains are working...
All in a Week's Living in CR:
Soup Bones: I wanted to make vegetable beef soup -from scratch and needed to make a stock... I went to the local butcher shop and realized I didn't know the name for bones in Spanish. All I could say was what I did not want. After five minutes of patient attendance by the owner, and everything now having been removed from the cooler, he, out of desperation, grabbed a carcass from the bottom of the cooler that he had been working on the previous day (I had seen it and that's what made me want to make the soup). He cut it up and I now know the name for bones... and won't forget. the soup was delicious)
and
yesterday when I returned I passed a strawberry salesperson working out of this picku -obviously a local farmer. In Spanish I said on my way to the butcher shop that I'd check out his strawberries on my way back.. he replied in perfect English: o.k. I'll be waiting for you... you just never know who and when English / Spanish will be spoken.
CR humor: The paved road in front of Los Jardines, is filled with pot holes which have become deeper, wider and dangerous. Some of the locals have planted branches, flowers, and plants... it's a warning but also a joke...
A Study of Inefficiency and Ineffectiveness: Background: I had to replace a peanut sized component to an Am. Standard faucet. To do this, I had to drive across town to the distributorship -normally a min. 20 drive with some difficult / dangerous intersections. I was prepared that I could not buy just the fifty cent piece I needed and would have to buy a whole handle / valve. I took a sample of what I needed and the handle so I could be sure to match everything.
Upon arrival, I was directed to sit. I thought since there were two others before me, perhaps I had to wait my turn... or perhaps until someone returns from lunch or?? 30 min. go by; the other two people have been served. I wait... another person enters... I approach... she takes my request... no we do not sell just that part... but offers to see if they can find one in the warehouse. She calls someone, they take the samples... nope -nothing in the warehouse, but they bring a new faucet set... the woman says, let me try someone else, they take the samples (which had been returned), the samples are lost, but bring out another faucet set (the other having been returned to the warehouse) -then they again try give me just a portion of the whole faucet (I guess they too thought this was stupid) since I only need the one peanut sized connector, by now, the original samples I had brought with me are lost... I'm given two peanut sized connectors (remember, they've now lost the original sample) and and one handle (which I didn't need) and the bill comes to $39. At least 7 people had been involved; the invoice consisted of at least 100 mouse movements, and both computer and hand generated paperwork consisting of 9 pages. This took about two hours... and when I got back, the replacement part didn't fit...
Comment: no one has to fear the competitive advantage of CR... this is why the society loves monopolies because they can continue to be inefficient and ineffective... and still make money despite.
Electrical Code for CR: the following article appeared this past week in "Inside Costa Rica"
Hard to believe, but finally it is here, the first ever electrical code in the country as executive order 36.979 takes affect on Thursday.
The document is a safety manual for professionals and traders.

The code aims to eliminate the sale of inferior quality products and ensure electrical installations are safe.

From Thursday on, all electrical installations must be done by a professional or a professional to oversee the work, stopping the practice of any handyman passing himself as an electrician.

The code empowers the Ministerio de Economía to a regular review of the quality of materials used in electrical installations and considers buildings were more than 100 people gather, such as churches, hospitals and schools, as high risk buildings and subject to inspections every five years.

A sizable number of ignitions of structures are due to electrical faults associated with wiring or with wiring devices.
Comment: Isn't it nice and comforting to know that all the existing buildings were built without and standard code... and regardless, today (and the same will be tomorrow) there are no inspectors, no one trained in the code, and no licensing standards for "electricians". So what do we now have????? we have a "code" like so many of CR's laws...
Brian, Lita, the Late Hugo IV, irreverent Vicka, the pigeon toed parrot, Chico II and Chica II