Dear friends,
When I started Residencias Los Jardines, I started writing a weekly news letter -determined to tell all the good, bad, and the ugly. I knew some readers would be interested in the construction process. I expected others might be interested in the lifestyle of two people who had decided to live outside the box. For others, the adventures of Lita, the parrot and the cat took on an entertainment saga all its own.
Residencias Los Jardines is finished. We periodically have resales and rental availability. Some readers may be interested in this information.
More and more, the content will be dominated by events of our new project, "El Dorado" for short. While the future is always uncertain, I again aim to tell it like it happens -the good, the bad, and the ugly, and that is what follows.
Brian Timmons
DEVELOPER:
Residencias Los Jardines / https://www.residenciaslosjardines.com
Hacienda El Dorado / https://www.eldoradocostarica.com
E-mail:
brian@eldoradocostarica.com
info@residenciaslosjardines.com
ResidenciasPropertyManagement@gmail.com
Construction Log
Updates about Hacienda El Dorado
Rio Oro: ...Interesting times -continue: I expected to have an announcement this week but as usual, nothing productive happened... the talking continues... but now there are additional players so egos have to be massaged and the pecking order has to be sorted out. Another meeting and good behavior on my part is scheduled for Saturday afternoon. In the meantime, it's business as usual as we continue to have discussions with other parties.
P.S. The meeting went well... everyone came away with what they wanted... we'll see... the future is always uncertain (especially in CR) and the past is always subject to revision...
Residencias Los Jardines
Property Management, Rentals, Re-Sales
Swimming Pool: Some aspects seem to be solved... the gasket on the diverter valve had failed over time and for $84 the problem was solved -this seemed to allow water to go out the drain pipe... thus the lost of water. While we initially had suction, that now seems to be iffy. So what I thought was solved, may not be...
Garden Lighting: We received the garden lights ordered from Gary in Montana. The cost of the lights from Gary, about $720; transportation from Miami to Florida about $40. Transportation from Miami to San Jose, $101 and import duties $250. I'm really glad we have free trade with the US and China... wow!!!!!!! Anyway, they are what we ordered and now installed, they are a great addition to the evening ambiance.
Misc.: We pressure washed most all surfaces and with this week's rains, the garden is looking good. I had to get some stucco for misc. repairs. The only place to get our color is on the east side of downtown San Jose -INTACO... with the roads torn up and traffic, it is a major hike. I braved it; they were out of stock. Not a problem because they said it was now distributed out of Constru Plaza and EPA -both close to us in the west side. I retrace my trip elated that now it was available closer... EPA didn't know what I was talking about and neither did Constru Plaza... but the guy at INTACO had gotten rid of me... I had to return to east San Jose / INTACO two days later (after a phone call to confirm they they did now have it in stock).
Market Activity
Sales: no calls, no viewings...
Rentals: one viewing.
FOR SALE
Unit #106 D

:
$179,000
NEW LISTING - PRICE REDUCTION

75% owner financing available

See Unit
FOR RENT
Unit #109

:
$1,450 mo.
Available August 24 up to December 31
See Unit

Unit #116

:
$1,400 mo.
Available September 1
See Unit

Unit #121

:
$1,650 mo.
Available September 1
See Unit

Unit #124

:
$1,000 mo.
Available Immediately
See Unit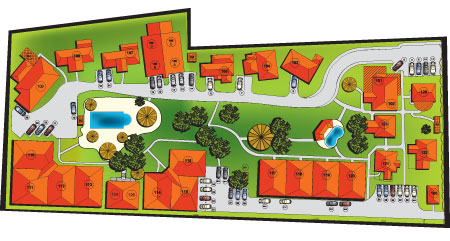 -
HOUSES FOR SALE
UNIT #106 D
FOR SALE $179,000
PRICE REDUCTION - 75% owner financing available
Total Area (Sq Ft): 1227 + parking
Total Area (Sq M): 113 + parking
Bedrooms: 1 + den (bedroom possible)
Bathrooms: 2
Floor(s): 2nd. floor
Type: apartment in 4 plex
Furnished: Yes
This 2nd story, 1,227 sf (113 m2 + one parking space) )is a georgous home with one of the best views at Los Jardines. The very large front covered terrace faces west and is suitable for entertaining; the off-bedroom covered terrace faces east for sun sets. This very tastefully furnished and fully equipped home offers a lifestyle envied by many. The owner offers financing if desired.
HOUSES FOR RENT
UNIT #109
FOR RENT $1,450 mo.
Available August 24 up to December 31
Total Area (Sq Ft): 1506
Total Area (Sq M): 140
Bedrooms: 2
Bathrooms: 2
Floor(s): 1 Story
Type: Detached
Furnished: Yes
This single story home (1506 sf. + parking for one car) is detached, has two bedrooms, two bathrooms, home office, living room wall / entertainment center along with a built in office and a semi-private terrace. In addition, it has a vaulted ceiling in the "great" room and two skylights. The covered entrance way is suitable for two chairs located next to a covered garden area. Once through the impressive front door, you enter the "great room" which houses the kitchen, dining room, office and living room. Upon entering, there is a built in wooden hutch surfaced with granite—it matches all the built-in furniture in the great room. There is a clothes washer and dryer off the 2nd bedroom. The owners have added many personal touches and have done a supurb job in decodrating the home.
UNIT #116
FOR RENT $1,400 mo.
Available September 1
Total Area (Sq Ft): 1290
Total area (Sq M): 120
Bedrooms: 2
Bathrooms: 2
Floor(s): 1
Type: Semi-Attached
Furnished: Yes
This 1,290 sf single floor home includes a 300 sf front terrace plus parking for one car and a separate, secure storage locker. It is and end unit and therefore attached on only one side by a 6 inch cement demising (common) wall, which prevents sound transfer.
UNIT #121
FOR RENT $1,650 mo.
Available September 1
Total Area (Sq Ft): 1423
Total area (Sq M): 131
Bedrooms: 2
Bathrooms: 2.5
Floor(s): 2 Story
Type: Detached
Furnished: Yes
This two story, detached 1,423 sf home + parking for one car has two bedrooms, 2 ½ bathrooms and a 2nd. floor covered terrace.
The open railed wrought iron cement stair case leads to the 2nd. level where the master bedroom with en-suite master bathroom as well as 2nd. bedroom and en-suite bathroom are located. Also accessed from the 2nd. floor hallway is the covered terrace.
This is a very nicely furnished home with a good floor plan for those wanting two floors.
UNIT #124
FOR RENT $1,000 mo.
Available Immediately
Total Area (Sq Ft): 662
Total area (Sq M): 61
Bedrooms: 1
Bathrooms: 1
Floor(s): 2nd Floor
Type: Semi-Detached
Furnished: Yes
This 662 sf, + covered parking for one car, is a one bedroom home on the 2nd floor overlooking the large pool. It is ideal for a single person or couple.
Our Lives
WEATHER: we actually got normal rains this week. The garden is happy and all pumps and drains are working...
My Week: two successes this week: garden lighting and pool repair. My backside found the hammock a couple times.
BRANGUS Beef: My quest for good beef continued this week. I discovered a meat market the story of which I had read about 8 mo. earlier. "Brangus" beef is supposedly a combination of Black Angus stock (good for flavor and tenderness) which is crossbreed to Brahma stock which withstands the tropical environment. I was told the meat was wet aged not less than 21 days. I bought 4 rib eye steaks at about $10lb - OUSY... I won't be going there again and this effort is now off my bucket list.
Brian, Lita, the Late Hugo IV, irreverent Vicka, the pigeon toed parrot, Chico II and Chica II