Dear friends,
When I started Residencias Los Jardines, I started writing a weekly news letter -determined to tell all the good, bad, and the ugly. I knew some readers would be interested in the construction process. I expected others might be interested in the lifestyle of two people who had decided to live outside the box. For others, the adventures of Lita, the parrot and the cat took on an entertainment saga all its own.
Residencias Los Jardines is finished. We periodically have resales and rental availability. Some readers may be interested in this information.
More and more, the content will be dominated by events of our new project, "El Dorado" for short. While the future is always uncertain, I again aim to tell it like it happens -the good, the bad, and the ugly, and that is what follows.
Brian Timmons
DEVELOPER:
Residencias Los Jardines / https://www.residenciaslosjardines.com
Hacienda El Dorado / https://www.eldoradocostarica.com
E-mail:
brian@eldoradocostarica.com
info@residenciaslosjardines.com
ResidenciasPropertyManagement@gmail.com
Construction Log
Updates about Hacienda El Dorado
Rio Oro: ...Interesting times: I expect to have an announcement soon... and if what I think I know now, it will, in deed, be interesting...
Residencias Los Jardines
Property Management, Rentals, Re-Sales
Swimming Pool: We haven't yet solved this but we are getting closer to understanding the problem. In the meantime, we are limping by. One reason for the delay has been the religious holiday on Thursday which it seems most of the pool people took and it seems they also took Friday as well...
Electrical Failure: Most of the lighting around the large pool failed. The problem was traced to a garden outlet the wires of which, over time, had become absorbed into a tree and gradually pulled down into the dirt. The outlet failed and caused damage to a number of others along the way. We approached the problem counter clockwise... had we gone clockwise, the problem box would have been one of the first boxes we examined... but easy isn't the way things usually work.
Garden Lights: Historically, the garden has been lighted at night with mini clear "Christmas" lights. These are available in CR only in October / November and our supply had dwindled to zilch. We had decided to switch to LEDs for the energy savings and since the blue white technology seems to be being replaced by warm white, we decided to wait until supply was available. Two years ago, I ran across "Gary" in Montana -"Christmas-Lights-Online.com". Straight talking, no nonsense guy who was refreshingly direct and efficient. I ordered and the product arrived. I went back to him this time. Gary answered on the 2nd ring. I confirmed that the product was in stock (his website said it was), I placed the order -simple, easy to complete process, and promptly received a notice that the order had been received; an hour later an e-mail notice saying that my order was being processed; and 2 hrs later that the order had been shipped to my Miami forwarding address with a UPS tracking number... I love Gary and his efficient operation... I vision him sitting in his log cabin, phone head set on, keyboard in lap, in the middle of Montana probably sipping Jack Daniels. I love American marketing efficiency.
Now to Costa Rica: I took the e-mailed copy of the invoice to the San Jose branch of the mail forwarding service at 9:05 Monday morning... I was the 2nd customer... I gave them the copy of the invoice since I knew they would need it to process through customs, pay the duty, and get it released. Friday night I received a notice that the mail forwarding company needed the invoice!!!!!!!! What?? I gave it to you a week ago... guess they lost it... this is Costa Rica...I ask, who's going to win this horse race??????
Market Activity
Sales: no calls, no viewings...
Rentals: no calls but we have nothing to lease until Sept. 1.
FOR SALE
Unit #106 D

:
$179,000
NEW LISTING - PRICE REDUCTION

75% owner financing available

See Unit
FOR RENT
Unit #109

:
$1,450 mo.
Available August 24 up to December 31
See Unit

Unit #116

:
$1,400 mo.
Available September 1
See Unit

Unit #121

:
$1,650 mo.
Available September 1
See Unit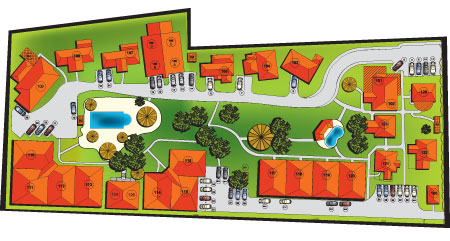 -
HOUSES FOR SALE
UNIT #106 D
FOR SALE $179,000
PRICE REDUCTION - 75% owner financing available
Total Area (Sq Ft): 1227 + parking
Total Area (Sq M): 113 + parking
Bedrooms: 1 + den (bedroom possible)
Bathrooms: 2
Floor(s): 2nd. floor
Type: apartment in 4 plex
Furnished: Yes
This 2nd story, 1,227 sf (113 m2 + one parking space) )is a georgous home with one of the best views at Los Jardines. The very large front covered terrace faces west and is suitable for entertaining; the off-bedroom covered terrace faces east for sun sets. This very tastefully furnished and fully equipped home offers a lifestyle envied by many. The owner offers financing if desired.
HOUSES FOR RENT
UNIT #109
FOR RENT $1,450 mo.
Available August 24 up to December 31
Total Area (Sq Ft): 1506
Total Area (Sq M): 140
Bedrooms: 2
Bathrooms: 2
Floor(s): 1 Story
Type: Detached
Furnished: Yes
This single story home (1506 sf. + parking for one car) is detached, has two bedrooms, two bathrooms, home office, living room wall / entertainment center along with a built in office and a semi-private terrace. In addition, it has a vaulted ceiling in the "great" room and two skylights. The covered entrance way is suitable for two chairs located next to a covered garden area. Once through the impressive front door, you enter the "great room" which houses the kitchen, dining room, office and living room. Upon entering, there is a built in wooden hutch surfaced with granite—it matches all the built-in furniture in the great room. There is a clothes washer and dryer off the 2nd bedroom. The owners have added many personal touches and have done a supurb job in decodrating the home.
UNIT #116
FOR RENT $1,400 mo.
Available September 1
Total Area (Sq Ft): 1290
Total area (Sq M): 120
Bedrooms: 2
Bathrooms: 2
Floor(s): 1
Type: Semi-Attached
Furnished: Yes
This 1,290 sf single floor home includes a 300 sf front terrace plus parking for one car and a separate, secure storage locker. It is and end unit and therefore attached on only one side by a 6 inch cement demising (common) wall, which prevents sound transfer.
UNIT #121
FOR RENT $1,650 mo.
Available September 1
Total Area (Sq Ft): 1423
Total area (Sq M): 131
Bedrooms: 2
Bathrooms: 2.5
Floor(s): 2 Story
Type: Detached
Furnished: Yes
This two story, detached 1,423 sf home + parking for one car has two bedrooms, 2 ½ bathrooms and a 2nd. floor covered terrace.
The open railed wrought iron cement stair case leads to the 2nd. level where the master bedroom with en-suite master bathroom as well as 2nd. bedroom and en-suite bathroom are located. Also accessed from the 2nd. floor hallway is the covered terrace.
This is a very nicely furnished home with a good floor plan for those wanting two floors.
Our Lives
WEATHER: Virtually no rain -sunny and hot...
My Week: this week has been dominated by pool woes, electrical repairs, and events related to El Dorado... In addition, this was the first of the month which means invoicing and I had run out of government approved forms (my error) and had to scramble. I haven't had much time for the hammock or friends.
Brian, Lita, the Late Hugo IV, irreverent Vicka, the pigeon toed parrot, Chico II and Chica II