Dear friends,
When I started Residencias Los Jardines, I started writing a weekly news letter -determined to tell all the good, bad, and the ugly. I knew some readers would be interested in the construction process. I expected others might be interested in the lifestyle of two people who had decided to live outside the box. For others, the adventures of Lita, the parrot and the cat took on an entertainment saga all its own.
Residencias Los Jardines is finished. We periodically have resales and rental availability. Some readers may be interested in this information.
More and more, the content will be dominated by events of our new project, "El Dorado" for short. While the future is always uncertain, I again aim to tell it like it happens -the good, the bad, and the ugly, and that is what follows.
Brian Timmons
DEVELOPER:
Residencias Los Jardines / https://www.residenciaslosjardines.com
Hacienda El Dorado / https://www.eldoradocostarica.com
E-mail:
brian@eldoradocostarica.com
info@residenciaslosjardines.com
ResidenciasPropertyManagement@gmail.com
Construction Log
Updates about Hacienda El Dorado
Rio Oro: ...we have two conversations on the go and a meeting with another interested party on Tuesday. One of the interested parties is read, willing, and able to begin immediately with a crew to build the infrastructure... so he says... actually, it is the same company which has three huge commercial buildings on the go and which has completed two other semi large commercial buildings in the immediate area of Pozos... their offices are abut 100 yards from Los Jardines. We'll see.
Residencias Los Jardines
Property Management, Rentals, Re-Sales
Swimming Pool: We've had some problems this week with the swimming pool. We started using a new chemical supplier and the chemicals performed differently. We've also been plagued by disappearing water; this is annoying in that we have to constantly add water which isn't that bad except we're wondering why the water is disappearing... we haven't been able to find a tell-tail signs. Now the suction on the pump won't work. This is giving us a clue that there is a hole in that pipe so we now have a place to begin excavating... We'll do a bit more analysis on it Monday and then guess it's pick and shovel time.
Building Mtnc. the tiles which needed to be replaced have been.
Market Activity
Sales: no viewings...
Rentals: three rentals last weekend; one viewing this week.
FOR SALE
Unit #106 D

:
$199,000
NEW LISTING -

75% owner financing available

See Unit
FOR RENT
Unit #109

:
$1,450 mo.
Available August 24 up to December 31
See Unit

Unit #116

:
$1,400 mo.
Available September 1
See Unit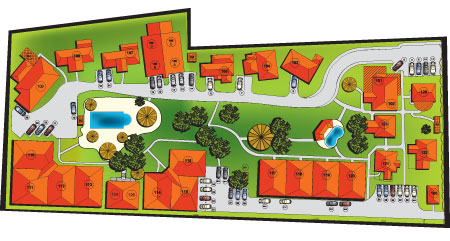 -
HOUSES FOR SALE
UNIT #106 D
FOR SALE $199,000
75% owner financing available
Total Area (Sq Ft): 1227 + parking
Total Area (Sq M): 113 + parking
Bedrooms: 1 + den (bedroom possible)
Bathrooms: 2
Floor(s): 2nd. floor
Type: apartment in 4 plex
Furnished: Yes
This 2nd story, 1,227 sf (113 m2 + one parking space) )is a georgous home with one of the best views at Los Jardines. The very large front covered terrace faces west and is suitable for entertaining; the off-bedroom covered terrace faces east for sun sets. This very tastefully furnished and fully equipped home offers a lifestyle envied by many. The owner offers financing if desired.
HOUSES FOR RENT
UNIT #109
FOR RENT $1,450 mo.
Available August 24 up to December 31
Total Area (Sq Ft): 1506
Total Area (Sq M): 140
Bedrooms: 2
Bathrooms: 2
Floor(s): 1 Story
Type: Detached
Furnished: Yes
This single story home (1506 sf. + parking for one car) is detached, has two bedrooms, two bathrooms, home office, living room wall / entertainment center along with a built in office and a semi-private terrace. In addition, it has a vaulted ceiling in the "great" room and two skylights. The covered entrance way is suitable for two chairs located next to a covered garden area. Once through the impressive front door, you enter the "great room" which houses the kitchen, dining room, office and living room. Upon entering, there is a built in wooden hutch surfaced with granite—it matches all the built-in furniture in the great room. There is a clothes washer and dryer off the 2nd bedroom. The owners have added many personal touches and have done a supurb job in decodrating the home.
UNIT #116
FOR RENT $1,400 mo.
Available September 1
Total Area (Sq Ft): 1290
Total area (Sq M): 120
Bedrooms: 2
Bathrooms: 2
Floor(s): 1
Type: Semi-Attached
Furnished: Yes
This 1,290 sf single floor home includes a 300 sf front terrace plus parking for one car and a separate, secure storage locker. It is and end unit and therefore attached on only one side by a 6 inch cement demising (common) wall, which prevents sound transfer.
Our Lives
WEATHER: Despite two good downpours this week, the country is still in need of rain...
AGED BEEF -the verdict is in: I have a freezer full of stew meat...!! One saying comes to mind: "You can't make a silk purse out of a sows ear." Having said that, my goal is to meet El Zaguan and Kiante's standard of perfection... I know I haven't yet found the magic. A lot of work, worry, etc. but had I not tried, I would have always wondered... Now, I have more specific questions to ask El Zaguan and Kiante people... and a lot of stew and curry ahead of me.
Refrigerator woes: After replacing the compressor two times in 5 years, and having it die a slow death, I replaced the GE with a Frigidaire. I'm really sick of dealing with fridges. A frig should last for 20 years... The one I bought was evidently not very good... PriceSmart had one that would fit listed for C426,000; Play, a small appliance chain had the same for C526,000. I ended up buying it from PriceSmart for C322,000 because I didn't ask the guy to unwrap it... I think he told his boss that it had a dent... the one unwrapped did have a dent... in a bad situation, I did o.k.
Old West Restaurant: We had been there twice shortly after it opened three years ago. We were not impressed. During the past several years, we heard decent reports on it. We tried it again Thursday night along with one of those who had been a number of times and thought it was really decent. After Thursday, they won't be giving it any recommendations... service was awful -disorganized, one plate served long before the others and one of the others was totally wrong... and this was not due to language... the food itself, was mediocre at best... None of us will be going there again...
Brian, Lita, the Late Hugo IV, irreverent Vicka, the pigeon toed parrot, Chico II and Chica II