An Obituary & A Sale
Dear friends,
When I started Residencias Los Jardines, I started writing a weekly news letter -determined to tell all the good, bad, and the ugly. I knew some readers would be interested in the construction process. I expected others might be interested in the lifestyle of two people who had decided to live outside the box. For others, the adventures of Lita, the parrot and the cat took on an entertainment saga all its own.
Residencias Los Jardines is finished. We periodically have resales and rental availability. Some readers may be interested in this information.
More and more, the content will be dominated by events of our new project, "El Dorado" for short. While the future is always uncertain, I again aim to tell it like it happens -the good, the bad, and the ugly, and that is what follows.
Brian Timmons
DEVELOPER:
Residencias Los Jardines / https://www.residenciaslosjardines.com
Hacienda El Dorado / https://www.eldoradocostarica.com
E-mail:
brian@eldoradocostarica.com
info@residenciaslosjardines.com
ResidenciasPropertyManagement@gmail.com
Construction Log
Updates about Hacienda El Dorado
Rio Oro: ...Based on the meeting today, they have some more groundwork to do. We expect to speak again in a month... ie. the end of May -I didn't follow up as I'd expected to but I didn't hear from them either.
Residencias Los Jardines
Property Management, Rentals, Re-Sales
Rain Water: we're still awaiting that good downpour to test the extent to which we've resolved our initial problems.
Re-landscaping: This work has continued; we have another week or so preparing the site, relocating irrigation pipes and garden lighting.
Swimming Pool Gone Wrong: This will be dealt with in due course.
Work Habits Gone Wrong: Not there yet but am still working on it.
Market Activity
Sales: the sale of 106B finally closed. We had one looker this week.
Rentals: no one looking...
FOR SALE
FOR RENT
Unit 109

:
$1,500 mo.
Available Immediately
See Unit

Unit 112

:
$1,400 mo.
Available June 1
See Unit

Unit 116

:
$1,450 mo.
Immediately
See Unit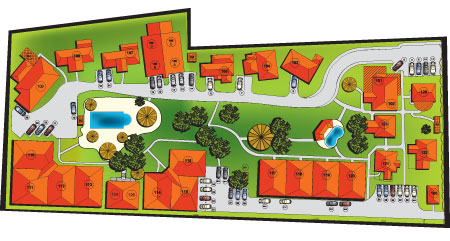 -
HOUSES FOR SALE
UNIT #125
FOR SALE $140,000
Total Area (Sq Ft): 662
Total area (Sq M): 61
Bedrooms: 1
Bathrooms: 1
Floor(s): 2nd Floor
Type: Semi-Detached
Furnished: Yes
This 662 sf, + parking for one car and 33sf locker is a one bedroom home on the 2nd floor overlooking the large pool. It is ideal for a single person or couple —or investment property.
HOUSES FOR RENT
UNIT #109
FOR RENT $1,500 mo.
Available Immediately
Total Area (Sq Ft): 1506
Total Area (Sq M): 140
Bedrooms: 2
Bathrooms: 2
Floor(s): 1 Story
Type: Detached
Furnished: Yes
This single story home (1506 sf. + parking for one car) is detached, has two bedrooms, two bathrooms, home office, living room wall / entertainment center along with a built in office and a semi-private terrace. In addition, it has a vaulted ceiling in the "great" room and two skylights. The covered entrance way is suitable for two chairs located next to a covered garden area. Once through the impressive front door, you enter the "great room" which houses the kitchen, dining room, office and living room. Upon entering, there is a built in wooden hutch surfaced with granite—it matches all the built-in furniture in the great room. There is a clothes washer and dryer off the 2nd bedroom. The owners have added many personal touches and have done a supurb job in decodrating the home.
UNIT #112
FOR RENT $1,300 mo.
Available June 1
Total Area (Sq Ft): 1290
Total Area (Sq M): 120
Bedrooms: 2
Bathrooms: 2
Floor(s): 1 story
Type: Attached
Furnished: Yes
This 1,290 sf single floor home includes a 300 sf front terrace plus parking for one car. It is attached on two sides by a 6 inch cement demising (common) wall, which prevents sound transfer.
UNIT #116
FOR RENT $1,450 mo.
Available Immediately
Total Area (Sq Ft): 1290
Total area (Sq M): 120
Bedrooms: 2
Bathrooms: 2
Floor(s): 1
Type: Semi-Attached
Furnished: Yes
This 1,290 sf single floor home includes a 300 sf front terrace plus parking for one car and a separate, secure storage locker. It is and end unit and therefore attached on only one side by a 6 inch cement demising (common) wall, which prevents sound transfer.
Our Lives
WEATHER: Very little rain, still, humid weather with usual morning sun...
Obituary: HUGO IV: He didn't make it. We buried him Thursday after he died peacefully in Lita's arms... he simply couldn't regain his strength. The infection and antibiotics took their toll... He had a great Garfield like life: he gave and received a lot of love to us and to many others. After having a very active mousing career at the boat harbor in Canada, freezing his tail off in the winter, he decided CR was his retirement place. He expect to find many mice here; he didn't and birds were off his list because he'd end up in Lita's chop suey if he did; He never looked for a fight and lost everyone he couldn't avoid. He became my confidant, wise advisor and loyal companion with just enough devil in him to make him interesting. He's missed; it's been a hard week and more to follow.
MISC: The deal made with the PLN to regain power involved including two conservative ministers... one of whom "promotes homophobic, hateful and misogynistic ideals" (TicoTimes Editorial) has been appointed head of the Human Rights Commission of CR. That was his price to sign on with the PLN and the PLN kept their word... The corruption investigations on the road to nowhere have hardly started... the investigating body has such a large backlog it will take years. Meanwhile Nicaragua has charged CR with serious environmental damage and another $40 mil. (at least) is needed to fix the current road --drainage, crowning, paving, cutting back the crumbling hill sides...
The article below as copied from Inside Costa Rica 10 days ago.
"The Lady Doth Protest Too Much, Methinks."
By John Holtz*

What truly frosts my skinny butt is that our country, Costa Rica, spends tons of money and effort globe trotting and like puffed up peacocks we point our anointed, collective fingers calling out the faults and deeds of other supposedly "lesser" nations, (Primarily Nicaragua).

Meanwhile with tear drops in the corner of our eyes, we beg for money that rarely comes to fruition from the developed world who have heard this script ten or so years at every inauguration, dedication and round table, media interview requiring only two or more foreign dignitaries present.

(It would be far less expensive and result in the same yawns if we just had one person, an intern no doubt, put the "Costa Rican Perpetual Whine Message" on "play", place it on the table and our guys can come home. Just dial 1-800-WHINE Or send the tape UPS and the team does not have to leave "pura vida" at all. It will be delivered by an outsourced third-party.

But no! Without missing a beat, with entourage at hand, to anyone who will listen, we tout our "on paper only" virtues of democracy, can´t wait to bring out the Good Book telling all who will listen that we are the champions of the environment, a nation of indelible law and we are but a poor, paternal government which proudly embraces a strong, if not diminishing, middle class….."And please send lots of money because we are the good guys."
The only thing missing from this B western movie is the broken down horse and wagon plus bottles of snake oil for sale.

I argue that we are following the path towards becoming a morally corrupt and disingenuous society. Costa Rican hypocrisy has reached colossal proportions over the last 12 or so years and worse, we believe our own publicity as a social phobia.

The good news is that outside of this tiny region, very few people know, believe or care what Costa Rica says or does. Not too many media outlets give a damn and very few will print, publish or broadcast CR events unless we elect a female president (Oh we did!) and have a big earthquake. We keep on getting great reviews from travel writers, (Paid or not) where to retire, although Panama is a comer, and to a lesser extent Nicaragua are gaining ground, but still CR stays on top.

However, among us, among friends, we whisper in every bar or coffee house, we gossip about corruption, drug running, violence, ineffective bureaucracy, sexual adventures, blatant illegal land grabbing among so many other things. However, since the year 2000 there has been an exponential curve of real immoral and illegal acts not only by the man in the street who might be dismissed s not-so-important but by our leaders who have blatantly violated our public trust with seemingly limited castigation or right out impunity. Being and doing things illegal or immoral are now the rule rather than the exception and have been for a decade or more.

It is deplorable to turn a blind eye towards reality either from frustration or in hopes that foreign investors, including tourists, don´t catch on until they have already made a financial commitment to this country or there is enough money on the table for "the self." (Whichever comes first.)

A clear example is the Paul Watson case. The once in a decade chance to show the world or at least some of the world that we really do care about our laws and active environmentalism.

Watson heads up the organization the Sea Shepherd Conservation Society that is anything but an intellectual tea sipping debate club. Instead, they take aggressive action and foster intimidation against the illegal poaching of sea life. A noble cause at that.

Having seen his HBO documentary, Watson is well spoken, crusty and before I would ever join his crew it would require a bottle of Valium to keep me from tossing the guy over board. In short, while his ideals seem sound, his demeanor could use some polishing.

After all the many years of denial, Costa Rica does finally have laws against shark fining. But the illegal money, like drug trafficking, is just too good to pass up therefore judicial enforcement (Justice) leaves a lot to be desired especially at $700 per kilo of raw fin or $100 per soup bowl.

Now facing extradition from Germany to Costa Rica, Watson has to answer for an event that happened to a Tico boat suspected of "fining" ten years ago on international waters.

Just carrying out the fool´s folly boils down to hypocrisy on the high seas and pretty damn well is symbolic of our make believe virtues that we love to preach to the world especially since full time criminals, killers, convicted ex-presidents and human traffickers walk the streets free as birds living the good "Tico" life. And never for forget that in the name of Mother Nature, we knocked down hotels and homes that were violating the maritime line land law over forty years only a few weeks ago along the impoverished Atlantic Ocean.

But then again, except for a select few, who is ever to know?

This is an international legal as well as moral issue and those are rarely news worthy. This is no exception. Little, other than local media and social media seem to much care about the Watson case with the exception of Bridgette Bardot, an ardent animal activist.

I find the Watson case symptomatic of a country that defies reality in favor of embellishing its own fabricated sense of values. It is kind of an obsession, perhaps even a phobia of sorts.

After years and years of wonderful publicity, we are blessed as a believable nation but which in truth is totally undaunted by living in denial and willing to violate its self professed values rather than applaud the enforcers of law which should make this country among the greats.

Continually we promote ecology while systematically polluting waters and celebrating the once-in-awhile cleaning of rivers from refrigerators, hub caps, plastics, even old cars and most certainly feces which freely flow to the pristine beaches which have turned more bubbly and brown with each passing year.

Not one president has even tried to run on a "We Need to Clean Costa Rica" platform, and there is a strong, very strong message right there. This green country means "green" as in U.S. dollars and the more that can be stuffed into one´s pocket, the more influential a person can become; regardless of the money source.

I do not know when, but some day, some time we will feel the terrible economic pinch of our own making. It just has to happen as the other countries within the region continue to grow, export, bring in tourism and succeeds in selling Costa Rica as the country that cries too much.

It is almost like the passage from Hamlet?
Brian, Lita, the Late Hugo IV, irreverent Vicka, the pigeon toed parrot, Chico II and Chica II