A Week "Gone Wrong"...
Dear friends,
When I started Residencias Los Jardines, I started writing a weekly news letter -determined to tell all the good, bad, and the ugly. I knew some readers would be interested in the construction process. I expected others might be interested in the lifestyle of two people who had decided to live outside the box. For others, the adventures of Lita, the parrot and the cat took on an entertainment saga all its own.
Residencias Los Jardines is finished. We periodically have resales and rental availability. Some readers may be interested in this information.
More and more, the content will be dominated by events of our new project, "El Dorado" for short. While the future is always uncertain, I again aim to tell it like it happens -the good, the bad, and the ugly, and that is what follows.
Brian Timmons
DEVELOPER:
Residencias Los Jardines / https://www.residenciaslosjardines.com
Hacienda El Dorado / https://www.eldoradocostarica.com
E-mail:
brian@eldoradocostarica.com
info@residenciaslosjardines.com
ResidenciasPropertyManagement@gmail.com
Construction Log
Updates about Hacienda El Dorado
Rio Oro:...Based on the meeting today, they have some more groundwork to do. We expect to speak again in a month... ie. the end of May -I'll follow up wikt them this coming week.. In the meantime, we have two showings scheduled for next week.
We've been contacted by the architect re. a group of investors / developers... we'll see what develops. In addition, we had another group do a preliminary short listing of possibilities. It's too early to know whether we're on that list. As of this writing, we've heard nothing so guess we weren't on the list.
Residencias Los Jardines
Property Management, Rentals, Re-Sales
Rain Water: we're still awaiting that good downpour to test the extent to which we've resolved our initial problems.
Re-landscaping: We've started re-landscaping an area near the large pool. It had become overgrown (some though) with oleanders and when cut back, they liked the result so asked that the roots be removed and the area re-landscaped. We're doing that now.
Swimming Pool Gone Wrong: We had suspected a leak somewhere in the large pool system. We conducted a serious of tests this past week to confirm and to isolate the problem. Yes, we are loosing water and the problem is probably a broken pipe someplace. We'll have to work on it when we get time.
Work Habits Gone Wrong: I'm not a strict disciplinarian. I believe in allowing people to manage their own time and space... I hold them accountable and expect responsibility... Over the past year, this management philosophy has been, in my opinion, stretched and abused--not starting work one time, long lunch and rest breaks, unauthorized or unexplainable absences from the work site, and some other, which I think, are intentionally misunderstood directions, etc. I'm tolerant up to a point... I reached my limit about two weeks ago and have been in the process of re-establishing the baseline for my expectations and their performance. It's tough and it will take time, persistence, and patience... and their will be fallbacks --I've seen it already -- they will either get the message or will be working elsewhere-- although the later is not yet on the table...only as a last resort and there are many stages before that...
Market Activity
Sales: we've had more lookers this week (4) than in the past 6 months but we don't have much to show... And one offer... more on that later
Rentals: no one looking...
FOR SALE
FOR RENT
Unit 109

:
$1,500 mo.
Available Immediately
See Unit

Unit 112

:
$1,400 mo.
Available June 1
See Unit

Unit 116

:
$1,450 mo.
Immediately
See Unit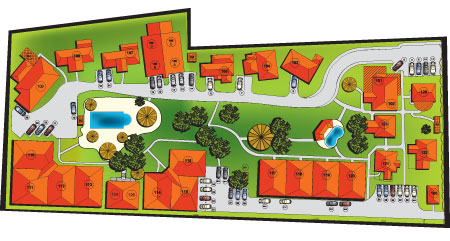 -
HOUSES FOR SALE
UNIT #125
FOR SALE $140,000
Total Area (Sq Ft): 662
Total area (Sq M): 61
Bedrooms: 1
Bathrooms: 1
Floor(s): 2nd Floor
Type: Semi-Detached
Furnished: Yes
This 662 sf, + parking for one car and 33sf locker is a one bedroom home on the 2nd floor overlooking the large pool. It is ideal for a single person or couple —or investment property.
HOUSES FOR RENT
UNIT #109
FOR RENT $1,500 mo.
Available Immediately
Total Area (Sq Ft): 1506
Total Area (Sq M): 140
Bedrooms: 2
Bathrooms: 2
Floor(s): 1 Story
Type: Detached
Furnished: Yes
This single story home (1506 sf. + parking for one car) is detached, has two bedrooms, two bathrooms, home office, living room wall / entertainment center along with a built in office and a semi-private terrace. In addition, it has a vaulted ceiling in the "great" room and two skylights. The covered entrance way is suitable for two chairs located next to a covered garden area. Once through the impressive front door, you enter the "great room" which houses the kitchen, dining room, office and living room. Upon entering, there is a built in wooden hutch surfaced with granite—it matches all the built-in furniture in the great room. There is a clothes washer and dryer off the 2nd bedroom. The owners have added many personal touches and have done a supurb job in decodrating the home.
UNIT #112
FOR RENT $1,300 mo.
Available June 1
Total Area (Sq Ft): 1290
Total Area (Sq M): 120
Bedrooms: 2
Bathrooms: 2
Floor(s): 1 story
Type: Attached
Furnished: Yes
This 1,290 sf single floor home includes a 300 sf front terrace plus parking for one car. It is attached on two sides by a 6 inch cement demising (common) wall, which prevents sound transfer.
UNIT #116
FOR RENT $1,450 mo.
Available Immediately
Total Area (Sq Ft): 1290
Total area (Sq M): 120
Bedrooms: 2
Bathrooms: 2
Floor(s): 1
Type: Semi-Attached
Furnished: Yes
This 1,290 sf single floor home includes a 300 sf front terrace plus parking for one car and a separate, secure storage locker. It is and end unit and therefore attached on only one side by a 6 inch cement demising (common) wall, which prevents sound transfer.
Our Lives
WEATHER: Very little rain, still, humid weather with usual morning sun...
OFFER TO PURCHASE --Gone Wrong: After 6 months or so of marketing one of our owner's units, and getting no where because the price was too high despite numerous comparative data sent the owners, they reduced the price to what I felt was about right. By now, however, the tenants had become so upset at the continuous showings that they have pulled rank and decided not to cooperate... they can... the house was put up for sale after they were tenants and they do not have to cooperate... they did for a while but not now... so I can't show it. If I can't show it, I it's really difficult to sell it. I got an offer from a previous client who had seen it when it was higher priced... He, like I, felt the price was now about right... He made an offer close to the asking price. Well, it seems that the owners made a mistake (they acknowledge it and I have the e-mail to prove it) --the asking price should have been $10,000 higher. And I have another couple who are interested in the house but can't see it and now the price is $10,000 higher so this isn't going to happen. I spent a lot of time and received a lot of beatings all way round on this one... I'm not a happy camper...
Microwave Gone Wrong: Last week I had replaced the 5 yr. old microwave which had become a hunk of junk. I bought a new version of the old, fit exactly on the wall plate, installed in 30 min., lights work, bells work, fan worked, but the microwave didn't... no one was home inside... it simply didn't want to know about any instructions... On Monday, I asked for a service call... it happened... 3 hrs. of examination, confirmed it was dead at the start... defective motherboard... Replaced the next day after another 3 hrs. times 2 people... GE didn't make any money on this...
Car Analysis Gone Wrong: An owner asked that his pick-up be taken to a garage and put on a scope to determine the condition of the engine and parts there in. He knows a lot about cars, is in the States and could bring any needed parts with him. I asked one of the guys to do this... I was very specific of what was being asked, and what was NOT being asked. No problem. This analysis should have been around $10-$15. What I got back was $150 analysis and included many things that were specifically EXCLUDED from my instructions. I'll eat this... I'm not happy but this is just one more incident leading to re-establishing the base line.
Communications and Expectations -Gone Wrong: (1) Re. owners, my job, in my mind, is to manage owner's houses if they request it. This doesn't include cars nor their corporate issues... when requested, I usually go beyond the basics... In the case above, I'm eating $140 and a hassle (not with the owner, he doesn't know the problem I had); in another an owner sold and bought a car... at least one of which was owned by a corporation. They didn't pay the corporate tax so the title can't be transferred. We haven't been able to reach them as they don't have or are not responding to Internet... We still haven't reached them but indirectly were authorized to pay the $150 or so but I don't know that the person here has the corporate info. required to be able to do this... this has been a distraction and a hassle this week and I know it's not yet over...
(2) One house needed a sofa. I spent a day looking and 8 places later I summarized the options to the owners asking for directions. Two weeks went by, no response... On the third week I again e-mailed and said that since I hadn't received any direction, I would proceed using my own judgment. I was asked to resend my May 3 e-mail and then did receive some instructions. A sofa was purchased, delivered on Thursday and now needs two small side tables to complete the arrangement.
(3) A reader contacted me re. our friend's hotel in Jaco that is coming up for sale... I tried to make an e-mail introduction and then exit the conversation... there was a communications gap for reason's I don't understand but I think it's now back on track.
Question If you don't get a response, have you communicated?????????? Is it enough to show that you tried? In my experience, "trying" doesn't usually save you from a beating...
HUGO Gone Wrong: Perhaps when we were away, he got into a fight (and he always looses). We didn't notice anything until Wednesday... he had a bad abscess and infection on his right cheek. He's getting patched up now... he'll have a tough time I think with this one... but I think he'll pull through.
Blender: Went Right -great margaritas... quite independent of me, the blender, the hammock or anything... they baby expected by new tenants came as expected... Delivered at CIMA on Thursday...
MISC: There's lots on the political corruption front -the rice growers of CR have a strangle hold on the government at the expense of CR and have forced the weak government to maintain a fixed price about 25-30% higher than could be delivered and sold by any number of foreign countries... The frontier road to nowhere is still unraveling with so much corruption behind it that the investigators can't begin to fathom the extent... a white collar politico was found guilty a in a third incident in which he received bribes... he was again put on probation... after millions went into his pocket... a debate has been waged in the media I cover re. the effect of a Eurobond loan (if some institution is stupid enough to do it) on the colon-US $ exchange rate... no conclusion that I've seen.
Brian, Lita, Hugo, irreverent Vicka, the pigeon toed parrot, Chico II and Chica II