Dear friends,
When I started Residencias Los Jardines, I started writing a weekly news letter -determined to tell all the good, bad, and the ugly. I knew some readers would be interested in the construction process. I expected others might be interested in the lifestyle of two people who had decided to live outside the box. For others, the adventures of Lita, the parrot and the cat took on an entertainment saga all its own.
Residencias Los Jardines is finished. We periodically have resales and rental availability. Some readers may be interested in this information.
More and more, the content will be dominated by events of our new project, "El Dorado" for short. While the future is always uncertain, I again aim to tell it like it happens -the good, the bad, and the ugly, and that is what follows.
Brian Timmons
DEVELOPER:
Residencias Los Jardines / https://www.residenciaslosjardines.com
Hacienda El Dorado / https://www.eldoradocostarica.com
E-mail:
brian@eldoradocostarica.com
info@residenciaslosjardines.com
ResidenciasPropertyManagement@gmail.com
Construction Log
Updates about Hacienda El Dorado
Rio Oro: ...Based on the meeting today, they have some more groundwork to do. We expect to speak again in a month... ie. the end of May. In the meantime, we'll follow up other leads.
We've been contacted by the architect re. a group of investors / developers... we'll see what develops. In addition, we had another group do a preliminary short listing of possibilities. It's too early to know whether we're on that list.
Residencias Los Jardines
Property Management, Rentals, Re-Sales
Rain Water: each of the week's previous two issues have been solved... we're awaiting a good down pour to confirm that everything is working as it should.
Re-landscaping: The Board is trying to make some decisions re. lighting and re-landscaping some areas. -still waiting
Market Activity
Sales: no one party looking...
Rentals: we've had more interest this week and in the previous 6 weeks. We don't always connect... clients have dogs, want lower prices, want bigger units. We're one of the few developments which will lease shorter term -1, 2, 3, months... We leased 106C for 6 wk. to an Austrian / Russian couple here to have a baby... and have several prospects... there is a lot of competition on the market...
FOR SALE
FOR RENT
Unit 109

:
$1,500 mo.
Available Immediately
See Unit

Unit 112

:
$1,400 mo.
Available June 1
See Unit

Unit 116

:
$1,450 mo.
Immediately
See Unit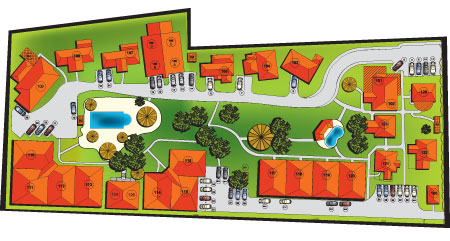 -
HOUSES FOR SALE
UNIT #103
FOR SALE $154,000
Reduced from $172,500
Total Area (Sq Ft): 1000
Total area (Sq M): 93
Bedrooms: 2
Bathrooms: 2
Floor(s): 1
Type: Detached
Furnished: Yes
1000 sf., single story, detached, two bedroom, two bathroom, with a nice covered terrace overlooking a nicely landscaped tropical backyard. Breakfast counter, dinning room table for 4, parking for one car. Vaulted ceilings in master bedroom and kitchen/dining area.
UNIT #125
FOR SALE $140,000
Total Area (Sq Ft): 662
Total area (Sq M): 61
Bedrooms: 1
Bathrooms: 1
Floor(s): 2nd Floor
Type: Semi-Detached
Furnished: Yes
This 662 sf, + parking for one car and 33sf locker is a one bedroom home on the 2nd floor overlooking the large pool. It is ideal for a single person or couple —or investment property.
HOUSES FOR RENT
UNIT #109
FOR RENT $1,500 mo.
Available Immediately
Total Area (Sq Ft): 1506
Total Area (Sq M): 140
Bedrooms: 2
Bathrooms: 2
Floor(s): 1 Story
Type: Detached
Furnished: Yes
This single story home (1506 sf. + parking for one car) is detached, has two bedrooms, two bathrooms, home office, living room wall / entertainment center along with a built in office and a semi-private terrace. In addition, it has a vaulted ceiling in the "great" room and two skylights. The covered entrance way is suitable for two chairs located next to a covered garden area. Once through the impressive front door, you enter the "great room" which houses the kitchen, dining room, office and living room. Upon entering, there is a built in wooden hutch surfaced with granite—it matches all the built-in furniture in the great room. There is a clothes washer and dryer off the 2nd bedroom. The owners have added many personal touches and have done a supurb job in decodrating the home.
UNIT #112
FOR RENT $1,300 mo.
Available June 1
Total Area (Sq Ft): 1290
Total Area (Sq M): 120
Bedrooms: 2
Bathrooms: 2
Floor(s): 1 story
Type: Attached
Furnished: Yes
This 1,290 sf single floor home includes a 300 sf front terrace plus parking for one car. It is attached on two sides by a 6 inch cement demising (common) wall, which prevents sound transfer.
UNIT #116
FOR RENT $1,450 mo.
Available Immediately
Total Area (Sq Ft): 1290
Total area (Sq M): 120
Bedrooms: 2
Bathrooms: 2
Floor(s): 1
Type: Semi-Attached
Furnished: Yes
This 1,290 sf single floor home includes a 300 sf front terrace plus parking for one car and a separate, secure storage locker. It is and end unit and therefore attached on only one side by a 6 inch cement demising (common) wall, which prevents sound transfer.
Our Lives
WEATHER: Very little rain, still, humid weather with usual morning sun...
ROAD TRIP: Lita and I found a break and decided to take off to the beach for up to 4 nights -no real plan, We ended up going south of Jaco to Manuel Antonio and Matapolo... a place I had been trying to get to for years... finally did it... it's off my bucket list... it wasn't worth it... We stopped along the way and checked out a few failed developments and spoke with one guy in another development which is likely to head south... the project failed once, kind of completed but makes to sense to me and despite the conversation, I'm not optimistic about it's chances of survival... It's a grim picture which one comes away with. Manuel Antonio was gritty, chaotic, many buildings needing mtnc. and overall tacky; we left after one night for friends in Jaco... they are still running a nice hotel... after 10 years they are burnt out and tired... they're turning it over to their kids and trying to sell it at the same time. We returned to RLJ two days earlier than planned... we could do the same here as there and be more comfortable here.
Comments: Electricity rates are scheduled to rise next week by about 11% -we already have one of the highest rates in the world... another teak scam is about to hit the news bigger time; the government's road to the swamp is going to swamp the government as investigations get underway and the road probably washes out... Nicaragua will have a field day... Chinchilla is off to Europe to beg for more money / investment -hasn't she been reading the papers... anyway, she gets a good holiday for 12 days at CR's expense... someone in the government sent out a very official looking memo advising at ALL license plates were going to have to be replaced this year at the owners expense...that memo is now being called erroneous but is an example of a government in chaos, desperate for money but they are still spending lots of money on discretionary items -Jade museum (how many times has that been renovated... at least 3 times in the past 10 years- beautiful dome enclosure to display an artifact about which little is known -fine but an architectural gem of a display case???? and the government re-re defined food items exempt from the 13% luxury food tax most of which is unlikely to be collected..just my misc. observations and assessments...
Chaotic Week: In addition to our mini-trip, the electric company planned an outage for all day Wednesday... we adjusted... then Friday there was an "unplanned" outage of 1 hr or so... Independently, this was the week for my appliances to fail... I finally became action oriented with the refrigerator drain which was making a swimming pool in the frig, the microwave died and had to be completely replaced, and the most crucial of all, the blender needed repair for my margaritas... and many, many people who did not show up on time, or did not show up at all... even to collect money... all in all, a lot of wasted time and effort for very little to show... 1 six week rental (that will likely be extended) and margaritas...
Brian, Lita, Hugo, irreverent Vicka, the pigeon toed parrot, Chico II and Chica II