Dear friends,
When I started Residencias Los Jardines, I started writing a weekly news letter -determined to tell all the good, bad, and the ugly. I knew some readers would be interested in the construction process. I expected others might be interested in the lifestyle of two people who had decided to live outside the box. For others, the adventures of Lita, the parrot and the cat took on an entertainment saga all its own.
Residencias Los Jardines is finished. We periodically have resales and rental availability. Some readers may be interested in this information.
More and more, the content will be dominated by events of our new project, "El Dorado" for short. While the future is always uncertain, I again aim to tell it like it happens -the good, the bad, and the ugly, and that is what follows.
Brian Timmons
DEVELOPER:
Residencias Los Jardines / https://www.residenciaslosjardines.com
Hacienda El Dorado / https://www.eldoradocostarica.com
E-mail:
brian@eldoradocostarica.com
info@residenciaslosjardines.com
ResidenciasPropertyManagement@gmail.com
Construction Log
Updates about Hacienda El Dorado
Rio Oro: As expected, I meet with the one company with whom we have been working for the past several months. They have confirmed all the info. we given them and told them and they have put their own stamp on the project. Based on the meeting today, they have some more groundwork to do. We expect to speak again in a month... ie. the end of May. In the meantime, we'll follow up other leads.
We've been contacted by the architect re. a group of investors / developers.. we'll see what develops.
Residencias Los Jardines
Property Management, Rentals, Re-Sales
Market Activity
Sales: one party looking...
Rentals: two inquiries -possible future viewings- nothing definit.
FOR SALE
FOR RENT
Unit 106C

:
$1,300 mo.
Immediatly
See Unit

Unit 109

:
$1,500 mo.
Available May 1
See Unit

Unit 113

:
$1,500 mo.
Available May 1
See Unit

Unit 116

:
$1,450 mo.
Immediatly
See Unit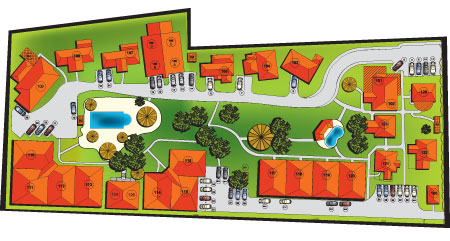 -
HOUSES FOR SALE
UNIT #103
FOR SALE $169,000
Reduced from $172,500
Total Area (Sq Ft): 1000
Total area (Sq M): 93
Bedrooms: 2
Bathrooms: 2
Floor(s): 1
Type: Detached
Furnished: Yes
1000 sf., single story, detached, two bedroom, two bathroom, with a nice covered terrace overlooking a nicely landscaped tropical backyard. Breakfast counter, dinning room table for 4, parking for one car. Vaulted ceilings in master bedroom and kitchen/dining area.
UNIT #125
FOR SALE $140,000
Total Area (Sq Ft): 662
Total area (Sq M): 61
Bedrooms: 1
Bathrooms: 1
Floor(s): 2nd Floor
Type: Semi-Detached
Furnished: Yes
This 662 sf, + parking for one car and 33sf locker is a one bedroom home on the 2nd floor overlooking the large pool. It is ideal for a single person or couple —or investment property.
HOUSES FOR RENT
UNIT #106C
FOR RENT $1,300 mo.
Available Immediatly
Total Area (Sq Ft): 1250
Total Area (Sq M): 120
Bedrooms: 2
Bathrooms: 2
Floor(s): 1
Type: 4-plex
Furnished: Yes
This is a fully furnished 2-bedroom unit situated in a 2-story building, which has two units on the ground floor and two units on the 2nd. floor. Each unit is the same size (1,250sf) divided into 800 sf of interior space and 450 sf of covered front and back terraces. Units 106A and B are on the ground floor; Units 106 C and D are on the 2nd. Floor. The solid masonry demising wall (common wall) as well as the 5" concrete slab prevent sound transference.
UNIT #109
FOR RENT $1,500 mo.
Available May 1
Total Area (Sq Ft): 1506
Total Area (Sq M): 140
Bedrooms: 2
Bathrooms: 2
Floor(s): 1 Story
Type: Detached
Furnished: Yes
This single story home (1506 sf. + parking for one car) is detached, has two bedrooms, two bathrooms, home office, living room wall / entertainment center along with a built in office and a semi-private terrace. In addition, it has a vaulted ceiling in the "great" room and two skylights. The covered entrance way is suitable for two chairs located next to a covered garden area. Once through the impressive front door, you enter the "great room" which houses the kitchen, dining room, office and living room. Upon entering, there is a built in wooden hutch surfaced with granite—it matches all the built-in furniture in the great room. There is a clothes washer and dryer off the 2nd bedroom. The owners have added many personal touches and have done a supurb job in decodrating the home.
UNIT #113
FOR RENT $1,500 mo.
Available May 1
Total Area (Sq Ft): 1290
Total Area (Sq M): 120
Bedrooms: 2
Bathrooms: 2
Floor(s): 1
Type: Semi-Attached
Furnished: Yes
This 1,290 sf single floor home includes a 300 sf front terrace plus parking for one car. It is attached on one side by a 6 inch cement demising (common) wall, which prevents sound transfer. The three other sides allow light, ventilation and garden views.
UNIT #116
FOR RENT $1,450 mo.
Available Immediatly
Total Area (Sq Ft): 1290
Total area (Sq M): 120
Bedrooms: 2
Bathrooms: 2
Floor(s): 1
Type: Semi-Attached
Furnished: Yes
This 1,290 sf single floor home includes a 300 sf front terrace plus parking for one car and a separate, secure storage locker. It is and end unit and therefore attached on only one side by a 6 inch cement demising (common) wall, which prevents sound transfer.
Our Lives
WEATHER: some overcast days, some times morning sun... a little drizzle, and some rain... it's the rainy season... the plants are happy...
A Circus w/ Bad Actors -In "Pura Vida": the following is a limited edition of developments in the government domain. What follows proves (in my mind) that truth is more incredulous that fiction -In Pura Vida!! Where to begin???... there is no beginning, there is no ending... (all the following are from either "AM Costa Rica" or "Inside Costa Rica" -electronic newspapers... most of these come from the main stream Spanish Press):
BAD COPS:

Some expats joke that the central government is reducing the crime problems by putting criminals and would-be criminals in uniform. That is an exaggeration, but two events Thursday showed that there still are many problems within the Fuerza Publica.

At 9 a.m. judicial agents entered the San José Centro police station and detained two officers. They are charged with aggravated robbery in the abduction of a man last April 17.

Later in the day the Ministerio de Gobernación, Policía y Seguridad Pública reported that 246 police officers and 11 administrative staffers had been let go between May 2010 and last December. The reasons were not listed. .......

The security ministry said that to improve the quality of police officers, its personnel council had approved a new system of evaluation last month.
Comment: unfortunately, this is not really news... it happens all the time. When the local police were here several years ago to investigate the break in -we knew who it was- the two cops were so busy stuffing CDs and DVDs into their cargo style pants, they couldn't take notes... or maybe they couldn't write.)
New Tax on "Luxuries": Since the proposed fiscal reform tax is dead, Plan B is being made up on an "ad hoc" basis... this is part of it:
Eating Beef or Oysters in Costa Rica Will Cost 13% More Starting Next Week

Starting next Monday some 90 products, including meat and some fruits, will have a sales tax of 13%. The decree published on April 30 amended the list of goods exempt from sales tax.

Among the items that now will be taxed are beef and pork tenderloin, t-bone, sirloin, salmon, paella rice, risotto, shrimp, lobster, oysters, kiwi, peaches, plums, cherries and nectarines.

In addition, eggplant, either fresh or dried (not unpackaged), grapefruit, figs, potato and yuca flour, honey, floor mops and mosquito repellant will all be taxed come Monday.

Bottled water is also on the list of items that will now be taxed.

Among the items that maintain the tax exemption are chicken, sausage, bologna, fortified rice and without any additional ingredient and whole and pasteurized milk.

Given the country's current fiscal situation, it is necessary to provide the State with additional resources is the reason for the measures included in the decree signed by presidenta Laura Chinchilla, on April 18, after the failure of the Plan Fiscal.

The Government argues that these products are not part of the consumption of lower income groups, according to the Encuesta Nacional de Ingresos y Gastos prepared by the Instituto Nacional de Estadística y Censos (National Survey of Income and Expenses).
Comment: of course "enforcement" is another matter... sales at the main grocery chairs, not a problem, but from the local butch shop... or the farmer's markets... I think will be problematic...
Yet Another Minister Falls. Total Now At 11.

Presidenta Laura Chinchilla asked her minister of Transport, Francisco Jimenez, to resign his post following complaints of alleged corruption with the construction of the 160km road, the Juan Rafael Mora Porras, near the Nicaraguan border.

Visibly upset, the presidenta said Friday afternoon she asked Jimenez to leave the ministry after complaints of the receipt of gifts by two CONAVI officials with respect to the border road.

Chinchilla said Jimenez agreed to resign to avoid compromising the work of the parallel road to the river San Juan bordering with Nicaragua.

Jimenez told reporters he stepped down after Chinchilla announced she had received evidence that two officials in his ministry took payments for giving preferential treatment to companies involved in the construction of a road along the San Juan River.

There was no suggestion that Jimenez was complicit in any wrongdoing, Chinchilla said.

This is the second resignation in five weeks. On April 2, Costa Rican finance minister Fernando Herrero resigned after a tax evasion scandal.

Eleven out of 23 ministers in Chinchilla's Cabinet have given up their posts in the last two years. Only three of them have taken other jobs in the government. (Reporting by Isabella Cota; Editing by Stacey Joyce)

The ministro de Comunicación, Francisco Chacón, said that a complaint has been filed with the Attorney General's office to open an immediate investigation into the alleged corruption.

Construction of the border road began in September 2011, following the border conflict with Nicaragua over the Calero Island. The road connects the remote border towns in Costa Rica's remote northern corner, which could only be reached by navigating the San Juan river.
And now for the mind blower!!!
Tiny Party Now Rules Costa Rica Congress

• Ex-Con Chairs Costa Rica Congress, According to EFE

The small political party, the PASE, founded to defend the rights of the disabled ascended to the pinnacle of power in Costa Rica on Tuesday.

The Partido Accesibilidad Sin Exclusión (Party for Accessibility without Exclusion) whose acronym, PASE, is also the Spanish word meaning "go" or "proceed," with just four seats in the 57-seat legislature, took control of top posts in Congress as part of a coalition with the Partido Liberacion Nacional (PLN).

As part of the May 1 political process, Víctor Emilio Granados, is now the president of Costa Rica' Legislative Assembly for the coming 12 months.

Up to the recent weeks, the PASE had been part of the coalition Alianza por Costa Rica, but broke off to align itself with the ruling PLN of President Laura Chinchilla.

In the February 2010 presidential elections, over 200.000 Costa Ricans vote for the candidates of he PASE, resulting in a surprise election of four members.

Today, the tiny party assumes the positions of president, vice-president and first secretary of the Congress under a deal reached with the PLN.

The PLN, with just 24 seats in the multiparty legislature, is one of the larger parties in the country, but it lacks enough seats to govern outright. The PLN lost control of the Congress after an election setback a year ago.

By wooing away the little party, the president's party regains its sway over the legislature.

Under the deal, the government will control all key positions in the financial affairs committee, which approves the national budget.

"Our interest in this new alliance is the win approval of various projects of a social nature that we could not move forward within the (opposition) alliance," said Rita Chavez, a PASE deputy.

PASE is led by Oscar Lopez, a blind lawyer who won election to the Congress in 2006 on a platform championing the rights of the disabled.

According to EFE
EFE, the Spanish news agency created in 1939 by Spain's former minister of the press and propaganda and nowadays is a major multimedia news agency in Spanish, headlines that an ex-con has become the new president of Costa Rica's legislative assembly.

The news wire service, the fifth of the world after Associated Press, United Press International, Reuters and Agence France-Presse, explains to the world how Víctor Emilio Granados, a 46 year old lawyer and as of yesterday the president of Legislative Assembly, was sentenced in 1992 to eight years in prison for fraud against a public bank, a sentence that he partially completed, before being released. (my comment-- the first conviction was appealed and upheld by the appellate judge--he still spent virtually NO time in prison and now he's the president of the legislator in charge of the legislative agenda.)
Comment: for those lacking the background, this is what happened: Chinchilla (PLN) party lacked a majority to control the government so had to make a deal... she quietly cobbled together a coalition government by making deals a party (PASE) having 4 representatives (one blind and another a convicted crook) -their platform was equal access for the disabled- and two other people, both clergy -one a Catholic priest and the other an evangelical minister each quoting the Bible as they read it with a homophobic agenda and whatever else God wants... None of these 6 people or their party ever had a snowballs chance in CR of gaining any influence... but in CR, snowballs reign supreme... The remaining 49% of the legislature is furious with the PLN and have pledged that NOTHING will get done... that won't be much of a change except that this time it was announced up front... and so goes the circus...
I had several interesting conversations this past week. Whether any of this is true or not, I don't know...
I was told:
a) that when a government employee retires, he is given a check for the total amount he / she earned while in the government.
b) the person retires with full salary of the last year in government
c) that while the country has it "aginaldo" or 13th month payment payable each December, that some government jobs have a 14th, 15th. and even a 16th. month payment built in...
d) that of the 4,000 government employees making over $6,000 a month and now subject to a wage freeze for two years, many of these are actually making far in excess of that... up to $13,000... and then throw in under-the-table income, and the retirement incentives... incredible...
No wonder it's hard for Ticos to take their government seriously and to understand why many do everything they can to thwart it...
The second conversation over dinner and booze was with a Honduran guy who had served in the US military, was a doctor in the US and is now a doc in CR, worked for the CIA during and after the contra war in emergency hospitals, etc... he has some interesting stories and observations...
It was reported this week that direct foreign investment has rebounded to it's highest level ever at $2.1 billion -- most of it from Europe (18% from the US) -- how long is this going to continue?
Gas prices are the highest they've ever been, around $5.50 a gallon and headed higher. Electricity rates are one of the highest in the world and 80% of generation comes from hydro.(last time I checked, rain water was still freely available)... go figure... New car sales are up 50% in the first quarter over last year --mostly smaller cars; the HUGE building near Los Jardines under construction is supposedly to house 2,000 people in a call center. The property next to it which was reported to be a DEA "safe house" in being raized and the property readied for something... the two other nearby huge commercial buildings are under full construction and a third had report from the departing head of the DEA said that within five years, CR will be like Honduras, El Salvador and Mexico dominated by drug cartels... (his opinion but perhaps an informed opinion if true). In addition to the inflow of foreign direct investment and the government's need to keep the money coming in, the central bank of CR increased the small business loan rate by about 2 points...
And with that, PURA VIDA land lives on...
New Corporate Tax. The government's computer system crashed on the last day; there's been no more news re. the percentage who paid and the challenge in the SALA IV.
Brian, Lita, Hugo, irreverent Vicka, the pigeon toed parrot, Chico II and Chica II