Dear friends,
When I started Residencias Los Jardines, I started writing a weekly news letter -determined to tell all the good, bad, and the ugly. I knew some readers would be interested in the construction process. I expected others might be interested in the lifestyle of two people who had decided to live outside the box. For others, the adventures of Lita, the parrot and the cat took on an entertainment saga all its own.
Residencias Los Jardines is finished. We periodically have resales and rental availability. Some readers may be interested in this information.
More and more, the content will be dominated by events of our new project, "El Dorado" for short. While the future is always uncertain, I again aim to tell it like it happens -the good, the bad, and the ugly, and that is what follows.
Brian Timmons
DEVELOPER:
Residencias Los Jardines / https://www.residenciaslosjardines.com
Hacienda El Dorado / https://www.eldoradocostarica.com
E-mail:
brian@eldoradocostarica.com
info@residenciaslosjardines.com
ResidenciasPropertyManagement@gmail.com
Construction Log
Updates about Hacienda El Dorado
Rio Oro: As expected, I meet with the one company with whom we have been working for the past several months. They have confirmed all the info. we given them and told them and they have put their own stamp on the project. Based on the meeting today, they have some more groundwork to do. We expect to speak again in a month... ie. the end of May. In the meantime, we'll follow up other leads.
Residencias Los Jardines
Property Management, Rentals, Re-Sales
Market Activity
Sales: two parties looking... both want "modern".
Rentals: no one looking.
Comment: I don't ever remember such a dry spell in renting. I've spoken with a few agents and they have never seen such a lack of inquiries for rentals.
WORK PROGRAMS: stucco touch ups will begin and will be finished this week.
The results from pressure washing look good, parking lines are finished a looking good, so far, the pumps and drainage system seems to be working as it should without startup problems.
FOR SALE
FOR RENT
Unit 106C

:
$1,300 mo.
Immediatly
See Unit

Unit 109

:
$1,500 mo.
Available May 1
See Unit

Unit 113

:
$1,500 mo.
Available May 1
See Unit

Unit 116

:
$1,450 mo.
Immediatly
See Unit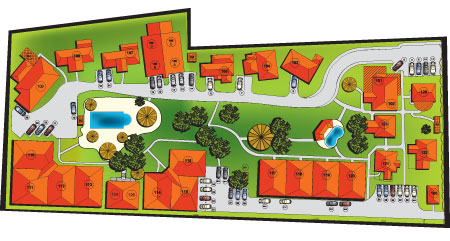 -
HOUSES FOR SALE
UNIT #103
FOR SALE $169,000
Reduced from $172,500
Total Area (Sq Ft): 1000
Total area (Sq M): 93
Bedrooms: 2
Bathrooms: 2
Floor(s): 1
Type: Detached
Furnished: Yes
1000 sf., single story, detached, two bedroom, two bathroom, with a nice covered terrace overlooking a nicely landscaped tropical backyard. Breakfast counter, dinning room table for 4, parking for one car. Vaulted ceilings in master bedroom and kitchen/dining area.
UNIT #125
FOR SALE $140,000
Total Area (Sq Ft): 662
Total area (Sq M): 61
Bedrooms: 1
Bathrooms: 1
Floor(s): 2nd Floor
Type: Semi-Detached
Furnished: Yes
This 662 sf, + parking for one car and 33sf locker is a one bedroom home on the 2nd floor overlooking the large pool. It is ideal for a single person or couple —or investment property.
HOUSES FOR RENT
UNIT #106C
FOR RENT $1,300 mo.
Available Immediatly
Total Area (Sq Ft): 1250
Total Area (Sq M): 120
Bedrooms: 2
Bathrooms: 2
Floor(s): 1
Type: 4-plex
Furnished: Yes
This is a fully furnished 2-bedroom unit situated in a 2-story building, which has two units on the ground floor and two units on the 2nd. floor. Each unit is the same size (1,250sf) divided into 800 sf of interior space and 450 sf of covered front and back terraces. Units 106A and B are on the ground floor; Units 106 C and D are on the 2nd. Floor. The solid masonry demising wall (common wall) as well as the 5" concrete slab prevent sound transference.
UNIT #109
FOR RENT $1,500 mo.
Available May 1
Total Area (Sq Ft): 1506
Total Area (Sq M): 140
Bedrooms: 2
Bathrooms: 2
Floor(s): 1 Story
Type: Detached
Furnished: Yes
This single story home (1506 sf. + parking for one car) is detached, has two bedrooms, two bathrooms, home office, living room wall / entertainment center along with a built in office and a semi-private terrace. In addition, it has a vaulted ceiling in the "great" room and two skylights. The covered entrance way is suitable for two chairs located next to a covered garden area. Once through the impressive front door, you enter the "great room" which houses the kitchen, dining room, office and living room. Upon entering, there is a built in wooden hutch surfaced with granite—it matches all the built-in furniture in the great room. There is a clothes washer and dryer off the 2nd bedroom. The owners have added many personal touches and have done a supurb job in decodrating the home.
UNIT #113
FOR RENT $1,500 mo.
Available May 1
Total Area (Sq Ft): 1290
Total Area (Sq M): 120
Bedrooms: 2
Bathrooms: 2
Floor(s): 1
Type: Semi-Attached
Furnished: Yes
This 1,290 sf single floor home includes a 300 sf front terrace plus parking for one car. It is attached on one side by a 6 inch cement demising (common) wall, which prevents sound transfer. The three other sides allow light, ventilation and garden views.
UNIT #116
FOR RENT $1,450 mo.
Available Immediatly
Total Area (Sq Ft): 1290
Total area (Sq M): 120
Bedrooms: 2
Bathrooms: 2
Floor(s): 1
Type: Semi-Attached
Furnished: Yes
This 1,290 sf single floor home includes a 300 sf front terrace plus parking for one car and a separate, secure storage locker. It is and end unit and therefore attached on only one side by a 6 inch cement demising (common) wall, which prevents sound transfer.
Our Lives
WEATHER: some overcast days, some times morning sun... a little drizzle, and some rain... it's the rainy season...
Toronto vs. Santa Ana -a Contrast: Comparing these two entities is only important if one has a choice of where one choose to live. We've made ours and the reasons, reviewed 10 years later, aren't much different. Canada / Toronto as a systems works... all the traffic goes in the same direction when the light is green, parking is organized (very expensive -$20 after 4 hrs), government bureaucracies actually deliver services if you have the right documents, sidewalks are walkable (they are wide, even, and without obstructions), manhole covers are in place, elevators work, signage is in place, retail cashiers can actually process your transaction in a nanosecond, you can actually get in and out of a bank within five minutes, and one bank account I've had for 20+ years has never asked for new or more information...
In Toronto, the house prices make NO sense (they didn't 10 years ago and make even less sense today). A friend showed me a house he bought for $450,000 -located in a very marginal inner city neighborhood, 100 yr. old house that was never well built, about 1,300sf... He's planning on white washing it and putting in $10K and putting it back on the market at $550K. I used to buy these things (actually better than that one, for $60, put in $50K. and sell it for $150K thinking it was o.k... Many people are just hanging on by the tips of their financial fingers, working double jobs... a bump -even small, eg. 1% rise in interest rates, will put them over the edge- in many cases they have leveraged themselves beyond what they should have (my opinion) -they don't seem to be concerned about the US experience... Many are not having any fun in life, working, working, working, their quality of life sucks (in my opinion). The houses / rooms are small and filled with overly heated stuffy air -it has to be since it was heated one has to keep the heated air... it's freezing outside... the public transit system, works well... the subway is integrated with the subway, the airport is connected with the subway via bus, elevators (in some locations) take the handicapped up and down vs. escalators... the restaurant food is no better (our favorite restaurants weren't as good as we had remembered) and is definitely more expensive than in CR... there is a larger variety of beer... any assessment that is is less expensive to live in Toronto makes no sense to me.
A tremendous number of pre-sold condo projects are under construction... However, a chink may be developing in the Toronto RE market... a number of people are beginning to wonder when the bubble will burst and are getting very concerned... people attribute Toronto RE prices to world wide immigrant demand -including Chinese and Iranian money. With the US clamping down on Iranian banking transactions, Iranians are have difficulty closing on their purchases... the condo market is softening... and some people are worried... now, there are few "For Sale" signs... this may change but by then, as the world learned in the US, it will be too late.
In Santa Ana: We knew we had arrived in CR when at the airport baggage collection terminal, the power failed twice... our house has fresh flowing air, large rooms, perfect temperature and was filled with a bouquet of pungent gardenias... the bank takes forever to make a transaction and wants more information and their interbank transfer system was out of order when I tried to pay Maria, the person in Argentina who distributes this newsletter; the retail cashiers take forever keystroking information which is printed on illegible receipts because there is no ink in the printer... the booze is half the price of Toronto; there are fewer stairs and doors to contend with here. This is where we call "home" and we're comfortable with that... at least for now...
It was nice seeing family (especially for Lita who hadn't seen many family members for years) and for me to see friends on their own turf. I was disappointed that schedules and transportation didn't work out for several good friends of mine.
Our house in Toronto will have some repairs / refurbishments done to it in May and re-rented in June. The cost is ridiculous and it won't add any value to the property -but that's the way life is in Toronto- houses always need to be maintained -and it's time. Too bad I don't have a person there looking after my interests like our shareholders have here.
CR--government: The proposed tax law is now officially dead. The government created a "Plan B". While is is still be created, it involves belt tightening and the revelations of waste is appalling. For once, it seems the "people" got it right; one wonders why the government really pushed so hard on the proposed change. I doubt that the savings will actually be realized; governments really aren't good a saving..they just obfuscate the costs. Regardless, or perhaps because of it, L. Chinchilla's rating is at an all time low within the country and with the hemisphere.
New Corporate Tax. This year's new corporate tax (Part of the surviving new tax plan) are due (without penalty). I really doubt that most Tico's will actually pay; the tax is being appealed to the Supreme Court. Gringos i know paid -they didn't see any Ticos in the line up...
Brian, Lita, Hugo, irreverent Vicka, the pigeon toed parrot, Chico II and Chica II