Dear friends,
When I started Residencias Los Jardines, I started writing a weekly news letter -determined to tell all the good, bad, and the ugly. I knew some readers would be interested in the construction process. I expected others might be interested in the lifestyle of two people who had decided to live outside the box. For others, the adventures of Lita, the parrot and the cat took on an entertainment saga all its own.
Residencias Los Jardines is finished. We periodically have resales and rental availability. Some readers may be interested in this information.
More and more, the content will be dominated by events of our new project, "El Dorado" for short. While the future is always uncertain, I again aim to tell it like it happens -the good, the bad, and the ugly, and that is what follows.
Brian Timmons
DEVELOPER:
Residencias Los Jardines / https://www.residenciaslosjardines.com
Hacienda El Dorado / https://www.eldoradocostarica.com
E-mail:
brian@eldoradocostarica.com
info@residenciaslosjardines.com
ResidenciasPropertyManagement@gmail.com
Construction Log
Updates about Hacienda El Dorado
Rio Oro: We have been asked to a meeting next week for what we expect to be a serious discussion. We'll see...
Residencias Los Jardines
Property Management, Rentals, Re-Sales
Market Activity: --
Chris Howard's tour group seemed more interested than in previous times but neither we nor other places have received any follow up business that I know of.
Sales: No lookers.
Rentals Three phone calls -one rental plus one existing extension. One call wanted a unit in mid March and we didn't have anything available. We have a number of units coming available throughout April as the "snowbirds" return and one renter moves into a purchased home.
WOOD EATING MONSTERS: "Monsters" is an overstatement but carpenter ants or their close cousins have eaten their way through the base cabinetry of one of our units... The kitchen and two bathroom cabinet carcass (the melamine covered particle board held together with delicious resins surrounded by equally delicious cellulose) have been thoroughly ruined. The little buggers get between the two skins and can't be seen until they move into other material where they become more visible. They did not attack the cedro (facia of the cabinets) because they don't like the taste. However, the three bases have to be removed, the areas cleaned and repaired, sprayed thoroughly, and new cabinets made and installed. This is a significant job and one that no one involved is happy about. However, it has to be done. Fortunately, the tenant is, for now, anyway, working with us and if done efficiently and if he remains tolerant we can get the job done and over quickly in 10 days or so and the unit will remain leased.
INTERNET Woes: It's still working. A friend brought a router we were told we needed from Canada on Thursday. We think this might solve our problem. It will be installed on Saturday morning along with a few other changes and then we'll assess what we've done vs. what we wanted... and just wait to see how the performance is.
FOR SALE
FOR RENT
Unit 116

:
$1,550 mo.
Available April 1
See Unit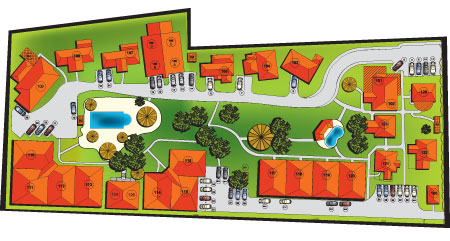 -
HOUSES FOR SALE
UNIT #103
FOR SALE $172,500
Total Area (Sq Ft): 1000
Total area (Sq M): 93
Bedrooms: 2
Bathrooms: 2
Floor(s): 1
Type: Detached
Furnished: Yes
1000 sf., single story, detached, two bedroom, two bathroom, with a nice covered terrace overlooking a nicely landscaped tropical backyard. Breakfast counter, dinning room table for 4, parking for one car. Vaulted ceilings in master bedroom and kitchen/dining area.
UNIT #106B
FOR SALE $159,000
Purchaser financing available
Total Area (Sq Ft): 1270
Total area (Sq M): 115
Bedrooms: 2
Bathrooms: 2
Floor(s): Ground
Type: Apartment
Furnished: Yes
This is a fully furnished 2-bedroom unit situated in a 2-story building, which has two nits on the ground floor and two units on the 2nd. floor. Each unit is the same size 1,250sf) divided into 800 sf of interior space and 450 sf of covered front and back erraces. Floor. The solid masonry demising wall (common wall) as well as the 5" oncrete slab prevent sound transference.
UNIT #115
FOR SALE $205,000
Total Area (Sq Ft): 1345
Total area (Sq M): 124
Bedrooms: 2
Bathrooms: 2
Floor(s): 1 Story
Type: Attached
Furnished: Yes
This 1,345 sf single floor home includes a 200 sf private terrace plus parking for one car. It is attached on two sides by a 6" solid concrete block wall which prevents sound transfer. This is an extremely well decorated home with lots of natural wood built ins.
UNIT #125
FOR SALE $140,000
Total Area (Sq Ft): 662
Total area (Sq M): 61
Bedrooms: 1
Bathrooms: 1
Floor(s): 2nd Floor
Type: Semi-Detached
Furnished: Yes
This 662 sf, + parking for one car and 33sf locker is a one bedroom home on the 2nd floor overlooking the large pool. It is ideal for a single person or couple —or investment property.
HOUSES FOR RENT
UNIT #116
FOR RENT $1,550 mo.
Available April 1
Total Area (Sq Ft): 1290
Total area (Sq M): 120
Bedrooms: 2
Bathrooms: 2
Floor(s): 1
Type: Semi-Attached
Furnished: Yes
This 1,290 sf single floor home includes a 300 sf front terrace plus parking for one car and a separate, secure storage locker. It is and end unit and therefore attached on only one side by a 6 inch cement demising (common) wall, which prevents sound transfer.
Our Lives
WEATHER: beautiful... VERY windy and beautiful temperatures - very dry...
Internet: We're banking our success on a hunch and a guess -some educated guess and research but we're into uncharted territory here and we're total dependent on one service provider. I look for a fall back person in case our guy fails to solve our problem... however, I didn't get any local response so... we'll see.
A friend arrived bearing special requested items -CREST toothpaste, Stilton cheese, Greek olives, mail, and the Internet router which we're all rooting for...
Brian, Lita, Hugo, irreverent Vicka, the pigeon toed parrot, Chico II and Chica II