Dear friends,
When I started Residencias Los Jardines, I started writing a weekly news letter -determined to tell all the good, bad, and the ugly. I knew some readers would be interested in the construction process. I expected others might be interested in the lifestyle of two people who had decided to live outside the box. For others, the adventures of Lita, the parrot and the cat took on an entertainment saga all its own.
Residencias Los Jardines is finished. We periodically have resales and rental availability. Some readers may be interested in this information.
More and more, the content will be dominated by events of our new project, "El Dorado" for short. While the future is always uncertain, I again aim to tell it like it happens -the good, the bad, and the ugly, and that is what follows.
Brian Timmons
DEVELOPER:
Residencias Los Jardines / https://www.residenciaslosjardines.com
Hacienda El Dorado / https://www.eldoradocostarica.com
E-mail:
brian@eldoradocostarica.com
info@residenciaslosjardines.com
ResidenciasPropertyManagement@gmail.com
Construction Log
Updates about Hacienda El Dorado
Rio Oro:I've been asked to supply additional materials. I expect to pick up the conversation again in mid January.
I expect the future of this project will be defined in 2012.
Residencias Los Jardines
Property Management, Rentals, Re-Sales
Rental Vacancy: Unit 116 is in show condition and is available immediately.
Market Activity: no calls: it's always very slow this time of year.
FOR SALE
Unit 106B

:
$159,000

Price Reduced by $10,000

See Unit

Unit 115

:
$205,000
See unit

Unit 125

:
$140,000

Owner financing available

See unit
FOR RENT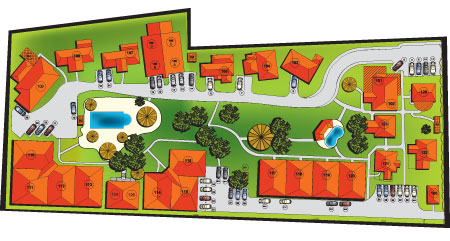 -
HOUSES FOR SALE
UNIT #106B
FOR SALE $159,000
Price reduced by $10,000
Total Area (Sq Ft): 1270
Total area (Sq M): 115
Bedrooms: 2
Bathrooms: 2
Floor(s): Ground
Type: Apartment
Furnished: Yes
This is a fully furnished 2-bedroom unit situated in a 2-story building, which has two nits on the ground floor and two units on the 2nd. floor. Each unit is the same size 1,250sf) divided into 800 sf of interior space and 450 sf of covered front and back erraces. Floor. The solid masonry demising wall (common wall) as well as the 5" oncrete slab prevent sound transference.
UNIT #115
FOR SALE $205,000
Total Area (Sq Ft): 1345
Total area (Sq M): 124
Bedrooms: 2
Bathrooms: 2
Floor(s): 1 Story
Type: Attached
Furnished: Yes
This 1,345 sf single floor home includes a 200 sf private terrace plus parking for one car. It is attached on two sides by a 6" solid concrete block wall which prevents sound transfer. This is an extremely well decorated home with lots of natural wood built ins.
UNIT #125
FOR SALE $140,000
Owner financing available
Total Area (Sq Ft): 662
Total area (Sq M): 61
Bedrooms: 1
Bathrooms: 1
Floor(s): 2nd Floor
Type: Semi-Detached
Furnished: Yes
This 662 sf, + parking for one car and 33sf locker is a one bedroom home on the 2nd floor overlooking the large pool. It is ideal for a single person or couple —or investment property.
HOUSES FOR RENT
UNIT #116
FOR RENT $1,600 mo.
Immediate
Total Area (Sq Ft): 1290
Total area (Sq M): 120
Bedrooms: 2
Bathrooms: 2
Floor(s): 1
Type: Semi-Attached
Furnished: Yes
This 1,290 sf single floor home includes a 300 sf front terrace plus parking for one car and a separate, secure storage locker. It is and end unit and therefore attached on only one side by a 6 inch cement demising (common) wall, which prevents sound transfer.
Our Lives
WEATHER: mostly sunny and some winds.
Christmas Aftermath: The streets have been very quiet. No one seems in a hurry... cars travel at 40mph on the San Jose - Caldera highway, people idling around the shopping malls and grocery stores with seemingly endless time -I've been busy getting 116 back in shape so this behavior has been a source of frustration. At the grocery store today, I waited 5 min. while the person ahead of me sorted through a stack of credit cards and finally ended up paying the $3 tab with cash... On the 15 min. drive back from Atenas, we saw 10 cars pull over to the curb because of mechanical problems.
Coffee Picking: I read in the Tico Times that this is the harvest season. The article said that a "really fast picker" can pick up to 12 cajuelas (a unit of measurement seemingly unique to coffee and usually weighing in around 28-30 lbs for each cajuela) in a day -or 360lbs- (read that as 10-12 hrs) for which he/she is paid $2 per each cajuela or $24 per day... The normal picking rate is around 6 cajuelas which works out to $12 day. This is really hard work. It gives me a whole new appreciation for coffee.
Costa Rica: I've never understood CR economics and I've stated this before. The government put all its eggs in one basket with it's proposed new tax structure... that didn't happen. It now must adapt the existing system but make it more efficient and their collection system more effective. I don't think it will happen this next year with this government nor do I think they will become more efficient. So much of the money is being spent in salaries there is less and less left over to deliver the product or service for which it is suppose to deliver. I think the exchange rate will move in favor of holding dollars... but I've never understood the CR-dollar exchange rate so... and we may be in for the return of some serious colone inflation.
I priced some USDA "Choice" ribeye steaks at Pricemart. They used to be $10 lb. they are now $15... I'll be working on my contact for delicious Nicaraguan beef at $3,30 lb.
Brian, Lita, Hugo, irreverent Vicka, the pigeon toed parrot, Chico II and Chica II