FIXING THINGS & GRANADA
Dear friends,
When I started Residencias Los Jardines, I started writing a weekly news letter -determined to tell all the good, bad, and the ugly. I knew some readers would be interested in the construction process. I expected others might be interested in the lifestyle of two people who had decided to live outside the box. For others, the adventures of Lita, the parrot and the cat took on an entertainment saga all its own.
Residencias Los Jardines is finished. We periodically have resales and rental availability. Some readers may be interested in this information.
More and more, the content will be dominated by events of our new project, "El Dorado" for short. While the future is always uncertain, I again aim to tell it like it happens -the good, the bad, and the ugly, and that is what follows.
Brian Timmons
DEVELOPER:
Residencias Los Jardines / https://www.residenciaslosjardines.com
Hacienda El Dorado / https://www.eldoradocostarica.com
E-mail:
brian@eldoradocostarica.com
info@residenciaslosjardines.com
ResidenciasPropertyManagement@gmail.com
Construction Log
Updates about Hacienda El Dorado
Rio Oro: BCR has found out about the development and wanted to present it to three of their preferred developers -BCR would fund, their builders would take on the commitment, and we would throw in the land for a joint venture. While these discussions are in the early stages and while they want to tie us up, we are also speaking with, a well known architect / developer in the area for whom the project would be a great fit as well. It's way too early to know what is going to happen but I believe something good with happen because it is a great piece of land, great location, and has permits. We've opened the discussions to a larger audience... we'll see.
Residencias Los Jardines
Property Management, Rentals, Re-Sales
Aguinaldo: Visions of sugar plumbs or the equivalent are dancing through the heads of our employees and in all of Costa Rica... the drivers are driving faster and more recklessly if (if that is possible), more aggressive, exhibiting less patience, etc. December is always a very busy time of the year in the stores and roads... by mid January, everyone is broke so life returns to normal.
Shareholder Meeting: the general meeting is happening Saturday. There are two items on the agenda -budget and special assessment. Neither item have garnered any discussion -neither are vary exciting and the numbers are the numbers so... operating costs are going up to catch up with the increased cost of living in CR. No one is happy but we all recognize that costs of increased substantially over last year.
Market Activity: One showing for purchase from some Californians considering CR.
FOR SALE
Unit 106B

:
$159,000
for sale /

Price Reduced by $10,000

See Unit

Unit 115

:
$205,000
for sale
See unit

Unit 125

:
$140,000
for sale /

Owner financing available

See unit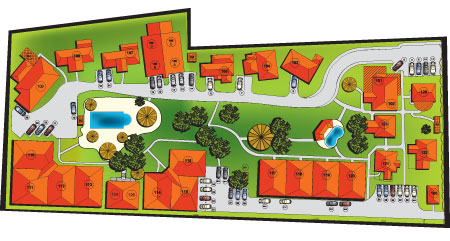 -
HOUSES FOR SALE
UNIT #106B
FOR SALE $159,000
Price reduced by $10,000
Total Area (Sq Ft): 1270
Total area (Sq M): 115
Bedrooms: 2
Bathrooms: 2
Floor(s): Ground
Type: Apartment
Furnished: Yes
This is a fully furnished 2-bedroom unit situated in a 2-story building, which has two nits on the ground floor and two units on the 2nd. floor. Each unit is the same size 1,250sf) divided into 800 sf of interior space and 450 sf of covered front and back erraces. Floor. The solid masonry demising wall (common wall) as well as the 5" oncrete slab prevent sound transference.
UNIT #115
FOR SALE $205,000
Total Area (Sq Ft): 1345
Total area (Sq M): 124
Bedrooms: 2
Bathrooms: 2
Floor(s): 1 Story
Type: Attached
Furnished: Yes
This 1,345 sf single floor home includes a 200 sf private terrace plus parking for one car. It is attached on two sides by a 6" solid concrete block wall which prevents sound transfer. This is an extremely well decorated home with lots of natural wood built ins.
UNIT #125
FOR SALE $140,000
Owner financing available
Total Area (Sq Ft): 662
Total area (Sq M): 61
Bedrooms: 1
Bathrooms: 1
Floor(s): 2nd Floor
Type: Semi-Detached
Furnished: Yes
This 662 sf, + parking for one car and 33sf locker is a one bedroom home on the 2nd floor overlooking the large pool. It is ideal for a single person or couple —or investment property.
Our Lives
WEATHER: It's nice to see and feel the sun... but that now shifts our emphasis to irrigating...
Granada: As I write, we're in Granada. We arrived on Thursday by the "Executive" TransNica bus and will return Monday. It's an easy trip -$74 return per person, lunch included... 7 hrs including the border crossing. We've done this many times and not much has changed with the exception of the border. Each country is doing construction to upgrade the dilapidated buildings. While technically the process is the same, it's a bit more chaotic but it didn't take any loner. The bus, however, is still our preferred way of traveling to Granada -last time we took the plane (Nature Air) -it saved two hours, was three times the price, and not very comfortable nor relaxing.
Granada is full of tourists -more than we've seen in years. Hotels are full, tour buses all over, and restaurants are back to making some money along with the hotels. Lots of European tourists along with the N. Americans. Prices are up here -yesterday, we saw a menu which had three stickers over the original price printed on the menu. Our regular hotels were full so we tried a new hotel -actually, one we had seen being renovated over the years. The Hotel Patio del Malinche... it had good reviews and has lived up to those reviews. At $85 per night, it's more than we usually spend but it's really nice, fantastic staff, good room which actually has LIGHTS in both the bathroom and the main room -a bonus is beside wall switches -the AC and the fan actually work and the bed is good... a small pool, bar and breakfast round out the hotel. It also has a strong WiFi system that so far, has been reliable, and easy to access... both are unusual features. It has about 25 rooms and is well located. A number of restaurants / bars which we had managed to avoid before, are now closed, new ones have opened. The town is lively with all types of events going on, firecrackers, street dancers, artisan shops, etc. We'll continue to eat and drink our way through the town and make our own schedule.
Side note: Upon arrival, we took a taxi to our hotel. I knew where it was and directed the taxi driver. When asked for the fare, he asked for the equivalent of $10. Since I had done this before, I challenged him, saying the normal fare is $1 which I gave him saying I would check with the hotel to see what the fare should be -he make a hasty exit and the hotel confirmed my assessment. Just a wake up call -know your territory and be constantly aware of our surroundings.
FIXING THINGS: While I'm the property manager of Los Jardines and have 29 more opportunities to fix things than most single householders, all householders have to fix things. The following just happens to be two stories which could be the case for others:
Pool Pump Timer: We have one timer which controls two pool pumps. The time tells the pumps when to come on; when to shut off... the result is clean, filtered pool water. We've used electronic timers before with nice printed circuit boards—they soon fail due to power surges. We now go for the very simple, old style mechanical units... About 6 months ago, one failed after 5 years —we called in a local mechanic to change it...it worked for 5 months and then failed. We played with it over several weeks and waited to see if we could make it work... that included pulling it out, hooking it up to a power source, and checking it out... it worked... we re-installed it... nope... it failed again... a few days later, an electrician friend said that he wasn't doing anything, and offered to take a look at it to solve the problem. He pulled it out, played with it and discovered, that yes it did work, and no it didn't work -it worked only intermittently... The part had a manufacturer on it. We checked it out on the Internet... located a supplier, called to see what a new one would cost or if we could buy only the motor. (I'd already checked to see if I could get one here and yes, I could but it was $106...) The US service rep said $18-$43; I requested he send me the specs... he did... the specs said the motor was designed for 240 volts; it had been connected by the previous electrician to a 120V line... after time, it failed... now we looked for a 110V timer—simple, mechanical type... found one (at the 3rd. place) but it had only one pole so can only accommodate one motor. We had to add an additional piece of equipment (a relay) but were able to make it work... this whole process took about 2 weeks and was solved in 1 day once we understood the problem and how to solve it with what was available.
Water fountain pump: after 5 years of flawless performance, a small pump failed. I knew where to buy a replacement. I did. The exact same pump... but this time, it had a factory installed electrical pigtail... Ours was direct wired. We had a problem... I didn't want an ugly wire and electrical box on the fountain in that type of environment —too dangerous. The electrician decided to undo the upper 1/3 casing of the motor and install the old casing. In the process of doing so, he spilled the special oil bath that the motor and moving parts were covered in. Neither of us knew of this oil bath. Well, where do we get the oil and what type of oil is it? We phoned the factory rep in the US... yes, he understood the problem but obviously didn't have a clue as to where to source it in CR. The electrician surmised that it was the same oil as is used in compressors so any refrigeration / AC company would have it. We returned to the company from which I had bought the pump. Yes, they knew about the oil and could get it... but we had to bring them the motor. We needed only 10.5 oz. We did and they said we can get it from San Jose... well, just tell us where to go and we'll go there and get this... they did... I knew exactly where it was... we headed off... well the access to our destination was blocked with construction... we wind around for 30 min and finally get to the place. Yes, they understood the problem (all in Spanish) but they only sold the oil by the gallon (remember we need 10.5 oz.)... at $40 a gal... After pleading, the guy said in effect, wait a minute and disappeared for 15 min. Finally we saw him return with a partially filled coke bottle... We thanked him profusely, and returned for the installation... mission accomplished... after 6 hrs., numerous trips and long distance phone calls.
Note: It's easy to understand why, after a while, people with good intentions and N. Am. / European standards, just get tired of fighting the fight and allow their standards to slip. We see that here all the time.
Brian, Lita, Hugo, irreverent Vicka, the pigeon toed parrot, Chico II and Chica II