Dear friends,
When I started Residencias Los Jardines, I started writing a weekly news letter -determined to tell all the good, bad, and the ugly. I knew some readers would be interested in the construction process. I expected others might be interested in the lifestyle of two people who had decided to live outside the box. For others, the adventures of Lita, the parrot and the cat took on an entertainment saga all its own.
Residencias Los Jardines is finished. We periodically have resales and rental availability. Some readers may be interested in this information.
More and more, the content will be dominated by events of our new project, "El Dorado" for short. While the future is always uncertain, I again aim to tell it like it happens -the good, the bad, and the ugly, and that is what follows.
Brian Timmons
DEVELOPER:
Residencias Los Jardines / https://www.residenciaslosjardines.com
Hacienda El Dorado / https://www.eldoradocostarica.com
E-mail:
brian@eldoradocostarica.com
info@residenciaslosjardines.com
ResidenciasPropertyManagement@gmail.com
Construction Log
Updates about Hacienda El Dorado
Rio Oro: There's been some interest and movement on this project... we'll see.
Transformer Explosion: A transformer near the property exploded. The resulting power surge took out every light bulb and TV in the immediate area. I didn't hear that the explosion was caused by lightning... it just exploded.
Residencias Los Jardines
Property Management, Rentals, Re-Sales
Market Activity: Quiet; two lookers for rentals; no purchasers -rains certainly damps enthusiasm...
Sales: received an offer on 115 but the purchaser and vendor a way apart on the price.
Rentals: Leased 103; Unit 112 is still available.
Neighbors: Kirebe has been building their perimeter block wall. We don't really notice it as it is hidden behind a tall hedge. The good news is that they will now stop dumping rainwater on us. The bad news is that in the construction, their backhoe hit our fence and broke some our plastic pipes carrying telecommunications services and rain water disposal lines. I doubt that the damage was intentional and I doubt they even know it... but we are still left with the repair problem. We only hope they will be finished very soon -and I think they will be.
FOR SALE
Unit 106B

:
$164,000
for sale /

Price Reduced by $5,000

See Unit

Unit 115

:
$205,000
for sale
See unit

Unit 125

:
$140,000
for sale /

Price reduced by $10,000

See unit
FOR RENT
Unit 112

:
$1,450 mo.
for rent - Immediate
See Unit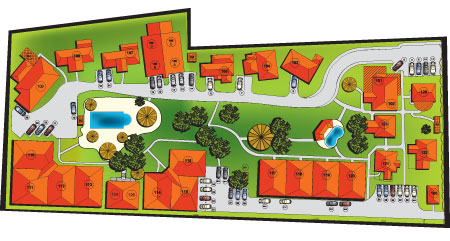 -
HOUSES FOR SALE
UNIT #106B
FOR SALE $164,000
Price reduced by $5,000
Total Area (Sq Ft): 1270
Total area (Sq M): 115
Bedrooms: 2
Bathrooms: 2
Floor(s): Ground
Type: Apartment
Furnished: Yes
This is a fully furnished 2-bedroom unit situated in a 2-story building, which has two nits on the ground floor and two units on the 2nd. floor. Each unit is the same size 1,250sf) divided into 800 sf of interior space and 450 sf of covered front and back erraces. Floor. The solid masonry demising wall (common wall) as well as the 5" oncrete slab prevent sound transference.
UNIT #115
FOR SALE $205,000
Total Area (Sq Ft): 1345
Total area (Sq M): 124
Bedrooms: 2
Bathrooms: 2
Floor(s): 1 Story
Type: Attached
Furnished: Yes
This 1,345 sf single floor home includes a 200 sf private terrace plus parking for one car. It is attached on two sides by a 6" solid concrete block wall which prevents sound transfer. This is an extremely well decorated home with lots of natural wood built ins.
UNIT #125
FOR SALE $140,000
Price reduced by $10,000
Total Area (Sq Ft): 662
Total area (Sq M): 61
Bedrooms: 1
Bathrooms: 1
Floor(s): 2nd Floor
Type: Semi-Detached
Furnished: Yes
This 662 sf, + parking for one car and 33sf locker is a one bedroom home on the 2nd floor overlooking the large pool. It is ideal for a single person or couple —or investment property.
HOUSES FOR RENT
UNIT #112
FOR RENT $1,450 mo.
Immediate
Total Area (Sq Ft): 1290
Total Area (Sq M): 120
Bedrooms: 2
Bathrooms: 2
Floor(s): 1 Story
Type: Attached
Furnished: Yes
This 1,290 sf single floor home includes a 300 sf front terrace plus parking for one car. It is attached on two sides by a 6 inch cement demising (common) wall, which prevents sound transfer.
Our Lives
WEATHER: This week has been "catch up" on all the rain we haven't had. Most of the day and night has seen rain -no thunder storms but hard a times... From "Inside Costa Rica": The average rainfall since last Sunday to Thursday is 550 litres per square metre, which is the average rain fall for the entire month of October. Since that measurement, it has rained continuously. We had been planning to go to the beach with friends but that won't happen. Two of the roads have been closed just getting to the beach and I'm sure a number of roads and bridges once we got there would be out of commission. It's time to stay home, make sure the liquor supply is well stocked, find a book or make a special meal.
Cars: The purchase of the Pathfinder is progressing but it's not going to be a fast process. The car checked out as I expected with only two, well defined issues needing to be taken care of. We've agreed on the price and some other things. The car is owned by a corporation but the location of the corporate books seems to be uncertain, no power of attorney was given here before the owners left the country, and the owners of the company are not resident in CR which makes signing off a problem... In addition, the keys were left with someone who is not too responsive. I'm having Max (the corporate lawyer) work with the owner to guide him through the sale process given the situation. In the meantime, I'm trying to have the car delivered to the mechanic who did the assessment to do the two items -belts and a door hinge.
I so happens that the owner and I have probably met when they toured Los Jardines and we certainly know some of the same people. They ended up purchasing an "unusual" home in an out of the way place, put their own imprint on the house which I understand is still a very "personalized" home and the development in which it is located is struggling. The entrance road is a disaster. After living in the home for 3 years, it's now for sale in the $500,000 range -even in a better location and in a good market, it would probably be a hard sell. This was a plan gone bad -certainly not well thought through- for whatever reason(s) and I'm sure there's heartache in the experience. It's too bad; I've witnessed several here up close and personal and many others from afar -I can usually see them coming but people insist on making their own mistakes...
Traffic Cams: As I expected, the Sala IV has put a hold on the collection of fines on all traffic tickets issued by the cameras pending a review of several issues. The government never learns here; they repeat the same mistakes time and time again. The article said the cameras are going to continue taking pictures but it didn't say if RACAS is going to deliver the tickets to the owner of the car. If not, it may well be the financial death blow to RACSA -a not well liked company- and one who doesn't really have a viable business model now.
Life in Costa Rica: On Wednesday mid-morning I set out with the bookkeeper to sign some documents at the CR IRS. First we had to pick up a less than three month's document certifying something from the National Registry. From there we went to the IRS building arriving at 12:40. It was closed and a sign read the it was closed on Wednesday and Friday afternoons -there had been no public notice of this- when you got there you could read the sign. And this is the revenue collection department of the country which is desperately short of money... Wow!!!!
The Scotiabank on-line payment system was down Monday and again on Wednesday morning. When it came back up -after the waste of time trip to the IRS-, we were able to pay from one account but when we tried to pay from another account a message came up saying that the computer font was not recognizable... what???? So, I had to go to the bank to pay. I couldn't pay the government medical insurance (CAJA) at Scotiabank because they didn't have an account with CAJA. I had to get cash from Scotiabank and go to BCR, wait my turn, and then pay. BCR wanted ID... what difference does it make who I am? Here's the cash, here's the invoice... accept the cash. No. they wanted my ID. I gave them my photo driver's license with my passport number on it...normally accepted...not good enough. I gave them a copy of my passport (which I always carry)... no, not good enough, it had to be the original passport... I persisted... finally they took the cash... just another episode in the life here... at times, it ain't easy and makes no sense...
Unit Re-conditioning: Whenever a tenant leaves, the house has to be thoroughly cleaned and any repairs made. Usually this is not a major issue and with 30 hrs. of labor and cleaning supplies and minor repairs, the job is accomplished. We take a non-refundable $100 cleaning fee at the outset which usually covers this process. When tenants from the "dark side" leave, and furnishings have to be replaced, it becomes more difficult. We deduct the cost of the furnishings from the deposits. Usually the owner comes out o.k. but the amount of running around at my end to repair / replace items is unaccounted for. The faster the unit can be turned around and present well, determines the amount of down time on that unit. In the case of 103 we were notified late Oct. 5 and had a commitment for it on 12th. Two items are still to be found and I've exhausted my usual sources. This is what goes on in the background that absentee owners don't know or really care about.
Offer 115: Answering the would-be-purchaser's questions and other issues and drafting an offer to assist the agent, purchaser's attorney, and the purchaser, I've spent a lot of time. The offer which did come was disappointingly low. This is not a desperation sale; the unit has been vacant 3 mo. in the past 4 years and is currently leased for 6 mo. The owner simply doesn't see his future in CR but in the meantime, he's receiving a nice ROI. He's set a realistic price on the unit and will wait until he gets something very close to his asking price.
Brian, Lita, Hugo, irreverent Vicka, the pigeon toed parrot, Chico II and Chica II