The Dark Side & Unfinished Conversations
Dear friends,
When I started Residencias Los Jardines, I started writing a weekly news letter -determined to tell all the good, bad, and the ugly. I knew some readers would be interested in the construction process. I expected others might be interested in the lifestyle of two people who had decided to live outside the box. For others, the adventures of Lita, the parrot and the cat took on an entertainment saga all its own.
Residencias Los Jardines is finished. We periodically have resales and rental availability. Some readers may be interested in this information.
More and more, the content will be dominated by events of our new project, "El Dorado" for short. While the future is always uncertain, I again aim to tell it like it happens -the good, the bad, and the ugly, and that is what follows.
Brian Timmons
DEVELOPER:
Residencias Los Jardines / https://www.residenciaslosjardines.com
Hacienda El Dorado / https://www.eldoradocostarica.com
E-mail:
brian@eldoradocostarica.com
info@residenciaslosjardines.com
ResidenciasPropertyManagement@gmail.com
Construction Log
Updates about Hacienda El Dorado
Rio Oro: There's been some interest and movement on this project... we'll see.
Residencias Los Jardines
Property Management, Rentals, Re-Sales
Market Activity: Very Active for a change but nothing to show for it.
Sales: two different clients looking.
Rentals: several interested parties but they want to eat the heart out of the Oreo. The owners don't want the units left vacant and the snowbirds don't want to pay a premium for their select time... and what I've tried to put together in one case left me frustrated and angry at myself for not following the lessons of 35 years of property management...
Internet Problems: Again we had to re-boot some of our equipment. This was probably attributable to power surges because 3 security alarms went off as well, and for one day, the system was sooooooo slow it was useless.
FOR SALE
Unit 106B

:
$164,000
for sale /

Price Reduced by $5,000

See Unit

Unit 115

:
$205,000
for sale
See unit

Unit 125

:
$140,000
for sale /

Price reduced by $10,000

See unit
FOR RENT
Unit 103

:
$1,350 mo.
for rent - Immediate
See Unit

Unit 112

:
$1,450 mo.
for rent - Immediate
See Unit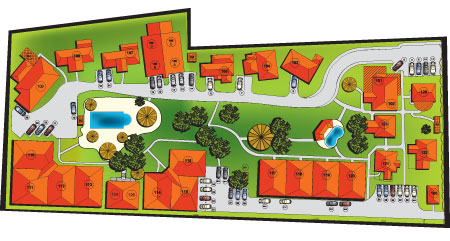 -
HOUSES FOR SALE
UNIT #106B
FOR SALE $164,000
Price reduced by $5,000
Total Area (Sq Ft): 1270
Total area (Sq M): 115
Bedrooms: 2
Bathrooms: 2
Floor(s): Ground
Type: Apartment
Furnished: Yes
This is a fully furnished 2-bedroom unit situated in a 2-story building, which has two nits on the ground floor and two units on the 2nd. floor. Each unit is the same size 1,250sf) divided into 800 sf of interior space and 450 sf of covered front and back erraces. Floor. The solid masonry demising wall (common wall) as well as the 5" oncrete slab prevent sound transference.
UNIT #115
FOR SALE $205,000
Total Area (Sq Ft): 1345
Total area (Sq M): 124
Bedrooms: 2
Bathrooms: 2
Floor(s): 1 Story
Type: Attached
Furnished: Yes
This 1,345 sf single floor home includes a 200 sf private terrace plus parking for one car. It is attached on two sides by a 6" solid concrete block wall which prevents sound transfer. This is an extremely well decorated home with lots of natural wood built ins.
UNIT #125
FOR SALE $140,000
Price reduced by $10,000
Total Area (Sq Ft): 662
Total area (Sq M): 61
Bedrooms: 1
Bathrooms: 1
Floor(s): 2nd Floor
Type: Semi-Detached
Furnished: Yes
This 662 sf, + parking for one car and 33sf locker is a one bedroom home on the 2nd floor overlooking the large pool. It is ideal for a single person or couple —or investment property.
HOUSES FOR RENT
UNIT #103
FOR RENT $1,350 mo.
Immediate
Total Area (Sq Ft): 1000
Total area (Sq M): 93
Bedrooms: 2
Bathrooms: 2
Floor(s): 1
Type: Detached
Furnished: Yes
1000 sf., single story, detached, two bedroom, two bathroom, with a nice covered terrace overlooking a nicely landscaped tropical backyard. Breakfast counter, dinning room table for 4, parking for one car. Vaulted ceilings in master bedroom and kitchen/dining area.
UNIT #112
FOR RENT $1,450 mo.
Immediate
Total Area (Sq Ft): 1290
Total Area (Sq M): 120
Bedrooms: 2
Bathrooms: 2
Floor(s): 1 Story
Type: Attached
Furnished: Yes
This 1,290 sf single floor home includes a 300 sf front terrace plus parking for one car. It is attached on two sides by a 6 inch cement demising (common) wall, which prevents sound transfer.
Our Lives
WEATHER: We continue to have much less rain than normal (at least in the Santa Ana area) -like last year- just enough to keep us from having to irrigate. A feature article in the Tico Times confirms what we all know... in most areas, the amount of rainfall is less than 50% of normal. One actually has a reasonable chance of not having to dodge road outages due to washed out bridges, roads, landslides, flooding, etc. if one wants to venture outside the central valley.
Cars: For the past 8 mo. I've been in the market for a car to replace my long-in-the-too '95 Jeep with 150,000 hard miles on it. I had narrowed down what I was looking for -Nissan or Toyota "Pathfinder", Hyundai "Santa Fe" or some models, and Jeep, low milage, 4wh, automatic... Getting a new car here makes no sense to me so I was looking for something around 2002,3,4,5 at a good price, probably the result of some expat leaving. This last week I had two to choose from and have settled on a 2003 Nissan Pathfinder in excellent shape, and virtually abandoned since May by the expat owner, who hadn't made any plans for it's sale but who now wants to. It will go on the hoist Monday, a road test and then I'll contact the owner and see if we can agree on the price; in the meantime, he has to make arrangements for the car to be sold in CR when he isn't here.
Traffic Cams: the fines continue to be ridiculous and will be revised down. Why the legislature would ever have stipulated the minimum fine to be more than the average monthly wage in CR is reflective of a societal flaw -application of reasonable judgment.
Conversations Unfulfilled and the Dark Side of Some People: This week has been filled with many, many conversations, all of which have gone "No Where" -Some might in the future but so far no results from anything:
The Dark Side:
Rental Client (1): A new corporate client with a household name wanted to lease 112. I spent two weeks filling out their forms and responding to their requests -stuff I've never been asked in 35 years of property management. I did it. I turned down two opportunities for viewing -against my learned experience- because I thought this client could represent continuing business... Only to have their lawyers reject our contract because it actually had performance criteria and penalties if they failed to pay or trashed the place. Yes, why would the owner turn over a $200,000 asset without reasonable expectation of fulfillment of the agreement and security deposits and late fees, and security deposits for non-payment of electricity, phone, etc. ...and getting satisfaction in court in CR is a pipe dream at best especially when one is a little guy and the other a monster with staff lawyers, etc... what a waste of 2 weeks and missed opportunities...
Rental Client (2): Contrast Client 1 above with the previous client who left owing 3 mo. electricity, small phone charge, unpaid gas, early termination of the lease that the owner was out 5 mo. of lease commission, and the tenant gave 13 days notice (30 days required in his lease contract), and who wouldn't allow the unit to be shown for re-rental during those 13 days (showing is a requirement), and having to repaint three walls due to crayons and abuse. I did something I usually don't do... on behalf of the owner but which is clearly stated in the terms and conditions of the lease, I kept all his deposits on behalf of the owner and proceeded to re-condition the unit to be re-marketed. The same tenant has since made arrangements with me three times to pick up three suitcases left behind; they did not show up either time... after all this, the tenant threatened to sue me... since he's documented the case for me by his e-mails, I'm very comfortable going before the men in the black robes. -by all means, let's go... In nearly all cases I return deposits because most people respect the contract... the contract we use is based on 35 years of experience, is very clear, leaves little room for interpretation, puts everything up front, bold faced type on potential issues of dispute, etc.
Rental Client (3): On Oct. 5 at 3:30pm, a corporate tenant advised effective immediately they no longer needed Unit 103 -they had leased it for abut 18 mo... Wait a minute-, the contract stipulates 60 days advance notice. An inventory of the unit indicated a number of deficiencies. Again, I'll be keeping the deposits on behalf of the owner and am in the process of reconditioning the unit and replacing the missing inventoried items. The unit will be back on the market fully reconditioned on Monday and the deposits will defray those expenses.
Rental Client (4): and then there were the two young poker player clients who thought I was a terrible landlord because the electricity went out three times in the month they were here (so the Internet went down, obviously), and then continually wanted me to open the gate for their food deliveries because they were too busy playing on-line poker to open the door themselves... they left the place a mess (not damaged) and a grumble on their way out.
Unfinished Conversations:
From Chris Howard's group of 7 last Saturday, two couples returned for follow up conversations. One is actively considering purchasing 115 -she has all the information and is sorting through it. The other couple who returned a 3rd. time, are considering leasing, then probably buying. Nothing definitive from either of these two parties right now. A Canadian couple from a different agent are actively considering 106B and maybe 115; I hope to pick up the conversation with them again in the next couple days. Three people who desperately wanted to be kept on my list for winter vacancies -one was offered a great fit- he faltered and the conversation has now gone silent; another left a phone message but returning the call always goes straight voice mail with no call back and his e-mail hasn't been answered; and another guy who wants only 3 weeks -not really our business but if we have an opening, we'd take him in this case; and there's another couple for whom we'd really like to make room but in all cases we can't sit with vacancies until clients are ready...
...and then there were the three re-scheduled meetings this week which never happened. I was not happy and made that very clear...
Brian, Lita, Hugo, irreverent Vicka, the pigeon toed parrot, Chico II and Chica II