Dear friends,
When I started Residencias Los Jardines, I started writing a weekly news letter -determined to tell all the good, bad, and the ugly. I knew some readers would be interested in the construction process. I expected others might be interested in the lifestyle of two people who had decided to live outside the box. For others, the adventures of Lita, the parrot and the cat took on an entertainment saga all its own.
Residencias Los Jardines is finished. We periodically have resales and rental availability. Some readers may be interested in this information.
More and more, the content will be dominated by events of our new project, "El Dorado" for short. While the future is always uncertain, I again aim to tell it like it happens -the good, the bad, and the ugly, and that is what follows.
Brian Timmons
DEVELOPER:
Residencias Los Jardines / https://www.residenciaslosjardines.com
Hacienda El Dorado / https://www.eldoradocostarica.com
E-mail:
brian@eldoradocostarica.com
info@residenciaslosjardines.com
ResidenciasPropertyManagement@gmail.com
Construction Log
Updates about Hacienda El Dorado
Rio Oro: There's been some interest and movement on this project... we'll see.
Residencias Los Jardines
Property Management, Rentals, Re-Sales
Market Activity: Very quiet; The company of one of the two lookers from last week is supposedly reviewing the contract for 112. We hosted Chris Howard's tour group; we'll see if anything happens.
Sales: no one looking.
Rentals: 112 is available -I got people who want it in Nov. and again in January but I'm not interested in letting it sit for a month.
Internet Problems: Internet has gone down several times this week. Why? Don't know if it was our equipment failures, bad electricity which caused our failures or if the signal from AMNET failed. It's sometimes a bit of a guess. Three power outages during the month can cause havoc... ICE's system is not well grounded or controlled.
Electricity: Just read that ICE -the state electrical generator/distributor of electricity is asking the government for a 25% hike. Since Los Jardines pays about $1,300 mo. for common element electricity we'll be affected. We will probably switch to LED garden lights so may be able to maintain our current rate but with a higher capital investment. (CR already has the highest electricity rates in the region and one of the highest in the world. This mark of distinction was accomplished over the past 2 1/2 years.)
FOR SALE / RENT:
Unit 106B

:
$164,000
for sale /

Price Reduced by $5,000

See Unit

Unit 112

:
$1,450 mo.
for rent - Immediate
See Unit

Unit 115

:
$205,000
for sale
See unit

Unit 125

:
$140,000
for sale /

Price reduced by $10,000

See unit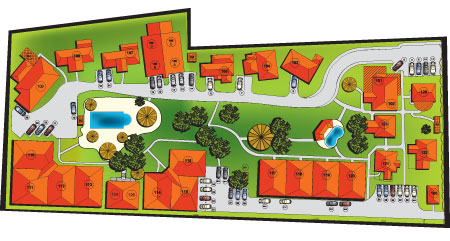 -
HOUSES FOR SALE / RENT
UNIT #106B
FOR SALE $164,000
Price reduced by $5,000
Total Area (Sq Ft): 1270
Total area (Sq M): 115
Bedrooms: 2
Bathrooms: 2
Floor(s): Ground
Type: Apartment
Furnished: Yes
This is a fully furnished 2-bedroom unit situated in a 2-story building, which has two nits on the ground floor and two units on the 2nd. floor. Each unit is the same size 1,250sf) divided into 800 sf of interior space and 450 sf of covered front and back erraces. Floor. The solid masonry demising wall (common wall) as well as the 5" oncrete slab prevent sound transference.
UNIT #112
FOR RENT $1,450 mo.
Immediate
Total Area (Sq Ft): 1290
Total Area (Sq M): 120
Bedrooms: 2
Bathrooms: 2
Floor(s): 1 Story
Type: Attached
Furnished: Yes
This 1,290 sf single floor home includes a 300 sf front terrace plus parking for one car. It is attached on two sides by a 6 inch cement demising (common) wall, which prevents sound transfer.
UNIT #115
FOR SALE $205,000
Total Area (Sq Ft): 1345
Total area (Sq M): 124
Bedrooms: 2
Bathrooms: 2
Floor(s): 1 Story
Type: Attached
Furnished: Yes
This 1,345 sf single floor home includes a 200 sf private terrace plus parking for one car. It is attached on two sides by a 6" solid concrete block wall which prevents sound transfer. This is an extremely well decorated home with lots of natural wood built ins.
UNIT #125
FOR SALE $140,000
Price reduced by $10,000
Total Area (Sq Ft): 662
Total area (Sq M): 61
Bedrooms: 1
Bathrooms: 1
Floor(s): 2nd Floor
Type: Semi-Detached
Furnished: Yes
This 662 sf, + parking for one car and 33sf locker is a one bedroom home on the 2nd floor overlooking the large pool. It is ideal for a single person or couple —or investment property.
Our Lives
WEATHER: We continue to have much less rain than normal (at least in the Santa Ana area) -like last year- just enough to keep us from having to irrigate. However, the weather gurus are predicting a very wet Oct. + with the development of La Nina -we'll see.
Cars: The government is proposing a luxury tax on all cars of $34,000 -which covers most new cars in CR due to the import duties. The Marchamo would also be tax loaded. Another example of price increases. This will likely force more older cars on the road.
Traffic Cams: are now in place and racking up big, big bucks for the country. However, most of the fines are being appealed because they are so high they are abusive and totally out of proportion. The same type of fine was imposed for the now 4 years a running attempt to change the traffic laws... the levels of fines have been continually rolled back; I predict these will as well and in the meantime, won't be paid... and then will eventually expire and disappear... reasonable and moderation are not characteristics of CR government policy...
Pericos: These are a type of small parrots -very beautiful and that is their feature for capture. Lita had two for several years... she grew to love them, play with them and they responded. They each flew away into their freedom. She hurt at the loss of each, grieved especially long for the last little guy with whom she had had so much entertainment and enjoyment... but he went bye-bye and probably joined a flock of similar mates. On Sunday she announced she wanted to replace the two little guys. We phoned a source in Guanacaste, she had two, we drove three hours each way and came back with two... they are a bit different than before and it will take a while to learn about them and for them to become more themselves... but it gives Lita a project to work on now...
Brian, Lita, Hugo, irreverent Vicka, the pigeon toed parrot, Chico II and Chica II