Dear friends,
When I started Residencias Los Jardines, I started writing a weekly news letter -determined to tell all the good, bad, and the ugly. I knew some readers would be interested in the construction process. I expected others might be interested in the lifestyle of two people who had decided to live outside the box. For others, the adventures of Lita, the parrot and the cat took on an entertainment saga all its own.
Residencias Los Jardines is finished. We periodically have resales and rental availability. Some readers may be interested in this information.
More and more, the content will be dominated by events of our new project, "El Dorado" for short. While the future is always uncertain, I again aim to tell it like it happens -the good, the bad, and the ugly, and that is what follows.
Brian Timmons
DEVELOPER:
Residencias Los Jardines / https://www.residenciaslosjardines.com
Hacienda El Dorado / https://www.eldoradocostarica.com
E-mail:
brian@eldoradocostarica.com
info@residenciaslosjardines.com
ResidenciasPropertyManagement@gmail.com
Construction Log
Updates about Hacienda El Dorado
Rio Oro: This time of year, the property looks its best -green, and the continuing grass / brush cutting enhances that look. Now if Europe and N. American can just get their social, political, financial, and economic acts together...
Residencias Los Jardines
Property Management, Rentals, Re-Sales
Market Activity: Several people looking for rentals and trying to secure places for the winter months up north.
Sales: no one looking
Rentals: 112 is available (I thought it was leased but the client died): Unit 115 has been leased until April and we have two parties waiting for something to open up.
Pending sale of 112: We're expecting this to be completed this week.
Potable Water Problems: For the past 10 days or so, we've experienced unreliable water. We have our own system drawn from a well and then distributed throughout the property. It's great water and has historically been more reliable than AyA water. The system relies on electricity to run the pumps. We had a planned power outage on Tuesday, Aug. 23. The map I read showed that were not to be affected but for what ever reason, we were. Once I realized what was happening, we fired up our generator following the detailed procedures which I had previously written. Unfortunately, I had left out one important detail -make sure the generator is switched to 220 current... that detail caused a delay of an hour. The generator kept us going until 3:30 when ICE power came back on. The next day we started having water pressure problems... these problems went on for several days as we tried to problem solve... various different "solutions" all of which produced some positive effect but which all failed... was it electrical, was it mechanical, was there a hole in the distribution system????... was it a faulty pump, etc, etc,... After several days and no real fix (nerves were fraying by some), and we hadn't found any explanation, we found the problem in an unlikely place -a one way flow valve (check valve) had broken, the internal flapper had separated and was free floating, sometimes it would allow full water to flow from the reservoir, sometimes only a partial flow, etc. We changed it in 45 min. and it's work fine, until this morning when the pressure again failed. That problem however, was easily identified as a break in the distribution system. A quick isolation and we are back in business -the break will be fixed but doesn't affect us too much now.
FOR SALE / RENT:
Unit 106B

:
$164,000
for sale /

Price Reduced by $5,000

See Unit

Unit 112

:
$1,450 mo.
for rent - Immediate
See Unit

Unit 115

:
$205,000
for sale
See unit

Unit 125

:
$140,000
for sale /

Price reduced by $10,000

See unit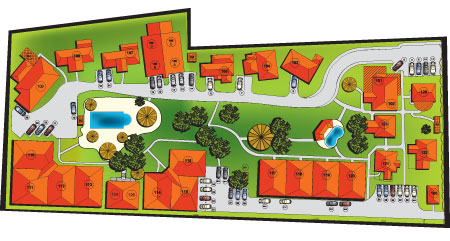 -
HOUSES FOR SALE / RENT
UNIT #106B
FOR SALE $164,000
Price reduced by $5,000
Total Area (Sq Ft): 1270
Total area (Sq M): 115
Bedrooms: 2
Bathrooms: 2
Floor(s): Ground
Type: Apartment
Furnished: Yes
This is a fully furnished 2-bedroom unit situated in a 2-story building, which has two nits on the ground floor and two units on the 2nd. floor. Each unit is the same size 1,250sf) divided into 800 sf of interior space and 450 sf of covered front and back erraces. Floor. The solid masonry demising wall (common wall) as well as the 5" oncrete slab prevent sound transference.
UNIT #112
FOR RENT $1,450 mo.
Immediate
Total Area (Sq Ft): 1290
Total Area (Sq M): 120
Bedrooms: 2
Bathrooms: 2
Floor(s): 1 Story
Type: Attached
Furnished: Yes
This 1,290 sf single floor home includes a 300 sf front terrace plus parking for one car. It is attached on two sides by a 6 inch cement demising (common) wall, which prevents sound transfer.
UNIT #115
FOR SALE $205,000
Total Area (Sq Ft): 1345
Total area (Sq M): 124
Bedrooms: 2
Bathrooms: 2
Floor(s): 1 Story
Type: Attached
Furnished: Yes
This 1,345 sf single floor home includes a 200 sf private terrace plus parking for one car. It is attached on two sides by a 6" solid concrete block wall which prevents sound transfer. This is an extremely well decorated home with lots of natural wood built ins.
UNIT #125
FOR SALE $140,000
Price reduced by $10,000
Total Area (Sq Ft): 662
Total area (Sq M): 61
Bedrooms: 1
Bathrooms: 1
Floor(s): 2nd Floor
Type: Semi-Detached
Furnished: Yes
This 662 sf, + parking for one car and 33sf locker is a one bedroom home on the 2nd floor overlooking the large pool. It is ideal for a single person or couple —or investment property.
Our Lives
WEATHER: We had one ferocious wind, rain, and hail storm. It lasted about 30 min. but was wild. A number of palm leaves were ripped off and nearby a tree was brought down along with many limbs elsewhere. And of course, the power went out. Other than that one incident, pretty normal weather with lighter than usual rains.
Continuing problems in CR: Bridges -(article from the Tico Times) virtually all bridges are suspect, and many are in various stages of decay due to lack of maintenance, poor design, substandard materials, etc. This is a chronic issue which usually gets notice when one collapses or washes out and more especially when someone is killed in the process. Bridges have not been built to seismic standards and in fact, no such standards existed before 1971. In 2005, CR asked Japan to assess their bridges. A Report was produced. Ten critical bridges were identified as being very precarious. Three years later work has started but not on the most critical -repair work was too expensive so... Along with their report, the Japanese developed a software program for managing and maintaining bridges. It was never implemented because it would mean doing things differently. Separately, a two year old bridge is beginning to separate. The "Platina" bridge, a critical bridge in the Inter-American highway has been repaired 9 times in the past 18 mo. -none of the repairs have worked. Now they saying that a new bridge needs to be built.
What this article also said was that over the past 10 years, the number of vehicles has increased 500%... incredible and those of us who have been here for 10 years will attest to the traffic problems we now face each day.
Brian, Lita, Hugo, irreverent Vicka, the pigeon toed parrot