Bye Bye Birdie & Rentals
Dear friends,
When I started Residencias Los Jardines, I started writing a weekly news letter -determined to tell all the good, bad, and the ugly. I knew some readers would be interested in the construction process. I expected others might be interested in the lifestyle of two people who had decided to live outside the box. For others, the adventures of Lita, the parrot and the cat took on an entertainment saga all its own.
Residencias Los Jardines is finished. We periodically have resales and rental availability. Some readers may be interested in this information.
More and more, the content will be dominated by events of our new project, "El Dorado" for short. While the future is always uncertain, I again aim to tell it like it happens -the good, the bad, and the ugly, and that is what follows.
Brian Timmons
DEVELOPER:
Residencias Los Jardines / https://www.residenciaslosjardines.com
Hacienda El Dorado / https://www.eldoradocostarica.com
E-mail:
brian@eldoradocostarica.com
info@residenciaslosjardines.com
ResidenciasPropertyManagement@gmail.com
Construction Log
Updates about Hacienda El Dorado
Rio Oro: I had a long conversation with Jan Kozak. He continues to do very well in his business; he's busy when many, many agents are wondering what a phone call might sound like. He's doing a lot of rentals and some sales. We discussed the housing market, the projects which are moving ahead and selling (very low end product) and some middle end product is also being developed and sold. Kirebe seems have cornered the market -they just keep building and building. The purchasers are not N. Am. but mostly local and Latin Americans from Venezuela, Columbia, Mexico, and other areas in Central and South America. Avalon continues to rent but it seems the sale prices are being discounted. Don't think investors made a lot of money.
Residencias Los Jardines
Property Management, Rentals, Re-Sales
Market Activity: Sales: nothing much happening. Rentals: this has been a busy week. We leased two units each for 1 year contracts at the asking price. Unit 126 was leased (I'm temporarily relocating the person there to a vacant unit) and was leased for a year beginning when the current 3 mo. client's contract ends in Nov. 1. In the interim, since the clients need a place beginning mid Sept., I'll locate them in 109 and then move to 121. The current tenant in 109 will move to 106C. This keeps 109 occupied until the owners arrive and 106C occupied now that the turn around work is completed. The new clients are Tico, German, and Brazilian. The only vacancies now are 115 and 106B.
Pending sale of 112: we continue to work our way through the snag and believe we now have a plan for it to happen but it will probably take another two weeks.
International Community: We now have residents from U.S., Canada, Columbia, Mexico, Venezuela, Russia, Germany, France, Philippines, and Costa Rica.
Mosquitoes: Some people are bothered by them; others don't seem to be. A discussion is beginning re. "if" and "what" should be done. Two different philosophies: some want to change the environment spray and fog with pesticides -mostly newbies hold this view) so they can live comfortably and others (more seasoned residents) believe in adapting to their environment and living comfortably (wearing long pants and using "Off" or the equivalent if they feel the need. Last night around 9pm, Lita and I walked around the compound and found one unit's door wide open as our house is most of the time -so how terrible is the "mosquito problem". Regardless, I'm doing a costing study to quantify the purchase and operating costs of spraying and fogging.
While some might consider mosquitoes to be a health issue, in reality, CR does not have malaria mosquitoes and certainly not in the Central Valley. Yes, dengue is in CR but is rare in the Central Valley and the conditions normally associated with dengue mosquitoes are not present in our compound. So, the mosquitoes we have, are pests. To control the environment will require pesticides and lots of people don't like pesticides vs. a self applied squirt of "Off". In CR, foggers use diesel fuel as the "carrier" to which the powered pesticide bonds; I doubt if this will meet EPA standards and probably a number of people who want to fog may have to re-think that. The shareholders will have to sort it out.
FOR SALE / RENT:
Unit 106B

:
$169,000 / $1,200 mo.
for sale / rent - Sep. 1
See Unit

Unit 115

:
$205,000 / $1,550 mo.
for sale / rent - Immediate
See unit

Unit 121

:
$265,000
for sale
See unit

Unit 125

:
$150,000
for sale
See unit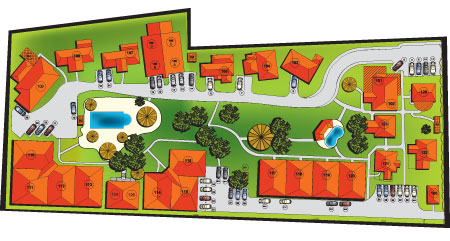 -
HOUSES FOR SALE / RENT
UNIT #106B
FOR SALE $169,000
FOR RENT $1,200 mo.
September 1
Total Area (Sq Ft): 1270
Total area (Sq M): 115
Bedrooms: 2
Bathrooms: 2
Floor(s): Ground
Type: Apartment
Furnished: Yes
This is a fully furnished 2-bedroom unit situated in a 2-story building, which has two nits on the ground floor and two units on the 2nd. floor. Each unit is the same size 1,250sf) divided into 800 sf of interior space and 450 sf of covered front and back erraces. Floor. The solid masonry demising wall (common wall) as well as the 5" oncrete slab prevent sound transference.
UNIT #115
FOR SALE $205,000
FOR RENT $1,550 mo.
Immediate
Total Area (Sq Ft): 1345
Total area (Sq M): 124
Bedrooms: 2
Bathrooms: 2
Floor(s): 1 Story
Type: Attached
Furnished: Yes
This 1,345 sf single floor home includes a 200 sf private terrace plus parking for one car. It is attached on two sides by a 6" solid concrete block wall which prevents sound transfer. This is an extremely well decorated home with lots of natural wood built ins.
UNIT #121
FOR SALE $265,000
Total Area (Sq Ft): 1423
Total area (Sq M): 131
Bedrooms: 2
Bathrooms: 2.5
Floor(s): 2 Story
Type: Detached
Furnished: Yes
This two story, detached 1,423 sf home + parking for one car has two bedrooms, 2 ½ bathrooms and a 2nd. floor covered terrace.
The open railed wrought iron cement stair case leads to the 2nd. level where the master bedroom with en-suite master bathroom as well as 2nd. bedroom and en-suite bathroom are located. Also accessed from the 2nd. floor hallway is the covered terrace.
This is a very nicely furnished home with a good floor plan for those wanting two floors.
UNIT #125
FOR SALE $150,000
Total Area (Sq Ft): 662
Total area (Sq M): 61
Bedrooms: 1
Bathrooms: 1
Floor(s): 2nd Floor
Type: Semi-Detached
Furnished: Yes
This 662 sf, + parking for one car and 33sf locker is a one bedroom home on the 2nd floor overlooking the large pool. It is ideal for a single person or couple—or investment property.
Our Lives
WEATHER: we've experienced the mini-summer which means no rain -we are actually irrigating the garden- some overcast skies but mostly light and bright skies with a moderate amount of sun.
Bye Bye Birdie: This event has over shawded everything else this week. Lita's little perico (small, green parrot)- flew away. This is the second of the original two she had (Chico and Chica). She knew he could fly but didn't do anything about getting the wings clipped. I believe she was hoping the bond she had with him was reciprocated; it wasn't and the call of freedom and Nature dominated. We've spent many hours looking for him -with no success and many hours beating each other up and that part still isn' over with. I'll have to remove them from the salutation below...
Brian, Lita, Hugo, irreverent Vicka, the pigeon toed parrot