Dear friends,
When I started Residencias Los Jardines, I started writing a weekly news letter -determined to tell all the good, bad, and the ugly. I knew some readers would be interested in the construction process. I expected others might be interested in the lifestyle of two people who had decided to live outside the box. For others, the adventures of Lita, the parrot and the cat took on an entertainment saga all its own.
Residencias Los Jardines is finished. We periodically have resales and rental availability. Some readers may be interested in this information.
More and more, the content will be dominated by events of our new project, "El Dorado" for short. While the future is always uncertain, I again aim to tell it like it happens -the good, the bad, and the ugly, and that is what follows.
Brian Timmons
DEVELOPER:
Residencias Los Jardines / https://www.residenciaslosjardines.com
Hacienda El Dorado / https://www.eldoradocostarica.com
E-mail:
brian@eldoradocostarica.com
info@residenciaslosjardines.com
ResidenciasPropertyManagement@gmail.com
Construction Log
Updates about Hacienda El Dorado
Rio Oro: still revising the formulas -and spent virtually all the week "in training" so not much progress on this... I'm still in training at Los Jardines but am beginning to see an end to that so I can return to this job. I've had two people show expressions of interest.
Residencias Los Jardines
Property Management, Rentals, Re-Sales
Office Manager - "In Training": Two statements: I didn't have to call on Lourdes for any help. From that one might conclude I know what I'm doing. That is partly true but the other missing info. is there wasn't much to do. Next week will be a better test case.
Maids: we had a new one; she was o.k. but too slow. We're still looking and have more contacts to follow up on.
Property Management, Rentals, Re-Sales
Market Activity: Sales: No one; Rentals: two lookers -one doing scouting for the future. No commitments.
We have friends of the Russian purchasers arriving Monday. I'm told they are interested in purchasing another unit. We'll see.
Pending sale of 112: closing didn't happen this week but will probably occur next week.
FOR SALE / RENT:
Unit 106B

:
$169,000
for sale
See Unit

Unit 112

:
The sale is progressing

Unit 115

:
$205,000 / $1,600 mo.
for sale / rent - July 1
See unit

Unit 121

:
$265,000 / $1,650 mo.
for sale / rent - Immediate
See unit

Unit 125

:
$150,000
for sale
See unit

Unit 126

:
$700 mo.
for rent - September 1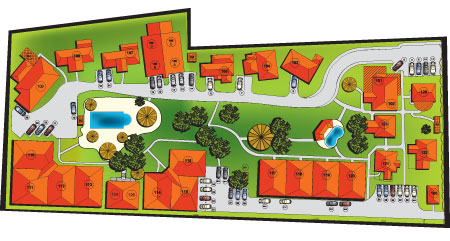 -
HOUSES FOR SALE / RENT
UNIT #106B
FOR SALE $169,000
Total Area (Sq Ft): 1270
Total area (Sq M): 115
Bedrooms: 2
Bathrooms: 2
Floor(s): Ground
Type: Apartment
Furnished: Yes
This is a fully furnished 2-bedroom unit situated in a 2-story building, which has two nits on the ground floor and two units on the 2nd. floor. Each unit is the same size 1,250sf) divided into 800 sf of interior space and 450 sf of covered front and back erraces. Floor. The solid masonry demising wall (common wall) as well as the 5" oncrete slab prevent sound transference.
UNIT #115
FOR SALE $205,000
FOR RENT $1,600 mo.
July 1
Total Area (Sq Ft): 1345
Total area (Sq M): 124
Bedrooms: 2
Bathrooms: 2
Floor(s): 1 Story
Type: Attached
Furnished: Yes
This 1,345 sf single floor home includes a 200 sf private terrace plus parking for one car. It is attached on two sides by a 6" solid concrete block wall which prevents sound transfer. This is an extremely well decorated home with lots of natural wood built ins.
UNIT #121
FOR SALE $265,000
FOR RENT $1,650 mo.
Immediate
Total Area (Sq Ft): 1423
Total area (Sq M): 131
Bedrooms: 2
Bathrooms: 2.5
Floor(s): 2 Story
Type: Detached
Furnished: Yes
This two story, detached 1,423 sf home + parking for one car has two bedrooms, 2 ½ bathrooms and a 2nd. floor covered terrace.
The open railed wrought iron cement stair case leads to the 2nd. level where the master bedroom with en-suite master bathroom as well as 2nd. bedroom and en-suite bathroom are located. Also accessed from the 2nd. floor hallway is the covered terrace.
This is a very nicely furnished home with a good floor plan for those wanting two floors.
UNIT #125
FOR SALE $150,000
Total Area (Sq Ft): 662
Total area (Sq M): 61
Bedrooms: 1
Bathrooms: 1
Floor(s): 2nd Floor
Type: Semi-Detached
Furnished: Yes
This 662 sf, + parking for one car and 33sf locker is a one bedroom home on the 2nd floor overlooking the large pool. It is ideal for a single person or couple—or investment property.
UNIT #126
FOR RENT $700 mo.
September 1
Pied-a terre... Small, fully furnished, detached, one bedroom home with full kitchen and large covered terrace, complete with phone, Internet, CableTV. Perfect for the budget minded person or couple or commuters staying in San José/Santa Ana area on a regular basis... $650 mo. + Internet ($40), CableTV ($30), and phone and electricity as per usage. asomhugo@yahoo.com or 8-305-39-65 (Pictures to follow).
Our Lives
WEATHER: not much rain but some overcast days. We seem to be into our "mini-summer" where the rains take a break for a week or so before coming back stronger than before.
My Training: I felt quite comfortable all week with the office admin. but it could be a false - positive since there wasn't much to do. I did, however, begin organizing information and while not done, it is in progress. Hopefully, next week, I can finish it off.
Traffic Cameras: well RACSA agreed to deliver the notices. How they will do it is a mystery -in my opinion, it wont' happen and will be challenged in the courts because not everyone will be able to be delivered and the whole thing will fall into disarray.
Unit 126: I spent a goodly amount of focused attention on turning this unit around. Scrubbing, cleaning, organizing, repairing, replacing, etc. Replacement of furniture and cushions, etc. I love this little house... the design was well thought out, adequate storage and a place for everything with the many built-ins. As soon as I get the furniture and cushions, I'll be taking pictures of it.
Cell Phone Towers: Read the article on the cell phone towers. Two companies have each put down about $175 million for the right to compete. ICE and CR are now challenging their right to build cell towers so they can actually deliver on their purchased concession. While it is true, cell phone towers are going up in really stupid locatins (in the middle of residential areas, and more towers than is necessary since the three componies don't seem to be sharing their towrers (ICE, Telefonica, and Movil) -this is just, in my opinion, another example of government incompetence and ICE still pulling the strings to thwart competition.
The first two paragraphs of a TT article:
Thirty months have passed since the Costa Rican cellphone market opened (not really "open" yet) for competition through the Costa Rican Electricity Institute (ICE) remains the country's lone provider. In the past two and 1/2 years, it seems every progressive step taken to open the market has been met by a new obstacle.

In 2009 ICE and the Telecommunications Superintendency (SUTEL) squabbled over market entry regulations. In 2010 imprecise market guidelines frightened off potential investors.
Now only months before the two companies are ready to begin offering service, many, many objections to cell phone towers have been raised by public members. There seems to be no zoning regulations, no construction criteria, no community consultation, etc. -looking round, it's obvious and one doesn't have to be an engineer to figure out that this is stupid.
"It is unfortunate that the opening of the cellular market is getting off to such a difficult start. It seems the effort to open the market in a hurried manner has lead to badly thought-out and careless decisions."
Inter City Bus Routs: This project is now officially killed. Reason: bad planning. Someone is going to plan again and by 2013 will propose another plan. This isn't likely to happen. Wonder what happened to the buses they purchases?
Jazz Brunch: We attended a jazz jamb last Sunday with others. I'd wanted to go to the place for several years -The Plantation Inn- about a 45 min. drive from Los Jardines. Food was mediocre but the jazz was nice and well done. Observation and the odd comment leads me to believe the place is struggling with the few tourists... road is really awful and access to the place is convoluted. I wish them well.
Time Out Tavern: A group of 8 met there for the first time in a long time. The food has returned to its previously great quality and quantity. The fish and chips consisted of two large pieces of crisply battered sauce and lots of crispy, freshly cooked in hot oil chips. The price of beer has increased but the fish and chips for ¢5,000 is o.k. Others had a salad (delicious) and the salmon special with orange sauce (at ¢7,000 was mediocre.) The number of patrons seems to have returned, not to the pre-renovation days but there were substantially more people there than were there a year ago.
Brian, Lita, Hugo, irreverent Vicka, the pigeon toed parrot, and the newbies - Chico and Chica