Dear friends,
When I started Residencias Los Jardines, I started writing a weekly news letter -determined to tell all the good, bad, and the ugly. I knew some readers would be interested in the construction process. I expected others might be interested in the lifestyle of two people who had decided to live outside the box. For others, the adventures of Lita, the parrot and the cat took on an entertainment saga all its own.
Residencias Los Jardines is finished. We periodically have resales and rental availability. Some readers may be interested in this information.
More and more, the content will be dominated by events of our new project, "El Dorado" for short. While the future is always uncertain, I again aim to tell it like it happens -the good, the bad, and the ugly, and that is what follows.
Brian Timmons
DEVELOPER:
Residencias Los Jardines / https://www.residenciaslosjardines.com
Hacienda El Dorado / https://www.eldoradocostarica.com
E-mail:
brian@eldoradocostarica.com
info@residenciaslosjardines.com
ResidenciasPropertyManagement@gmail.com
Construction Log
Updates about Hacienda El Dorado
Rio Oro: still revising the formulas -and spent virtually all the week "in training" so not much progress on this...
Residencias Los Jardines
Property Management, Rentals, Re-Sales
Office Manager - "In Training": The training continued this week. Lourdes is now "on call" until the end of the month and I'm flying solo w/ emergency back-up.
Lightning Strike: no lightning, no storms...
Maids: We've been looking for and testing out several new people. We'll see. When it didn't look like anything was happening, I told the gardeners they better bring their dresses for Tuesday as we had a house to clean for new owners arriving. They didn't understand until I told them they would be cleaning; I got several applicants the next day.
Owners Arrive to Start New Life: A couple who purchased a few years a go and planned their retirement have now sold their house in Hollywood and moved to Los Jardines.
Property Management, Rentals, Re-Sales
Market Activity: Sales: One set of lookers but no follow on; Rentals: no lookers... no calls.
Pending sale of 112: all issues seem to have been resolved and information is being consolidated and/or added. It's likely to close the end of next week.
FOR SALE / RENT:
Unit 106B

:
$169,000
for sale
See Unit

Unit 112

:
The sale is progressing

Unit 115

:
$205,000 / $1,600 mo.
for sale / rent - July 1
See unit

Unit 121

:
$265,000 / $1,650 mo.
for sale / rent - Immediate
See unit

Unit 125

:
$150,000
for sale
See unit

Unit 126

:
$700 mo.
for rent - September 1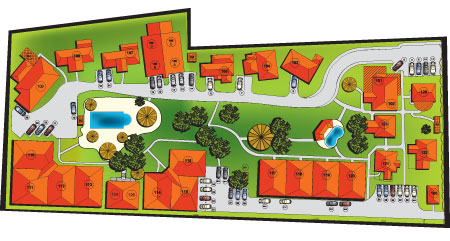 -
HOUSES FOR SALE / RENT
UNIT #106B
FOR SALE $169,000
Total Area (Sq Ft): 1270
Total area (Sq M): 115
Bedrooms: 2
Bathrooms: 2
Floor(s): Ground
Type: Apartment
Furnished: Yes
This is a fully furnished 2-bedroom unit situated in a 2-story building, which has two nits on the ground floor and two units on the 2nd. floor. Each unit is the same size 1,250sf) divided into 800 sf of interior space and 450 sf of covered front and back erraces. Floor. The solid masonry demising wall (common wall) as well as the 5" oncrete slab prevent sound transference.
UNIT #115
FOR SALE $205,000
FOR RENT $1,600 mo.
July 1
Total Area (Sq Ft): 1345
Total area (Sq M): 124
Bedrooms: 2
Bathrooms: 2
Floor(s): 1 Story
Type: Attached
Furnished: Yes
This 1,345 sf single floor home includes a 200 sf private terrace plus parking for one car. It is attached on two sides by a 6" solid concrete block wall which prevents sound transfer. This is an extremely well decorated home with lots of natural wood built ins.
UNIT #121
FOR SALE $265,000
FOR RENT $1,650 mo.
Immediate
Total Area (Sq Ft): 1423
Total area (Sq M): 131
Bedrooms: 2
Bathrooms: 2.5
Floor(s): 2 Story
Type: Detached
Furnished: Yes
This two story, detached 1,423 sf home + parking for one car has two bedrooms, 2 ½ bathrooms and a 2nd. floor covered terrace.
The open railed wrought iron cement stair case leads to the 2nd. level where the master bedroom with en-suite master bathroom as well as 2nd. bedroom and en-suite bathroom are located. Also accessed from the 2nd. floor hallway is the covered terrace.
This is a very nicely furnished home with a good floor plan for those wanting two floors.
UNIT #125
FOR SALE $150,000
Total Area (Sq Ft): 662
Total area (Sq M): 61
Bedrooms: 1
Bathrooms: 1
Floor(s): 2nd Floor
Type: Semi-Detached
Furnished: Yes
This 662 sf, + parking for one car and 33sf locker is a one bedroom home on the 2nd floor overlooking the large pool. It is ideal for a single person or couple—or investment property.
UNIT #126
FOR RENT $700 mo.
September 1
Pied-a terre... Small, fully furnished, detached, one bedroom home with full kitchen and large covered terrace, complete with phone, Internet, CableTV. Perfect for the budget minded person or couple or commuters staying in San José/Santa Ana area on a regular basis... $650 mo. + Internet ($40), CableTV ($30), and phone and electricity as per usage. asomhugo@yahoo.com or 8-305-39-65 (Pictures to follow).
Our Lives
WEATHER: Normal rainy days -mostly overcast days this past week with some soft rains.
My Training: On Monday, the marbles started to fall into place. While I'm not nearly at the level of full competence, I believe I can see light at the end of the tunnel. Lourdes is "on call" until the end of the month should I run into problems. This has been an orderly transition and I think I'm getting a better handle on the information and will be able to make a number of time saving changes over the next couple months.
Traffic Cameras: the saga continues. Last week's letter contained a link the the current stalemate -RACSA- the agency charged with delivering the notices, can't do it because there are no contact information available -no addresses, phone numbers, or e-mails... so it says it can't do the job of delivering the notices. Friday's report says that there have been 6 mil. speeding violations since the cameras started (only a few are working) but there is mixed information as to whether speeding will be a chargeable offence, or if so, at what level above the posted speed limit -that too is being debated. This just seems to be another example of a poorly thought out program.
Inter City Bus Routs: in 2008, an inter city bus program to bypass downtown San José and which had previous existed and then been stopped was again proposed. Routs and stops identified, contracts tendered and let, and buses purchased. The losers in the bidding challenged the process, (normal) and the process has had various fits and fouls since. Despite an announcement a month ago of an imminent beginning, that beginning has now been shelved for two years. Link to: https://www.insidecostarica.com/dailynews/2011/july/15/costarica11071506.htm and then read the comments.
Brian, Lita, Hugo, irreverent Vicka, the pigeon toed parrot, and the newbies - Chico and Chica