Lightning Strikes & A Week for Tough Decisions
Dear friends,
When I started Residencias Los Jardines, I started writing a weekly news letter -determined to tell all the good, bad, and the ugly. I knew some readers would be interested in the construction process. I expected others might be interested in the lifestyle of two people who had decided to live outside the box. For others, the adventures of Lita, the parrot and the cat took on an entertainment saga all its own.
Residencias Los Jardines is finished. We periodically have resales and rental availability. Some readers may be interested in this information.
More and more, the content will be dominated by events of our new project, "El Dorado" for short. While the future is always uncertain, I again aim to tell it like it happens -the good, the bad, and the ugly, and that is what follows.
Brian Timmons
DEVELOPER:
Residencias Los Jardines / https://www.residenciaslosjardines.com
Hacienda El Dorado / https://www.eldoradocostarica.com
E-mail:
brian@eldoradocostarica.com
info@residenciaslosjardines.com
ResidenciasPropertyManagement@gmail.com
Construction Log
Updates about Hacienda El Dorado
Rio Oro: still revising the formulas -and spent virtually all the week "in training" so not much progress on this...
Residencias Los Jardines
Property Management, Rentals, Re-Sales
Office Manager - "In Training": It's been back to school in the form of on the job training. New computer (PC), new Quicken program, new Windows "Office" program, and a number of on line payment systems as well as learning the office systems which have been developed over the past 5 years. I'm all confused and don't expect to be much less confused by this time next week... somehow, I'll work through it but it's not something I'm liking at the time. So far, I grade myself as a "C" student... but I have come across several details which weren't right which I've dealt with... but Lourdes is now having her laugh at my ignorance... and she is feeling much better without the stress -her words...
Lightning Strike: On Monday we had a terrific tropical storm -sheets of water, some wind, and lots of lightning, one bolt of which nearly burst our ear drums... When the weather cleared, we found that three pumps wouldn't work, the breakers were tripped and would not reset but the pump surge protector had not tripped. The electrician was puzzled... we investigated by digging up the conduit from the sub panel to the protection -about 60 ft. We found the problem near the surge protector -all 6 wires and conduit were fried. We think the bolt of lightning struck at this point. We had to replace all the wire and conduit and then had to sort out a couple other problems. Whether it was the lightning or something else, we also had to reset the PBX phone system, and re-install the computational software.
Property Management, Rentals, Re-Sales
Market Activity: Sales: one Venezuelan couple looking to purchase; Rentals: no lookers... several calls for the $1,000 - $1,200 range
Pending sale of 112: this is inching ahead and looks like it will go through. It will probably take another 10 days or so to complete.
FOR SALE / RENT:
Unit 106B

:
$169,000
for sale
See Unit

Unit 112

:
The sale is progressing

Unit 115

:
$205,000 / $1,600 mo.
for sale / rent - July 1
See unit

Unit 121

:
$265,000 / $1,650 mo.
for sale / rent - Immediate
See unit

Unit 125

:
$150,000
for sale
See unit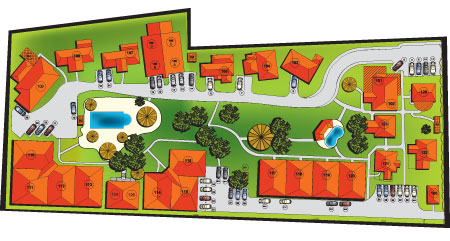 -
HOUSES FOR SALE / RENT
UNIT #106B
FOR SALE $169,000
Total Area (Sq Ft): 1270
Total area (Sq M): 115
Bedrooms: 2
Bathrooms: 2
Floor(s): Ground
Type: Apartment
Furnished: Yes
This is a fully furnished 2-bedroom unit situated in a 2-story building, which has two nits on the ground floor and two units on the 2nd. floor. Each unit is the same size 1,250sf) divided into 800 sf of interior space and 450 sf of covered front and back erraces. Floor. The solid masonry demising wall (common wall) as well as the 5" oncrete slab prevent sound transference.
UNIT #115
FOR SALE $205,000
FOR RENT $1,600 mo.
July 1
Total Area (Sq Ft): 1345
Total area (Sq M): 124
Bedrooms: 2
Bathrooms: 2
Floor(s): 1 Story
Type: Attached
Furnished: Yes
This 1,345 sf single floor home includes a 200 sf private terrace plus parking for one car. It is attached on two sides by a 6" solid concrete block wall which prevents sound transfer. This is an extremely well decorated home with lots of natural wood built ins.
UNIT #121
FOR SALE $265,000
FOR RENT $1,650 mo.
Immediate
Total Area (Sq Ft): 1423
Total area (Sq M): 131
Bedrooms: 2
Bathrooms: 2.5
Floor(s): 2 Story
Type: Detached
Furnished: Yes
This two story, detached 1,423 sf home + parking for one car has two bedrooms, 2 ½ bathrooms and a 2nd. floor covered terrace.
The open railed wrought iron cement stair case leads to the 2nd. level where the master bedroom with en-suite master bathroom as well as 2nd. bedroom and en-suite bathroom are located. Also accessed from the 2nd. floor hallway is the covered terrace.
This is a very nicely furnished home with a good floor plan for those wanting two floors.
UNIT #125
FOR SALE $150,000
Total Area (Sq Ft): 662
Total area (Sq M): 61
Bedrooms: 1
Bathrooms: 1
Floor(s): 2nd Floor
Type: Semi-Detached
Furnished: Yes
This 662 sf, + parking for one car and 33sf locker is a one bedroom home on the 2nd floor overlooking the large pool. It is ideal for a single person or couple—or investment property.
Our Lives
WEATHER: Normal rainy days -usually sunny mornings, overcast mid day, rain late afternoon or evening.
A Week of Tough Decisions: In addition to my training and the lightning strike and resulting failures, this week also included:
(1) A decision on salary increases. In January and July of each year, the government sets a new minimum wage for each job category. While employers are not required to pay above the minimum wage and do not have to give any salary increase if the actual pay rate is over the minimum, the expectation by all employees is that they will get the government recommended raise. Our two gardener / mtnc. guys are paid about 25% above the minimum rate for their job category. I'm not unhappy about that and my information is that in the Central Valley area, it is not uncommon for the actual rate to be higher than the minimum. On the other hand, many companies, including some government agencies pay less than the minimum wage; one survey found 183 companies paying less than the stipulated rate for some job categories. The recommended increase in July was 3.5% for their job category; In January it was 2.5% as I remember. In addition, by the time the government insurances -CAJA, INS, and vacation get added in since they are all based on a percentage of money earned, it is higher that the 2,5% or 3.5% increase. Over time, I'm trying to reduce the overage. I ended up giving them a 1.5% increase.
(2) They also wanted to cash out their vacation instead of taking the days off. In the past it had been calculated generously. I decided to follow the rules, ie. that the payment would be based on the standard 48hr week and not the additional overtime they work and are paid for. They found that a bit hard to swallow.
(3) On Tuesday, when I started to reimburse Flavio for some petty cash expenses he'd incurred from his petty cash, I noted that my petty cash was substantially less than it should have been. I had taken out $800 from the bank on Monday. I recounted my steps, noted that I had spent about $50... so I'm now short around $750 (further analysis has shown that this had probably been on going for a month and the actual damage is significantly larger). I could come up with only one credible scenario and while I have only circumstantial evidence and cannot accuse the person suspected of "theft", I've lost confidence in the person I suspect. When I reviewed several other instances of reported theft, the persons name was associated with all cases. In each of those cases, however, there were a number of credible scenarios and poor witness testimonies. While it's difficult to nail jelly to the wall with only circumstantial scenarios even when one can show opportunity and motive don't translated into guilt -just look at the recent Florida circus re. Caylee Anthony, the scenarios simply raise enough doubt... and doubt I cannot live with. This is doubly unfortunate because I've got a lot of time invested in training but I'm not prepared to live with the doubt.
(4) We were given a heads-up by the son of the tenant in 126 -a little house Lita owns- that it would likely become vacant. As the original occupant, it has been occupied by his invalid mother. When the occupancy first started, about 4 years ago, no one knew how long she was going to live, even with full time care. As a proper English lady, she would -in the first three years, dress up, with hand bag and hat and walk the garden and would provide advice on the roses at her front door. Well, 4 years later and at 91, she's failing. Her son decided to move her to a full service care facility. The little house worked well for them and the arrangement worked well for us.
As an aside, it was also a pleasure to note that the son took really good care of his mom through all this -even though he provided 24/7 care for her (dealing with the nurses was a major factor in his decision to move her), he and his wife came 3 times a week, took her out to lunch and visited with her. This unit will soon come on the market. While it is a complete house with one bedroom LR, full kitchen and covered terrace, it is small. I think it perfect for someone needing a "pied a terre" -someone coming to San Jose on a regular basis who might otherwise stay in a hotel. This unit provides a comfortable, hassle free place to stay, no reservation needed, personal belongings could be left there, etc.
In case you missed last weeks link:
Videos of CR: I ran across two youtube videos -each quite different:
https://www.youtube.com/watch?v=XXWZ3uAEKsw
This is about how things get done here. It's humorous to watch but it is better classified as a documentary than fiction... it is about someone trying to accomplish something involving a government official. What it is missing is that the client would have been previously passed along by 3 or 4 others and the office would have been littered with chaotic files on floors and desks in total disarray...
The following video is of the natural beauty of CR. It, too, is accurate and there's really no promo or obnoxious music with it:
https://www.youtube.com/watch?v=FSb8MQJDHEE
Brian, Lita, Hugo, irreverent Vicka, the pigeon toed parrot, and the newbies - Chico and Chica