Dear friends,
When I started Residencias Los Jardines, I started writing a weekly news letter -determined to tell all the good, bad, and the ugly. I knew some readers would be interested in the construction process. I expected others might be interested in the lifestyle of two people who had decided to live outside the box. For others, the adventures of Lita, the parrot and the cat took on an entertainment saga all its own.
Residencias Los Jardines is finished. We periodically have resales and rental availability. Some readers may be interested in this information.
More and more, the content will be dominated by events of our new project, "El Dorado" for short. While the future is always uncertain, I again aim to tell it like it happens -the good, the bad, and the ugly, and that is what follows.
Brian Timmons
DEVELOPER:
Residencias Los Jardines / https://www.residenciaslosjardines.com
Hacienda El Dorado / https://www.eldoradocostarica.com
E-mail:
brian@eldoradocostarica.com
info@residenciaslosjardines.com
ResidenciasPropertyManagement@gmail.com
Construction Log
Updates about Hacienda El Dorado
Rio Oro: still revising the formulas -and spent virtually all the week "in training" so not much progress on this...
Residencias Los Jardines
Property Management, Rentals, Re-Sales
Office Manager: For the time being, at least, I will be taking over these duties. I've always wanted a better idea of what really needs to be done. I've spent most of the week "in training" by Lourdes. I've found several items and issues which need attention but for the most part I'm learning what has been done, why, and then when I have all that under my belt, I'll work with Krysia on changing those things which may not be required now or which make no sense or which can be streamlined. One of the first things I'm having done is changing from Windows "Office" Spanish to "English". Some of the other programs are in Spanish but manageable.
Internet: it's been rock solid this week
Market Activity: Sales: no one from Chris Howard's tour bought or rented anything here or elsewhere in CR. We have had an additional two clients looking to purchase. Rentals: Several lookers; no commitments -one potential looked a 2nd time. We'll see.
Pending sale of 112: this has been slowed down partially because the Vendor's lawyer was away at a conference for most of the week. Hopefully, he'll pick up the conversation and sort out a couple issues.
FOR SALE / RENT:
Unit 112

:
The sale is progressing but not smoothly

Unit 115

:
$205,000 / $1,600 mo.
for sale / rent - July 1
See unit

Unit 121

:
$265,000 / $1,650 mo.
for sale / rent - Immediate
See unit

Unit 125

:
$150,000
for sale
See unit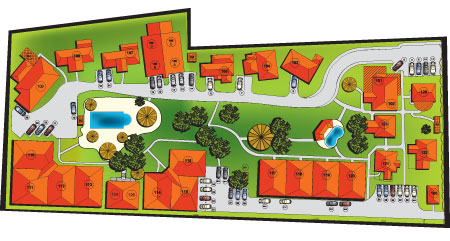 -
HOUSES FOR SALE / RENT
UNIT #115
FOR SALE $205,000
FOR RENT $1,600 mo.
July 1
Total Area (Sq Ft): 1345
Total area (Sq M): 124
Bedrooms: 2
Bathrooms: 2
Floor(s): 1 Story
Type: Attached
Furnished: Yes
This 1,345 sf single floor home includes a 200 sf private terrace plus parking for one car. It is attached on two sides by a 6" solid concrete block wall which prevents sound transfer. This is an extremely well decorated home with lots of natural wood built ins.
UNIT #121
FOR SALE $265,000
FOR RENT $1,650 mo.
Immediate
Total Area (Sq Ft): 1423
Total area (Sq M): 131
Bedrooms: 2
Bathrooms: 2.5
Floor(s): 2 Story
Type: Detached
Furnished: Yes
This two story, detached 1,423 sf home + parking for one car has two bedrooms, 2 ½ bathrooms and a 2nd. floor covered terrace.
The open railed wrought iron cement stair case leads to the 2nd. level where the master bedroom with en-suite master bathroom as well as 2nd. bedroom and en-suite bathroom are located. Also accessed from the 2nd. floor hallway is the covered terrace.
This is a very nicely furnished home with a good floor plan for those wanting two floors.
UNIT #125
FOR SALE $150,000
Total Area (Sq Ft): 662
Total area (Sq M): 61
Bedrooms: 1
Bathrooms: 1
Floor(s): 2nd Floor
Type: Semi-Detached
Furnished: Yes
This 662 sf, + parking for one car and 33sf locker is a one bedroom home on the 2nd floor overlooking the large pool. It is ideal for a single person or couple—or investment property.
Our Lives
WEATHER: Normal rainy days -usually sunny mornings, overcast mid day, rain late afternoon or evening.
Comment: IBM announced an enhanced commitment to CR over the next 10 years. They expect to invest about $300 million and create 1,000 jobs. This will certainly help CR. Most of the jobs will be in the customer service area but will probably be pretty good engineering type jobs since they will be working on IBM's "Cloud" system. No mention of where they will locate but probably in one of the industrial tax free zones around Heredia / Alejuela -we'll feel the effects in Santa Ana. ...and I'm sure there will be a number of spin offs to CR from this type of investment and the type of education that will be required to staff the jobs.
Videos of CR: I ran across two youtube videos -each quite different:
https://www.youtube.com/watch?v=XXWZ3uAEKsw
This is about how things get done here. It's humorous to watch but it is better classified as a documentary than fiction... it is about someone trying to accomplish something involving a government official. What it is missing is that the client would have been previously passed along by 3 or 4 others and the office would have been littered with chaotic files on floors and desks in total disarray...
The following video is of the natural beauty of CR. It, too, is accurate and there's really no promo or obnoxious music with it:
https://www.youtube.com/watch?v=FSb8MQJDHEE
With Lourdes leaving, I'm going to have to learn a new computer system (PC) and sort out 7 years of data with two different operators -the organization which seems mystical at the moment... this is not a lot of fun but guess it has to be done.
Brian, Lita, Hugo, irreverent Vicka, the pigeon toed parrot, and the newbies - Chico and Chica