Dear friends,
When I started Residencias Los Jardines, I started writing a weekly news letter -determined to tell all the good, bad, and the ugly. I knew some readers would be interested in the construction process. I expected others might be interested in the lifestyle of two people who had decided to live outside the box. For others, the adventures of Lita, the parrot and the cat took on an entertainment saga all its own.
Residencias Los Jardines is finished. We periodically have resales and rental availability. Some readers may be interested in this information.
More and more, the content will be dominated by events of our new project, "El Dorado" for short. While the future is always uncertain, I again aim to tell it like it happens -the good, the bad, and the ugly, and that is what follows.
Brian Timmons
DEVELOPER:
Residencias Los Jardines / https://www.residenciaslosjardines.com
Hacienda El Dorado / https://www.eldoradocostarica.com
E-mail:
brian@eldoradocostarica.com
info@residenciaslosjardines.com
ResidenciasPropertyManagement@gmail.com
Construction Log
Updates about Hacienda El Dorado
Rio Oro: still revising the formulas.
Residencias Los Jardines
Property Management, Rentals, Re-Sales
Office Manager: Lourdes submitted her resignation effective July 29. She's been having more frequent and more severe health issues recently and despite medical efforts and reduced hours of work, she hasn't been able to fully deal with them. She will help train during this transitional period and it is expected she will work more or less every morning until mid July at which time she'll be "on call". We wish her well but we all know that health has to come first in life.
Internet: AMNET still shows us as having paid. We haven't but... just another example of organizations here not being able to figure it out.
Market Activity: Sales: we have had a number of lookers; no takers this week.
Rentals: Several lookers; no commitments -wrong location, two stories, or ?? We had a tour of 10 people on Saturday morning. In past years, these tours have usually resulted in sales or rentals. Over the past two years, I can't remember either event happening. We'll see this time.
We completed the lease of 113 this week -effective July 1. In speaking with the agent, he stated that in two year's and more ago 90% of clients were from the US / Canada. Now, 98% are from Central and Latin America. He said that for 3 days, his phone did not ring once.
FOR SALE / RENT:
Unit 106A

:
The sale to the Russians closed on Friday

Unit 112

:
The sale is progressing but not smoothly

Unit 115

:
$205,000 / $1,600 mo.
for sale / rent
See unit

Unit 121

:
$265,000 / $1,650 mo.
for sale / rent
See unit

Unit 125

:
$150,000
for sale
See unit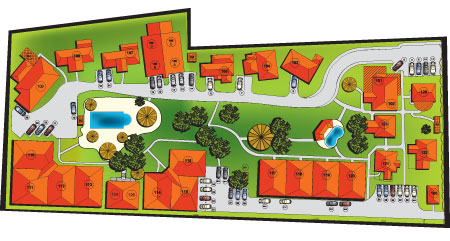 HOUSES FOR SALE / RENT
UNIT #115
FOR SALE $205,000
FOR RENT $1,600 mo.
July 1
Total Area (Sq Ft): 1345
Total area (Sq M): 124
Bedrooms: 2
Bathrooms: 2
Floor(s): 1 Story
Type: Attached
Furnished: Yes
This 1,345 sf single floor home includes a 200 sf private terrace plus parking for one car. It is attached on two sides by a 6" solid concrete block wall which prevents sound transfer. This is an extremely well decorated home with lots of natural wood built ins.
UNIT #121
FOR SALE $265,000
FOR RENT $1,650 mo.
Immediate
Total Area (Sq Ft): 1423
Total area (Sq M): 131
Bedrooms: 2
Bathrooms: 2.5
Floor(s): 2 Story
Type: Detached
Furnished: Yes
This two story, detached 1,423 sf home + parking for one car has two bedrooms, 2 ½ bathrooms and a 2nd. floor covered terrace.
The open railed wrought iron cement stair case leads to the 2nd. level where the master bedroom with en-suite master bathroom as well as 2nd. bedroom and en-suite bathroom are located. Also accessed from the 2nd. floor hallway is the covered terrace.
This is a very nicely furnished home with a good floor plan for those wanting two floors.
UNIT #125
FOR SALE $150,000
Total Area (Sq Ft): 662
Total area (Sq M): 61
Bedrooms: 1
Bathrooms: 1
Floor(s): 2nd Floor
Type: Semi-Detached
Furnished: Yes
This 662 sf, + parking for one car and 33sf locker is a one bedroom home on the 2nd floor overlooking the large pool. It is ideal for a single person or couple—or investment property.
Our Lives
WEATHER: Normal rainy days -usually sunny mornings, overcast mid day, rain late afternoon or evening.
Comment: The following article is just one of many I could have chosen but this particular article includes many, many aspects of what life is really like here. A few months ago, I made a comment that CR is not a make work place because that would involve planning, organizing, training, directing, controlling and a continuous feedback loop for proper management. I wrote then that CR seems more like semi-autonomous sets of random chaos in constant motion with no purpose other than to continue as each is and that the addition of technology does not solve the chaos, it only adds to the level of complexity and the rapidity of chaos. A number of readers knowledgeable with CR, commented that they felt my description was apt.
In a separate event, a parallel system involved the installation of "smart traffic lights"; after much fan fare and delays, they were installed with a 6 mo. mtnc. contract. The contract expired and was not renewed, they used the money elsewhere, the system fell into disrepair and disuse. Last I read they were thinking of letting a new mtnc. contract and repairing the system... I seriously doubt that it ever happened.
The Chinese built a new national stadium for sporting and cultural events. They included a certain mtnc. period. It's about up. CR says it has no money for mtnc. and operations and says it does not have the technical expertise to manage this and seems to not have a very effective marketing group as it sits unused most of the time.
Traffic Cameras Go "Live" Next Week

The Ministerio de Obras Públicas y Transportes (MOPT) announced on Wednesday that the traffic cameras will finally go "live" next week, when 12 cameras around the Central Valley will keep a 24/7 eye on drivers.

The long awaited use of the cameras to catch speeding and reckless drivers will start operating by July 1.

The first five cameras were installed last October with an expected start date of January. However, problems with the notification process delayed the legal use of the cameras, that is the cameras have been in use, but drivers have not been notified.

Since another seven cameras were installed. Ahead of each camera is a sign warning of the "electronic surveillance".

However, therein lies another problem that has still to be addressed by the MOPT.

Since the fine is issued against the registered owner of the vehicle (that is, if the vehicle has its correct plates) and not the driver, which may or may not be the same at the time of the camera click, it is sure to be brought before the justices of the Constitutional Court. (Remember, many vehicles are owned in corporations, there is virtually no mail delivery system, directions are very rudimentary at best, many, many cars have shaded windows making it virtually impossible to see in, and my guess is that most drivers will not accept responsibility, and both the identify of the driver and the level of fine will likely be challenged in court just as have the attempted implementation of new traffic laws, most of which are not enforced anyway.)

For the time being Transport authorities say that a Tránsito official will be close by the cameras with a portable computer who will receive the photos of the violation taken by the traffic cameras, to give notice to the driver personally.

For now there are 12 cameras installed in various locations that include the autopistas General Cañas (San José - Alajuela) and Florencio del Castillo (San José - Cartago) and the Circunvalación (ring road of San José).

In the next two years the MOPT has plans to expand the program to 150 cameras on roads all over the country.

Last month the MOPT announced that only reckless drivers, those with vehicles without the Marchamo or Riteve, but not speeding drivers. (I'm hard pressed to understand why a Transit cop couldn't do this -is this not included in their job description?)

(Now read this) The exclusion of speeders is due to the fact that tests during the year shows that "all" drivers speed in Costa Rica and fining "every" driver would overwhelm the system and paralyze the country.

The cameras are the front line, backed by a team of handlers sitting in front of a wall full of monitors feeding information from the cameras and who will then notify the traffic officer, which will then stop the vehicle and fine the driver for the infraction. (So what has really been accomplished here?)

According to Cesar Quiros, director of the Policia de Tránsito, the specific day next week for the start of the use of the cameras has not been defined, but assures it will be next week. (Why next week when it was suppose to go on line in January, and had been installed the previous October? but it won't make any difference because the cop won't have a computer, or one that works, or one that he knows how to work.)

The delay in putting the cameras into operation was the drawn out negotiations with the state telecom, the Radiografica Costarricesne (Racsa), that would have taken the task of notifying vehicle owners by email, fax or telegram. (Remember, this is a virtually bankrupt company who couldn't manage Internet delivery so got waysided.)

The MOPT and Racsa have been close to a deal for weeks. But, it appears no deal was reached, for director Quiros now says that as drivers licenses expire, drivers will be asked to provide a method of notifications as part of the drivers license renewal process, which method will then be "legal" notification for driving offences. (My driver's license was renewed for 6 years. How often do people stay in one place and a corporate office address for vehicles is usually ill described and an address of convenience, not notification.)
Now what will the cameras be doing that an effective cop couldn't do and will, in effect, be doing? And the admission that they have no way to identify or notify drivers vs. cars and this will be challenged in the SALA IV, that the organizations won't work together, and that one of the two main reasons justifying the system was speeding is not now going to be monitored because most everyone speeds... In the background for the non-CR observer, is the new traffic law which the government has been working on for 3+ years and is still not implemented for a number of constitutional challenges, disarray within now two governments on various issues, etc. So I'm left wondering how another system on top of various failed systems will actually accomplish anything?
Now look at TODAY's headlines from "INSIDE COSTA RICA" and project this over 365 days:
The good thing about all this is that CR is not on the verge of becoming an Orwellian State... and in that knowledge, there is peace and happiness.
Brian, Lita, Hugo, irreverent Vicka, the pigeon toed parrot, and the newbies - Chico and Chica