Internet & CableTica!
Dear friends,
When I started Residencias Los Jardines, I started writing a weekly news letter -determined to tell all the good, bad, and the ugly. I knew some readers would be interested in the construction process. I expected others might be interested in the lifestyle of two people who had decided to live outside the box. For others, the adventures of Lita, the parrot and the cat took on an entertainment saga all its own.
Residencias Los Jardines is finished. We periodically have resales and rental availability. Some readers may be interested in this information.
More and more, the content will be dominated by events of our new project, "El Dorado" for short. While the future is always uncertain, I again aim to tell it like it happens -the good, the bad, and the ugly, and that is what follows.
Brian Timmons
DEVELOPER:
Residencias Los Jardines / https://www.residenciaslosjardines.com
Hacienda El Dorado / https://www.eldoradocostarica.com
E-mail:
brian@eldoradocostarica.com
info@residenciaslosjardines.com
ResidenciasPropertyManagement@gmail.com
Construction Log
Updates about Hacienda El Dorado
Rio Oro: still revising the formulas.
Residencias Los Jardines
Property Management, Rentals, Re-Sales
Internet: while it has been steady all week, it went down on Friday. We called; they said we hadn't paid our bill; we said we haven't been invoiced and don't even know the account number nor the amount nor when it was / is due. Not their fault; our fault. We went to pay it at the local payment place, their Internet system was down so we couldn't pay it. We return to the office and call AMNET explaining the problem and asking for their business office address. They check the account; it's been paid; we don't believe it so got back to the same place we tried before, their system is still down -in fact I went back a 3rd. time and their system was still down. We return and have now received an invoice. We haven't in fact paid but their business office tells us we have. Who knows... These guys are so screwed up it's unbelievable.
Our tech support person went with RACSA (we went with AMNET). RACSA is bleeding money all over the place and is virtually bankrupt; ICE is keeping them alive -for now. Our Techie took a promotional package from RACSA -one month free, two month's a half price, 4th month and on at full price. He's in the 4th mon. of his contract; RACSA billing system doesn't yet recognize him and has never charged him; he has, however, paid regularly as per the contract but the system is showing a 40,000 colone credit to him. He knows it not correct but...
CableTica-TV: this service has been normally reliable -except this week. It's been down at least 4 times for varying lengths -sometimes 30-60 min. sometimes longer. No explanation...
Market Activity: Sales: we have one additional unit now in the offer stage.
Rentals: Not one call re. rentals.
Comment: I saw several articles on how the CR economy was recovering, tourism was recovering, and so was the RE market. Quite frankly, I don't believe any of it... there is little evidence from my perspective -either observations, conversations, or readings of others. I look at newly completed housing developments (starter homes mostly) and few units are occupied but more are being built. Where's the money coming from? Where are the buyers? Why is this happening? Having said this, one RE agent I speak with on a regular basis says he's busier than he has ever been and cited a long list of clients he's currently working with for both high end rentals and high end purchases. So, at least one contact is thriving.
FOR SALE / RENT:
Unit 106A

:
The sale is progressing -money is suppose to be on its way

Unit 115

:
$205,000 / $1,600 mo.
for sale / rent
See unit

Unit 121

:
$265,000 / $1,650 mo.
for sale / rent
See unit

Unit 125

:
$150,000
for sale
See unit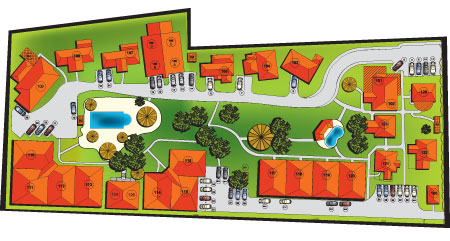 HOUSES FOR SALE / RENT
UNIT #115
FOR SALE $205,000
FOR RENT $1,600 mo.
July 1
Total Area (Sq Ft): 1345
Total area (Sq M): 124
Bedrooms: 2
Bathrooms: 2
Floor(s): 1 Story
Type: Attached
Furnished: Yes
This 1,345 sf single floor home includes a 200 sf private terrace plus parking for one car. It is attached on two sides by a 6" solid concrete block wall which prevents sound transfer. This is an extremely well decorated home with lots of natural wood built ins.
UNIT #121
FOR SALE $265,000
FOR RENT $1,650 mo.
Immediate
Total Area (Sq Ft): 1423
Total area (Sq M): 131
Bedrooms: 2
Bathrooms: 2.5
Floor(s): 2 Story
Type: Detached
Furnished: Yes
This two story, detached 1,423 sf home + parking for one car has two bedrooms, 2 ½ bathrooms and a 2nd. floor covered terrace.
The open railed wrought iron cement stair case leads to the 2nd. level where the master bedroom with en-suite master bathroom as well as 2nd. bedroom and en-suite bathroom are located. Also accessed from the 2nd. floor hallway is the covered terrace.
This is a very nicely furnished home with a good floor plan for those wanting two floors.
UNIT #125
FOR SALE $150,000
Total Area (Sq Ft): 662
Total area (Sq M): 61
Bedrooms: 1
Bathrooms: 1
Floor(s): 2nd Floor
Type: Semi-Detached
Furnished: Yes
This 662 sf, + parking for one car and 33sf locker is a one bedroom home on the 2nd floor overlooking the large pool. It is ideal for a single person or couple—or investment property.
Our Lives
WEATHER: Normal rainy days -usually sunny mornings, overcast mid day, rain late afternoon or evening.
Comment: This week I saw several reports by international agencies -one report measures the ease of doing business in various countries and another report measuring competitiveness -CR has always been very low and continues to slip. These reports I believe. I see no recognition of need to improve or any urgency associated with becoming more efficient -the conversations continue to miss the mark in that the attributed cause of the problem is a symptom of more fundamental issues not being addressed.
While it took us 3 years to get the site plan development approved for El Dorado... there are many complaints about the construction permitting process but nothing is actively under discussion for improvement. The other day, one of our workers cut his finger. I took him to the local CAJA clinic. No that was not the correct place; I had to take him to the INS clinic since the accident occurred on the job. We went to my local general GP; she had just opened a special INS patient office. I gave them the employees name and ID number. This didn't work. They had to have the employer's information... what a minute, We've sent hundreds of hours inputting all this information into a database required for payment. Yes, they knew this but their computer was not connected to the data base... it was, in effect, useless, a paper weight, a dust collector. After two trips, 4 hrs, 3 stitchs and a bandage, he was told to be off work for a week and to return at the end of that week.
Renewing My Drivers License: I had to renew my driver's license. It took 4 trips and 1 1/2 days... first to get a medical exam including the now required blood type -$34; A trip to the MOPT administration building to change the number on my new license to that of my current passport -no charge but 3 hrs., a trip to Banco National where the payment had to be made in advance and receipt issued ($20), then these three documents had to be taken to where the license was to be issued -all of these involved major across town trips. At the issuing office, there is no parking... this is a major problem. Once you solve that, you're directed to the back of the complex (200 meters) (no signage); you get a number and then play musical chairs (you can't just go by the number, you have to physically move to the next chair to the left as each front person gets served)... finally, your number comes up (not long, about 20 min.)... for some reason my passport was reviewed three times at this stage -and the guy issuing the license was telling me that I had to leave the country for three days... I explained and showed him the document that my application was in process and that according to that, I did not have to leave the country... he insisted he was right; I subsequently contacted and re-verified my understanding and that I had left the country and in fact had 4 days yet before my 90 day period was up... but Immigration file process "In Tramite" overrides the visa term limit... In any event, he said that it didn't make any difference to issuing the license so he issued it and I left.
Brian, Lita, Hugo, irreverent Vicka, the pigeon toed parrot, and the newbies - Chico and Chica