Dear friends,
When I started Residencias Los Jardines, I started writing a weekly news letter -determined to tell all the good, bad, and the ugly. I knew some readers would be interested in the construction process. I expected others might be interested in the lifestyle of two people who had decided to live outside the box. For others, the adventures of Lita, the parrot and the cat took on an entertainment saga all its own.
Residencias Los Jardines is finished. We periodically have resales and rental availability. Some readers may be interested in this information.
More and more, the content will be dominated by events of our new project, "El Dorado" for short. While the future is always uncertain, I again aim to tell it like it happens -the good, the bad, and the ugly, and that is what follows.
Brian Timmons
DEVELOPER:
Residencias Los Jardines / https://www.residenciaslosjardines.com
Hacienda El Dorado / https://www.eldoradocostarica.com
E-mail: brian@eldoradocostarica.com / info@residenciaslosjardines.com
Construction Log
Updates about Hacienda El Dorado
Rio Oro: We now have the final document for the infrastructure. I'm taking those numbers and doing a cash flow analysis based on construction. I'm doing the same for the building construction. I did a cash flow analysis based on construction sequences. I vetted this with a consultant; I received the vetted spreadsheet -a couple minor changes. Now it can be used as a model for other buildings. The vetted information will be expanded and all will be integrated into a huge spreadsheet and then simplified. I've asked them for some additional information as well. I hope those waiting for it can understand it -lots of work still ahead.
Residencias Los Jardines
Property Management, Rentals, Re-Sales
Internet: We have been stable this week but I've read many other comments on CostaRicaLiving about others having connectivity problems and one posting where the service provider was CableTica- RACSA where the client went direct with CableTica and their modem's IP address got changed and caused them problems as well. It seems that as the companies sort out their respective "clients" and billings stream, they are changing IP addresses -I suspect that in many cases the change is seamless but in some cases, they screw up and don't get the new IP address aligned with their technical / administrative end of things.
Market Activity: Sales: We had one person I'd been corresponding with for 6+ months arrive. He was here to sell a lot in Atenas and was looking to buy something finished. Trouble is, his new wife didn't want to know anything about CR. It's not going to happen.
Rentals: We had a number of people looking to rent; this is different than the previous month. We leased 124 (actually had 2 people who wanted it -one snoozed- one moved), are in the process of leasing 114, and expect to lease 113.
FOR SALE:
FOR RENT:
Unit 109

:
$1,600 mo.
Immediate - Nov. 30 (flexible)
See unit

Unit 121

:
$1,650 mo.
Immediate
See unit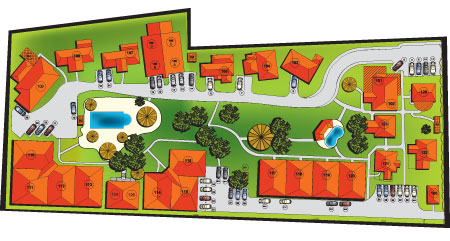 HOUSES FOR SALE
UNIT #115
FOR SALE $205,000
Total Area (Sq Ft): 1345
Total area (Sq M): 124
Bedrooms: 2
Bathrooms: 2
Floor(s): 1 Story
Type: Attached
Furnished: Yes
This 1,345 sf single floor home includes a 200 sf private terrace plus parking for one car. It is attached on two sides by a 6" solid concrete block wall which prevents sound transfer. This is an extremely well decorated home with lots of natural wood built ins.
HOUSES FOR RENT
UNIT #109
FOR RENT $1,600 mo.
Immediate - Nov. 30 (flexible)
Total Area (Sq Ft): 1506
Total area (Sq M): 140
Bedrooms: 2
Bathrooms: 2
Floor(s): 1 Story
Type: Detached
Furnished: Yes
This single story home (1506 sf. + parking for one car) is detached, has two bedrooms, two bathrooms, home office, living room wall / entertainment center along with a built in office and a semi-private terrace. In addition, it has a vaulted ceiling in the "great" room and two skylights. The covered entrance way is suitable for two chairs located next to a covered garden area. Once through the impressive front door, you enter the "great room" which houses the kitchen, dining room, office and living room. Upon entering, there is a built in wooden hutch surfaced with granite—it matches all the built-in furniture in the great room. There is a clothes washer and dryer off the 2nd bedroom. The owners have added many personal touches and have done a supurb job in decodrating the home.
UNIT #121
FOR RENT $1,650 mo.
Immediate
Total Area (Sq Ft): 1423
Total area (Sq M): 131
Bedrooms: 2
Bathrooms: 2.5
Floor(s): 2 Story
Type: Detached
Furnished: Yes
This two story, detached 1,423 sf home + parking for one car has two bedrooms, 2 ½ bathrooms and a 2nd. floor covered terrace.
The open railed wrought iron cement stair case leads to the 2nd. level where the master bedroom with en-suite master bathroom as well as 2nd. bedroom and en-suite bathroom are located. Also accessed from the 2nd. floor hallway is the covered terrace.
This is a very nicely furnished home with a good floor plan for those wanting two floors.
Our Lives
WEATHER: Some overcast days usually with some sun, light rains -beautiful.
Earthquake: this is the first significant one we've had for some time. It happened about 4:50 Friday afternoon and lasted for 30 seconds or so. We were visiting with a friend at the terrace table. There was sustained and forceful shaking. I was later calculated at 5.9 - 6.0 depending on who your read and the epicenter was either NNW near Poas or W of Santa Ana near Puriscal -again depending whether one reads CR or USG info. In any event, it changed the conversation and made for a lot of excitement in some circles. No reports of injury or building damage. Communications went down in some areas but now it's just another event in CR.
Brian, Lita, Hugo, irreverent Vicka, the pigeon toed parrot, and the newbies - Chico and Chica