Bye Bye Giants! & Very Active Market
Dear friends,
When I started Residencias Los Jardines, I started writing a weekly news letter -determined to tell all the good, bad, and the ugly. I knew some readers would be interested in the construction process. I expected others might be interested in the lifestyle of two people who had decided to live outside the box. For others, the adventures of Lita, the parrot and the cat took on an entertainment saga all its own.
Residencias Los Jardines is finished. We periodically have resales and rental availability. Some readers may be interested in this information.
More and more, the content will be dominated by events of our new project, "El Dorado" for short. While the future is always uncertain, I again aim to tell it like it happens -the good, the bad, and the ugly, and that is what follows.
Brian Timmons
DEVELOPER:
Residencias Los Jardines / https://www.residenciaslosjardines.com
Hacienda El Dorado / https://www.eldoradocostarica.com
E-mail: brian@eldoradocostarica.com / info@residenciaslosjardines.com
Construction Log
Updates about Hacienda El Dorado
Rio Oro: We've review the specified the product we want and are now putting the finishing touches on the contract which will lead to it's completion. As in most situations, it is better to make sure of what you want and to ensure you have agreement before getting half way down the road.
Residencias Los Jardines
Property Management, Rentals, Re-Sales
Palm Tree Removal: They are gone -in a way, victims of their own success- along with many, many overhanding ficus branches. The boom truck along with 10 experienced helper were busy with chainsaws cutting and trimming and then, cleaning up. It was all over with in 6 hours and the workers never made a mistake. While it took some time to source the right people, we did.
Now that the trees and minor shrubbery are gone, we still have to fix the drainage problem. Removing the trees was necessary but not the end point. We'll begin working on investigating the real problem this next week
Major Garden Surgery: Everyone once in a while we have to become ruthless with certain plants / trees. The extra garden person along with our regular gardener, Enrique, worked their machetes hard this week and we hauled about huge amounts of garden debris.
Additional Maintenance Staff: We discovered that many of the teak columns supporting the ranchos had rotted or had been infested with carpenter ants. We're having to restructure several of the rancho's as we did last year. This is a labor intensive job but when done, they should last a long time.
Internet: It's been fine this week.
Very Active Market: In addition to the lease with option to purchase which happened last week, we've had about 20 would be buyers around. We have one offer being considered and lots of other people considering making offers, we'll just have to see what next week brings. It's interesting to note, three very interested buyers are French and one in Dutch.
FOR SALE:
Unit 102

:
$265,000
Flexible - Owner Financing Available
See unit

Unit 106A:

$155,000
See unit

Unit 107

:
$250,000
Owner Financing Available
See unit

Unit 115

:
$205,000
See unit

Unit 125

:
$160,000
See unit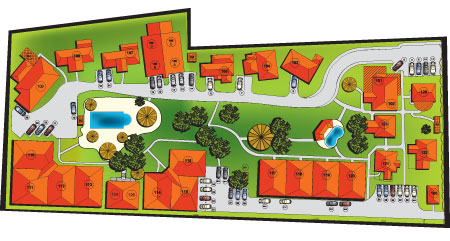 UNIT #102:
For Sale $265,000
Flexible - Owner Financing Available
Total Area (Sq Ft): 1922
Total area (Sq M): 177
Bedrooms: 2
Bathrooms: 2
Floor(s): Ground
Type: Apartment
Furnished: Yes
This two bedroom, 1922 sf (177m2) + parking and bodega, single story home located in Residencias Los Jardines was completed 5 years ago and has been lived in by a single lady who has lovingly cared for and cleaned it twice a week. It is situated on the ground floor of a two storey, horizontal duplex. It is in PRISTINE condition. The vendor is the original owner.
UNIT #106A:
For Sale $155,000
Total Area (Sq Ft): 1250
Total area (Sq M): 120
Bedrooms: 2
Bathrooms: 2
Floor(s): 1
Type: Apartment
Furnished: Yes
This is a fully furnished 2-bedroom unit situated in a 2-story building, which has two units on the ground floor and two units on the 2nd. floor. Each unit is the same size (1,250sf) divided into 800 sf of interior space and 450 sf of covered front and back terraces. Units 106A and B are on the ground floor; Units 106 C and D are on the 2nd. Floor. The solid masonry demising wall (common wall) as well as the 5" concrete slab prevent sound transference.
UNIT #107:
For Sale $250,000
Owner Financing Available
Total Area (Sq Ft): 1716
Total area (Sq M): 158
Bedrooms: 2
Bathrooms: 2.5
Floor(s): 2 Story
Type: Detached
Furnished: Yes
This 1,716 sf. (plus parking for one car) two story, detached house, with three terraces, two bedrooms (one on each floor) and upstairs master suite is a beautiful home. This home consists of two VERY large bedrooms (one on each floor) with en-suite bathrooms and a powder room, each with large closets with extensive built-ins for personal organization. The vaulted living room and ground floor bedroom ceilings as well as the master bedroom on the 2nd floor, provide a feeling of grandeur while allowing the warmer air to rise and exit through the ceiling ventilating system. There are three TVs (one in each bedroom and one in the living room.) This is a beautiful home. There is a rough-in for a dishwasher in the kitchen area.
UNIT #115:
For Sale $205,000
Total Area (Sq Ft): 1345
Total area (Sq M): 124
Bedrooms: 2
Bathrooms: 2
Floor(s): 1 Story
Type: Attached
Furnished: Yes
This 1,345 sf single floor home includes a 200 sf private terrace plus parking for one car. It is attached on two sides by a 6" solid concrete block wall which prevents sound transfer. This is an extremely well decorated home with lots of natural wood built ins.
UNIT #125:
For Sale $160,000
Total Area (Sq Ft): 662
Total area (Sq M): 61
Bedrooms: 1
Bathrooms: 1
Floor(s): 2nd Floor
Type: Semi-Detached
Furnished: Yes
This 662 sf, + parking for one car and 33sf locker is a one bedroom home on the 2nd floor overlooking the large pool. It is ideal for a single person or couple-or investment property.
Our Lives
WEATHER: Beautiful with little wind -this year we have had substantially less wind than in the two previous years AND this week we even got one well needed rain storm.
A Dove's Brush with Death: Over the years, we've had a number of doves fly into various windows, land and feed on the terrace, and fly into our house and not be able to find their way out. My layman's conclusion is that neither can these birds see very well to fly, they also have to be on the very dumb end of the bird scale. Having said that, Hugo, the Garfiled of lazy, fat cats, caught another dove which, probably like the last one, dropped into his waiting jaws. Anyway, some how, Lita was able to snatch it away, protected it, cuddled it until it seem to recover, put it in a cage until we saw that it had recovered and was interested in eating. Surprisingly, Lita open the door and allowed the dove to fly away -only to, probably repeat a similar experience (it's a dove and always will be... as long as it lives.)
Friends: We're awaiting the arrival of several sets of friends in early March. Lita is advocating a trip to Granada. We'll probably go around March 16, an anniversary date in our lives.
Brian, Lita, Hugo, irreverent Vicka, the pigeon toed parrot, and the newbies - Chico and Chica