Dear friends,
When I started Residencias Los Jardines, I started writing a weekly news letter -determined to tell all the good, bad, and the ugly. I knew some readers would be interested in the construction process. I expected others might be interested in the lifestyle of two people who had decided to live outside the box. For others, the adventures of Lita, the parrot and the cat took on an entertainment saga all its own.
Residencias Los Jardines is finished. We periodically have resales and rental availability. Some readers may be interested in this information.
More and more, the content will be dominated by events of our new project, "El Dorado" for short. While the future is always uncertain, I again aim to tell it like it happens -the good, the bad, and the ugly, and that is what follows.
Note 2: The publication and distribution of the newsletter has been changed from Jan Kozak who has done it for the past 4 or so years. He contributed greatly to it's development and is responsible in large part for it current design. Jan has developed a very successful and active real estate marketing business and was having difficulty juggling the letter with his more profitable activities. I reached back to reliable people now living in Argentina and explored their interested in producing and distributing the letter. Maria has agreed as it works out well with her university schedule and will help her financially complete her university. I suspect, this week's efforts and those to follow, will become easier and easier.
Brian Timmons
DEVELOPER:
Residencias Los Jardines / https://www.residenciaslosjardines.com
Hacienda El Dorado / https://www.eldoradocostarica.com
E-mail: brian@eldoradocostarica.com / info@residenciaslosjardines.com
Construction Log
Updates about Hacienda El Dorado
Rio Oro: We have received a proposal we like to do a costing analysis. We are meeting on Tuesday to review a model and confirm that it is what was want and need and to clarify the process and assign a timeline and responsibilities.
Residencias Los Jardines
Property Management, Rentals, Re-Sales
Palm Tree Removal: I don't like any of the proposals received for removing these two trees. To me, they leave too much to chance and disaster. I'm looking for a boom truck strong enough to grab each tree and lower it down when cut on a controlled decent. Free falling, scaffold, bucket truck, etc. methods simply don't offer a sound, safe solution.
Additional Maintenance Help: The garden has never been a raked as clean as it is now and the chairs and table at the large pool have been refinished. On to the next maintenance job.
Internet: We've had some instability and slowness. We finally brought out the service provider AMNET. They found a corroded connection at their end and said some other things were their problems and then left. Personally, I think they are still have company separation problems between them and RACSA and those of us who depend on both companies, are victims of this ill feeling and messy divorce.
Market Interest: We continue to get lookers and have, in my opinion three good prospects. However, we haven't heard back from any so...... We had on lease with option to buy offer accepted and have one other offer on the go. How far it will go, I don't know.
Keribe Consruction: It appears that Keribe, our builder to the east, is getting ready to build out the final phase of their development. Land is being cleared and ready for the footings. It will be dusty for us during this phase but the end is in sight.
FOR SALE:
Unit 102

:
$265,000
Flexible - Owner Financing Available
See unit

Unit 106A:

$155,000
See unit

Unit 107

:
$250,000
Owner Financing Available
See unit

Unit 115

:
$205,000
See unit

Unit 125

:
$160,000
See unit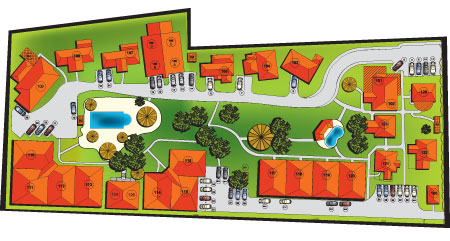 UNIT #102:
For Sale $265,000
Owner Financing Available
Total Area (Sq Ft): 1922
Total area (Sq M): 177
Bedrooms: 2
Bathrooms: 2
Floor(s): Ground
Type: Apartment
Furnished: Yes
This two bedroom, 1922 sf (177m2) + parking and bodega, single story home located in Residencias Los Jardines was completed 5 years ago and has been lived in by a single lady who has lovingly cared for and cleaned it twice a week. It is situated on the ground floor of a two storey, horizontal duplex. It is in PRISTINE condition. The vendor is the original owner.
UNIT #106A:
For Sale $155,000
Total Area (Sq Ft): 1250
Total area (Sq M): 120
Bedrooms: 2
Bathrooms: 2
Floor(s): 1
Type: Apartment
Furnished: Yes
This is a fully furnished 2-bedroom unit situated in a 2-story building, which has two units on the ground floor and two units on the 2nd. floor. Each unit is the same size (1,250sf) divided into 800 sf of interior space and 450 sf of covered front and back terraces. Units 106A and B are on the ground floor; Units 106 C and D are on the 2nd. Floor. The solid masonry demising wall (common wall) as well as the 5" concrete slab prevent sound transference.
UNIT #107:
For Sale $250,000
Owner Financing Available
Total Area (Sq Ft): 1716
Total area (Sq M): 158
Bedrooms: 2
Bathrooms: 2.5
Floor(s): 2 Story
Type: Detached
Furnished: Yes
This 1,716 sf. (plus parking for one car) two story, detached house, with three terraces, two bedrooms (one on each floor) and upstairs master suite is a beautiful home. This home consists of two VERY large bedrooms (one on each floor) with en-suite bathrooms and a powder room, each with large closets with extensive built-ins for personal organization. The vaulted living room and ground floor bedroom ceilings as well as the master bedroom on the 2nd floor, provide a feeling of grandeur while allowing the warmer air to rise and exit through the ceiling ventilating system. There are three TVs (one in each bedroom and one in the living room.) This is a beautiful home. There is a rough-in for a dishwasher in the kitchen area.
UNIT #115:
For Sale $205,000
Total Area (Sq Ft): 1345
Total area (Sq M): 124
Bedrooms: 2
Bathrooms: 2
Floor(s): 1 Story
Type: Attached
Furnished: Yes
This 1,345 sf single floor home includes a 200 sf private terrace plus parking for one car. It is attached on two sides by a 6" solid concrete block wall which prevents sound transfer. This is an extremely well decorated home with lots of natural wood built ins.
UNIT #125:
For Sale $160,000
Total Area (Sq Ft): 662
Total area (Sq M): 61
Bedrooms: 1
Bathrooms: 1
Floor(s): 2nd Floor
Type: Semi-Detached
Furnished: Yes
This 662 sf, + parking for one car and 33sf locker is a one bedroom home on the 2nd floor overlooking the large pool. It is ideal for a single person or couple-or investment property.
Our Lives
WEATHER: Beautiful with little wind -this year we have had substantantially less wind than in the two previous years.
THE "MIGHTY PERICO" is going to get another mate. Lita got a call from her source in Guanacaste that she has secured a mate to our little guy. It's a three hour drive each way so we'll combine it with a pleasure trip. We'll have to do that between visitors and road closure... the Atenas-Orotina secton of the new highway is closed for three weeks to repair what they didn't get right the first time.
AyA: Last week I wrote about how AyA is "continuing to build out the water delivery system they received a grant / loan for...." The system might be a bit less extensive than originally planned!!!!!!!!! This week there was a huge fire in their pipe inventory which is housed in an open field. How the fire got started is a good question since that stuff requires a sustained heat to ignite........... I never saw a follow up on the news sources but I did witness the fire; the fire department was there within 5 min. and did put it out, to their credit.
Brian, Lita, Hugo, irreverent Vicka, the pigeon toed parrot, and the newbies - Chico and Chica