Shareholder Meeting & Rental


» NOTES
When I started Residencias Los Jardines, I started writing a weekly news letter —determined to tell all the good, bad, and the ugly. I knew some readers would be interested in the construction process. I expected others might be interested in the lifestyle of two people who had decided to live outside the box. For others, the adventures of Lita, the parrot and the cat took on an entertainment saga all its own.

Residencias Los Jardines is finished. We periodically have resales and rental availability. Some readers may be interested in this information.

More and more, the content will be dominated by events of our new project, "El Dorado" for short. While the future is always uncertain, I again aim to tell it like it happens —the good, the bad, and the ugly, and that is what follows.

In an effort to make the format more interesting and visually appealing and to field inquiries re. El Dorado, the news letter is now being distributed by Jan Kozak, Marketing Manager, Hacienda El Dorado. I will remain the author.

Brian C. Timmons, Author
Residencias Los Jardines/Hacienda El Dorado - Developer
E-mail: brian@eldoradocostarica.com

YOU CAN ALSO VIEW THE COMPLETE VERSION ONLINE AT:

https://www.eldoradocostarica.com/English/Newsletter/index.php

» CONSTRUCTION LOG
Rio Oro:
As of Friday, we now have three proposals which Paul and I will review.
» RESIDENCIAS LOS JARDINES
Annual Shareholders Meeting: The meeting occurred Saturday afternoon.
A total of 15 items were up for resolution. Many issues were resolved but some require a subsequent meeting to work out. This is a disappointment as it requires more discussion and more time with limited to no input by those who voted against resolutions--which is their purogative--but without explanation, leaves the association wondering about their concerns since they did not offer any input during the discussion period (2 weeks) nor did they attend the shareholder meeting. It seems that four people have developed a negative attitude and that dominates their judgement about what is in the best interests of all shareholders.
FOR SALE:

Unit 106A: $155,000
Unit 106B: $169,000
Unit 107: $265,000
Unit 115: $205,000
Unit 125: $160,000

See Descriptions and photos below.

Rental Vacancies:

Unit 123: $1,650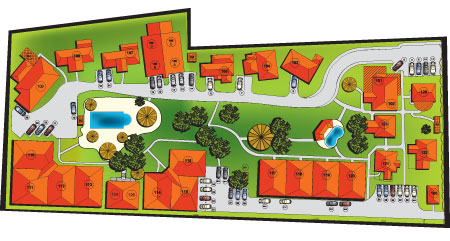 Unit #125

--
For

Sale

$160,000 - FURNISHED


Total Area (Sq Ft):

662


Total area (Sq M):

61


Bedrooms:

1


Bathrooms:

1


Floor(s):

2nd Floor


Type:

Apartment


Furnished:

Yes

This 662 sf, + parking for one car and 33sf locker is a one bedroom home on the 2nd floor overlooking the large pool. It is ideal for a single person or couple—or investment property.

Unit #106A

--
For

Sale

$155,000 - FURNISHED (Leased at $1,000 pr month until January 2011)

Total Area (Sq Ft):

1250


Total area (Sq M):

120


Bedrooms:

2


Bathrooms:

2.5


Floor(s):

Ground Floor


Type:

Apartment


Furnished:

Yes




This is a fully furnished 2-bedroom unit situated in a 2-story building, which has two units on the ground floor and two units on the 2nd. floor. Each unit is the same size (1,250sf) divided into 800 sf of interior space and 450 sf of covered front and back terraces. UnitS 106 A

and B are on the ground floor; Units

106

C and D are on the 2nd. Floor. The solid masonry demising wall (common wall) as well as the 5" concrete slab prevent sound transference.
Read More
» NEWS FROM COSTA RICA
December 12, 2010
Ortega Willing To Talk But Without Conditions Or The OAS
Nicaragua's president Daniel Ortega said that he would be willing to meet with Costa Rica's president Laura Chinchilla, to dialogue on the border dispute, in the presence of "friendly" nations but without the presence of Organization of American States (OAS) officials.

Read
December 12, 2010
Ecuador's President Rafael Correa Is Offering To Mediate Costa Rica's Conflict With Nicaragua
Ecuador's president, Rafael Correa, has decided to throw his hat in the Nicaragua - Costa Rica ring by offering himself as mediator to the border conflict.

Read
December 12, 2010
Tibás To Hold First Ever Carnaval Today
If you are heading to Tibás today (Sunday) best be prepared with a lot of patience, as the community on the north side of San José is holding its first evet Carnaval, which could end up being a traffic nightmare, as only Tránsito (traffic) official has been assigned to the task of traffic control.

Read
December 11, 2010
US Navy Ship Takes On Costa Rican Lawmakers For Tour
In a refueling and supply stop in Golfito, the USS Doyle, and its 211 crew took the opportunity to show their wares off to a group Costa Rica's legislators, who were invited onboard for a look see.

Read
December 11, 2010
Festival de la Luz, A Night Of Fantasy, Colour and Magic,Tonight
If you are looking for something great to do tonight, head on down to San José for a night of fantasy, colour and magic are all part of the greatest show of the year, the Festival de la Luz (Light Festival).

Read
December 10, 2010
Costa Rica's EARTH University Celebrates 18h Anniversary
Today, December 10, EARTH University will surpass the 1,500 alumni-mark during its 18th Commencement Ceremony to be held on its campus in Guácimo, Limón, Costa Rica. The 80 graduates represent 16 countries in Latin America, the Caribbean and Africa, including for the first time, Kenya.

Read
December 10, 2010
BAC Credomatic Now In Hands Of Colombians
General Electric announced the completion of the us$1.92 billion dollar sale of BAC Credomatic to the Colombian bank, Grupo Aval. The sale was first announced in July.

Read
» OUR LIVES

WEATHER:

We continued to have strong winds and cool evenings and days. No rain and mostly sunny the entire week.

COMPUTER: I was contacted that the correct keyboard was in. It took three trips to get the computer returned with the keyboard installed. Fortunately I live only 8 min. by car (on normal days but beginning Dec. 1 nothing is "normal" because "aginaldo" --the 13th. month --is paid to employees so ....Given the traffic and two accidents, it took a lot of time of to do in 20 min. what took several hours. Such is life in CR.

Re. Association Mgt.: I'm exhausted and really discouraged--being a member of the Board of Directors in a condominium association is simply subjecting oneself to abuse and bad mouthing by the disgruntled after their fourth martini. No wonder no one wants to participate unless they have a pet agenda. The current Board of Directors is great -- they have donated their time and have looked after the overall interests of the community. They are not interested in wasting their time nor in being beaten up -- they have the ability to define the issue, deal with it, and move on. End of discussion. Having said that, there are shareholders who have personal agendas, if not personal problems, and they don't seem to want to make their objections or issues known. To say "no" without explanation is not constructive to reaching a group consensus; it simply leaves those who participate in discussion wondering....and "wondering" leads to disenchantment which leads to resignation. Most people don't need nor want grief in their life and those who do, you have to wonder about. I have for the past 5+ years devoted myself to administering the shareholder's agreement and that requires a flurry of devoted activity during Oct, Nov, and December. The reward factor is zilch; the abuse factor is incalculable. Lita wants me out...... unfortunately, we continue to live here so we would be the victims of what would follow and I feel an obligation to a number of very reasonable and responsible shareholders who do care and who do have a dream.
Brian

, Lita, Hugo, irreverent Vicka, the pigeon toed parrot, and the newbies - Chico and Chica.
Brian

C. Timmons, Newsletter Author
Residencias Los Jardines/Hacienda El Dorado - Developer
Cell: (+506) 8305-3965
E-mail:

brian

@eldoradocostarica.com
For inquiries about availability of residences at Hacienda El Dorado or Residencias Los Jardines, contact:
Jan Kozak, Marketing Manager
Residencias Los Jardines/Hacienda El Dorado
Web: www.eldoradocostarica.com
E-mail: info@eldoradocostarica.com
MSN: jan.kozak.jr@hotmail.com
Skype: jan.kozak.jr
Voicemail (Canada) (+1) 647-477-5825
Skype (US) (+1) 954 903 0830
Office (Costa Rica) (+506) 2215-6000
Cell (Costa Rica): (+506) 8707-9930 / (+506) 8345-8018