Friends, Lookers, Playa Carrillo


» NOTES
When I started Residencias Los Jardines, I started writing a weekly news letter —determined to tell all the good, bad, and the ugly. I knew some readers would be interested in the construction process. I expected others might be interested in the lifestyle of two people who had decided to live outside the box. For others, the adventures of Lita, the parrot and the cat took on an entertainment saga all its own.

Residencias Los Jardines is finished. We periodically have resales and rental availability. Some readers may be interested in this information.

More and more, the content will be dominated by events of our new project, "El Dorado" for short. While the future is always uncertain, I again aim to tell it like it happens —the good, the bad, and the ugly, and that is what follows.

In an effort to make the format more interesting and visually appealing and to field inquiries re. El Dorado, the news letter is now being distributed by Jan Kozak, Marketing Manager, Hacienda El Dorado. I will remain the author.

Brian C. Timmons, Author
Residencias Los Jardines/Hacienda El Dorado - Developer
E-mail: brian@eldoradocostarica.com

YOU CAN ALSO VIEW THE COMPLETE VERSION ONLINE AT:

https://www.eldoradocostarica.com/English/Newsletter/index.php

» CONSTRUCTION LOG
Rio Oro:
We are awaiting two more proposals for building architectural design, electro-mechanical, and structural before entering into discussions with any of the three. We are focusing on the two buildings which make up phase 1--Ponce and Cortez Split.

Design Modification: Last week I failed to give credit to a reader (Helen Frame) who responded to my comments about having to adjust our designs to attract the Tico and Latin Purchaser base while maintaining our appeal to the North American purchaser. A writer of promotional material in her own right and living not far from me but I don't think we've ever met, said that even though she was North American, she too liked a pila, even one on the terrace. That lead to the easy extension on my part of combining the pila with a counter and the bar-b-q for outside cooking. Simple and easy to do design wise and the outside cooking area was always an option.

Some people also expressed concern that by considering design changes, we were going in the wrong direction, that we had a winner with what we were showing. While I don't disagree re. our current design, the modifications we are considering are minor and shouldn't change the nature of the product nor the project. We are considering offering a European / contemporary interior design IN ADDITION to our traditional design and to consider some other minor changes or offerings not contemplated before.
» RESIDENCIAS LOS JARDINES
Market Comment: This week saw a number of prospective purchasers. Jan brought a Venezuela client who was looking for himself and other investors. Chris Howard brought 15 clients considering moving to CR. He felt and I did as well, that for the first time in 8+ months, people were actually asking questions around which the information was being actively factored into decisions. What the decisions will be, ie, whether they will lead to any action or to any purchases at either Los Jardines or El Dorado remains to be seen. But at least it seems like life is returning from the North American market place.

Annual Shareholders Meeting: I'll be following up this week with some opinions on the issues before the shareholders and that may spark some additional chatter. I'll also be sending out the voting forms for those who will not be in attendance on Dec. 11.


FOR SALE:

Unit 106A: $155,000
Unit 106B: $169,000
Unit 107: $265,000
Unit 115: $205,000
Unit 125: $160,000

See Descriptions and photos below.

Rental Vacancies:

Unit 112 Dec 1 - Jan 1 $1,550 pr month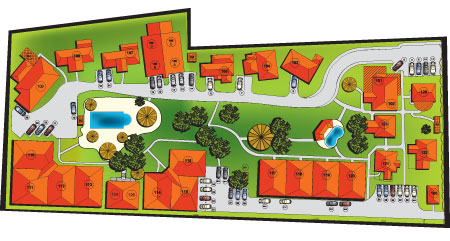 Unit #125

--
For

Sale

$160,000 - FURNISHED


Total Area (Sq Ft):

662


Total area (Sq M):

61


Bedrooms:

1


Bathrooms:

1


Floor(s):

2nd Floor


Type:

Apartment


Furnished:

Yes

This 662 sf, + parking for one car and 33sf locker is a one bedroom home on the 2nd floor overlooking the large pool. It is ideal for a single person or couple—or investment property.

Unit #106A

--
For

Sale

$155,000 - FURNISHED (Leased at $1,000 pr month until January 2011)

Total Area (Sq Ft):

1250


Total area (Sq M):

120


Bedrooms:

2


Bathrooms:

2.5


Floor(s):

Ground Floor


Type:

Apartment


Furnished:

Yes




This is a fully furnished 2-bedroom unit situated in a 2-story building, which has two units on the ground floor and two units on the 2nd. floor. Each unit is the same size (1,250sf) divided into 800 sf of interior space and 450 sf of covered front and back terraces. UnitS 106 A

and B are on the ground floor; Units

106

C and D are on the 2nd. Floor. The solid masonry demising wall (common wall) as well as the 5" concrete slab prevent sound transference.
Read More
» NEWS FROM COSTA RICA
November 28, 2010
Costa Rica: "Platina" Bridge Repair Will Hurt High Season Tourism
Although the period from Christmas to the start of the school year in February sees less traffic on roads in San José, as many Costa Ricans head for the beaches and mountains for the "summer school vacation", it is also the "high tourist" season in Costa Rica.

Read
November 27, 2010
Arias Says He Will Respect Court Decision On Crucitas, But
Oscar Arias, Costa Rica's former president, is using the social media to express his opinion on the court decision to cancel the Crucitas mining concession and the judge's recommendation that he and others involved in the granting of the concession, be investigated for criminal actions.

Read
November 26, 2010
10.000 Police Will Be Safeguarding The Streets Of Costa Rica For Christmas
The Plaza de la Cultura was filled with brass on Thursday, police brass that is, for the announcement of the "Navidad Azul" program aimed at protecting the public from criminal on the eve of the New Year and to care for the "aguinaldos" that will be hitting the streets come next week.

Read
November 25, 2010
Shakira and Messi To Inaugurate Costa Rica's National Stadium
Costa Rica will inaugurate its new stadium, donated by China at a cost of uS$85 million, with a friendly futbol (soccer) against Argentina on March 29, 2011 and a concert by Colombia's hottie, Shakira a week later.

Read
November 25, 2010
15 "Deadly" Peaks Identified In Costa Rica
The Comisión Nacional de Emergencias (CNE) - national emergency commission - has identified at least 15 "cerros" (peaks) that experts believe are prone to landslides similar or worse to the tragedy in Escazú last month when the cerro Chitaría took 23 lives.

Read
November 25, 2010
Presidenta Chinchilla Playing Referee Between ICE and Sutel
State telecom continues its efforts to stall the opening of the telecom market in Costa Rica

Read
November 24, 2010
Woman Bites Cop's Penis In Rage Over Unfaithful Husband
Being a cop in Costa Rica has its dangers, but none like that faced by an official of the Fuerza Pública who had his penis bitten by a furious woman angry at her wondering husband. The event took place outside the "Luminarias" bar/disco in downtown San José, a centre frequented mainly by Nicaraguans.

Read
November 23, 2010
Manufacturer of Levis and Dockers In Costa Rica Announces Plant Closure
The Centro Industrial Manufacturero El Roble (Cimer) manufacturer of Levi and Dockers in Costa Rica announced a gradual closure that will occur in December and January.

Read
November 23, 2010
Upala Exports 25 Containers Per Month To The US and EU Markets
Upala Agrícola is a company in Costa Rica specialized in fresh pineapple export. Gabriela Sandí, gives some highlights about the company. Upala is a producer and exporter of fresh pineapples with an area of 700 acres. Counting on conventional and organic quality, the company exports to European and United States markets.

Read
» OUR LIVES

WEATHER:

It's been pretty consistent--sunny in the morning, clouding up around noon followed by rain and clear again for the morning.

COMPUTER: Not yet replaced but some of the systemic failures I had last week have gone away...thus I'm able to write in both lower and upper case.

FRIENDS LEAVE: They are winging their way back to Canada with no
knowledge of when and where we will meet up again. It took 13 years or so for this reunion to happen so who knows the future. With life long friends, it doesn't matter as much (except you miss each other and that is why they are life long friends) but you know it will happen again some time and when it does, we'll start up the conversations in mid sentence in mid paragraph and the time gap will evaporate. We were able to reminisce, review, and talk current interests and life paths, family developments, etc. We drank too much good booze, ate too much, laughed heartily and Lita was right there to engage in the fun.
Playa Carrillo: We spent two nights there with our friends in a private three bedroom house with a private swimming pool. This is attached to La Leyenda Hotel. A great hotel, exceptionally well managed in all respects. We had an interview with the owner who I've gotten to know over time. My two friends are heavily involved in organizational design and behavior and wanted to know the owner / manager's philosophy. It was consistent with what they know, inconsitsent with what they often see practiced in CR and in Canada. The hotel actually has a few clients at it, great staff, clean
Brian

, Lita, Hugo, irreverent Vicka, the pigeon toed parrot, and the newbies - Chico and Chica.
Brian

C. Timmons, Newsletter Author
Residencias Los Jardines/Hacienda El Dorado - Developer
Cell: (+506) 8305-3965
E-mail:

brian

@eldoradocostarica.com
For inquiries about availability of residences at Hacienda El Dorado or Residencias Los Jardines, contact:
Jan Kozak, Marketing Manager
Residencias Los Jardines/Hacienda El Dorado
Web: www.eldoradocostarica.com
E-mail: info@eldoradocostarica.com
MSN: jan.kozak.jr@hotmail.com
Skype: jan.kozak.jr
Voicemail (Canada) (+1) 647-477-5825
Skype (US) (+1) 954 903 0830
Office (Costa Rica) (+506) 2215-6000
Cell (Costa Rica): (+506) 8707-9930 / (+506) 8345-8018