New Houses for Sale!!!


» NOTES
When I started Residencias Los Jardines, I started writing a weekly news letter —determined to tell all the good, bad, and the ugly. I knew some readers would be interested in the construction process. I expected others might be interested in the lifestyle of two people who had decided to live outside the box. For others, the adventures of Lita, the parrot and the cat took on an entertainment saga all its own.

Residencias Los Jardines is finished. We periodically have resales and rental availability. Some readers may be interested in this information.

More and more, the content will be dominated by events of our new project, "El Dorado" for short. While the future is always uncertain, I again aim to tell it like it happens —the good, the bad, and the ugly, and that is what follows.

In an effort to make the format more interesting and visually appealing and to field inquiries re. El Dorado, the news letter is now being distributed by Jan Kozak, Marketing Manager, Hacienda El Dorado. I will remain the author.

Brian C. Timmons, Author
Residencias Los Jardines/Hacienda El Dorado - Developer
E-mail: brian@eldoradocostarica.com

YOU CAN ALSO VIEW THE COMPLETE VERSION ONLINE AT:

https://www.eldoradocostarica.com/English/Newsletter/index.php

» CONSTRUCTION LOG
Rio Oro:
WE HAVE ONE PROPOSAL FROM THE ARCHITECT AND ARE WAITING FOR TWO MORE FROM OTHER PEOPLE.
» RESIDENCIAS LOS JARDINES
Market Comment:

VERY SLOW...NO ONE LOOKING TO LEASE OR PURCHASE.

Annual Shareholders Meeting: THE ISSUES FOR DISCUSSION AND RESOLUTION HAVE BEEN FINALIZED AND DISTRIBUTED. NOW THE SHAREHOLDERS WILL WEIGH IN WITH THEIR OPINIONS RE. THE VARIOUS ISSUES.
FOR SALE:

Unit 106A: $155,000
Unit 106B: $169,000
Unit 107: $265,000
Unit 115: $205,000
Unit 125: $160,000

See Descriptions and photos below.

Rental Vacancies:

Unit 112 Dec 1 - Jan 1 $1,550 pr month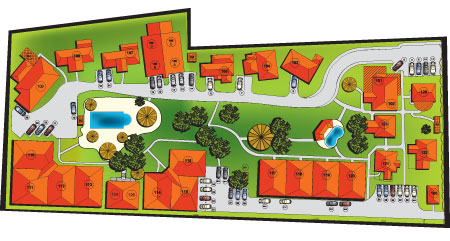 Unit #125

--
For

Sale

$160,000 - FURNISHED


Total Area (Sq Ft):

662


Total area (Sq M):

61


Bedrooms:

1


Bathrooms:

1


Floor(s):

2nd Floor


Type:

Apartment


Furnished:

Yes

This 662 sf, + parking for one car and 33sf locker is a one bedroom home on the 2nd floor overlooking the large pool. It is ideal for a single person or couple—or investment property.

Unit #106A

--
For

Sale

$155,000 - FURNISHED (Leased at $1,000 pr month until January 2011)

Total Area (Sq Ft):

1250


Total area (Sq M):

120


Bedrooms:

2


Bathrooms:

2.5


Floor(s):

Ground Floor


Type:

Apartment


Furnished:

Yes




This is a fully furnished 2-bedroom unit situated in a 2-story building, which has two units on the ground floor and two units on the 2nd. floor. Each unit is the same size (1,250sf) divided into 800 sf of interior space and 450 sf of covered front and back terraces. UnitS 106 A

and B are on the ground floor; Units

106

C and D are on the 2nd. Floor. The solid masonry demising wall (common wall) as well as the 5" concrete slab prevent sound transference.
Read More
» NEWS FROM COSTA RICA
November 21, 2010
Nicaragua Canal May Become A Reality
There are three seaways between Atlantic and Pacific Ocean. The most common is the way through Panama Canal. The other two go either south of South America (Cape Horn passage) or north of North America ('northwest passage'). Latter two are not very convenient; the first one is already in a dire need of enlargement.

Read
November 21, 2010
International Court Set A January 2011 Hearing For Costa Rica - Nicaragua Conflict
The International Court of Justice at The Hague on Saturday agreed to accept Costa Rica's filing against Nicaragua and has set a court date of January 11, 2011, when both countries can present their arguments over the dredging work of the San Juan river and the alleged incursion by Nicaragua of the Isla Calero, which Costa Rica claims ownership.

Read
November 21, 2010
Does This Sound Familiar? "Click Your Heels Dorothy!"
From Panama, "Prensa Latina". Problems related to insecurity focused Friday on Panamanian security, issues like the high cost of life, unemployment and poverty, specialized sources reported.

Read
November 20, 2010
Cracks in Costa Rica's Green Image
For many, Costa Rica embodies the notion of a country committed to taking care of its natural environment. But Costa Rican activists beg to differ, and have a list of the actions that contradict the country's green "for-export" image. Open-pit mining, pollution of rivers and an international reprimand for weak protection of wetlands only fuel their criticisms.

Read
November 20, 2010
Costa Rica Finance Ministry Urges Tax Reform To Cut Deficit
Costa Rica should overhaul its tax system to rein in its fiscal deficit, Finance Minister (Ministro de Hacienda), Fernando Herrero, said on Friday. Costa Rica's deficit is ¢645 billion colons ($1.27 billion dollars), or 2.6 percent of gross domestic product, as heavy spending to support the economy during the global financial crisis has outstripped revenues.

Read
November 20, 2010
92% Of National Roads Repaired, MOPT Says
The Ministerio de Obras Públicas y Transportes (MOPT) said on Friday that it has repaired and re-opened 92% of the roads affected by the heavy rains of the past month.

Read
November 19, 2010
Ortega Picks On Costa Rica to Rally Support At Home
For the past couple of years, Nicaragua's president Daniel Ortega has been desperately seeking to subvert his country's constitution and feeble democratic institutions in order to stand for re-election next year. Since the Nicaraguan constitution bars him from running for a third term (he was president in 1985-1990), Ortega tried unsuccessfully to have the constitution amended by the National Assembly, where his Sandinista party lacks a majority to do so. However, through judicial shenanigans facilitated by a Supreme Court and an Electoral Tribunal packed with Sandinista allies, Ortega is likely to run again next year. Mary O'Grady of the Wall Street Journal and The Economist have documented the case.

Read
November 19, 2010
Well…Here We Are!
More political confusion, roads closed and it is coming on high times for tourism, the dollar has been reduced to almost nothing compared to a year ago while the colon has been artificially appreciated resulting in loss of jobs and profit, the Nicaraguans have taken over our island and are holding Costa Rica hostage as we wring our hands and fly white doves around the capital in protest.

Read
November 19, 2010
Canadian Man Dies After MS Surgery In Costa Rica
An Ontario, Canada, man with multiple sclerosis died of complications after a controversial treatment in Costa Rica to open up his neck veins. Mahir Mostic, 35, of St. Catharines died on Oct. 19, one day after doctors in the Costa Rica tried to dissolve a blood-clot complication.

Read
November 18, 2010
Missing Manhole Covers A Serious Problem In San José
Costa Rica will well known for its potholes. But another danger lurks for drivers and pedestrians, missing manhole covers. Such was the case on Wednesday when a woman was swallowed up by a manhole in the area of López Mateos, in San Sebastián, on the south side of San José.

Read
November 18, 2010
Spain Sets Eyes On Costa Rica For Investment
Despite the economic crisis in Europe, Spain is interested in investing in renewable energy projects in Costa Rica, according to statement from the Anabel González, the foreign trade minister of the Central American country, published in La Nación newspaper.

Read
November 17, 2010
Tránsito With Eyes On "No Riteve" Vehicles
If you are one of the thousands that is circulating without the Riteve - the annual vehicular inspection permit - be warned that the Policía de Tránsito (traffic police) have their eyes on you.

Read
November 16, 2010
Arias Criticizes U.S. Military Spending The former president recommends US make new friends
In Denver, Colorado, former two-time Costa Rican president and Nobel Peace prize winner, Oscar Arias, delivered a fierce critique of U.S. military spending.

Read
November 16, 2010
4.000 Pay 2011 Marchamo On First Day 2011 Marchamo does not include traffic tickets on appeal
More than 4.000 vehicle owners paid their 2011 Marchamo in its first day for a total of ¢393 million colones of the ¢110 billion colones the Instituto Nacional de Seguros (INS) expected to collect from the owners of the 997.000 vehicles registered.

Read
November 16, 2010
Cable Theft Leaves 125.000 Homes In The Dark
The theft of a cable left from 125.000 homes without electricity in the communities of Desamparados, Aserrí, Tabarca, Paso Ancho and Curridabat on Monday.

Read
November 15, 2010
Nicaraguan Politicians Urge Ortega To Pull Troops Conflict not of military character, withdrawing the troops will not put Nicaragua at risk
Nicaraguan politicians on Sunday urged President Daniel Ortega to make diplomatic efforts to solve the conflict with Costa Rica. Victor Hugo Tinoco, a deputy from the Movimiento de Renovación Sandinista (MRS), told the local press that the resolution of the Organization of American States (OAS) is positive, because it only invites Nicaragua "to avoid" its military presence in San Juan river, bordering Costa Rica.

Read
November 15, 2010
Admiring Costa Rica's Corruption By John Holtz*
If there is one thing admirable about Costa Rica´s national epidemic of corruption it is that an open and robust media has embraced the courage to make it all public, down to every last detail. Not many countries do that in this world. However, the residual is that the international image of corruption and crime appear far more prevalent than is the reality.

Read
November 15, 2010
Nicaragua Considers Leaving the OAS
MANAGUA - President of Nicaragua, Daniel Ortega said that to his government the Organization of American States has lost all credibility and considers the possibility to leave the hemispheric organization.

Read
» OUR LIVES

Weather:

NORMAL CHANGE OF SEASONS WEATHER. SOME OVERCAST, SOME PARTLY SUNNY DAYS, ONE SHORT SHOWER. BEAUTIFUL.

COMPUTER: MY KEYBOARD CONKED OUT AND I REPLACED IT WITH A NEW ONE. SOME THINGS WERE QUITE RIGHT AND IT SEEMED TO BE GOING INTO A STATE OF PROGRESSIVE FAILURE--THUS THE CAPITAL LETTERS--I HAVE NO ACCESS TO LOWER CASE + A NUMBER OF OTHER FEATURES. I RETURNED TO THE APPLE REPAIR. AFTER A FEW PHONE CALLS IT WAS DETERMINED THAT THE REPLACEMENT KEYBOARD WAS A NEWER VERSION AND NOT COMPATIBLE WITH THE WIRING TO WHICH IT CONNECTED. I NOW WAIT FOR A REPLACEMENT OF THE REPLACEMENT.. NO COST BUT SEVERAL WEEKS WORTH OF FRUSTRATION.

FRIENDS ARRIVE: PREVIOUS WORK AND SOCIAL FRIENDS ARRIVE TODAY FROM CANADA. I HAVEN'T SEEN THEM FOR MANY YEARS BUT HAVE TALKED AND OTHERWISE KEPT UP WITH THEM. I EXPECT WE WILL START IN THE MIDDLE OF A SENTENCE MID PARAGRAPH AND PROCEED TO CATCH UP AND REMINISCE. I'M LOOKING FORWARD TO THE WEEK. WE MIGHT MAKE IT TO THE PACIFIC (ROADS ARE NOW OPEN) OR JUST HANG AROUND THE CENTRAL VALLEY. IT'S THEIR CALL.
Brian

, Lita, Hugo, irreverent Vicka, the pigeon toed parrot, and the newbies - Chico and Chica.
Brian

C. Timmons, Newsletter Author
Residencias Los Jardines/Hacienda El Dorado - Developer
Cell: (+506) 8305-3965
E-mail:

brian

@eldoradocostarica.com
For inquiries about availability of residences at Hacienda El Dorado or Residencias Los Jardines, contact:
Jan Kozak, Marketing Manager
Residencias Los Jardines/Hacienda El Dorado
Web: www.eldoradocostarica.com
E-mail: info@eldoradocostarica.com
MSN: jan.kozak.jr@hotmail.com
Skype: jan.kozak.jr
Voicemail (Canada) (+1) 647-477-5825
Skype (US) (+1) 954 903 0830
Office (Costa Rica) (+506) 2215-6000
Cell (Costa Rica): (+506) 8707-9930 / (+506) 8345-8018