New Houses for Sale!!!


» NOTES
When I started Residencias Los Jardines, I started writing a weekly news letter —determined to tell all the good, bad, and the ugly. I knew some readers would be interested in the construction process. I expected others might be interested in the lifestyle of two people who had decided to live outside the box. For others, the adventures of Lita, the parrot and the cat took on an entertainment saga all its own.

Residencias Los Jardines is finished. We periodically have resales and rental availability. Some readers may be interested in this information.

More and more, the content will be dominated by events of our new project, "El Dorado" for short. While the future is always uncertain, I again aim to tell it like it happens —the good, the bad, and the ugly, and that is what follows.

In an effort to make the format more interesting and visually appealing and to field inquiries re. El Dorado, the news letter is now being distributed by Jan Kozak, Marketing Manager, Hacienda El Dorado. I will remain the author.

Brian C. Timmons, Author
Residencias Los Jardines/Hacienda El Dorado - Developer
E-mail: brian@eldoradocostarica.com

YOU CAN ALSO VIEW THE COMPLETE VERSION ONLINE AT:

https://www.eldoradocostarica.com/English/Newsletter/index.php

» CONSTRUCTION LOG
Rio Oro:
We've picked up the conversation with both the architect and another consultant. We want to begin designing the Ponce and the Cortez buildings. These are the two buildings we have in Phase 1. In reviewing our plans in light of the events of the past 3 years since we originally designed the units for a target market which now doesn't exist (the North American purchaser) we're considering making some exterior design changes. The market now is a younger, CR / Latin American market. Based on this and our review of what has been selling, we feel we need to consider a more contemporary look. The interior layouts will remain virtually the same...we discussed the need for a maid's quarters and pillas, and feel that a minor interior design option for the Ponce will meet the "maid" option for those few who might want that, and a minor change / really the addition of a detail can add the basics of a "pilla". The Cortez units are probably fine as they are since many of those designs have these two features sometimes wanted by CR and Latin Am. purchasers. We will consider these, discuss them and review with Jan. We expect to receive some sketches from Ellias next week as well as a schedule and proposal for going ahead. He believes that he could have both buildings designed and ready for submission to the necessary government authorities by the middle of March.

We have a meeting set up with Scotiabank for next week.
» RESIDENCIAS LOS JARDINES
Market Comment:

We leased our last available unit and now have only one unit for the month of December.
Garden Remake: This has been done and now waiting for it to grow in.

Annual Shareholders Meeting: Information has been sent out; waiting for agenda items from shareholders. Next week, the agenda will be finalized.

FOR SALE:

Unit 106A: $155,000
Unit 106B: $169,000
Unit 107: $265,000
Unit 115: $205,000
Unit 125: $160,000

See Descriptions and photos below.

Rental Vacancies:

Unit 112 Dec 1 - Jan 1 $1,550 pr month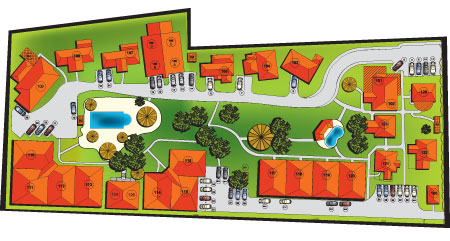 Unit #125

--
For

Sale

$160,000 - FURNISHED


Total Area (Sq Ft):

662


Total area (Sq M):

61


Bedrooms:

1


Bathrooms:

1


Floor(s):

2nd Floor


Type:

Apartment


Furnished:

Yes

This 662 sf, + parking for one car and 33sf locker is a one bedroom home on the 2nd floor overlooking the large pool. It is ideal for a single person or couple—or investment property.

Unit #106A

--
For

Sale

$155,000 - FURNISHED (Leased at $1,000 pr month until January 2011)

Total Area (Sq Ft):

1250


Total area (Sq M):

120


Bedrooms:

2


Bathrooms:

2.5


Floor(s):

Ground Floor


Type:

Apartment


Furnished:

Yes




This is a fully furnished 2-bedroom unit situated in a 2-story building, which has two units on the ground floor and two units on the 2nd. floor. Each unit is the same size (1,250sf) divided into 800 sf of interior space and 450 sf of covered front and back terraces. UnitS 106 A

and B are on the ground floor; Units

106

C and D are on the 2nd. Floor. The solid masonry demising wall (common wall) as well as the 5" concrete slab prevent sound transference.
Read More
» NEWS FROM COSTA RICA
November 14, 2010
Ortega: Costa Rica's Foreign Policy Dictated By Drug Traffickers
Costa Rica doesn't want Nicaragua to battle drug trafficking. Colombia behind plan for troop withdrawal.
Read
November 14, 2010
Uncalled For Arias Brothers Criticism of Chinchilla
The Arias brothers, Oscar and Rodrigo very much need to take an intensive course in "Ego Control" since both have tried and might be successful at intellectually corrupting the elected Laura Chinchilla administration with highly public criticism and flat out back room politicking.

Read
November 14, 2010
Right To Live In Peace" In Pictures

Read
November 12, 2010
Infinito Aiming For Costa Rica Gold Output In 2012
(Reuters) - Canada's Infinito Gold Ltd said on Thursday its Crucitas gold mine has been set back 23 months by legal challenges in Costa Rica and is now aiming for production in the first quarter of 2012.

Read
November 11, 2010
U.S. Willing To Help In Costa Rica - Nicaragua Dispute If Asked
The U.S. Ambassador in Nicaragua, Robert Callahan, said Washington is willing to "help" Costa Rica and Nicaragua resolve their border conflict.

Read
November 10, 2010
Bajo Anonos Residents To Move
Officials of the Municipalidad de Escazú visited the area of Bajo Anonos to serve notice to the residents of the shanty area to a voluntary eviction to avoid a tragedy in the area.

Read
November 09, 2010
Escazú Search And Rescue Officially Called Off
It was a hard decision, but one that had to eventually be made, end the rescue efforts for the search of the only missing person in the Escazú avalanche of last Wednesday. Cristina Solía Acuña, 27, is the only person missing from the tragedy.

Read
November 09, 2010
Mel Gibson Purchased Illegally Registered Property
Unfortunately, Mel Gibson's troubles don't end, even when he arrives in Costa Rica. Although he is trying to maintain a low profile while recovering from the recent scandals in which he has repeatedly threatened his ex-girlfriend and mother of his youngest child, documents from an internal audit done by Nicoya's Municipalidad show that part of the property Gibson bought at Playa Barrigona was illegally registered.

Read
» OUR LIVES

Weather:

The rain left and the sun and breezes have returned. Mostly partly sunny skies with some overcast days but no rain. Overall, the weather has been quite cool for us.
Brian

, Lita, Hugo, irreverent Vicka, the pigeon toed parrot, and the newbies - Chico and Chica.
Brian

C. Timmons, Newsletter Author
Residencias Los Jardines/Hacienda El Dorado - Developer
Cell: (+506) 8305-3965
E-mail:

brian

@eldoradocostarica.com
For inquiries about availability of residences at Hacienda El Dorado or Residencias Los Jardines, contact:
Jan Kozak, Marketing Manager
Residencias Los Jardines/Hacienda El Dorado
Web: www.eldoradocostarica.com
E-mail: info@eldoradocostarica.com
MSN: jan.kozak.jr@hotmail.com
Skype: jan.kozak.jr
Voicemail (Canada) (+1) 647-477-5825
Skype (US) (+1) 954 903 0830
Office (Costa Rica) (+506) 2215-6000
Cell (Costa Rica): (+506) 8707-9930 / (+506) 8345-8018